Breaking down the SoccerWire Top 100 Girls Soccer Clubs for February 2020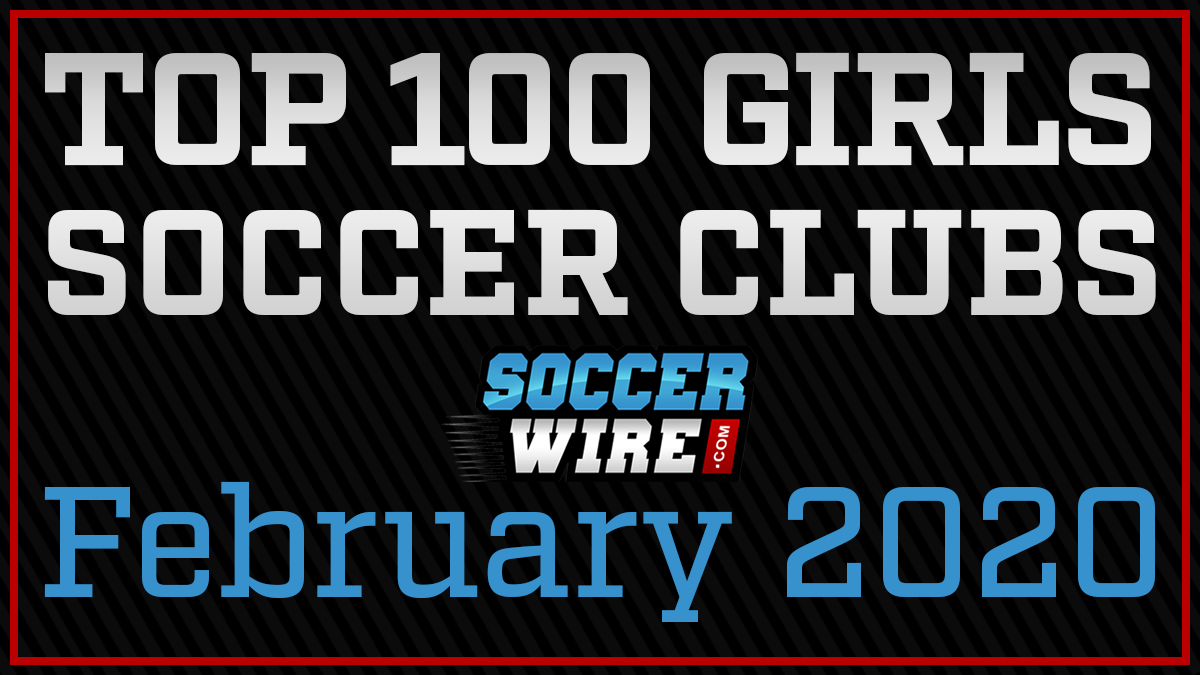 By Quinn Casteel
SoccerWire Managing Editor
Following the release of our inaugural SoccerWire Boys Top 100 Soccer Clubs list last week, we published a breakdown of our rankings model, outlining the top factors that our formula rewards. As we take a look at the first-ever Girls Top 100 this week, the fundamentals of the model are the same: Regular season and especially postseason success in the nation's premier leagues, along with Youth National Team call-ups are of utmost importance in the process of deciding which U.S. clubs are the best-of-the-best.
The primary difference between the boys' side and the girls' side is that for now, there is essentially one show in town for the absolute best boys programs in the country: the U.S. Soccer Development Academy. While there are other boys' leagues providing high quality competition, the Boys DA has no real rivals just yet, and likely won't for as long as the MLS Academies continue their membership.
As anyone familiar with the girls' side of youth soccer knows, there are two truly elite national leagues at the top of the pyramid. The U.S. Soccer Girls Development Academy features 71 clubs, and the Elite Clubs National League (ECNL) has 96 member clubs across the country.
That's 167 total clubs between the Girls DA and ECNL that could potentially land on our SoccerWire Top 100 list. But it doesn't stop there, as there's still plenty of quality teams and NCAA Division I level talent outside of those two leagues, competing in other US Youth Soccer and US Club Soccer sanctioned regional or national leagues.
Although the SoccerWire Girls Top 100 is certainly dominated by the DA and ECNL, several clubs which aren't members of either league made the list, including: California-based Clovis Crossfire (#70), Pennsylvania club Beadling SC (#75), Las Vegas Sports Academy (#91) and Maryland's Pipeline SC (#99).
Meanwhile, the overwhelming majority of the Top 100 list features a wide mix of DA and ECNL programs ranked based on recent U13-U19 results compiled from YouthSoccerRankings.US, with extra recognition for playoff success and USYNT representation.
One of our main goals of this project is to provide rankings which pass the 'eye test' for coaches, players, parents and others with deep knowledge of the youth soccer landscape. Existing platforms like GotSoccer often fail the 'eye test' to a point of absurdity, with the No. 1 team in a given age group often being closer to 50th in reality, once you factor in for omitted DA or ECNL teams.
Prior to our staff meeting when we first looked at the Girls Top 100 results generated by our rankings model, I jotted down which clubs I expected to see in the top 10. All 10 of the clubs that came to mind had cracked at least the top 20 on our model, and my personal top three matched the formula's top three in exact order: Solar SC (#1), Tophat (#2) and PDA (#3). Eye test passed.
Of course, you don't have to be an expert to know which girls' soccer clubs are roughly in the top 20 or so across the country. If you're an ECNL or DA parent, you've likely checked the league standings from time-to-time, and heard about which clubs are winning national championship or getting USYNT call-ups. And that's the point of these rankings. Unlike GotSoccer, the clubs that we all know should be at the top are actually at the top, even if not in the exact order that you would personally prefer.
Overall, the so-called DA vs. ECNL debate is something most people are tired of. But the Top 100 list does illustrate some specific shifts that have been occurring over the past couple years, since the Girls DA kicked off in 2017.
For one, U.S. Soccer obviously wants UYSNT players to represent DA clubs. While the premier ECNL programs continue to develop national team level talent, each year it seems that the DA's share of UYSNT call-ups grows in comparison to the ECNL's.
It should be noted that the talent pools at clubs like Solar SC and So Cal Blues (#4) are so deep that they are able to field teams in both the ECNL and DA. Participation in the growing number of US Youth Soccer Conferences and ECNL Regional Leagues is rising around the country, which is allowing for top clubs to have even deeper player pools across every age group.
U.S. Soccer's influence appears to be one factor in the rise of several "super teams" in the DA which could be remembered 8-10 years from now as some of the best ever. No one would be surprised if a future Women's World Cup TV broadcast shows old clips of Alexis Missimo and Trinity Byars playing together with Solar SC, or of America Frias' 34-0-3 undefeated U-15 national championship season with San Jose Earthquakes Academy (#10).
At the same time, there's no shortage of ECNL programs near the top of the list as well. Aforementioned PDA, along with Michigan Hawks (#11), MVLA (#12), Concorde Fire (#13), LAFC Slammers (#14), San Juan SC (#15), SLSG – MO (#16), Mustang SC (#17) and Sting SC North Texas (#20) all rank in the top 20.
The ECNL also has impressive depth in the second half of the Top 100, illustrating the league's abundance of quality programs. A tiny fraction of players will ever make a USYNT roster. However there are over 300 NCAA D-1 women's soccer teams, and the ECNL has been dominant over the past decade when it comes to developing college-ready student-athletes.
In September, we published articles featuring Ten Clubs to Watch in the Girls DA This Season, and Ten Clubs to Watch in the ECNL This Season. All 20 of those clubs earned their way into the Top 100, illustrating the continued balance between the two leagues.
Along with several clubs that have already been mentioned in this article, our preseason DA Clubs to Watch included: Legends FC (#5), San Diego Surf (#6), Real Colorado (#8), FC Dallas (#9), The St. James FC Virginia (#18), Cincinnati Development Academy (#29) and NC Courage Academy (#30).
Preseason ECNL Clubs to Watch included five clubs already mentioned here, along with: Ohio Premier (#22), FC Stars (#27), Minnesota Thunder Academy (#31), Heat FC Nevada (#39) and McLean Youth Soccer (#40).
In conclusion, it's clear that the ECNL and DA both have a lot to offer, and that at the end of the day, it's the quality of a club that matters most, not just which league(s) that club competes in. Location plays a massive role as well, with nearly a quarter of the Top 100 list – 23 clubs to be exact – hailing from California. Another 10 represent Texas, demonstrating the huge benefit for big states with the deepest talent pools.
If you think your club deserves to make a future SoccerWire Top 100 Clubs list, we want to hear why. For all clubs wishing to provide additional information on the best aspects of their organization, SoccerWire is currently accepting feedback from clubs on a new Top 100 Youth Soccer Clubs Survey Form.
To be among the first to be notified of each monthly Top 100 list, follow SoccerWire on Twitter, Facebook and Instagram.