Breaking down the SoccerWire Top 100 Boys Soccer Clubs for February 2020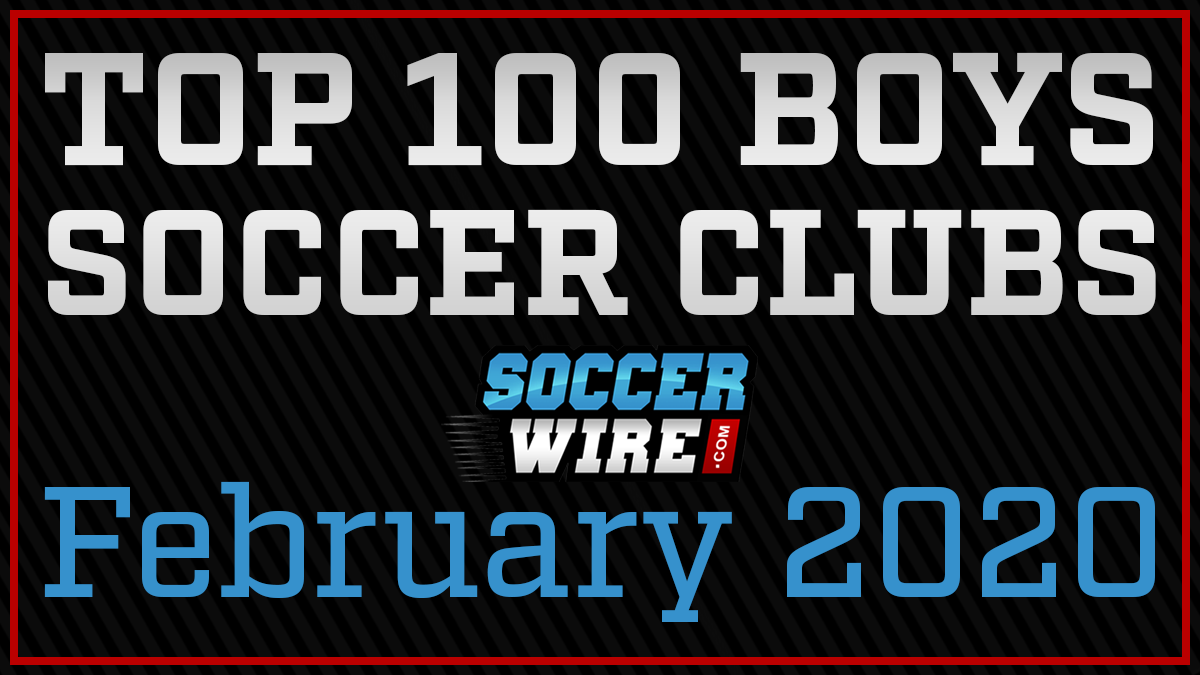 By Quinn Casteel
SoccerWire Managing Editor
On Wednesday, we published the inaugural edition of our SoccerWire Top 100 Boys Soccer Clubs list, which will become a new monthly series throughout 2020 and beyond. 
The rankings process – as described in detail on this week's episode of The SoccerWire Podcast – utilizes a formula measuring the overall competitiveness of each club's top teams in the U13-U19 age groups, along with other key factors such as U.S. Youth National Team call-ups and success in the nation's most elite events, such as the U.S. Soccer Development Academy Playoffs.
As a result, FC Dallas Academy (#1) and New York City FC Academy (#2) are sitting comfortably at the top of the list. Nine of the top 10 clubs this month represent MLS Academies, with reigning U-16/17 DA champion club Solar SC (#9) being the lone exception. 
---
One of our primary goals in launching this project is to provide an objective ranking system which passes the proverbial "eye test" for players, coaches, parents, and administrators around the country who closely follow the youth soccer landscape. On the boys' side, the existing rankings platforms such as GotSoccer have massive holes in their data, with many age groups completely missing the true best teams in the country, most of which play in the DA. 
From an objective standpoint, there's no question that DA teams, including many representing MLS Academies, are loaded up with the most U.S. National Team prospects and future professional players. Top-to-bottom, the DA is the most competitive boys' league in the nation, so a legitimate club ranking system should clearly reflect that.
DA clubs Sockers FC Chicago (#14), San Diego Surf SC (#15), Phoenix Rising FC (#17), Washington Premier FC (#18) and De Anza Force (#20) all checked into the top 20, alongside several MLS Academies.
At the same time, simply being a part of the DA should not automatically move a club to the front of the line. Using data from YouthSoccerRankings.US – the most comprehensive youth soccer database in existence – we aggregated results from the U13-U19 age groups to find out which clubs from all of the top U.S. leagues are most consistently fielding teams that climb to the top of their respective national rankings.
When we combined those results with data from the highest end of the U.S Soccer talent pool, what our formula provided was a mix of top DA clubs and quite a few of the most highly reputable non-DA clubs in the country. In this sense, the SoccerWire Top 100 Clubs list is not a purely predictive model. Just because one club is ranked above another, does not necessarily mean that the individual teams from the higher-ranked club would always be favored in a head-to-head match against a lower-ranked club. 
While our club rankings formula certainly shines a bright spotlight on the DA clubs receiving the highest volume of USYNT call-ups and achieving postseason success, it also rewards non-DA clubs that are consistently achieving their goals in their own respective nationally competitive platforms. Las Vegas Sports Academy (#37), Connecticut's FSA FC (#41), Carolina Elite Soccer Academy – CESA (#44), Baltimore Celtic SC (#48), Penn Fusion SA (#50) and Maryland's Pipeline SC (#51) are among the highest ranked non-DA clubs thanks to top performances in the Boys ECNL, other US Club Soccer and US Youth Soccer platforms, and independent showcase tournaments.
Overall, the results of our first-ever SoccerWire Top 100 Boys Soccer Clubs list did pass the "eye test" for our staff. There are a lot of great clubs around the country, both inside and outside the DA, and our goal is to provide some well-deserved recognition to those organizations. Before we turn our attention to the Top 100 Girls Soccer Clubs rankings – which debuts next Wednesday, Feb. 19 – here are three *four final takeaways from the inaugural Top 100 Boys list: 
Strong clubs on the bubble: At first, 100 clubs sounded like a lot. Especially with this list being focused solely on the boys' side. But now, looking at the clubs that finished just outside the bubble, it feels like NCAA Selection Sunday. Snubs galore. There are at least a few dozen big name clubs – some of the more well known brands in youth soccer – that somehow barely missed the cut. To name a few: Lonestar SC Academy, Shattuck-St. Mary's, Boston Bolts, Vardar Soccer, Santa Barbara SC, SOCA and SC del Sol. This is a positive testament for the American youth soccer landscape, with a growing number of high-level youth soccer programs across the country.

 

Potential for big changes next month: As we head toward March, one of the busiest months on the youth soccer calendar, an influx of league and tournament results could cause some major changes to the Top 100 list. Clubs that have players called in for USYNT duty could climb the list as well. Some of the clubs on the outside of this month's bubble may not have to wait long before they make their debut on the Top 100.

 

Interesting feedback: We've received some great feedback from clubs that either felt they should be higher on the list, or felt they were snubbed. Each of those messages left us with things to consider moving forward. While our formula is based around on-field performance, other factors such as a club's facilities and overall infrastructure may have additional consideration in future editions.

 

*Update – Canadian clubs: Our final list only includes clubs located in the United States, but all three Canadian MLS Academies – Toronto FC, Montreal Impact and Vancouver Whitecaps – would qualify for the top 100 based on our model.