U.S. Soccer Development Academy Club Realignment Tracker (Girls 3.0)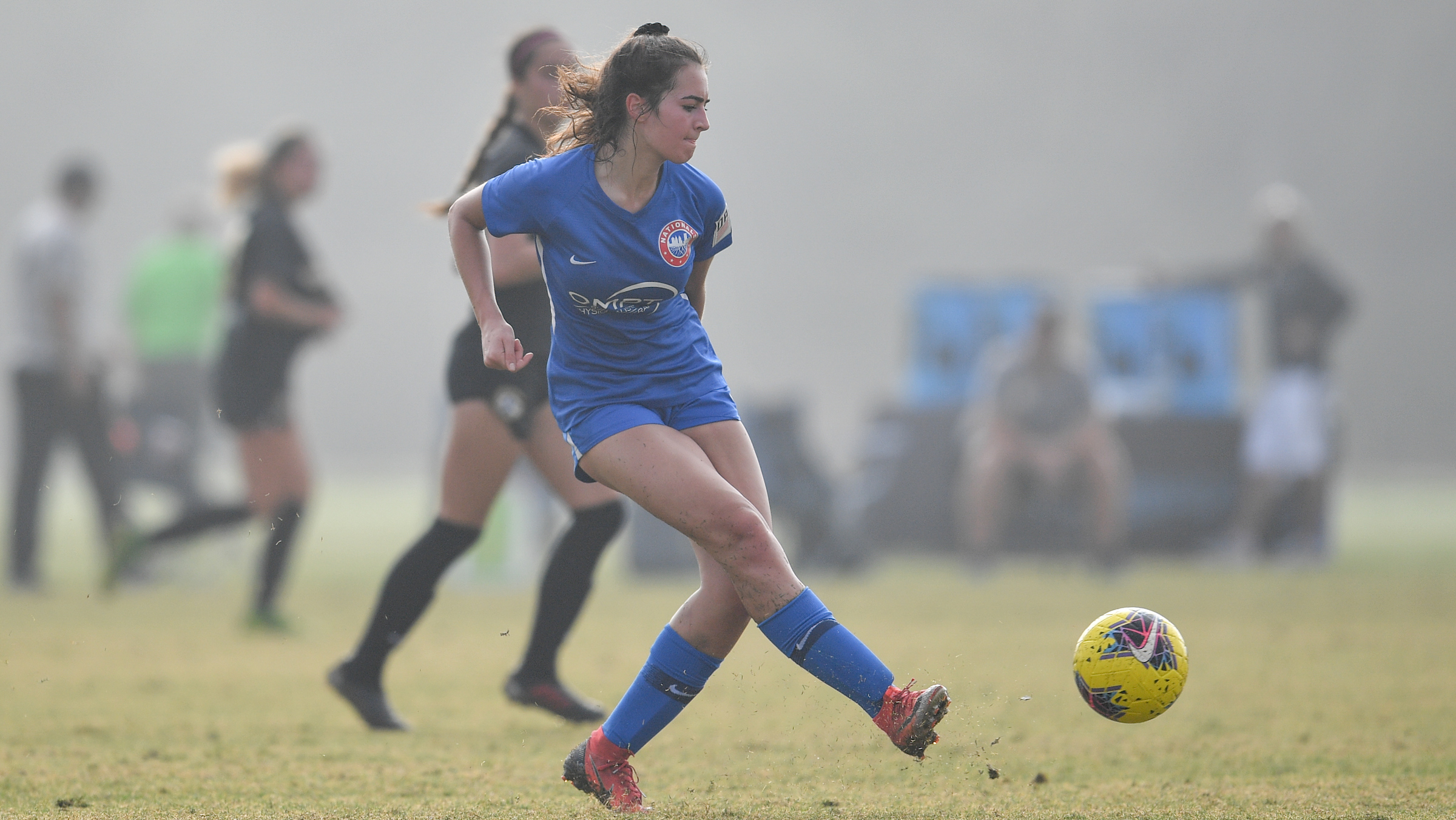 The recent shutdown of the U.S. Soccer Development Academy has left many clubs needing to find a new competitive platform for their top teams.
Since the official announcement of the DA's closure, the soccer world has sprung into action, seeking to fill the void. The Development Player League (DPL) has created a new Girls Academy League, and the Elite Clubs National League (ECNL) has ramped up its acceptance of new member clubs.
To keep up with this evolving story, SoccerWire has launched a Girls DA Club Realignment Tracker, which will be updated regularly, as more former DA clubs finalize their plans for the 2020-2021 season.
So far, 61 former Girls DA clubs have already finalized their national membership either in the ECNL or newly-launched Girls Academy League. Only 4 former Girls DA clubs have not joined one of the two leagues to this point.
DA Club representatives who would like to report their teams' realignment plans for next season should send an email to [email protected].
*National Memberships below do not necessarily indicate final plans for placement of top teams.
| | | | |
| --- | --- | --- | --- |
| Club | Location | Former Girls DA Age Groups | National Membership |
| California Thorns FC | Santa Clara, Calif. | U-14, U-15, U-16, U-17, U-18/19 | ECNL Girls |
| Charlotte Soccer Academy | Matthews, N.C. | U-14, U-15, U-16, U-17, U-18/19 | ECNL Girls |
| Dallas Texans | Plano, Texas | U-13, U-14, U-15, U-16, U-17, U-18/19 | ECNL Girls |
| FC Dallas | Frisco, Texas | U-14, U-15, U-16, U-16, U-17, U-18/19 | ECNL Girls |
| La Roca Futbol Club | Kaysville, Utah | U-14, U-15, U-16, U-17, U-18/19 | ECNL Girls |
| NC Courage | Raleigh, N.C. | U-14, U-15, U-16, U-17, U-18/19 | ECNL Girls |
| Penn Fusion Soccer Academy | West Chester, Pa. | U-13, U-14, U-15, U-16, U-17, U-18/19 | ECNL Girls |
| Portland Thorns FC | Portland, Ore. | U-14, U-15, U-16, U-17, U-18/19 | ECNL Girls |
| Real Colorado | Centennial, Colo. | U-14, U-15, U-16, U-17, U-18/19 | ECNL Girls |
| Real So Cal | Woodland Hills, Calif. | U-14, U-15, U-16, U-17, U-18/19 | ECNL Girls |
| San Diego Surf | San Diego, Calif. | U-14, U-15, U-16, U-17, U-18/19 | ECNL Girls |
| United Futbol Academy | Norcross, Ga. | U-14, U-15, U-16, U-17, U-18/19 | ECNL Girls |
| So Cal Blues SC | San Juan Capistrano, Calif. | U-14, U-15, U-16, U-17, U-18/19 | ECNL Girls (Existing Member) |
| Solar SC | Dallas, Texas | U-13, U-14, U-15, U-16, U-17, U-18/19 | ECNL Girls (Existing Member) |
| FC Fury NY (Acquired by SUSA FC) | Bay Shore, N.Y. | U-14, U-15, U-17, U-18/19 | ECNL Girls (With SUSA FC) |
| Albion SC | San Diego, Calif. | U-14, U-15, U-16, U-17, U-18/19 | Girls Academy League |
| Albion SC Las Vegas | Henderson, NV. | U-14, U-15, U-16, U-17, U-18/19 | Girls Academy League |
| Arlington Soccer Association | Arlington, Va. | U-13, U-14, U-15, U-16, U-17, U-18/19 | Girls Academy League |
| Baltimore Armour | Ellicott City, Md. | U-13, U-14, U-15, U-16, U-17, U-18/19 | Girls Academy League |
| Beach Futbol Club | Long Beach, Calif. | U-14, U-15, U-16, U-17, U-18/19 | Girls Academy League |
| Cedar Stars Academy – Monmouth | Aberdeen, N.J. | U-14, U-15, U-16, U-17, U-18/19 | Girls Academy League |
| Cincinnati DA (Joined Cincinnati United) | Cincinnati, Ohio | U-14, U-15, U-16, U-17, U-18/19 | Girls Academy League |
| Cleveland Force | Bedford Heights, Ohio | U-14, U-15, U-16, U-17 | Girls Academy League |
| Cedar Stars Academy – Bergen | Carlstadt, N.J. | U-14, U-15 | Girls Academy League |
| Colorado Rush | Littleton, Colo. | U-14, U-15, U-16, U-17, U-18/19 | Girls Academy League |
| FC United Soccer Club | Northfield, Ill. | U-14, U-15, U-16, U-17, U-18/19 | Girls Academy League |
| Houston Dash | Houston, Texas | U-14, U-15, U-16, U-17, U-18/19 | Girls Academy League |
| IMG Academy | Bradenton, Fla. | U-14, U-15, U-16, U-17, U-18/19 | Girls Academy League |
| LA Surf SC | La Canada Flintridge, Calif. | U-14, U-15, U-16, U-17, U-18/19 | Girls Academy League |
| Lamorinda Soccer Club | Moraga, Calif. | U-14, U-15, U-16, U-17, U-18/19 | Girls Academy League |
| Legends FC | Chino, Calif. | U-14, U-15, U-16, U-16, U-17, U-18/19 | Girls Academy League |
| Lonestar SC Academy | Austin, Texas | U-13, U-14, U-15, U-16, U-17, U-18/19 | Girls Academy League |
| Long Island SC | Plainview, N.Y. | U-13, U-14, U-15, U-16 | Girls Academy League |
| Metro United | Fairfax, Va. | U-13, U-14, U-15, U-16/17, U-18/19 | Girls Academy League |
| Michigan Jaguars FC | Novi, Mich. | U-14, U-15, U-16, U-17, U-18/19 | Girls Academy League |
| Midwest United FC | Grand Rapids, Mich. | U-14, U-15, U-16, U-17, U-18/19 | Girls Academy League |
| Nationals | Pontiac, Mich. | U-14, U-15, U-16, U-17, U-18/19 | Girls Academy League |
| NEFC | Holliston, Mass. | U-14, U-15, U-16, U-17, U-18/19 | Girls Academy League |
| New York SC | Purchase, N.Y. | U-14, U-15, U-16, U-17, U-18/19 | Girls Academy League |
| Oakwood Soccer Club | Glastonbury, Conn. | U-14, U-15, U-16, U-17, U-18/19 | Girls Academy League |
| Oklahoma Energy FC | Oklahoma City, Okla. | U-13, U-14, U-15, U-16, U-17, U-18/19 | Girls Academy League |
| PA Classics | Manheim, Pa. | U-13, U-14, U-15, U-16, U-17, U-18/19 | Girls Academy League |
| Pateadores | Costa Mesa, Calif. | U-14, U-15, U-16, U-17, U-18/19 | Girls Academy League |
| Reign Academy | Seattle, Wash. | U-14, U-15, U-16, U-17, U-18/19 | Girls Academy League |
| Salvo SC | Eagan, Minn. | U-14, U-15, U-16, U-17, U-18/19 | Girls Academy League |
| SC del Sol | Phoenix, Ariz. | U-14, U-15, U-16, U-17, U-18/19 | Girls Academy League |
| Seacoast United | Hampton, N.H. | U-14, U-15, U-16, U-17 | Girls Academy League |
| SJEB Rush | Marlton, N.J. | U-13, U-14, U-15, U-16, U-17, U-18/19 | Girls Academy League |
| Sockers FC | Palatine, Ill. | U-14, U-15, U-16, U-17, U-18/19 | Girls Academy League |
| South Shore Select | Hingham, Mass. | U-14, U-15, U-16, U-17 | Girls Academy League |
| SPORTING Blue Valley | Overland Park, Kan. | U-14, U-15, U-16, U-17, U-18/19 | Girls Academy League |
| STA Development Academy | Randolph, N.J. | U-13, U-14, U-15, U-16, U-17, U-18/19 | Girls Academy League |
| The St. James FC Virginia | Loudoun, Va. | U-14, U-15, U-16, U-17, U-18/19 | Girls Academy League |
| Tophat | Atlanta, Ga. | U-14, U-15, U-16, U-17, U-18/19 | Girls Academy League |
| United Soccer Alliance | Jacksonville, Fla. | U-14, U-15, U-16, U-17, U-18/19 | Girls Academy League |
| Utah Royals FC – Arizona | Phoenix, Ariz. | U-14, U-15, U-16, U-17, U-18/19 | Girls Academy League |
| West Florida Flames | Brandon, Fla. | U-14, U-15, U-16, U-17, U-18/19 | Girls Academy League |
| Weston FC | Weston, Fla. | U-14, U-15, U-16, U-17, U-18/19 | Girls Academy League |
| LA Galaxy | Carson, Calif. | U-14, U-15, U-16, U-17, U-18/19 | Closing Down |
| LA Galaxy San Diego (Now City SC) | Carlsbad, Calif. | U-14, U-15, U-16, U-17, U-18/19 | Girls Academy League |
| San Jose Earthquakes | Santa Clara, Calif. | U-14, U-15, U-16, U-17, U-18/19 | Closing Down |