Girls Academy League unveils initial conference alignment, first wave of clubs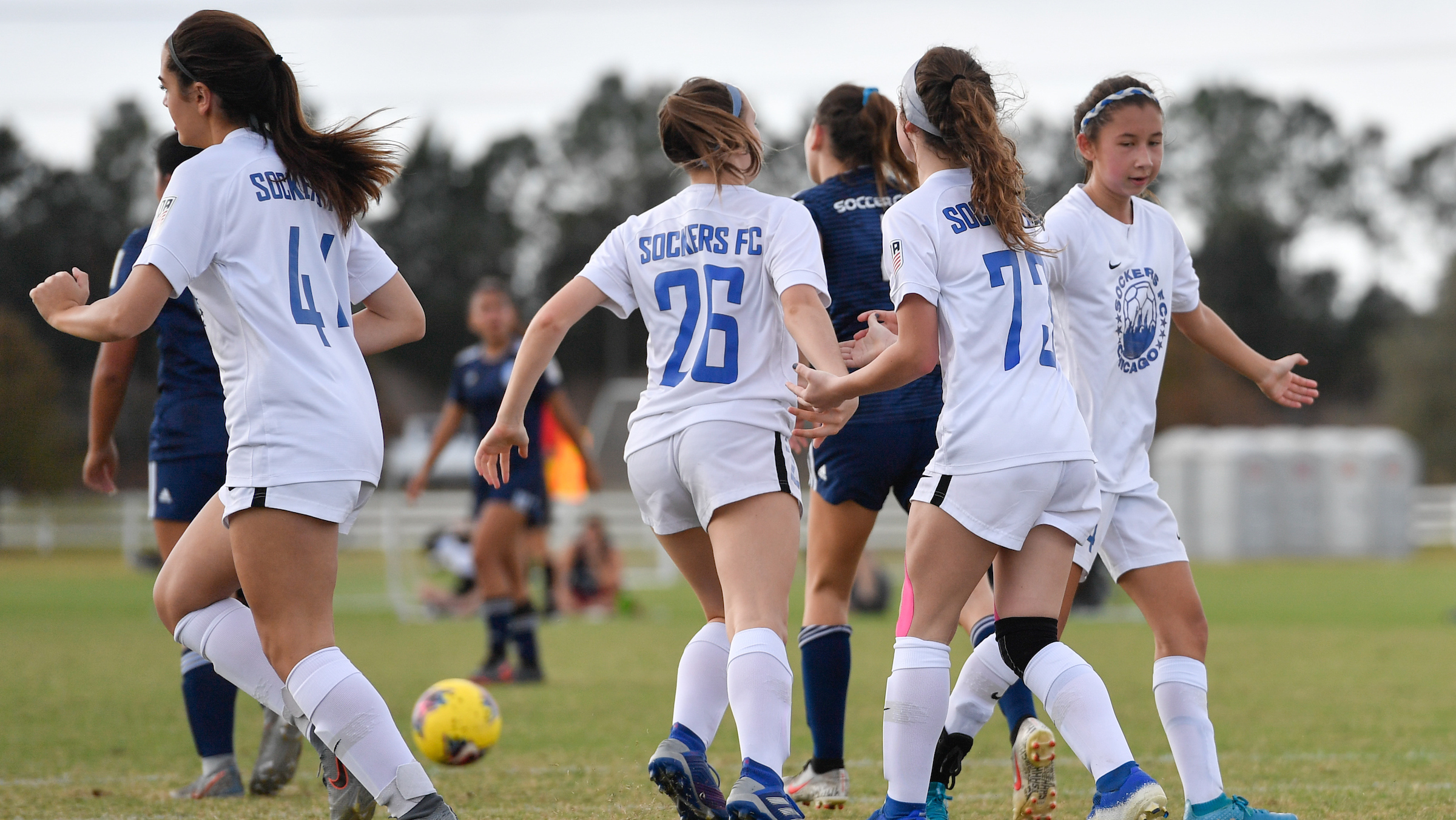 The Girls Academy League, which is being launched in the wake of the U.S. Soccer DA's termination, has announced its initial conference alignment.
In affiliation with the Development Player League (DPL) – which was created in 2017 by U.S. Soccer Girls DA member clubs as a way to expand their elite player pools – the new Girls Academy League will serve the top teams in each age group for member clubs.
[+READ: Former U.S. Soccer Development Academy clubs to join new Girls Academy League]
During the inaugural 2020-2021 season, the Girls Academy League will feature six conferences around the country: Southwest, Mid-America, Frontier, Northeast, Mid-Atlantic and Southeast.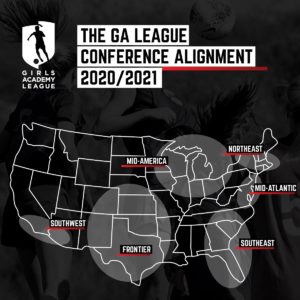 In addition, the first wave of Girls Academy League members clubs has been revealed, as the Northeast Conference was introduced on Thursday. Eight clubs – all of which are former Girls DA members – comprise the Northeast Conference, representing the states of Connecticut, Massachusetts, New Hampshire, New Jersey and New York.
The clubs are: Cedar Stars Academy – Bergen (NJ), Long Island SC (NY), NEFC (MA), New York SC (NY), Oakwood SC (CT), Seacoast United (NH), South Shore Select (MA) and STA (NJ).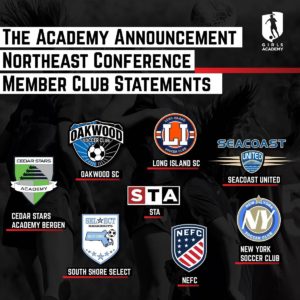 On Friday, the inaugural members of the Mid-America Conference were revealed. The 12-club conference will feature seven former DA programs and five non-DA clubs. The Mid-America members are: Beadling SC (PA), Chicago FC United (IL), Cleveland Force SC (OH), Cincinnati United SC (OH), Indy Premier (IN), Michigan Jaguars FC (MI), Midwest United FC (MI), Minnesota Eclipse (MN), Nationals (MI), Salvo SC (MN), SC Wave (WI) and Sockers FC Chicago (IL).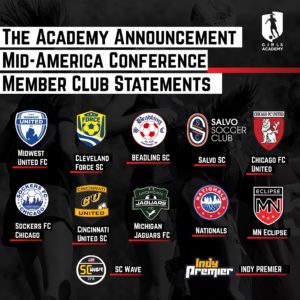 On Saturday, the 10 Southwest Conference clubs were revealed, representing the states of Arizona, California, Nevada and Utah. The Southwest features 8 former Girls DA clubs: Albion SC – San Diego, Albion SC – Las Vegas, Beach FC, LA Surf SC, Legends FC, Pateadores Academy, SC Del Sol and Utah Royals FC – Arizona. The conference will also include a pair of clubs from outside the DA: City SC San Diego and West Coast FC.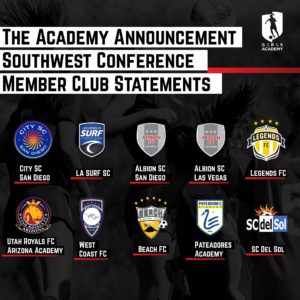 More member clubs announcements are expected to come out from the Girls Academy Club in the coming days and weeks. To see what all former Girls DA clubs are doing, follow SoccerWire's Girls Development Academy Club Realignment Tracker.
The DPL was originally created through a collaboration of Southwest Division DA clubs, with a national leadership group consisting of representatives from LA Surf (Barry Ritson), Legends FC (Kevin Boyd), Tophat Soccer (Troy Garner), Lonestar SC (Wes Schevers) and FC Dallas Youth (Matt Grubb).
Although the DPL's Girls Academy League will be primarily composed of former DA clubs, it will not be strictly limited to them. The DPL has stated that it will continue to provide its clubs with flexibility in the following two key areas:
Permission for all players in the Girls Academy League to participate in high school soccer.
Revising the substitution rules to encourage clubs to better utilize their player pools, especially when showcasing their players to college coaches.
To learn more about the DPL's newly-launched Girls Academy League, Click Here.