Four clubs join ECNL Girls Regional League – Southwest for 2020-2021 season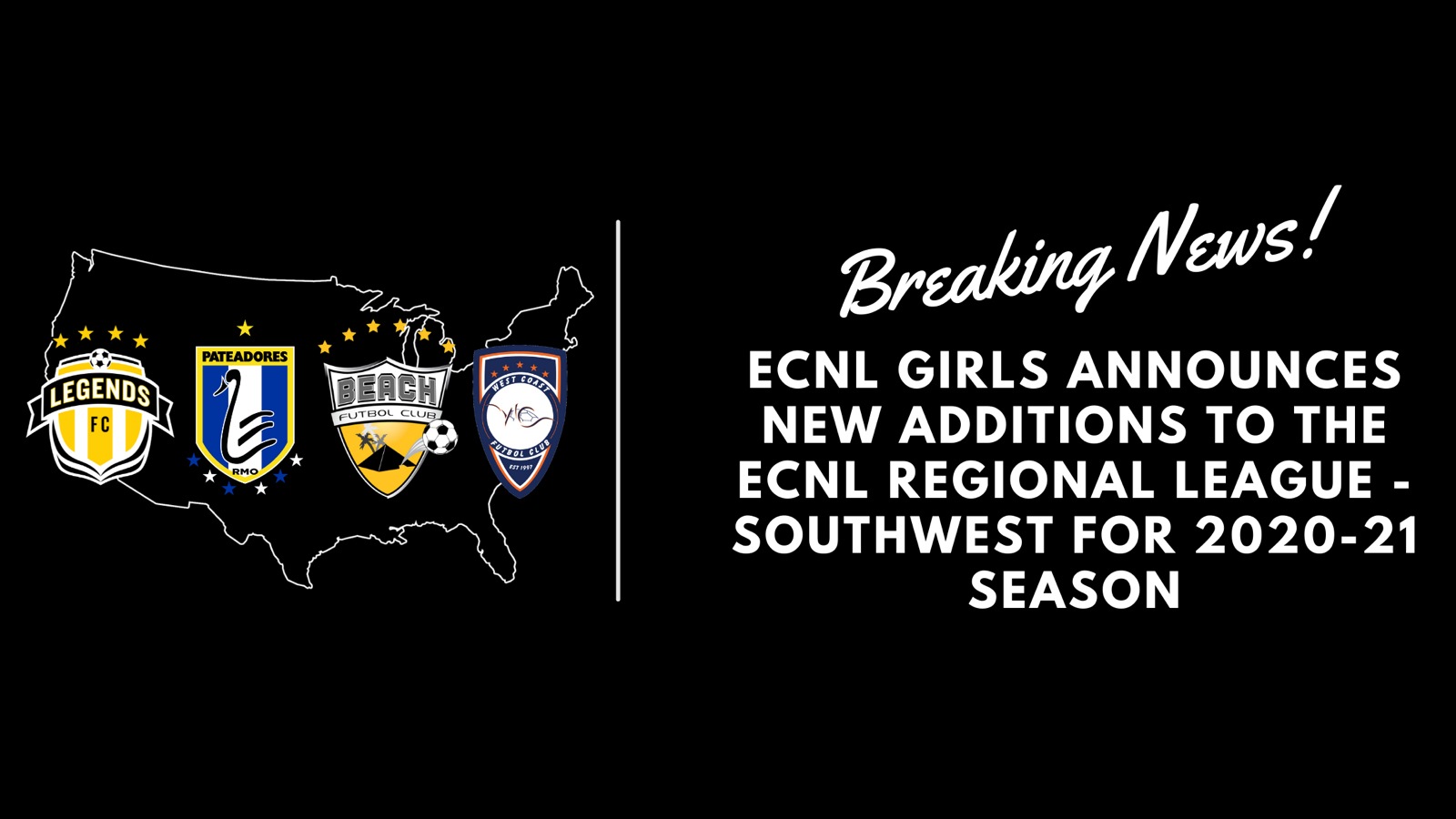 RICHMOND, VA – The ECNL Girls has announced the addition of four new clubs to the ECNL Girls Regional League – Southwest for the 2020-2021 season: Beach FC, Legends FC, Pateadores and West Coast FC.
"The ECNL Regional Leagues are an important platform for players and clubs to fuel development of players, and to provide a proving ground in competition," said Jen Winnagle, Commissioner, ECNL Girls. "Since launching the platform last year, the ECNL Regional Leagues have seen significant growth and are being celebrated as a strong resource for players and clubs." ECNL Girls Regional Leagues are designed to service a deeper player pool from member clubs of the ECNL, and to provide a competitive platform for objective evaluation of new clubs to become ECNL member clubs in the future.
Beach Futbol Club has 65 girls teams with more than 1,000 players, and has contributed talent to the World Cup, National Women's Soccer League (NWSL), and various European clubs. Beach FC has six National Championships across the club, placing hundreds of players at the collegiate and professional level. In addition, over 30 players have earned call ups for their respective Youth National Teams. "We are extremely proud of our Girls Program and the standards and values we have created," said Director Mauricio Ingrassia. "As we navigate an ever changing soccer landscape, service to our families is at our core, making it an easy decision to join the same Elite Clubs National League system that has served our Boys side so well."
Legends FC is one of the largest competitive clubs in Southern California, headquartered at the SilverLakes Soccer Complex in Norco, California, with over 200 competitive teams. Club accolades include four USYS National Championships, over 500 college commitments, 50+ youth national team players, and numerous alumni playing professionally in both the United States and abroad. "We look forward to having both our girls and boys programs operating as members of the ECNL system," said Director Josh Hodges. "There have been a lot of changes
in the landscape of youth soccer and the ECNL programming has remained the most consistent platform for player development in the country."
Pateadores created a girls program 10 years ago, and has almost 100 girls teams within the club. With players from U6 through to the WPSL level, Pateadores has a strong club commitment to providing top resources to female players. The Pateadores WPSL team were league finalists last year, taking home both the Coach of the Year and Offensive Player of the Year awards. "The Pateadores are excited to play in the ECNL Regional League," said Director Neil Powell. "The ECNL's structure has a proven record of producing top teams and talent at the National and International level, and the ECNL Regional League will give our players the opportunity to develop and reach their aspirations for college and beyond."
West Coast Futbol Club was founded in 1997 and is dedicated to bringing great experiences and opportunities to all of its players. The club has claimed five USYS National Championships, and 14 USYS Regional Championships in its history. It has also seen hundreds of players move on to college soccer and has supported the development of more than 25 Youth National Team players. "West Coast FC has always strived to have our players competing in the best leagues against the best talent," said Director Platini Souf. "We feel the ECNL is the best platform in the country for great competition, and we are excited to be in the ECNL Boys and ECNL Girls Regional League."
Each year, top performing teams in ECNL Girls Regional Leagues earn the opportunity to compete in the Open Cup Division of the ECNL Playoffs at the U15, U16 and U17 ages, where they will match up against other Regional League winners, as well as teams from member clubs of the ECNL.
The following clubs will be participating in the ECNL Regional League – Southwest in the 2020-21 season:
| | |
| --- | --- |
| Arizona Arsenal | Arsenal FC |
| Beach FC | Del Mar Sharks |
| Eagles SC | Heat FC |
| LA Breakers | LAFC Slammers |
| Legends FC | Pateadores |
| Real So Cal | Rebels SC |
| San Diego Surf | Slammers FC |
| So Cal Blues SC | Strikers FC |