St. Bonaventure women's soccer inks eight recruits to National Letters of Intent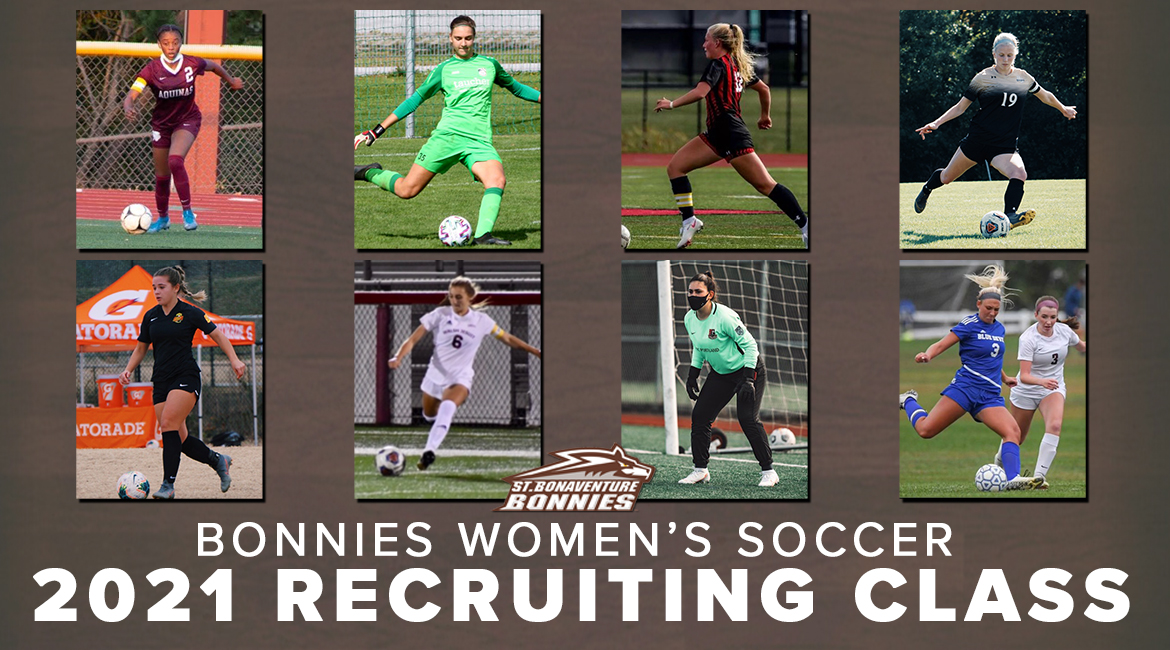 ST. BONAVENTURE, N.Y. – The St. Bonaventure University women's soccer team and head coach Steve Brdarski have announced the addition of eight student-athletes for the 2021-22 academic year.
Chanel Alexander, Chiara Gottinger, Sydney Hayward, Bridget Kennedy, Kristin Pickard, Elisabeth Ptacek, Ella Smith and Kendall Stansbury have all announced their intent to join the Bonnies women's soccer program in the fall of 2021.
"Our coaching staff has had to redefine how we recruit in the past 12 months." Brdarski said. "And with that there have been many challenges for our 2021 class. It is easy to say, that this group has overcome an overwhelming amount of obstacles before ever getting to Bonas. Yet, you would never know it by speaking to any of these incredible student-athletes. They are a uniquely diverse group, high energy and strong character, and they love Bona's. We welcome them to our Bonas soccer family and can't wait for them to represent our university in the classroom, on the field, and throughout our community. This group will be adding to all the hard work that our current team has been putting in, and I think we have a team that will complement each other and fight together."
Chanel Alexander joins the Bonnies from Rochester and is a forward for Aquinas Institute. Alexander was Player of the Year on her team and was the top goal scorer in the Eastern Regional Championship. She was part of the USYS National League in 2018-19, and was the top goal scorer in the 2018 Eastern Regional Championship. She also spent time with Rush N.Y. and GPS at the club level. In addition to soccer, Alexander plays basketball for Aquinas Institute, where she has recorded over 1,000 points throughout her career. At St. Bonaventure, she plans on majoring in physical therapy.
COACH BRDARSKI ON CHANEL ALEXANDER: "Chanel is a high energy competitor who will not stop or quit. Her ability to help the team anywhere on the field will be a great asset. Her quickness, tireless work ethic, and movement will be the key to unlocking defenses and help us to create scoring opportunities."
---
Coming to St. Bonaventure from Pirching am Traubenberg, Styria in Austria is Chiara Gottinger. She is a goalkeeper for BG/BORG HIB Graz Liebenau. Gottinger won the OFB FRAUEN 2 LIGA, the second-best league in Austria, for the 2017-18 season. She also started 16 games for U14 Team of Styria and won the Austrian Championship. Gottinger received Sportswoman of the Year from her 10th grade class. At St. Bonaventure, she plans on majoring in either sports studies or sports management.
COACH BRDARSKI ON CHIARA GOTTINGER – "Chiara is a strong, athletic, and smart goalkeeper. She has great presence on the field and in the box, she loves to use her feet and moves very well, and is relentless in how she trains and works on every part of her game. We will benefit from her experiences internationally, and the impact she will make as a Bonnie."
---
Sydney Hayward joins the Bonnies from Hilton, N.Y. and is a midfielder/defender for Hilton High School. A team captain, Hayward was named 2020 All-County Player of the Year, 2020 First Team All-County, and helped her team win the Division 1 Championship game in 2020. In the classroom, Hayward is a member of the National Honor Society and intends on double majoring in English and education at St. Bonaventure.
COACH BRDARSKI ON SYDNEY HAYWARD – "Sydney is a hard-nosed defender who will challenge for everything. She does all the little things that make a big difference on the field. Her perseverance, drive, and toughness will be a great benefit to this class and our team."
---
Coming to St. Bonaventure from Cleveland Heights, Ohio is Bridget Kennedy. She is a defender for Hathaway Brown High School. A team captain both junior and senior year, Kennedy scored seven goals and had four assists her senior season. She also played for the Cleveland Force Soccer Club. In addition to soccer, Kennedy played four years of varsity basketball and ran three years of varsity track. At St. Bonaventure, Kennedy intends to major in health science.
COACH BRDARSKI ON BRIDGET KENNEDY: "Bridget is one of the grittiest and determined additions to our team. She's aggressive in the way she defends and is not afraid of anything. Her vision, drive, and strength will complement our program very well."
---
Joining the Bonnies from Pendleton, N.Y. is Kristin Pickard. She is a midfielder and a forward for Starpoint High School where she was a six-year varsity starter. Pickard tallied 50 goals and 20 assists during her time at Starpoint and was also a two-year captain. She was a three-time team MVP and earned ECIC Division II First and Second Team honors. Pickard also spent time with the Western New York Flash at the club level. Academically, Pickard is a member of the National Honors Society. Pickard intends on majoring in educational studies at St. Bonaventure.
COACH BRDARSKI ON KRISTIN PICKARD: "Kristin knows exactly what it means to be a Bonnie both on and off the field. She is always trying to create opportunities both offensively and defensively and will do well with connecting the backline and frontline together. Her ability to read the game will be very important for us next fall."
---
Elisabeth Ptacek joins the Bonnies from Hudson, Ohio and is a defender for Walsh Jesuit High School. As a senior, Ptacek was named team captain, scoring 6 goals and 11 assists. The four-year varsity player was named to the Greater Akron Second Team her senior year, and was the Honorable Mention for both Greater Akron and North Coast League her junior year. Ptacek also received the defensive MVP both her junior and senior year. In 2017 and '19, she helped her team win the District Championships, while advancing as regional finalists in 2019. She played for the Cleveland Futbol Club as a starting center, finishing with 4 goals and 9 assists. In addition to soccer, Ptacek is also a member of the track and field team. At St. Bonaventure, she plans on majoring in biology.
COACH BRDARSKI ON ELISABETH PTACEK: "Versatile, tenacious, and resilient are the best ways to describe Elisabeth. She works really hard and her attention to detail is what makes her a great soccer player and teammate. She will help our program grow because of her attitude, mentality, and her passion for the game."
---
Ella Smith joins the Brown and White from Hillsboro, Ore. Smith is a goalkeeper for Century High School and has been the starting goalie for three seasons after transitioning from a center back after her freshman season. She was selected as a Pacific Conference First Team All-League Goalkeeper in 2018 and 2019. Smith also spent five seasons with FC Portland in the ECNL and went undefeated in the 2018 ECNL Houston Showcase. Smith plans on majoring in business at St. Bonaventure.
COACH BRDARSKI ON ELLA SMITH: "Ella reads the game well, has a high soccer IQ, and is a natural shot-stopper. She does really well with angles and has the ability to make the goal smaller. Her soccer journey at Bonas will only get better because of how motivated and positive she is."
---
Joining the Brown and White from Hammonton, N.J. is Kendall Stansbury. She is a midfielder/forward for Hammonton High School where she has started at the varsity level for the past four years. Stansbury, a three-time top scorer, finished her high school career with 26 goals and six assists during her senior year. She earned the Captain's Award both junior and senior year, along with All-Atlantic City Press honors as a sophomore. Stansbury plans on majoring in accounting at St. Bonaventure.
COACH BRDARSKI ON KENDALL STANSBURY: "Kendall is a very dynamic individual, who plays with tons of spirit and fire. She is dangerous with the ball, explosive going at defenders, and finds a way to score. She will bring another dimension to our team with her ability and commitment."