NJIT women's soccer announces signing of eight student-athletes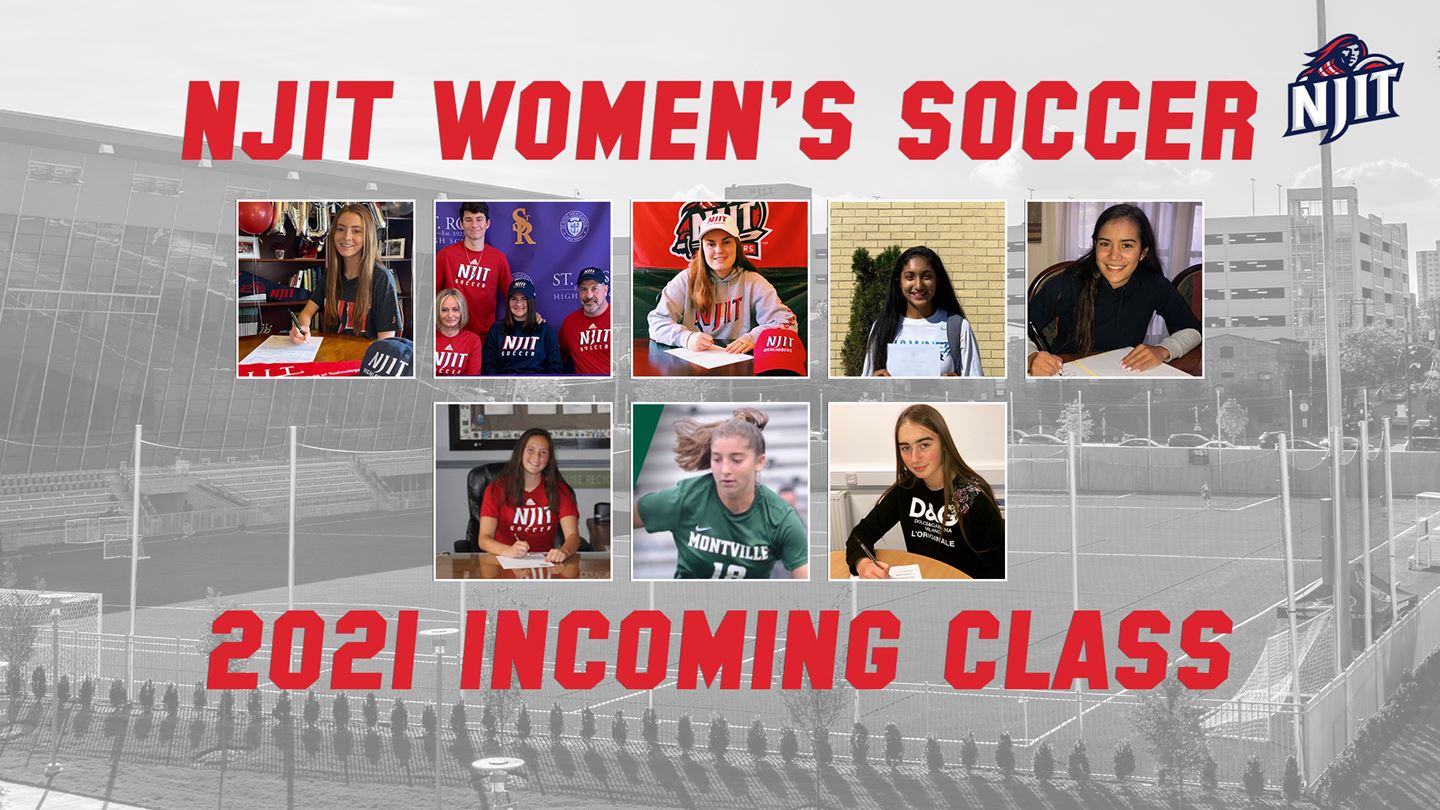 NEWARK, N.J. – Eight student-athletes will be continuing their academic and athletic careers at NJIT beginning in 2021-22, women's soccer head coach Ally Nick announced today.
Joining the Highlanders next season are: Ciara Adams, Caroline Caputo, Sam Constantine, Aleesha Deshmukh, Marisol Gomez, Taylor Pape, Daniella Vito and Taylor White.
HEAD COACH ALLY NICK'S STATEMENT ON THE INCOMING CLASS
"Our Senior Class of 2021 is currently NJIT Women's Soccer's most successful class ever, being a part of a pair of ASUN semifinals, a second-place regular season conference finish, new school records in goals scored, goals allowed, and shutouts with the Spring left to play. Not only did we know it would be difficult to replace these players because of their on field contributions, but their leadership would be challenging to replace as well.
"During the recruiting process, our seniors taught us that we needed players that have passion for the game, a drive to win championships and a will to make players around them better. This incoming class of eight special players contains National team experience, playmakers, sophistication and hard workers. Overall, they all possess the quality to win championships and be great in everything they do. We were fortunate to find these players who continue to raise their bar and are willing to put in the necessary work.
"With the mentoring and leadership from our returning players, we know that these eight individuals have the personalities to contribute their special qualities to our team's culture and leave their mark on our program and the America East."
PLAYER PROFILES
CIARA ADAMS | M | FLEMINGTON, NJ | HUNTERDON CENTRAL REGIONAL HS | PDA ECNL WHITE 02/03
Prior to NJIT: Competed at Hunterdon Central Regional for head coach Jeannine Calhoun…three-time Skyland Conference selection…2020 NJGSCA honoree…named to Top Drawer Soccer Girls HS Stars Northeast Class of 2021 and 2020 TDS Girls HS Fall State Stars…All-Hunterdon County selection…Second Team Group IV honoree…multi-year team captain…won a State championship in 2019…helped HCRHS earned a No. 1 ranking in New Jersey…also competed in club soccer for PDA ECNL White 02/03 and coach Jeremy Beardsley…named to New Jersey ODP and selected for Region I Pool…earned a Northeast Conference championship in 2017…Academically, named to Honor Roll and Principal's Honor Roll multiple years…also named to National and Science National Honors Society.
Personal: Ciara Elizabeth Adams…daughter of Tricia and Jim Adams…intends to major in Biology
CAROLINE CAPUTO | M | SPRING LAKE HEIGHTS  NJ | ST. ROSE HS | PSA
Prior to NJIT: Competed at St. Rose for head coach Zach Savacool…Set school record for assists during scholastic career. Two-time division champion (2018-19) and 2018 Non-Public B Sectional Championship…also competed in club for PSA and coach Massimo Cedraschi…helped lead program to Regional title in 2019…academically, earned high honor roll accolades every semester of her career.
Personal: Caroline Grace Caputo…daughter of Ann and Richard Caputo…intends to major in Biomedical or Chemical Engineering…uncle William McCrea and cousin Sean McCrea both attended NJIT.
SAM CONSTANTINE | GK | OAKTON, VA | JAMES MADISON HS | ST. JAMES FC VIRGINIA
Prior to NJIT: Competed at James Madison for head coach Devon Dowell…two-year varsity letterwinner…led team to State Championship game as a freshman…Also played club for St. James FC Virginia and coach Bobby Puppione…named to the VA State and Regional ODP.
Personal: Samantha Rae Constantine…daughter of Kimberly and William Constantine…intends to major in Biology.
ALEESHA DESHMUKH | M | MEDFORD, NJ | SHAWNEE HS | PENN FUSION
Prior to NJIT: Competed at Shawnee for head coach Drew Wagner…led Shawnee to a South Jersey Group IV championship…2018 Coaches Cup finalist…also played club for Penn Fusion and coach Craig Scangarella…three-time NPL Regional Champions…State Cup Champions
Personal: Aleesha Sameer Deshmukh…daughter of Suparna and Sameer Deshmukh…intends to major in Neuroscience.
MARISOL GOMEZ | M | AGUASCALIENTES, MEXICO | JOSE VASCONCELOS TIJUANA HS | CEFFO 
Prior to NJIT: Competed at Jose Vasconcelos Tijuana for head coach Nacif Lopez…helped lead school to a high school tournament championship…member of the Mexican U17 Youth National Team…also played club for Centro de Formacion Femenil B.C. (CEFFO)…2018 USUS Cal MVP.
Personal: Marisol Gomez…daughter of Marisol Andrade and Abel Gomez…intends to major in Business Management.
TAYLOR PAPE | D | TOMS RIVER, NJ | TOMS RIVER EAST HS | PDA SHORE FREEDOM
Prior to NJIT: Competed at Toms River East for head coach Michael Nichol…two-time Defensive Player of the Year honoree…named to NJ.com's Top 50 defenders list…also played club for PDA Shore Freedom and coach Lou Santa Cruz…qualified for US Soccer National Championships and USYS National Championships during club career…helped make National League history as only third team to complete season with no goals conceded…also competed in lacrosse and track
Personal: Taylor Malia Pape…daughter of William and Deirdre Pape…intends to major in Biology.
DANIELLA VITO | D | TOWACO, NJ | MONTVILLE TOWNSHIP HS | PSA NATIONAL 02
Prior to NJIT: Competed at Montville for head coach Nicholas Sands…Northwest Jersey Athletic Conference First Team Red South honoree…set school records for single game and single season goals…earned All-State Team, First Team All Conference and First Team All County honors during scholastic career…also competed in basketball and track…holds school record in javelin throw…also competed in club for PSA and coach Massimo Cedraschi…U19 Region I champion.
Personal: Daniella Vito…daughter of Andrew and Mary Vito…undecided on major…has a twin sister Bella that committed to play basketball at America East member Vermont and an older brother Andrew that plays football at Ithaca.
TAYLOR WHITE | M | DUBLIN, IRELAND | ST DOMINICS COLLEGE CABRA HS | SHELBOURNE FC
Prior to NJIT: Primarily competed for Shelbourne FC (coach David Bell) and Republic of Ireland Youth National Teams…named to WU17 UEFA Elite Round squad.
Personal: Taylor Ann White Maguire…daughter of Natasha White and Derek Maguire…intends to major in Business.