USC women's soccer unveils 10-player recruiting class, ranked 4th in the nation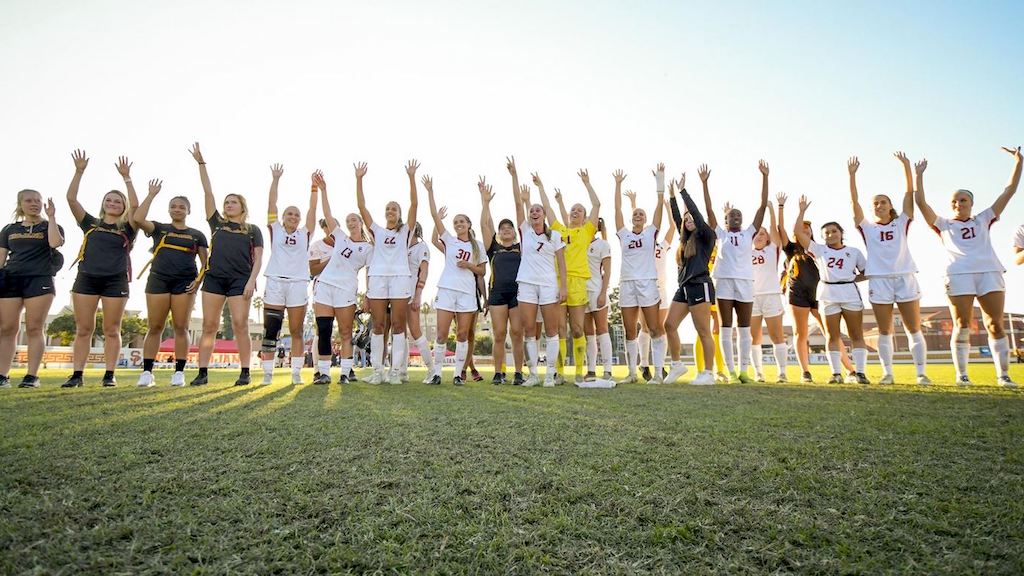 LOS ANGELES – USC women's soccer head coach Keidane McAlpine announced the team's 2021 recruiting class this week, with 10 players signing NLI's in a class ranked No. 4 in the country by Top Drawer Soccer.
The class includes seven players staying home in Southern California, three heading to Troy from outside the state and a host of National Team, club and prep accolades. Eight of the 10 players are ranked in the IMG Top 150 recruit rankings, and three are in the Top 20, including the No. 3 overall player Simone Jackson.
Here's a look at the 2021 class…
Simi Awujo
5-9 | Midfielder | Atlanta, Ga. | Woodward Academy/NASA Tophat
Awujo comes to USC with high-level club and youth national team experience, having played with the U.S. U-17 squad in 2019 at the UEFA Development Tournament in the Czech Republic. Awujo also was an invite to the 2020 U-17 National Team training camp in Carson, Calif. and scored 16 goals in Development Academy play. She competed most recently on the club circuit for NASA Tophat and played three years of ODP from 2014-16. Awujo is also an accomplished track athlete, helping set school records in the 4×100 and 4×400.
McAlpine on Awujo: "Simi is an extremely talented midfielder. She is very technical on the ball, good in the air, and is very tough in the tackle."
Awujo on why she chose USC: "I chose USC because I know that this institution will challenge me to be my best and push me not only in my athletic career, but also in my academic career."
Morgan Brown
5-11 | Defender | Los Angeles, Calif. | Sierra Canyon HS/Real So Cal
Brown is one of two Real SoCal defenders heading to USC this cycle and comes to Troy from a prestigious athletic bloodline as the daughter of NFL legend Jim Brown. The 5-11 defender played two varsity seasons at Sierra Canyon, earning Athlete of the Year in 2017 and All-Gold Coast League first team in 2020. Brown also ran track in 2017 as a prep athlete. She played for Real SoCal from 2013-21 and comes in with Development Academy and ODP experience.
McAlpine on Brown: "Morgan is a very athletic center back, with good feet, excellent skills in the air and a calm demeanor. She doesn't get rattled, which serves her teams well on the backline."
Brown on why she chose USC: "I realized I wanted to attend USC after seeing the L.A. Memorial Coliseum for the first time. Looking up at the Jack and Jill figures, I realized I wanted to be that strong. The strong where no one could doubt my ability, and I could proudly stand beside my comrades in solidarity. I believe USC will not only push me athletically, but, through its world-class academic programs, will help equip me with the tools necessary to heal bodies and minds."
Kayla Colbert
5-2 | Forward | Rancho Cucamonga, Calif. | Aquinas HS/Legends FC
Colbert heads to Troy having competed for both the U-17 and U-14 U.S. Youth National Teams. She played her club soccer for Legends FC most recently, scoring 14 goals in 2019 before losing last year to the Covid-19 pandemic. Colbert also played one year of prep soccer at Aquinas in 2019, scoring 10 goals and earning All-American honors. She comes to USC as the 11th-ranked player in the nation and the No. 5 defender in the 2021 class according to Top Drawer Soccer.
McAlpine on Colbert: "Kayla is a very fast and dynamic wide player. She has good versatility, with the ability to play either up front or in the back, and she always seems to play with a lot of tenacity."
Colbert on why she chose USC: "I love our coaches and my new teammates. USC feels like home and I can't wait to make a name for myself while having the time of my life these next four years."
Brooklyn Courtnall
5-9 | Defender | Westlake Village, Calif. | Oaks Christian HS/Real So Cal
Courtnall is a defender who also ran track at Oaks Christian in Westlake Village. An all-around athlete and the daughter of former NHL star Russ Courtnall, she helped the lions to a 2019 Track State Championship, running the 400 meters, 4×400 and 4×100. She also earned All-Marmonte League recognition in one season of prep soccer (2018). Courtnall played her club soccer for Real SoCal for the last five years, making the Development Academy playoffs in 2019.
McAlpine on Courtnall: "Brooklyn is another dynamic wide player who is extremely fast. She can play anywhere on the backline, but has the potential to get forward on the attack as well."
Courtnall on why she chose USC: "When I stepped on campus, I could feel that USC was a family and would not only give me the best opportunities academically and athletically, but also I would be a part of a lifetime community."
Aaliyah Farmer
5-9 | Midfielder | Tustin, Calif. | Villa Park HS/Slammers FC
Farmer brings a host of prep and club accolades to USC, playing both the holding and attacking midfield positions. She earned All-American and All-Conference recognition playing with Slammers, scoring 10 goals her last season with the club. Farmer was named league MVP each of the last three years at Villa Park HS, scoring 22 goals as a junior and 26 as a senior. She played one season of prep volleyball as well, earning team MVP honors as a freshman. Farmer is the 16th-ranked player in the 2021 recruiting class.
McAlpine on Farmer: "Aaliyah is a defensive mid who is extremely talented in the air and is a very good passer of the ball. She works box to box and will provide some toughness for our team."
Farmer on why she chose USC: "USC has always been my dream school growing up in California. My goal as an athlete was to further my academics and athletics in the same state so my family could come witness the growth in my game. There isn't a more perfect place to accomplish that dream than USC and I can't wait to further my career as a Trojan."
Julia Gomez
5-8 | Forward | Hacienda Heights, Calif. | Glenn A. Wilson HS/Slammers FC
Gomez, another local product, was a standout goal-scorer for Slammers FC and Wilson HS. Gomez scored 18 goals her last full season with Slammers and scored eight goals before her last season was cut short due to the Covid-19 pandemic. Gomez played three varsity seasons at Wilson High before losing her senior year to the pandemic as well. She scored 22 goals as a sophomore and 26 as a junior, earning All-CIF and League MVP honors both years.
McAlpine on Gomez: "Julia is a high-motor forward who works extremely hard. She has a good eye for goal, works well in the box and is very opportunistic."
Gomez on why she chose USC: "I chose USC so I could play at one of the top universities in the country and get a great education. USC was my dream school and I have always wanted to play in the Pac-12."
BK Harris
5-4 | Forward | New Albany, Ohio | New Albany HS/Ohio Premier/Internationals
Harris comes to USC from Ohio as one of the three out of state recruits. She has youth national team experience, earning a U-14 training camp invite in 2017 and also a couple years of ODP experience in 2015-16. Harris posted staggering numbers in her two prep seasons at New Albany HS, putting up 55 goals and 33 assists. She earned All-American and Conference Player of the Year honors as a senior, and was All-District and All-Conference as a sophomore, leading her team to conference championships both seasons. Harris is the No. 8 recruit in the Great Lakes Region according to Top Drawer Soccer.
McAlpine on Harris: "BK is another wide/midfield player who can probably play anywhere in the front five. She's good on the ball, good 1 v 1 and provides great service into the box. She provides us more great depth."
Harris on why she chose USC: "I chose USC because it was the first place I felt I would be playing for something bigger than myself and that there was a culture that could push me in every aspect on and off the field."
Simone Jackson
5-4 | Forward | Redondo Beach, Calif. | Bishop Montgomery HS/Slammers FC
Jackson comes to USC already familiar with the Trojan Family as the daughter of football and baseball great John Jackson Jr., granddaughter of former USC Offensive Coordinator John Jackson Sr. and sister of current USC wide receiver John Jackson III. As long as her USC lineage is, her resume of youth national team, club and prep experience is even longer. Jackson has been in the U.S. Youth National Team system since her U-14 days in 2016 and has been invited to numerous training camps at every level. She has played in several international tournaments and friendlies at the U-15 and U-17 levels, recently scoring twice for the U.S. U-17 squad at the 2019 International Friendly Tournament in Sweden. Jackson was set to help lead the U-17 team to the 2021 World Cup before it was canceled. In addition to her international experience, Jackson starred for four years at Bishop Montgomery, earning All-American status twice to headline a long list of honors. For good measure, Jackson also ran track and played tennis in high school. She most recently played her club soccer for LAFC Slammers (scoring 20 goals in just eight games this past season) and has earned West Conference Best XI recognition in the past. She comes in as the No. 3 rated player in the 2021 class.
McAlpine on Jackson: "Simone is a great goal-scorer. She can take you on, shoot from distance with both feet and has a very high soccer IQ. The sky is the limit for going forward and we're excited to see what she can do."
Jackson on why she chose USC: "I chose to attend USC because of the school, the coaching staff, the location, and the people feel like home. Simply put; I chose legacy, I chose family. Fight On!"
Izzy Kimberly
5-8 | Forward | Jacksonville, Fla. | The Bolles School/Jacksonville FC
Kimberly is a standout forward from Jacksonville, Fla. who comes to USC with experience in both U.S and Jamaican Youth National Team training camps. Kimberly was an invite to the U-15 U.S. Youth National Team camp in 2017, and was a 2020-21 invitee to train with the Jamaican National Team. She has several years of ODP experience, earning the honor of Region III team captain, and was named to the All-State ODP All-Star Team. Kimberly was a scoring machine for Jacksonville FC on the club circuit, amassing 118 goals over the last four years. She was only slightly less prolific as a prep star, scoring 71 goals and notching 42 assists in four varsity seasons. Kimberly helped her team win three state championships and has earned All-First Coast recognition. She is the sixth-ranked player in the state of Florida according to Top Drawer Soccer.
McAlpine on Kimberly: "Izzy is a powerful forward with great feet. She's very good on the ball, can make all the passes and still has the ability to take people 1 v 1."
Kimberly on why she chose USC: "Since first visiting L.A., I knew Southern California was the place for me, and after being introduced to USC and Coach McAlpine's program, that sealed the deal. With one of the top soccer programs in the nation and stellar academics, USC feels like the perfect place for me to learn and grow these next four years. To be able to play the sport I love while being a part of the Trojan community is truly a dream come true."
Reezyn Turk
5-8 | Goalkeeper | Seal Beach, Calif. | Los Alamitos HS/So Cal Blues
Turk is the lone goalkeeper in the 2021 class and comes to USC after standout careers at both Los Alamitos High and with the SoCal Blues. Turk played four varsity seasons at Los Alamitos, leading the team to three conference championships and to the state finals in 2019. She was a three-year team captain and earned All-Conference first team twice. Playing for the Blues, Turk won three club National Championships along with numerous other league and tournament titles. She is the 10th-ranked goalkeeper in the 2021 class.
McAlpine on Turk: "Reezyn is a great shot-stopper with excellent footwork in goal. She has a good ability to play balls over distance and brings us excellent depth to the position."
Turk on why she chose USC: "I chose USC because of the opportunity to be able to play for one of the top programs in the nation while also earning a degree from one of the most prestigious universities here at home in L.A. USC has always been a dream for me and I can't wait to be a Trojan!"