Davidson women's soccer signs six recruits during November signing period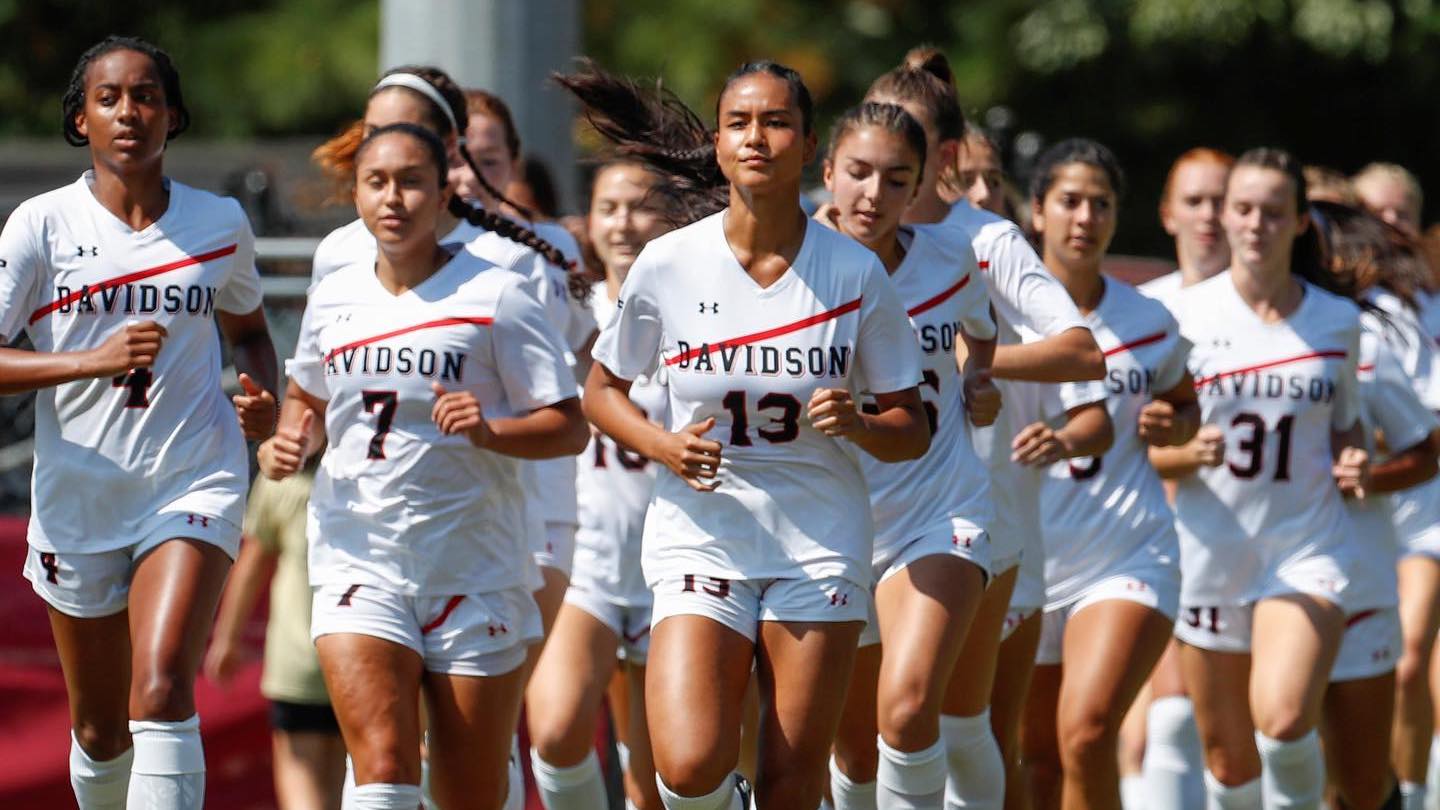 The Davidson College women's soccer program has signed six recruits in the November signing period, head coach Adam Denton announced Monday.
Set to join the Wildcats next fall are: Aleia Gisolfi-McCready, Raine Jones, Katie McCormack, Maddie Moody, Emily Smith and Katy Talotta.
"We are excited about the class of 2025 joining the Davidson College family and feel that each of the players will add something individually and collectively to our current team," said Denton. "Along with our current squad, these players understand the commitment to play Division-I soccer in the Atlantic 10 Conference, while being a scholar-athlete at Davidson College. As all of the women's scholar-athletes at Davidson, they will embrace the responsibility of representing the college both on and off the field."
Here's more on the recent additions:
Aleia Gisolfi-McCready
Forward | Lexington, Mass.
Lexington HS | FC Stars
Academic Honors: Silver Medal in National Spanish Exam (2017), World Language Class Award In Spanish (2017), World Language Class Award In American Sign Language (ASL) (2017).
Athletic Honors: Captain of High School Soccer Team (2020), Middlesex League All-Star Team (2018-2019) for Soccer, Middlesex League All-Conference Team 300M + 4×400 Relay (2018-2019) for Indoor Track, Middlesex League All-Conference team (2019-2020) Indoor Track, Most Outstanding Performer (2019-2020) Indoor Track.
Why Davidson: "I felt a powerful sense of community amongst students and faculty the first time I ever set foot on campus. Not one person I met could be sorted based on major, activity, or interest; each student was a well-rounded individual like I have always aspired to be with a broad scope of interests. I was so excited by the all-night library and watching how the students collaborated with one another. I am eager to learn as much as I can from faculty in a challenging academic environment and play a sport I have loved at a high and competitive level. I know Davidson will become my home away from home."
Coach Denton: "Aleia is a versatile forward and a player that looks to create opportunities in the final third for herself and her teammates. Her ability to create opportunities will add to the dynamic of our attacking threat next fall."
Raine Jones
Center Midfielder | Nashville, Tenn.
University School of Nashville | Tennessee Soccer Club ECNL
Academic Honors: Cum Laude Society (2020), French National Honor Society (2019)
Athletic Honors: High School Team Captain (2020), High School Team MVP (2019), TN All-State (2019), TN All-Region (2019), TN All-District (2018, 2019), Varsity Letter (2017-2019), ECNL National Champions League (2018, 2019), USYSA National Bronze Medalist (2017), USYSA Region III Champions (2017), TN D1 State Champions (2017)
Why Davidson: "Davidson gives me the opportunity to have strong academics and competitive athletics all in one, while being surrounded by a great community and beautiful campus. After visiting, I knew it was where I wanted to be, and I am so excited to join the team!"
Coach Denton: "Raine is an intelligent central player who is comfortable on the ball in tight areas and has good vision and ability to link play from the backline to the frontline. Her vision and ability to read the game will provide options within our midfield next year."
Katie McCormack
Outside Back | Sugar Hill, Ga.
North Gwinnett HS | Atlanta Fire United ECNL
Academic Honors: Georgia Certificate of Merit (2020), National Honor Society (2019-2020), Scholar Athlete (2017-2020), AP Scholar with Distinction (2020)
Athletic Honors: Captain of High School Soccer Team (2018-2019), Varsity Letter in Soccer (2017-2020), Varsity Letter in Cross Country (2017-2018), GHSA Soccer State Champion (2019)
Why Davidson: "I wanted a school where I could push myself both academically and athletically. I loved Davidson's campus the first time I visited, and there was such a strong sense of community among all of the students. I'm really excited to get to work with everyone in the soccer program and to become part of the Davidson College student community."
Coach Denton: "Katie is an athletic outside back, and a physical 1v1 defender. She brings great work rate and athleticism to get up and down the field, and will add depth to our backline next fall."
Maddie Moody
Center Back | Jacksonville, Fla.
St. Johns Country Day | North Florida Soccer Academy
Academic Honors: Honor Roll Suma Cum Laude (2017-2020), National Honor Society (2017-2020), Capstone Diploma (2020), State French Competition Team (2017-2019), Scholastics Art and Writing Award Honorable Mention (2019)
Athletic Honors: Captain of High School Soccer Team (2019-2021), Five-time FHSAA State Champion (2015-2020), All Clay County 1st Team (2020), IGT Next Student-Athlete of the Year (2019), Varsity Track and Field Captain (2018-2020), Varsity Volleyball Captain (2018-2020)
Why Davidson: "It has a unique blend of academic excellence while still providing the opportunity to play college soccer at the highest level. The strong sense of community on the soccer team as well as on the campus as a whole was something that really stood out to me on my visit and sealed the deal."
Coach Denton: "Maddie is a strong and athletic defender, with good range in her distribution. Her versatility and strength will bring added depth to the center back and outside back positions."
Emily Smith
Goalkeeper | Alexandria, Va.
St. Stephens and St. Agnes School | McLean ECNL
Academic Honors: Fall Semester Heads List (2017, 2019), Spring Semester Heads List (2018, 2019, 2020), Fall Semester Deans List (2018), Selected as Peer Advisor to Underclassmen (2020-2021), Master Grapher (2020)
Athletic Honors: Captain of Varsity Soccer High School Team (2020), Max Preps Soccer Player of the Year (2019), Washington Post All-Met Honorable Mention for Soccer (2019), All-Conference in Soccer (2019), Washington Post All-Met Honorable Mention for Swimming (2019), 4 High School Swim Team Records, Captain of Varsity Swim High School Team (2020-2021), Most Outstanding Athlete Award for High School Track (2018), 3rd Place in High Jump at State Championships (2019), Captain of Varsity Track and Field High School Team (2020-2021)
Why Davidson: "It has a perfect balance between top-flight athletics and challenging academics. Davidson's broad-based curriculum will allow me to explore a diverse course load to find what truly drives me. When I visited Davidson for my visit, it was immediately clear that the soccer team is a close-knit family that I am excited to be a part of."
Coach Denton: "Emily is a great addition to our goalkeeping unit. She is comfortable with the ball at her feet and in her distribution out of the back and will bring good depth and competition to the position."
Katy Talotta
Midfielder | Arlington, Va.
Yorktown HS | Arlington Soccer Association Girls Academy League
Academic Honors: AP Honors Program Yorktown 9th-12th grade, National Honor Society 11th- 12th grade, Selected as Peer Advisor to Underclassmen (2018-2019), Patriot Athletic Council Jr-Sr Year, Virginia HS League Academic Honors 2019
Athletic Honors: Club team captain (2016-2020), Arlington team representative, Yorktown HS VHSL Class 6 Virginia State Champion 2019, EDP USYS BEST XI spring 2019, STATE VA ODP (2016), Super Y National Champion (2017), USL National Pool selectee USL exp. (2017), VA State Cup Champion (2017), JV Basketball Yorktown HS, Arlington Rec HS Basketball County Champion 2020
Why Davidson: "It is all I look for in a school and more. It is a perfect mixture of strong academics and athletics. I love the tight knit community of the school, especially with the coaches and team, not to mention the absolutely beautiful campus!"
Coach Denton: "Katy is a versatile attacking player that will bring creativity and attacking presence to our team. Her energy and willingness to take players on 1v1 and create opportunities in the final third will provide depth in our midfield and front line."