Old Dominion University brings in five women's soccer recruits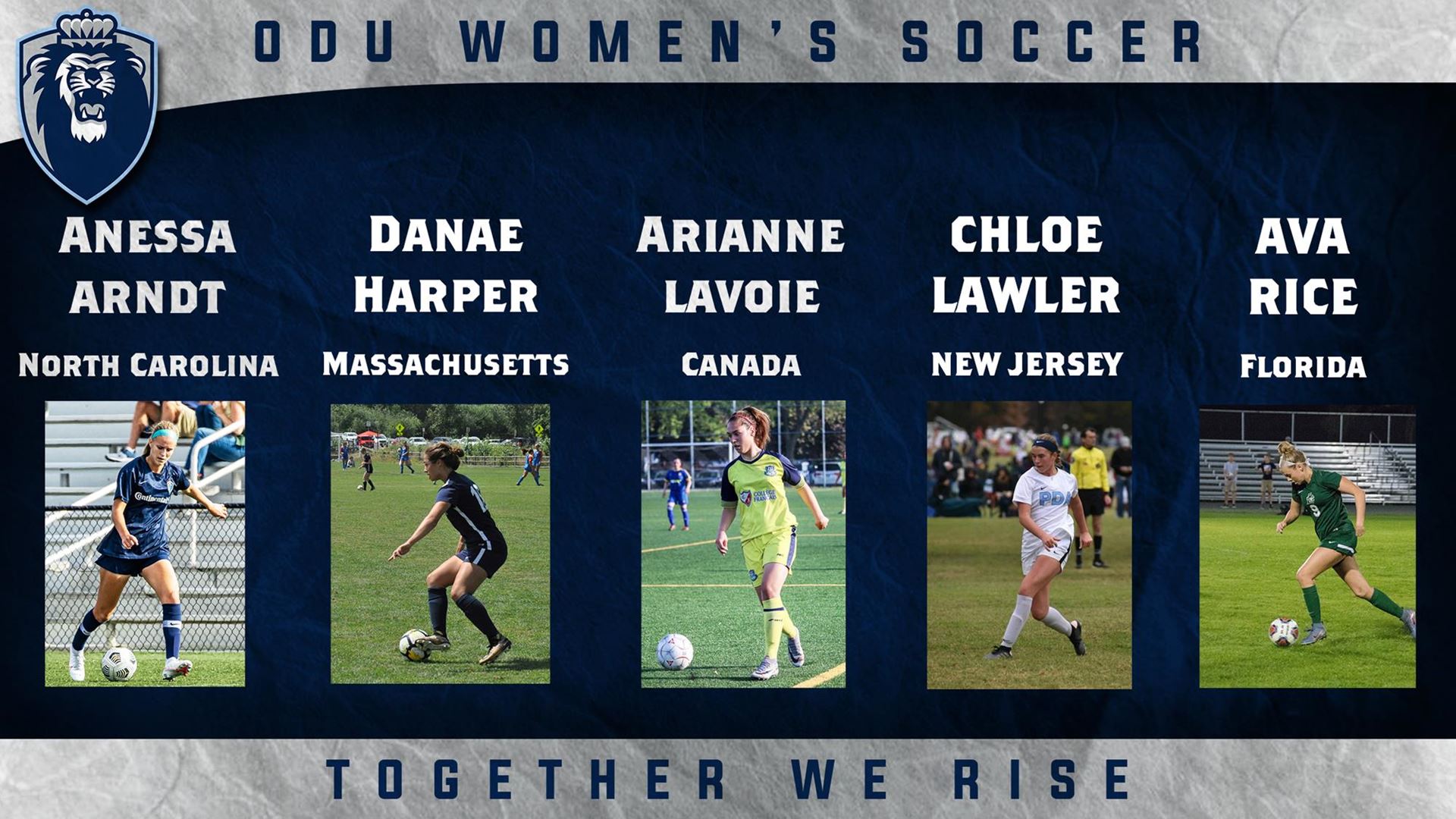 NORFOLK, Va. – Old Dominion women's soccer head coach Angie Hind announced the addition of five new players, as part of the Monarchs' newest recruiting class.
Joining the program in 2021 are: Anessa Arndt (Cary, N.C.), Arianne Lavoie (Quebec, Canada), Chloe Lawler (Cape May, N.J.), Ava Rice (Lecanto, Fla.) and Danae Harper (Grafton, Mass.).
Hind on the Class of 2021:
"I am tremendously excited for these five players to join our program. Each of them brings something unique and very special and I believe that will help take our program to a higher level. Together they all have quality and the ability to impact on the field, but within this group we have some very special young women, who also have the character and ambition to really make their mark on the future of ODU women's soccer. As a staff, we have truly enjoyed the relationships we have developed recruiting them and now look forward to having them here permanently with us on the field and as part of our team. I know they are all very eager to be here and are already proud to begin their careers at Monarchs."
MEET THE NEWEST MONARCHS
Name: Anessa Arndt
Hometown: Cary, N.C.
Club Team: NC Courage ECNL Academy
High School: Crossroads Flex
Position: Defender
Potential Major Interests: Biology
Arndt on Choosing ODU:
"I chose ODU because the tight-knit community, team and coaches made me feel at home. It is an environment where I am going to be able to grow academically, athletically and as a person."
Hind on Arndt:
"We are thrilled to have Anessa join the ODU women's soccer program, as throughout this process Anessa has been so clear in her desire to be part of this soccer program and University. Anessa is a very technical player who despite being in a defensive position can get forward so well and support our attack. She brings a dedication to improve and is committed to being the best she can be and that makes the potential for her so high. We are so excited to begin working with Anessa and welcome her as part of the Monarch family."
Name: Arianne Lavoie
Hometown: Quebec, Canada
Club Team:  Longueuil
High School: Collège Français Longueuil
Position: Forward
Potential Major Interest: Business
Lavoie on Choosing ODU:
"I've chosen ODU because of its family spirit, while the coaches are dedicated to the team and are expecting nothing but the best. I also felt at home when I visited the campus and everyone was welcoming.
Hind on Lavoie:
"Arianne is a strong, powerful and very technical striker, who has great presence but also a true eye for goal. She has the quality and winning mentality to really strengthen our front line and within this environment we believe she has the potential to grow into an even more impactful player. She is a winner and that competitive drive teamed with her qualities on the ball make her an exciting player for our program. We as a staff are thrilled to welcome Arianne to the Monarch family."
Name: Chloe Lawler
Hometown: Cape May, N.J.
Club Team: PDA
High School: Lower Cape May Regional
Position: Forward
Potential Major Interest: Biology
Lawler on Choosing ODU:
"I knew ODU was the right place for me when watching how hard and competitive the Monarchs trained and the camaraderie seen between the players and coaches."
Hind on Lawler:
"Chloe is the type of person who we believe will fit in so well to our culture, our team and the ambition we have. She is an athletic, dynamic forward who works tirelessly to make things happen in the final third and possesses a strong presence on the field. She is a such a mature young woman and we are excited to work with her and support her development as a soccer player here at ODU. We as a staff are thrilled to welcome Chloe to the team."
Name: Ava Rice
Hometown: Lecanto, Fla.
Club Team: Tampa Bay United
High School: Lecanto
Position: Midfielder
Potential Major Interests: Business and Occupational Studies
Rice on Choosing ODU:
"As soon as I stepped on the campus I got this feeling that I knew it was where I wanted to go."
Hind on Rice:
"Ava is a technical central midfielder with a real eye for goal. She has great creativity and vision to link up with players in the attack and the desire and ability to get on the end of things inside the box. Strong in the air and gifted in tight spaces, Ava will fit in well with our style of play and being in this environment will help her develop further as a soccer player and athlete. We are excited to work with Ava and think she will be a great addition to our midfield unit. We welcome Ava as part of the Monarch women's soccer team."
Name: Danae Harper
Hometown: Grafton, Mass.
Club Team: FC Stars of Mass
High School: Grafton
Position: Defender
Potential Major Interests: Art, Environmental Studies, Humanities
Harper on Choosing ODU:
"I chose ODU because of the amazing community and inclusive environment, but also the potential opportunities it holds for my future academically and athletically."
Hind on Harper:
"We are delighted to have Danae join this program. Throughout this recruiting process she has shown such desire to be part of this program, community and University. As a soccer player, she has such presence on the field and is a real winner. As a defender she reads the game so well, is aggressive and brings confidence to others around her through her leadership. We have been so impressed by Danae as a soccer player, student, but also as a person and we are truly excited to have her here with the opportunity to make her mark on our program. We welcome Danae to the ODU family."