Loyola University Maryland announces six new women's soccer recruits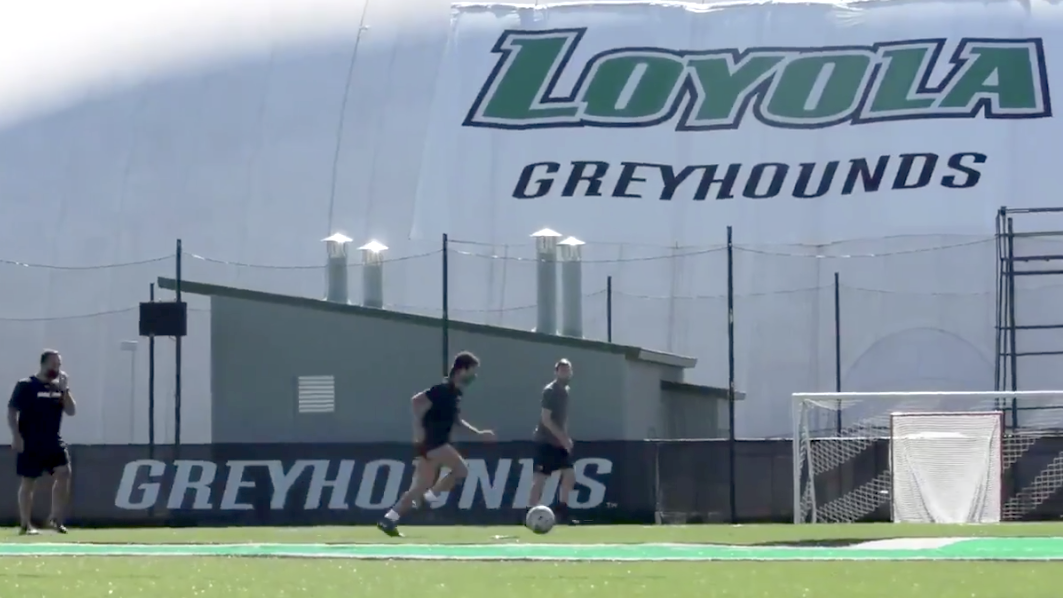 BALTIMORE – Loyola University Maryland women's soccer head coach Joe Mallia announced six signings for the program's recruiting Class of 2025.
The group includes three projected forwards, two midfielders and one defender. Three are from the state of Maryland, while California, New Jersey and New York are also represented in the class.
All have played for nationally-regarded club programs, and the class includes two sets of teammates from those clubs. Maryland natives Baylee DeSmit and Olivia Quaranta played together on Pipeline SC, while Grace DenBleyker and Elizabeth Gallagher were teammates for PDA in the ECNL.
"Our staff is really excited about what this class adds to our program both on the soccer field and in the classroom," Mallia said. "We expect them to help each line of our team, complementing the current players on the roster and adding new ways to play in our desired style.
"One of the things that excites us most about this group is their club backgrounds," he continued. "The development they've made within their clubs will help them hit the ground running for us. We can't wait to get them on campus!"
More information about each member of the Class of 2025 is available below.
Grace DenBleyker (Midfield, Kinnelon, N.J./Kinnelon)

Before Loyola: Four-time first team all-conference performer and a two-year team captain at Kinnelon … recently set school's all-time record for goals scored … has totaled 74 goals and 53 assists in high school, including 31 goals and 18 assists during her freshman year … led team to Morris County Championship game as a junior … plays club for PDA in the ECNL … three-year team captain … helped club reach ECNL National Quarterfinals in 2018 … two-year varsity lacrosse member.
Personal: Is the daughter of Janet and Don DenBleyker … has two siblings, Sullivan and Smith … National Honor Society member … member of Peer Leaders program.
Baylee DeSmit (Forward, Towson, Md./McDonogh School)

Before Loyola: 2020 Maryland Gatorade Player of the Year … 2019 Baltimore Sun, Varsity Sports Network and MACS Player of the Year … totaled 52 goals and 28 assists in her first three seasons at McDonogh, leading team to three IAAM A conference championships … two-time All-State and All-Metro performer and a 2019 United Soccer Coaches High School All-America selection … plays club for Pipeline SC … was the leading scorer at the 2019 US Youth Soccer National Championships, helping team finish as National Championship finalists … honored as the Best Player Golden Ball award winner, and also named to the Best XI Team at that tournament … leading scorer at the 2018 and 2019 Region 1 Regional Championships … selected to the Best XI team at the 2019 National League EDP Conference Spring Showcase … club team won four MSYSA State Championships and a USYSA National League title … also a two-year letterwinner in basketball and lacrosse.
Personal: Is the daughter of Doug and Debbie DeSmit … mother has run three Baltimore marathons … father was a Division III All-American soccer player at Calvin College … has four siblings, Ray, Ryan, Riley and Dan … Ryan (Towson) and Riley (Johns Hopkins) both played Division I lacrosse … Dean's List student at McDonogh … volunteers at Acts4Youth … staff member at ESF Summer Camps … member of the Fellowship of Christian Athletes.
Elizabeth Gallagher (Forward, Staten Island, N.Y./Staten Island Academy)
Before Loyola: Plays club for PDA in the ECNL … all-conference performer in 2017-18 … named a Northeast Conference Player to Watch the following year … team has qualified for the national playoffs every year dating back to 2016 … named PSAA regular season and playoff MVP as a junior after leading Staten Island Academy to conference championship that fall … scored late game-winning goal in title game that year … also named conference's regular season MVP as a sophomore in 2018 … two-year team captain … has totaled 80 goals during high school career … also lettered in basketball and lacrosse.
Personal: Is the daughter of Marybeth and Brian Gallagher … has two younger siblings, Allison and Kelly, who also both play soccer … Principal's List student … National Honor Society and National Latin Society member … Barnard College Book Award recipient … served on the Leadership team of her school's chapter of She's the First, a part of the Student Advisory Council.
Alli Jacobson (Forward, Hagerstown, Md./Saint James School)

Before Loyola: Plays club for FC Frederick in the Maryland and East Regional ODP … Maryland Cup Finalist in 2017 and 2019 … attended National ODP Training Camp in Phoenix in 2018 … selected to the 2020 Gothia Cup roster … four-time leading scorer and two-time team MVP for Saint James … has totaled 35 goals and 16 assists during her high school career … named to the Washington County Team of the Decade … first team All-County performer in 2019.
Personal: Is the daughter of Allen and Christa Jacobson … has two siblings, Josh and Lauren … High Honors student … actively involved in Saint James' musical theater program.
Riley Kennel (Defense, Redondo Beach, Calif./Redondo Union)
Before Loyola: Played club for LA Galaxy in the US Development Academy from 2017 through 2020 … played every minute of every game at center back during 2018-19 season, helping team knock off several top competitors from across the country and qualify for GU17 DA playoffs … member of Beach FC in the Southern California Developmental Soccer League from 2012-17, and returned to club for 2020-21 season … member of Redondo Union's HS team as a senior.
Personal: Is the daughter of Kelly and Matt Kennel … father played basketball at Swarthmore College … has two siblings, Madi and Reese … Madi plays soccer at Northwestern, while Reese is also a member of Beach FC … honor roll student … has volunteered for Pediatric Therapy Network and as a Junior Lifeguard … works at Yak Academy, a language school for preschoolers.
Olivia Quaranta (Midfield, Baltimore, Md./Notre Dame Prep)

Before Loyola: Standout member of Pipeline SC since originally joining the club in 2010 … entered the U.S. Development Academy in 2017 with Washington Spirit Academy (now Baltimore Armour) … member of Washington Spirit's Advanced Development Program in 2019 and 2020 … trained at YNT Identification Center in 2019 … served as captain in the ECNL during final year with Pipeline.
Personal: Is the daughter of Petrina and Santino Quaranta … father made 15 appearances for the U.S. National Team and spent 10 years in the MLS (primarily with DC United) … has one sibling, Valentino … first honors student.