University of Louisville women's soccer seals 10 NLI signings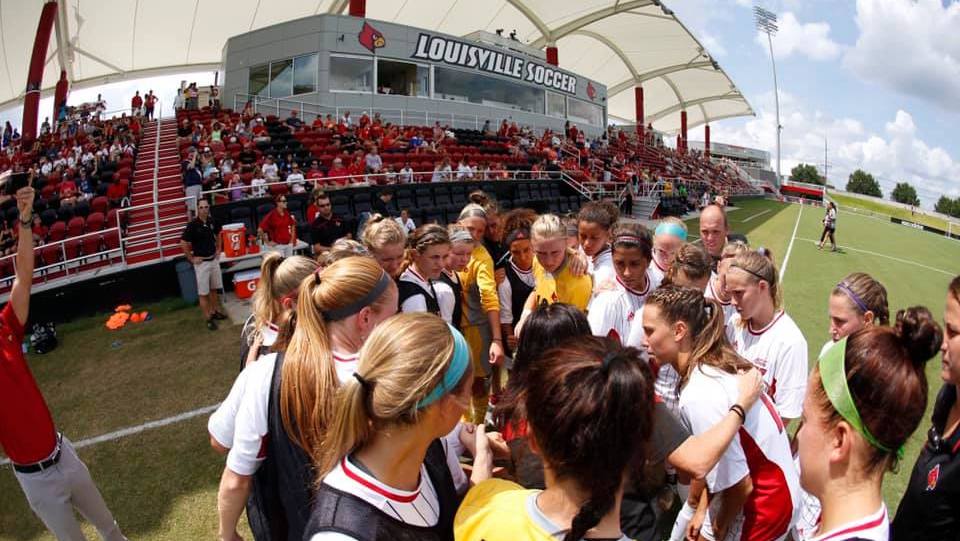 LOUISVILLE, Ky. – University of Louisville women's soccer head coach Karen Ferguson-Dayes and her staff announced on Wednesday that they have added 10 players to its 2021 class.
The class includes nine high school standouts and one graduate transfer. The signees come from seven different states, with three players from Illinois, two from Ohio and one from Florida, Kentucky, New York, North Carolina and Tennessee.
Abigail Baldridge
Forward, Midfielder | 5-10
Hometown: Elmhurst, Ill.
High School: York Community High School
Club Team: FC United
Baldridge comes to Louisville by way of York Community High School in Elmhursst, Ill., where she tallied seven assists and three goals in her junior season, her last complete season as a high school athlete as her senior season was cut short due to COVID-19 restrictions. She served as captain on that team which went 11-8-1 before exiting the postseason in the state sectional semi-finals.
According to FC United Academy club advisor and coach Fabrice Gautrat, a mentor of Baldridge, the Cardinals are receiving a natural leader on and off the field.
"Abby has shown great leadership the past couple of years for not only her team but our Academy program," Gautrat said. "She has always taken the time to make sure new players feel welcomed and the younger players are some of her biggest fans because of the time she takes to get to know them. She's a fierce competitor who hates to lose, but also shows her compassion toward her teammates and lifts everyone around her up. She will be a great addition to Louisville from a competitive, character and team cohesion standpoint."
"Abby hasn't even scratched the surface of her potential yet and we are thrilled to help her grow and develop into a very good college soccer player," said head coach Karen Ferguson-Dayes. "She is very athletic, has a great frame and is calm and composed on the ball.  She has been in a great club environment so she will have a solid understanding of the demands at the college level.
Brooke Dardano
Midfielder | 5-6
Hometown: Crestwood, Ky.
High School: South Oldham High School
Club: Racing Louisville FC
Dardano serves as the lone member of the 2020 Louisville recruiting class that hails from the Bluegrass State. After going 3-12-1 her freshman year, she aided South Oldham in earning a 44-12-3 record for the remainder of her high school career, including a district championship as a sophomore, a trip to the Elite 8 her junior year and a region runner-up her senior year.
As a junior in her final complete season, she tallied 11 goals and 27 assists. She had six goals and six assists during her senior campaign before it ended early.
She also excelled in the classroom, garnering a perfect ACT score of 36 and a 4.27 weighted GPA during her four years at South Oldham.
"Brooke is one of the hardest-working people I have ever had the pleasure of coaching," said South Oldham head coach Kenny Burke. "On or off the field, her work ethic and drive for perfection are unparalleled. Her technical ability, pinpoint accuracy and vision of the field will be exciting to watch as she continues to grow at the collegiate level."
"Brooke's work ethic and discipline to be the best version of herself is truly unmatched," said Ferguson-Dayes. "She is tireless, systematic and completely focused on her development.  She has had a fantastic high school career and we are excited to get her into our environment and watch her flourish."
Mikayla Hampton
Forward | 5-6
Hometown: Wyoming, Ohio
High School: Wyoming High School
Previous School: Northwestern
Club Team: Ohio Elite
A transfer from Northwestern University, Hampton is hoping to close out her collegiate career with success as a Cardinal. Hampton earned Ohio All-State honors on three separate occasions during a high school career in which she earned 79 career goals and 20 career assists in 69 games.
At Northwestern, she played in 29 games and started in six. Roughly half of those games came during a freshman season in which she hit a game-winning goal in the 84th minute of a 2-1 victory against Missouri as the Wildcats went 12-8-3 on their way to the Big Ten Championship game and a trip to the NCAA Tournament. After missing a year due to injury, Hampton returned and recorded similar stats, playing in 14 games, earning three starts and contributing two goals and an assist in a 5-10-3 record for Northwestern.
During her time at Northwestern, Hampton received multiple academic honors, including a spot on the 2018-19 Academic All-Big Ten team, a 2019-20 Big Ten Distinguished Scholar and her name on the 2020 School of Communications Dean's List.
"We enjoyed working with Mikayla and will miss her. As a prospect, she was a prolific goal scorer with great instincts, composure, and technical ability in scoring positions. She continued to show these abilities at the collegiate level, but unfortunately, her collegiate career thus far has been riddled with injuries," said Northwestern head coach Michael Moynihan. "Through the frustration and time on the sidelines, Mikayla always remained a great team player and became a leader within our program. She continues to show great promise and has been our most clinical finisher. Mikayala also has a great passion for soccer and has been a joy to watch. We are looking forward to following her as she continues to work toward her potential. She has the ability make an impact at the collegiate level and beyond."
"We recruited Mikayla out of high school and I have followed her career at Northwestern," said Ferguson-Dayes. "She has grown tremendously as a soccer player, so we are thrilled to add her to our team as a grad transfer. She is a true goal scorer who will provide us with a great attacking presence."
Hayley Howard
Midfielder | 5-9
Hometown: Brentwood, Tenn.
High School: Brentwood High School
Club Team: Tennessee Soccer Club
Howard will travel north to Louisville after a successful high school career in which she tallied 29 goals and 22 assists. During her junior season, she put 15 shots into the net and assisted on five more as she helped lead Brentwood to the state championship game and a 17-1 record.
She will get a jump on her collegiate experience as she will enroll early, and she served as a member of the National Honor Society during her time at Brentwood.
"Hayley is an absolute joy to coach," said U-18 Tennessee Soccer Club coach Ronnie Woodard. "She has a sharp technical ability, an intense desire to compete and then tops it all off with loads of creativity. Louisville soccer is getting not only a great soccer player, but a kind-hearted, committed and bright young woman."
"Hayley has all of the potential in the world to be an impact college soccer player," said Ferguson-Dayes.  "She is a tremendous athlete, technically gifted, and has a natural understanding of the game. Hayley is driven to be successful and will work tirelessly to help her teammates and team be successful, as well."
Nina Nicosia
Midfielder | 5-8
Hometown: Oswego, Ill.
Club Team: Eclipse
Nicosia is a legacy soccer player with a pedigree who comes to Louisville by way of Oswego, Ill. The homeschooled daughter of former professional Argentinian soccer player Gustavo Nicosia serves as an attacking midfielder with a natural ability to score, according to Eclipse Club coach Mike Nesci.
"Nina is a special player," Nesci said. "She is a player who has the ability to be a game-changer. A magical left foot with an unbelievable brain. Her technical qualities are matched with an incredible desire to win."
"Nina is a player with a very natural and intuitive feel for the game," said Ferguson-Dayes. "She is exceptional technically, has great vision and awareness and makes everyone around her better.  Nina is best in the final third when she is either scoring or helping to create goal-scoring chances. She has the ability to be an impact college player in her first year and ultimately go on to have a professional career."
Ava Nielsen
Midfielder | 5-5
Hometown: Malverne, N.Y.
High School: St. Anthony's High School
Club Team: SUSA Academy
Nielsen served as a three-sport athlete at St. Anthony's High School in New York, playing basketball and lacrosse, in addition to soccer. Her high school team went 6-0 in her senior season before it abruptly ended, and in those six games she managed to amass eight goals and six assists.
She also excelled in the classroom, earning the St. Bonaventure Award for High Academia all four years of her high school career and serving on National Honor Society in grades 10 through 12.
"(Nielsen shows) determination and dedication to constantly improve her abilities," said her club coach Nick Flaim. "She is relentless. Her work rate on and off the field has set a great example for younger players. She was an absolute joy to coach through the years, and more importantly, a tremendous person to be around."
"Ava brings a competitive attacking spirit to the game that will find her time as either a midfielder or forward," said Ferguson-Dayes. "She plays with an enthusiasm that can be felt by those playing with or against her. She is committed to learning and growing as a player and I'm excited to have the opportunity to work with her.
Olivia Pratapas
Goalkeeper | 5-9
Hometown: Clemmons, N.C.
High School: West Forsyth High School
Club Team: NC Fusion
Coming from a family of athletes, Pratapas will bring a natural competitive nature to the Cardinals. She will serve as the 10th member of her family to play collegiate athletics, and she comes highly recommended by her coaches.
Her club team, NC Fusion, was highly competitive during her time in the organization, competing in the ECNL National Playoffs in both 2018 and 2019, which aided her in making appearances in national watchlists.
She also excelled as a leader in the classroom as a perpetual Honor Roll student who served as a student government association class representative in all four years of her high school experience and earning Student of the Year honors as a sophomore.
"Olivia has been one of the most dominant goalkeepers at NC Fusion and the entire ECNL," said NC Fusion coach John Pardini. "She has tremendous range, technical ability, bravery and competitiveness that will translate to success in the ACC and beyond. On top of her athletic gifts, Olivia possesses great humility, charisma and natural leadership skills that brings players in and lifts the spirits of her teammates."
"Olivia is a tremendous goalkeeper who has an unbelievable upside," said Ferguson-Dayes. "She has great hands and excellent feet. She's super athletic and will be a wonderful goalkeeper for us."
Julia Simon
Forward| 5-5
Hometown: Wheaton, Ill.
High School: Wheaton North High School
Club Team: Eclipse
A two-sport athlete who also earned four letters in basketball, Simon will bring a versatile skillset to Louisville from Wheaton North High School in Illinois. An all-conference basketball player who also holds the school's single-season record for steals, Simon is a natural athlete whose coaches gush about.
"Julia is one of the most intelligent forwards we have ever had at the club," said Eclipse Club coach Mike Nesci. "Her movement and ability to combine with those around her make her an extremely dangerous player. She has the gift of making those around her better. A tremendous player and an honest, thoughtful teammate who will be a big personality on the team."
"Julia has a tremendous ability to score goals.  Every game I have seen her play she has either scored or had an assist," said Ferguson-Dayes. "She also combines well with her teammates and is extremely competitive. Her impact around goal is hard to dispute and we look forward to her scoring goals in the ACC."
Lilly Yordy
Defender | 5-4
Hometown: Hamilton, Ohio
High School: Hamilton High School
Club Team: Cincinnati Development Academy
Yordy will cross the Ohio River to join Louisville after a successful club career at the Cincinnati Development Academy. During her time with the organization, she tallied 10 goals, including one with the U-17 team as a defender.
"Lilly is a complete soccer junkie. She's the kind of player that will play the game any place at any time. She loves it," said Ohio Elite head coach Doug Bracken. "You can see that in her enthusiasm on the field. Her work rate up and down the field is exceptional and her left foot is special. Most of all, she is a great teammate with great character. Louisville is getting a really special kid."
"Lilly loves the game and plays with a passion and energy that is contagious," said Ferguson-Dayes. "She also has an engine that does not stop. She is left-footed, can serve a very dangerous ball and is 100 percent committed to her development as a soccer player. I'm excited to watch her grow and develop into a wonderful college soccer player."
Sophia Zinn
Defender | 5-6
Hometown: Fort Lauderdale, Fla.
High School: Cardinal Gibbons
Club Team: Weston FC
Zinn unfortunately missed out on a run to the Florida State championship game her junior season due to injury and her senior season was cancelled due to COVID-19. But her play in club ball at Weston FC in Florida impressed Louisville coaches enough to sign her in their 2021 class.
Weston FC coach Jerome Samuels spoke highly of Zinn, saying she excels in 1-on-1 situations defensively and calling her an exemplary teammate.
"Sophia Zinn is a strong, very solid defender," Samuels said. "You can always rely on her, especially in 1v1 situations. You can also rely on her when it comes to being there for her teammates. She will always give teammates a ride to training and help others out without hesitation. We have no doubt that she will be a great addition to the back line and team of Louisville. They are gaining a true person that lives our Weston values of integrity, dedication and success."
"Sophia brings a skillset that provides her with versatility to compete as both a defender or a midfielder at the college level," said Ferguson-Dayes. "She is strong, technically gifted, and difficult to beat 1-on-1. She has a quiet, yet ruthlessly competitive spirit about her, and we're confident that she will thrive in our environment."