University of Utah inks five women's soccer recruits for 2021 campaign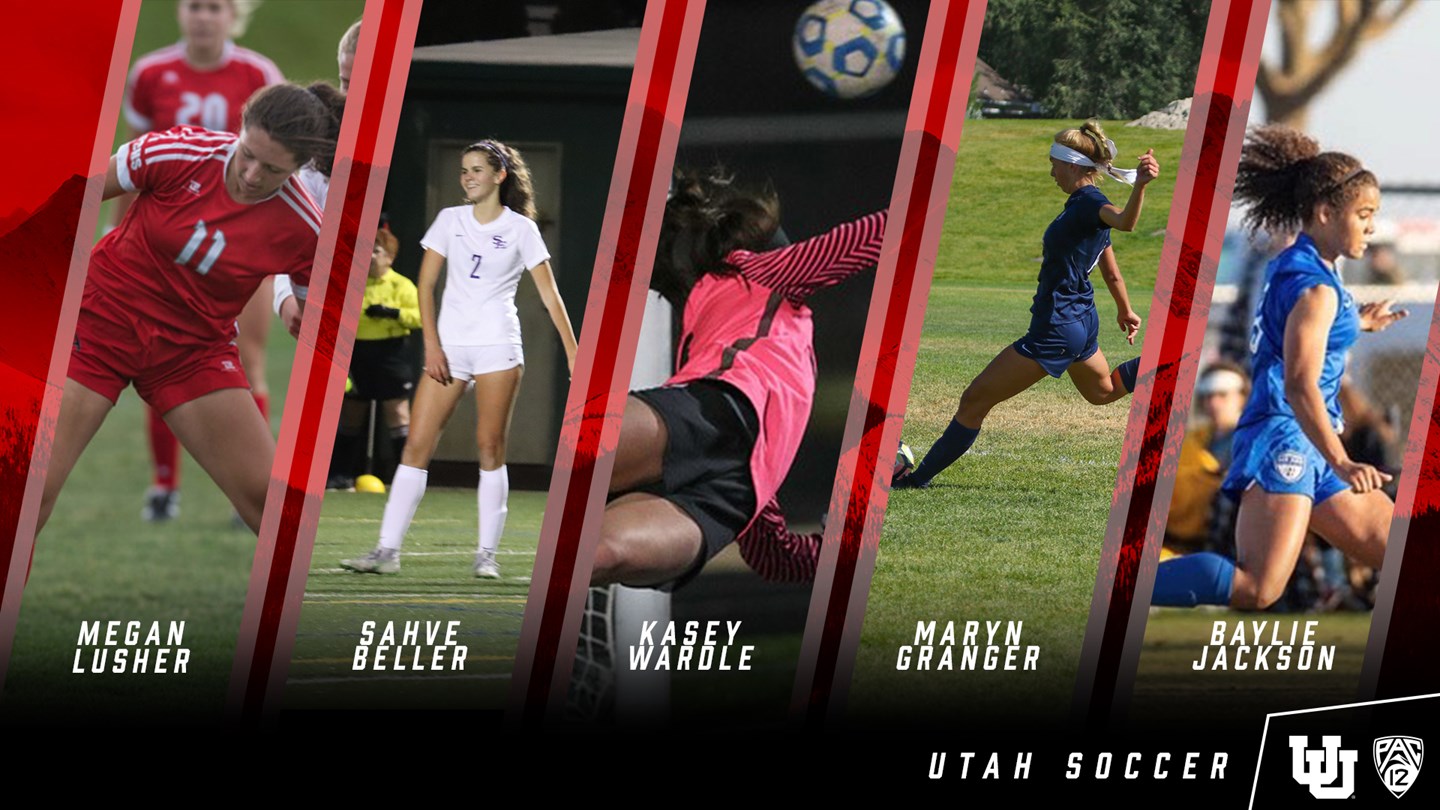 SALT LAKE CITY – The University of Utah women's soccer team inked five players to National Letters of Intent head women's soccer coach Rich Manning announced.
The five-player class includes a couple of Utahns in Maryn Granger and Megan Lusher, an Idahoan in Kasey Wardle, a Californian in Baylie Jackson and Eugene native Sahve Beller.
"Our incoming Class of 2021 will impact our team right away," Manning noted. "It's a group of players that bring character, experience, personality and a lot of great skills to our program. They are coming to Utah because they will get a great education, they love our fantastic support system and they are ready to ride with us on our drive to the top. We welcome them and can't wait for them to join us this summer!"
Of the five players, three play on the offensive side of things while the other two are on the defensive side of the ball.
SAHVE BELLER
Forward • 5-10
Eugene, Ore. • South Eugene HS
Eugene Timbers FC
High School
Four-year letterwinner at South Eugene HS
Led Axemen to three-straight OSAA playoffs, including quarterfinals (2017) and semifinal appearances (2019)
Guided SEHS to a pair of 6A District titles (2017, 2019)
6A First-Team All-Conference honoree (2017-2019)
Portland Thorns FC (Oregon) ODP Girls Player of the Year (2018)
Five-time Oregon Region IV ODP Champion
Two-time US Soccer Training invitee
Personal
Daughter of Byrke and Klarissa Beller
Has an older sister, Aanika
Father played football at the University of Grenoble, mother played volleyball at Penn and sister Annika is a sophomore on the crew team at Penn
Speak French as part of dual immersion schooling at SEHS
Volunteers at Positive Community Kitchen and Foot for Lane County Youth Garden
Undecided on major
BAYLIE JACKSON
Forward • 5-5
Fair Oaks, Calif. • Bella Vista HS
San Juan SC
High School
Three-year letter winner at Bella Vista HS
Had a breakout junior season, scoring 19 goals with seven assists
Two-time scholar-athlete (2018-20)
First-Team All-Capital Valley (2019-20)
Second-Team All-Capital Valley (2018-19)
Personal
Daughter of Dwayne and Beth Jackson
Mother played water polo at UC Davis
Has three siblings, Reid, McKenna and Delaney
Plans on majoring in environmental studies
MEGAN LUSHER
Forward • 5-7
Park City, Utah • Park City HS
Utah Avalanche • Utah ODP
High School
Four-year letterwinner at Park City HS
3-star recruit according to TopDrawerSoccer.com
Been a part of the US Girls Training Center since its inception
ECNL Player to Watch (2018-20)
Led Miners to UHSAA postseason play all four years (2016-20)
UHSAA 5A Academic All-State (2020)
Led PCHS to regional championship (2018)
Deseret News 4A All-State Honorable Mention (2018)
4A Second-Team All-State (2017)
Led ECNL team to regional championship (2017)
Member of UYSA State Cup Championship squad (2016)
High Honor Roll recipient all four years
National Honor Society member
Personal
Daughter of Chad and Lara Lusher
Has a younger brother, Logan
Grandfather, Neil Medoff, swam at Columbia
Volunteers as a pianist at Park City Hospital
Undecided on major
MARYN GRANGER
Defender • 5-11
Draper, Utah • Corner Canyon HS
Utah Avalanche • Regional & National Team ODP
High School
Three-sport athlete at Corner Canyon HS, lettering in soccer, cross country and track & field
Three-year team captain with soccer team
Helped Chargers to three UHSAA 5A Quarterfinal appearances (2017, 2019, 2020)
Guided CCHS to the 2018 UHSAA 5A State Championship
Named 6A UHSAA Academic All-State (2020)
Member of 4×400 team that won the 5A Track & Field Regional Championship (2019)
Placed second as part of the medley relay team at the 5A Track & Field Championships (2019)
West Regional National ODP Tournament Champions (2019)
5A UHSAA First-Team All-State honoree (2018)
Team rookie of the year in cross country (2017)
Honor Roll recipient
Personal
Daughter of Steven and Kimberly Granger
Has two older sisters, Madison and Molly, and a younger sister, Macie
Great grandpa, Joseph Elroy Jones, played soccer at Brown
Undecided on major
KASEY WARDLE
Goalkeeper • 5-10
Meridian, Idaho • Rocky Mountain HS
Boise Thorns
High School
Two-sport athlete at Rocky Mountain HS, lettering in soccer and track & field
Led Grizzlies to three-straight Idaho 5A State Championships (2018-20)
Helped team to back-to-back 5A District III titles (2019-20)
Two-time State Cup Champion with FC Nova (2017, 2019)
Two-time Idaho 5A All-State honoree (2018-19)
Three-time Idaho 5A All-Conference honoree (2018-20)
Recorded 238 career saves with 32 shutouts and a 45-6-7 overall record
Led RMHS to a 62-12-6 overall record and 30-7-2 league record during her career
Personal
Daughter of Rob and Jami Wardle
Mother Jami is a Utah alumnae
Has two older sisters, Ashley and Bailey
Grandpa, Paul Jeppesen, played basketball at Utah State
Undecided on major