Purdue Soccer announces signing of eight new Boilermakers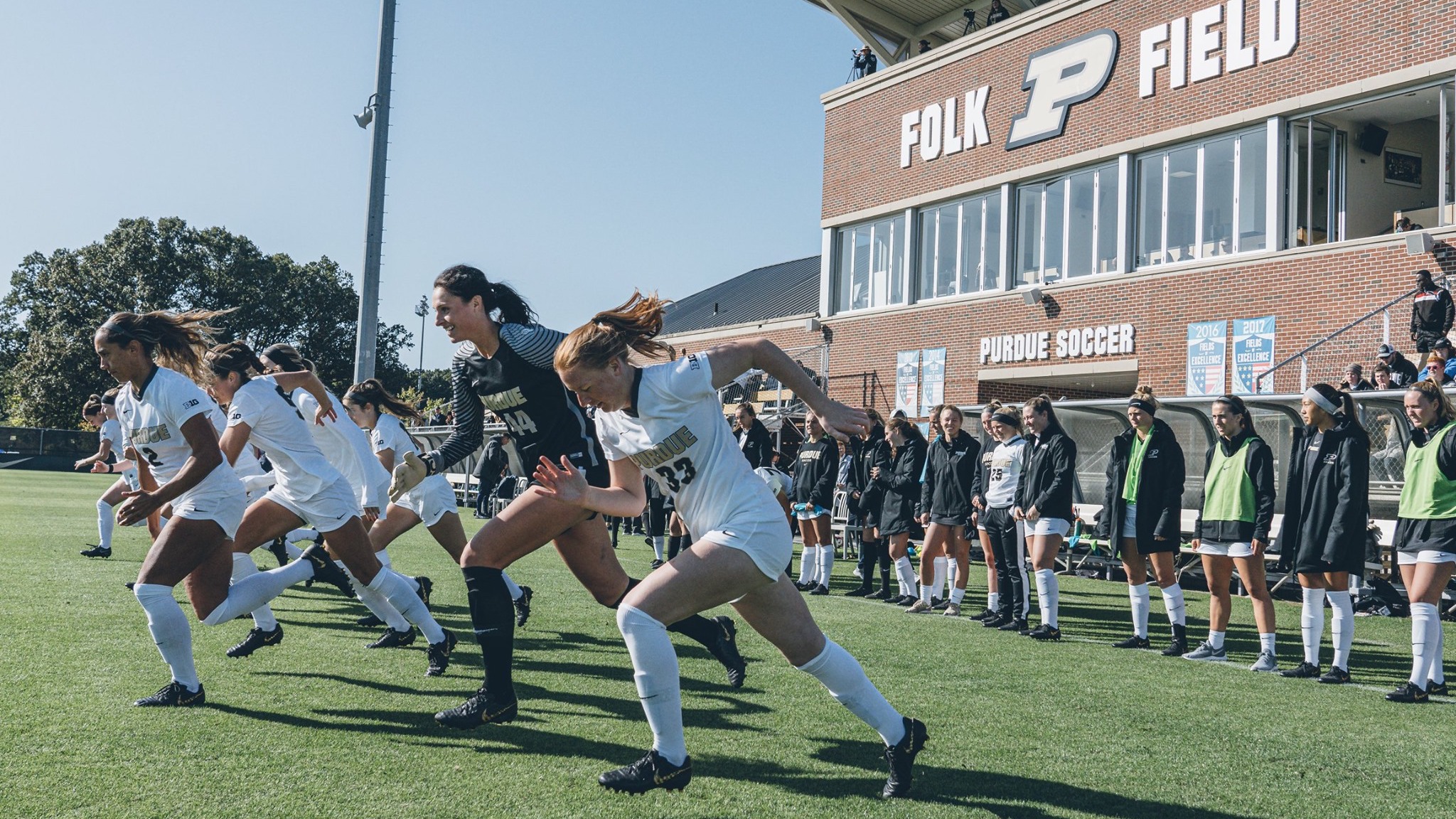 WEST LAFAYETTE, Ind. – Purdue Soccer coach Drew Roff has announced that eight student-athletes have committed to join the Boilermakers for the 2021 season.
This year's signing class features Sydney Boudreau (Mundelein, Illinois), Elizabeth Droner (Chatham, New Jersey), Gracie Dunaway (Mars, Pennsylvania), Sydney Hunt (Richardson, Texas), Megan Hutchinson (New Lenox, Illinois), Sara Kile (Noblesville, Indiana), Abigail Roy (Bartlett, Illinois) and Olivia Simmons (Aldie, Virginia).
"We are really looking forward to the 2021 class joining us in West Lafayette next fall," Roff said. "They are a talented and well-rounded group of eight, hailing from six different states, and they fit in extremely well with our team culture and our style of play. Individually, they bring some special qualities in terms of technical ability, tactical understanding and athleticism.  However, what makes this a special group is that they all really love to play the game and they all love to compete. Those intangibles will contribute tremendously to their development throughout their careers, and also will make them a very fun group to coach."
The future Boilermakers come to West Lafayette and Folk Field from six different states, including three from Illinois and one from Indiana. The class, which will don the Old Gold and Black kits for the first time in the fall of 2021, includes three forwards, two midfielders, two defenders and one goalkeeper.
SYDNEY BOUDREAU – MUNDELEIN, ILLINOIS (MUNDELEIN HIGH)
A forward from Mundelein, Illinois, Sydney Boudreau attends Mundelein HS, where she was voted team captain for the 2020 season and plays for coach Heather Crawford. Boudreau earned U.S. Soccer training invites in 2017 and '18 and plays club soccer for Eclipse Select North and coach John Soltani. She earned ODP state and regional team accolades in 2015-17, and, while playing for FC United DA in 2017-18, finished in the top five in goals scored in the conference. Boudreau scored 20 goals in 2018 and was named a Top Drawer Soccer Standout and DA Showcase Standout.
Academically, Boudreau was named to the National Honor Society executive board, was named to the high-honor roll all four years, earned the All-Academic Award as a junior and is in the top-10 in her class.
Boudreau intends to major in engineering at Purdue and would like to pursue a career as a biomedical engineer following graduation and the conclusion of her playing career. Her parents are Natalie and Bill, and she has one brother.
Boudreau on Purdue: "When I first visited Purdue in 2017, I fell in love with the environment and the family-feel within the team and coaching staff. Purdue also is a great fit for my academic aspirations. When given the opportunity to play soccer at Purdue, I knew it was the right fit for me. I have always dreamed of playing in the Big Ten Conference, and I'm so grateful that it will be a reality."
Coach Roff on Boudreau: "Sydney is a versatile attacking player that can create problems for defenders in a variety of ways. When playing out wide, she can beat players to get end-line and serve, and she can also cut inside to play the final pass or shoot. When playing centrally, her technique and movement off the ball help her combine effectively. She also brings a very high level of fitness to the game. Those qualities, along with the ability to score goals, will add to our team's effectiveness in the final third."
ELIZABETH DRONER – CHATHAM, NEW JERSEY (CHATHAM HIGH)
Elizabeth Droner comes to Purdue from Chatham, New Jersey, and attends Chatham HS. An attacking center midfielder, she is coached by Gary Adair and also competes for Matchfit and coach Dom Bucci. While pacing the team in goals, Droner helped lead Chatham to a conference title in 2020 and was named first team all-state, all-county and all-conference in 2019 and '20 along with earning team MVP accolades. Droner competed at the U.S. Soccer Training Center in 2014 and '15 and at the U.S. Soccer East Coast Combine from 2012-16. She also played in the DA playoffs in 2019 and helped her team win the 2014 New Jersey State Cup Championship.
As a student, Droner was named to the high honor roll and nominated for the World Language Honor Society and the National Honor Society.
Droner looks to major in psychology and hopes to be a social worker or therapist after graduating from Purdue and concluding her time on the pitch. Her parents are Amy and Kevin and she has three sisters.
Droner on Purdue: "I immediately fell in love with everything Purdue has to offer. It has an amazing athletics program and is strong academically. Since I was a little girl, I've dreamed of playing Division I soccer at the highest level. I dreamed of playing in the Big Ten. Playing for Purdue in the Big Ten is a dream come true!"
Coach Roff on Droner: "Elizabeth is a true playmaker from the center midfield role. She is a crafty player that understands how to play in between the lines, is very comfortable on the ball and can play out of pressure individually. Her vision, technique and passing range contribute to her consistently being able to play the final pass that unlocks the defense. That special ability to pull the strings, along with a knack for scoring goals, make her an exciting player and a great fit for how we play."
GRACIE DUNAWAY – MARS, PENNSYLVANIA (MARS AREA HIGH)
A native of Mars, Pennsylvania, Gracie Dunaway is a defender at Mars Area HS and plays for coach Blair Gerlach. She is 2019 state champion, a four-year starter and two-time captain. Dunaway has been named to the all-section team four times and the all-conference squad three years and helped lead her team to a WPIAL championship in 2019 and '20 and the finals in 2017 and '18. While playing for Beadling SC in Pittsburgh for coaches Jodi Chmielewski and Denny Kohlmyer, Dunaway earned GLC Top XI accolades in 2019 and helped her team to an eastern regional title and national championship appearance in 2018 and a national championship qualification in 2020. She also competed on the Mars Area HS track team as a freshman and sophomore and currently holds the second-fastest 100-meter dash time in school history.
Dunaway is undecided on what she wants to major in at Purdue and her career aspirations following graduation and the conclusion of her playing career. Her parents are Gina and Mathew and she has one sister and one brother. Her father, Mathew, played football at the Naval Academy, her uncle, Mark, played football at Bowling Green and her cousin, Gabi Lassinger, played soccer at Lafayette College.
Dunaway on Purdue: "I chose Purdue because it was what I was looking for athletically and academically. The first time I visited I knew right away that I wanted to go there. I immediately loved the campus, the soccer facilities, the coaching staff and the overall feel. I immediately knew it was the place for me!"
Coach Roff on Dunaway: "Gracie is an outside back that has all of the qualities we look for in that role. She defends well individually and collectively while also offering a lot going forward when we are in possession. Gracie is technically very good overall, however one thing that separates her is her ability to consistently serve a great ball from the outside back position. The accuracy and pace of her delivery into the box is a real weapon, and I look forward to it adding another dimension to our attack."
SYDNEY HUNT – RICHARDSON, TEXAS (J.J. PEARCE HIGH)
Sydney Hunt comes to Purdue from Richardson, Texas, where she attends J.J. Pearce HS and is a defender for coach Oscar Borgarello. Hunt plays club soccer at Sting Dallas Black ECNL U18 and U19 for coach Tatu Pecorari. She helped her squad win the 2017 ECNL national championship and competed at the 2018 ECNL Conference Selection Program.
A member of the National Honor Society, Hunt expects to graduate in the top 10% of her class.
Hunt plans to major in nursing at Purdue and aspires to have a job in nursing working with the elderly following graduation. Her parents are Risa and Philip and she has three sisters.
Hunt on Purdue: "I chose Purdue because of the atmosphere. The moment I stepped onto the campus it felt like home. The coaching staff was amazing from the minute I began speaking with them. The education I will receive here at Purdue is second-to-none! Purdue was everything I was looking for in a school."
Coach Roff on Hunt: "Sydney is a skillful center back that is very good at winning individual battles, reads the game well, and is willing to communicate and organize those around her. She has the speed and quickness that will allow us to play aggressively with a high defensive line, knowing that she can cover the space in behind. She also is left-footed, which really helps her effectiveness as the left center back when switching the point of attack and playing entry passes into forwards. I look forward to Sydney being an impactful player for us in a very important role."
MEGAN HUTCHINSON – NEW LENOX, ILLINOIS (LINCOLN-WAY CENTRAL HIGH)
A forward from New Lenox, Illinois, Megan Hutchinson attends Lincoln-Way Central HS. 2019 was her lone high school soccer season, where she played for coach Sean Fahey and helped her team to a regional championship. Hutchinson earned all-conference, all-sectional and Chicagoland Soccer All-State honors. She plays club soccer for Eclipse Select Soccer and coach Mike Nesci, where she led the conference in goals in 2018. Hutchinson helped her team to the quarterfinals of the national playoffs in 2018 and '19, while Eclipse has won the conference championship three consecutive years. She also plays on the varsity basketball team, where she holds the school record for career steals and was a team captain.
Inducted into the National Honors Society in 2019, Hutchinson earned high-honor roll accolades every semester. She was inducted into the Lincoln-Way Math Society in 2018.
Hutchinson hopes to major in kinesiology and would like to be a physical therapist after earning her Purdue degree. Her parents are Sandy and Randy and she has two brothers.
Hutchinson on Purdue: "From the first time I went to a camp at Purdue, I felt an instant connection to the school, the coaches, and the soccer program. It always has been a dream of mine to play in the Big Ten. I feel honored to be able to attend a school that will challenge me both academically and athletically. In addition, I look forward to being a part of Purdue's close-knit soccer family."
Coach Roff on Hutchinson: "Megan is an athletic attacking player that brings tenacity and a goal scorer's mentality to our team. Her activity, and her strength on the ball, make her an effective link-up player high on the field. She also has the speed and the willingness to make runs in behind that unbalance the back line, making her a constant threat. Megan's ability to get on the end of crosses, along with a high rate of efficiency around goal, will make us a much more dangerous attacking team."
SARA KILE – NOBLESVILLE, INDIANA (NOBLESVILLE HIGH)
A two-time Indiana state champion, Sara Kile hails from Noblesville, Indiana. She attends Noblesville HS and plays for coach Mike Brady. As a goalkeeper, Kile led her team to back-to-back state championships in 2019 and '20. She was named first team all-district and all-conference the last two years and earned first team all-state and all-central region accolades in 2019. Kile plays club soccer for Indiana Fire Juniors ECNL and coach Paul Dolinsky, where she was selected to play in the ECNL conference selection program in 2019 and the national selection game in 2020.
A National Honor Society inductee, Kile earned academic all-state distinction in 2018, '19 and '20.
Kile is undecided on her major at Purdue and career aspirations following graduation. Her parents are Susan and Steven, and she has two sisters. Her father, Steven, played football and baseball at Manchester University.
Kile on Purdue: "I chose Purdue because I wanted to play on a competitive team and stay close to home. Purdue has amazing facilities and resources that will help me be successful on and off the field. I am beyond excited to become a part of the Boilermaker family!"
Coach Roff on Kile: "Sara is a very talented, athletic goalkeeper who is technically sound and understands the game well. Her quickness and reactions are special qualities that she brings to the position, and as a result, her ability to make the "big save" is top notch. She also is good with her feet in build-up play, and her composure and competitiveness help make her a tremendous last line of defense. Sara's talent level, and her commitment to her development, are a great combination, and her future is very bright."
ABIGAIL ROY – BARTLETT, ILLINOIS (SOUTH ELGIN HIGH)
Abigail Roy is a midfielder from Bartlett, Illinois, and attends South Elgin HS. She plays for coach Laura Szwaja and earned all-conference accolades and was a team captain in 2018. Roy plays club soccer with Campton United and coaches Trey Bradberry and Scott Keena, where she helped her team to a state cup championship in 2019 and was a team captain from 2018-20. She earned regional player accolades in 2018 and '19 and was named to the Illinois ODP state team in 2016 and '17. Her squad also placed third at the 2019 USYS national championship. Roy also runs on the South Elgin track & field team, where she earned all-conference honors and won a conference championship in the 4×100 relay in 2019.
Roy was named to the academic all-conference team in 2018 and '19 and is a National Honors Society honoree.
Roy plans to major in engineering or business at Purdue and, following graduation and her playing career, hopes to have a career in business and/or engineering. Her parents are Lisa and Brian, and she has one brother.
Roy on Purdue: "I chose Purdue because the moment I stepped on campus, and on Folk Field, I knew it was exactly where I wanted to be. The environment, the people, the team, and the coaches all gave me a feeling of camaraderie and support. I am confident Purdue University will provide me the skills and tools to become the best person, student and athlete I am capable of. It felt like home, and I can't wait for my journey to begin."
Coach Roff on Roy: "Abby is a well-rounded central midfield player that is capable of playing in a holding role, as well as more of a box-to-box role. She brings a physical presence and a great work rate, which helps her break up the play and win battles in midfield. She also is very good technically when she is on the ball, and has some good ideas when getting forward in the attack. Her diverse skillset will help her influence the game in a variety of ways, and I expect her toughness and competitive fire to impact our team in a very positive way."
OLIVIA SIMMONS – ALDIE, VIRGINIA (HIGHLAND SCHOOL)
A native of Aldie, Virginia, forward Olivia Simmons is a student at Highland School. She competed at the U.S. Soccer National Training Center from 2017-18 and plays club soccer for Braddock Road Youth Club and coach Tyler Mishalow. Simmons helped her squad to ECNL Mid-Atlantic conference championships each year from 2017-20 and earned ECNL monthly standout honors four times from 2018-19. She was ranked No. 16 in Top Drawer Soccer's ECNL top goal scorers during the 2019-20 season.
Academically, Simmons earned the Highland School Founder's Scholarship each year from 2017-21 and the Highest Honor Roll from 2017-20. She was recognized with the school's Scholastic Achievement Award in 2017-18 as a freshman and is a member of the National Honor Society.
Simmons would like to pursue a degree in business at Purdue and wants to be a trial attorney following graduation and the conclusion of her playing career. Her parents are Marqui and Stephen and she has one brother.
Simmons on Purdue: "I decided to come to Purdue because I wanted to compete in a competitive, Power Five conference, such as the Big Ten, where I can be pushed to challenge myself in every training and game to reach the next level after college. Another driving force of my decision was my desire to be a part of a team that is up-and-coming with high aspirations, as well as an institution with a competitive academic environment. Purdue checked all of the boxes! Boiler Up!"
Coach Roff on Simmons: "Olivia is a very versatile player that can impact the game in many ways as a forward, midfielder or back. She is capable of using her strength and speed to win individual battles, yet she also is technical and savvy enough to play well in combination.  She has a nice finishing touch around goal, and her ability to serve a quality ball from the flanks, with either foot, really stands out. Olivia is also a student of the game and a great competitor, which contribute to her being an excellent fit."
For more on the Purdue soccer team, visit PurdueSports.com and follow and connect with the Boilermakers on Twitter, Instagram and Facebook.