University of Minnesota welcomes six newcomers for incoming class of 2021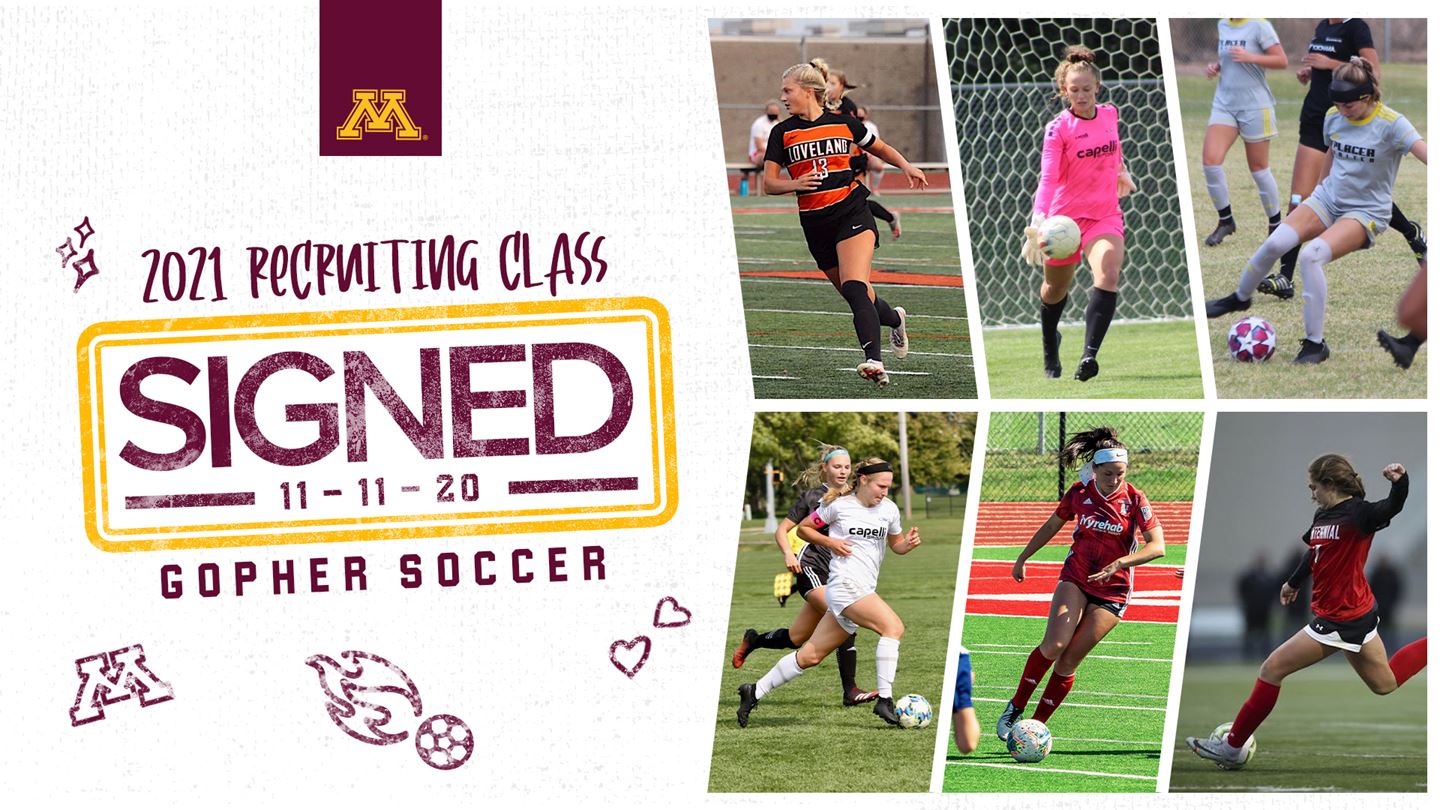 MINNEAPOLIS – University of Minnesota women's soccer head coach Stefanie Golan announced the signing of six student-athletes to the program's 2021 recruiting class.
This year's group of signees includes five out-of-state newcomers and one Minnesota native, ranging all the way from Ohio to California. It is a well-balanced class that features two forwards, two midfielders, one defender and one goalkeeper.
"All of our 2021s fit our program so well and we expect them to compete to make an immediate positive impact," said Golan. "They have already formed a great bond with one another that will serve them well as they transition into the team."
Aynsley Conner, Defender (Modesto, Calif.)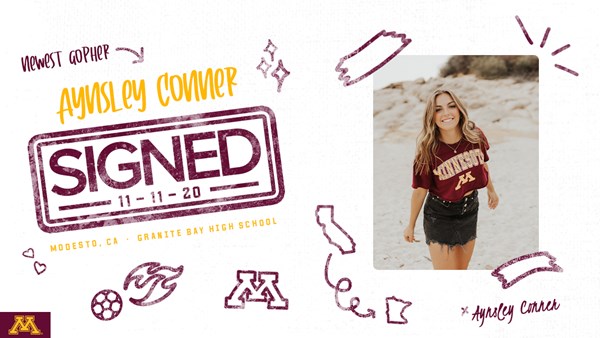 Hailing from the West Coast, Conner's addition to the Gophers brings an efficient, highly-skilled defender to the team's ranks in 2021. For the past six-plus seasons, Conner has competed for Placer United and played a vital role in her club team's success.
Dating back to 2017, Conner has served as a team captain for her Placer United team and will undoubtedly bring yet another high-character leadership presence to the Maroon & Gold. In 2016, Conner and Placer United claimed the State Cup Championship.
Entering her senior year at Granite Bay High School, Conner will have the opportunity to compete for her hometown Grizzly Bears under head coach Mark Brewers for the very first time. Although Conner has not yet suited up for her high school team, she has already hauled in an impressive collection of accolades off the field and looks forward to what is in store on the pitch. In the classroom, Conner has been honored with an Academic Merit Award and a Seal of Biliteracy in addition to being a California Scholarship Federation member.
Athletic success runs in the blood of the Conner family, as Aynsley's mother, Cathie, was a four-year letterwinner in soccer at Cal Poly. Off the field, Conner enjoys engaging in philanthropy and is heavily involved in the leadership of Granite Bay's student section. She plans to major in kinesiology at the University of Minnesota.
Why Minnesota Soccer: "I chose Minnesota because of the contagious positive culture of the school and the soccer team especially. I felt a sense of comfort and felt that I was truly home when I visited for the first time."
Coach Golan on Conner: "Aynsley brings a high soccer IQ, excellent technical ability and she is super mobile. When we first started recruiting her, she played as a center back and was excellent there. Since that initial phase of recruitment, we have seen her play as an outside back and everywhere in the midfield, and she is really good no matter where she plays. Long story short, she can play in a variety of roles and it will be fun to see where she best fits this group during preseason!"
Lauren Donovan, Midfielder (Loveland, Ohio)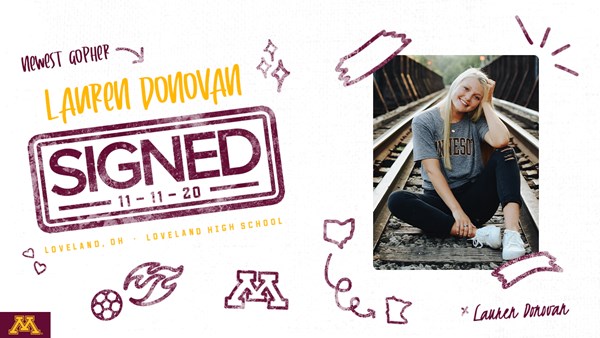 As a 2019 All-City and First Team All-Southwest Area honoree out of Ohio, Donovan comes to the Maroon & Gold looking to provide immediate depth in the Gophers' midfield. Donovan is a talented, well-rounded athlete, having also earned two varsity letters in basketball and track & field in addition to soccer.
While earning the aforementioned 2019 accolades, Donovan also helped Loveland High School to a 16-4 overall record. As a result, Loveland took home the District Championship and finished as the Regional Runner-Up.
Over the past decade, Donovan also competed for Cincinnati United Premier Soccer Club (2010-17), Cincinnati Development Academy (2017-19) and Ohio Premier Soccer Club (2019). Throughout that time, Donovan's clubs claimed seven different State Cup Championships and one Regional Championship (2016). In both 2016 and 2017, Donovan was a National Finalist, also qualifying for the Development Academy National Tournament in 2018. Just last year, Donovan powered Ohio Premier to a third place finish at the Elite Clubs National League National Tournament.
In the past, Donovan has received an invitation to the US National Team's Regional Training Center. As an Olympic Development Program State Team and Regional Team member, the Loveland, Ohio native has attended ODP National Training Camp and an ODP Thanksgiving Inter-Regional.
In addition to her involvement on the soccer field, Donovan enjoys photography and cooking. Her mother, Sue, played collegiate basketball and soccer at Wright State, while her brother, Justin, competes collegiately at Christian Brothers University on the baseball team. Donovan intends to major in communications at the University of Minnesota.
Why Minnesota Soccer: "From the first time I walked on campus, the players, coaches, support staff and other students made it feel like home. That feeling has never left me and I cannot wait to be a Gopher. I knew from the start it was the right place for me. The people, the community atmosphere, the support and the pride everyone has for the school pulled me in. The University of Minnesota has everything I need to grow as a person, student, teammate, player and leader. The campus is beautiful and has everything a student and athlete could want. I have been looking forward to becoming a Gopher for a long time and cannot wait to begin my journey."
Coach Golan on Donovan: "Lauren will likely compete as either a center back or holding midfielder. On the field, she is fit, tenacious, an excellent distributor and can also strike from distance or score with her head. She is a true competitor, a tremendous leader and an all-around wonderful human being."
Khyah Harper, Forward (Lino Lakes, Minn.)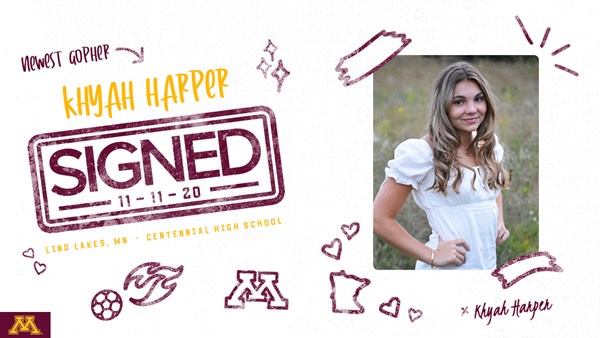 Harper joins the Minnesota family after choosing the Gophers as a highly sought-out 2021 recruit. Having enjoyed a remarkable high school career, Harper earned ECNL All-America honors as a junior in 2019. The sister to current Gopher sophomore Sadie Harper, the Lino Lakes native garnered All-State recognition in 2018 and 2019 while also receiving All-Conference accolades in every season from 2016-19.
Throughout Harper's career, Centennial High School has experienced a wealth of success. During Harper's junior season, Centennial claimed the Sectional Championship and finished as the State Runner-Up, during which Harper earned All-Tournament Team recognition. Her sophomore campaign, Centennial brought home the Conference Championship while being the Section Runner-Up, in fact claiming both such championships during Harper's sophomore season one year prior. In every season spanning from 2016-20, Harper was named Centennial's Offensive Most Valuable Player.
Additionally, Harper competed for Minnesota Thunder Academy from 2015-20. During that time, Harper collected a plethora of individual honors, including 2017-18 MTA Elite Player of the Year, 2017-18 ECNL All-America, 2018-19 ECNL All-Conference and 2018-19 ECNL Midwest Player of the Year. In both 2017-18 and 2018-19, the future Gopher forward attended the United States Women's National Team Training Camp. Harper also was a member of the 2019 World Cup U17 Girls Puma Trophy Team.
As for her family, athletic success has been quite common, as her father, Brett, played collegiate football at Wisconsin-Lacrosse, and her cousin, Hunter Miska, plays professional hockey as a member of the Colorado Avalanche organization. Academically, Harper plans to follow a pre-medical track at the University of Minnesota. Outside of soccer and academics, she enjoys four-wheeling, snowmobiling, jet skiing, boating, surfing, shopping and singing.
Why Minnesota Soccer: "I chose the University of Minnesota because the atmosphere was amazing and it's an honor to represent my home state. As soon as I stepped foot on the campus, I knew it was where I wanted to be for my future."
Coach Golan on Harper: "Khyah is a constant attacking threat and a pure goal scorer, which is something we really need right now. She can finish in a variety of ways and she is also extremely effective pressing from the front when her team defends. We are bringing in a young woman who bleeds Maroon and Gold, who is about as competitive as they come and we are excited to have her join her sister, Sadie, in our attacking group."
Elizabeth Overberg, Midfielder (Ankeny, Iowa)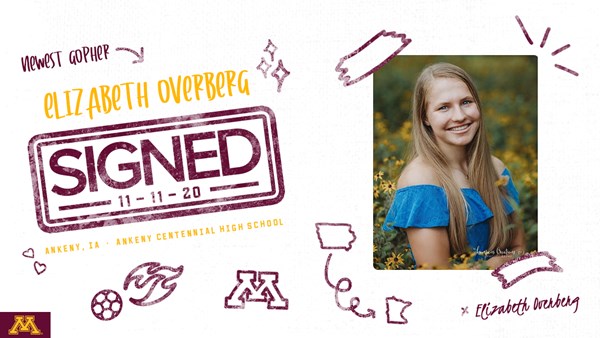 Overberg joins the Gophers as a former 2019 All-State, All-Section and All-Conference honoree out of Ankeny Centennial High School, where she was previously teammates with current Gopher Megan Gray. Playing out of the midfield, Overberg has served as a team captain of the Jaguars each of the last two seasons while also having won the team's Most Valuable Player award (2019) and Fearless Award (2019). Her sophomore campaign, Overberg helped power Ankeny Centennial to a Conference Championship en route to being a State Semi-Finalist.
Additionally, Overberg competes for Iowa Rush Soccer Club (2008-2020) and was an Elite Girls Academy Discovery Player from 2018-19. As the team captain of the Iowa Rush from 2015-20, Overberg won four Iowa State Cup Championships (2016-20) while being a 2019 Regional Semi-Finalist, National Tournament Participant and National League Qualifier.
The future Gopher midfielder participated in the Olympic Development Program from 2014-19, including being an Iowa State ODP Team Member and Region II ODP Team Member. In 2018, she also attended the US Youth Soccer National ODP Training Camp.
Although accomplished on the field, Overberg has been equally as successful in the classroom, as she was awarded 2020 First Team Academic All-State honors. Overberg is also a member of the speech team – to which she was named 2020 All-State – and is president of Ankeny Centennial's National Honor Society.
Both of Overberg's parents were also college athletes, as her mother, Katie, played soccer at Washington University (St. Louis) and her father, Nathan, was a member of the Track and Field team at Central College. Off the field, Overberg enjoys baking, cooking and Rubix cubes, in addition to being a renowned Christmas season enthusiast.
Why Minnesota Soccer: "I chose the University of Minnesota not only for the ability to play at a very high soccer level, but for their commitment to develop me as a female leader outside of the sport."
Coach Golan on Overberg: "Elizabeth is such a fun addition to this group. She is a natural-born leader who is relentless in her pursuit of excellence. Like Donovan, she will likely be competing in our back line or in the midfield, but she will compete. Elizabeth has an engine that doesn't quit, she is a vocal leader who organizes those around her and while her distribution range is fantastic, she can also be dynamic on the ball to solve problems. We are so excited to welcome her to Minnesota."
Jaden Peck, Forward (Sycamore, Ill.)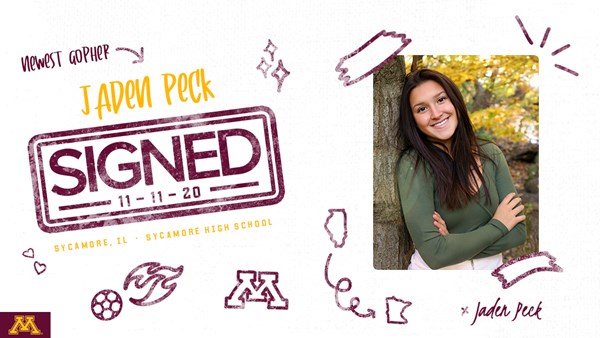 A forward by trade, Peck represents another signee with the capacity to instantly provide some much-needed finishing ability for the Maroon & Gold. Spanning from 2017-19, Peck was named to the Illinois Olympic Development Program Select State Team three consecutive years, having also achieved the honor in 2015 as well.
From 2019-20, Peck competed for FC United Development Academy, where her play earned her countless additional accolades. On March 16, 2020, she was named to the Top Drawer Soccer Girls DA Top Scorers list. Last year, Peck was also chosen as a TDS Girls DA Winter Cup Standout (December 2019) and a TDS Girls DA Weekly Standout (September 2019). In April of that year, she garnered recognition as one of "Day Three's Finest" at the TDS Girls DA Spring Showcase. Prior to her time with FC United, Peck also suited up for Crystal Lake Force FC (2018), SBW Alliance FC (2015-18), the Rockford Raptors FC (2012-15) and NIFC (2011-12).
Although Peck only competed for Sycamore High School as a freshman, the team was highly successful in her lone year of participation. Finishing with an overall 17-2 record, the Spartans claimed Conference and Regional Championships, while Peck brought home the team's Coaches Award. At Sycamore, Peck was teammates with current Gopher freshman Lauren Holland.
When not playing soccer, Peck enjoys photography. She is currently undecided on a field of study.
Why Minnesota Soccer: "I chose the University of Minnesota for many reasons. The campus itself is very beautiful and has one of the best educations offered. I also felt right at home on my very first visit. The people are so welcoming and kind, creating an amazing culture and atmosphere to be in."
Coach Golan on Peck: "Jaden is another goal scorer in this group. She is quick, feisty and is always looking to be dangerous when she is on the field. She works her tail off on both sides of the ball and has a knack of getting behind defenses and putting the ball in the back of the net. We are excited to help her transition into a dangerous, goal scoring threat at the college level."
Taryn Reitsma, Goalkeeper (West Des Moines, Iowa)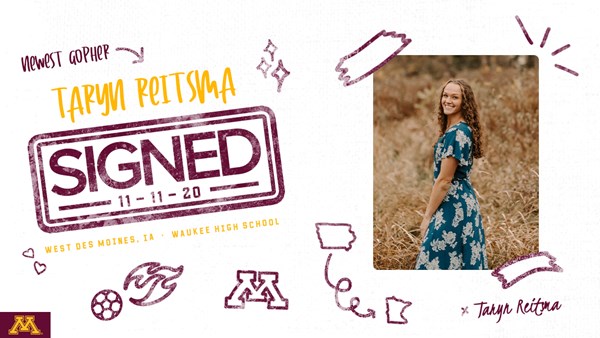 As the lone goalkeeper in this year's class, Reitsma is a multi-sport athlete who has earned five combined high school letters in soccer and basketball at Waukee High School. During her freshman and sophomore seasons, Reitsma helped power Waukee finish as a State Semifinalist and State Runner-Up, respectively.
Reitsma also competed for Vision Soccer Academy Select from 2014-19, prior to transitioning over to the Iowa Rush in 2020. While with Vision Soccer Academy, Reitsma took home a State Title back in 2016.
Cementing her status as an athletic, dual-sport athlete, Reitsma has been a starter on the Waukee basketball team each of the past two seasons, already with three varsity letters in hand. Waukee reached the State Semi-Finals during each of the 2017-18 and 2018-19 seasons, ultimately finishing as the State Runner-Up in 2018-19.
Both of Reitsma's parents competed in collegiate athletics as well. Her father, Randy, played basketball at Iowa Central Community College and her mother, Deb, was a softball student-athlete at Buena Vista University. When Reitsma is not on the field or on the hardwood, she enjoys playing the piano and participating in the school choir. She intends to major in chemistry at the University of Minnesota.
Why Minnesota Soccer: "I fell in love with campus the first time I visited. I was also very intrigued by the all-female coaching staff, and I love the dynamic that each of them bring to the team. The team environment is great, and I appreciate how much they value developing team culture."
Coach Golan on Reitsma: "Taryn is going to be a solid addition to our goalkeeping corps, and we look forward to seeing her compete during her career in the Maroon & Gold. She has a tremendous physical presence and a fantastic athletic base, and she has continued to find ways to challenge herself to grow as much as she can before getting on campus for 2021. Her upside as a goalkeeper is tremendous and she is joining a group that is focused and driven to push each other to raise the bar, and she will contribute to that culture immediately."