Thirteen players sign with the University of Georgia soccer program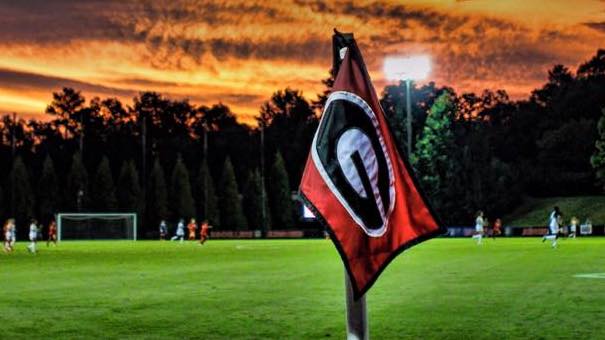 ATHENS, Ga. – Thirteen new Bulldogs have made their commitments to the University of Georgia soccer team official with the signing of National Letters of Intent, head coach Billy Lesesne announced.
The 2021 class looks to add more depth to the Bulldogs' existing roster.  Among the signees are Madeleine Barre (Atlanta, Ga.), Liz Beardsley (Lakeland, Fla.), Caroline Belisle (Atlanta, Ga.), Jessie Dunn (Charlotte, N.C.), Faith Ferrer (Atlanta, Ga.), Ellie Gilbert (Atlanta, Ga.), Morgan Hart (Charlotte, N.C.), Chandler Kenny (Atlanta, Ga.), M Middleton (Columbus, Ga.), Isabella Muzzolini (Vancouver, Canada), Mia Parkhurst (Menlo Park, Ca.), Rachel Suttle (Atlanta, Ga.), and Becca Womer (Palo Alto, Ca.).
"The excitement level is sky-high regarding our 2021 recruiting class," Lesesne said. "Our coaching staff and team have worked diligently to identify and attract an exemplary 2021 recruiting class to Athens.  We are excited to officially welcome this 13-player class.  This group represents our largest class by number, but also features high achieving players who will continue to grow the prominence of our program.  This impactful class covers our roster in every positional group. Our staff is thrilled to have the opportunity to continue the personal and player growth of this exceptional class."
The Bulldogs signed three players at each position: forward, midfield, and defender, and one goalkeeper.  Additionally, they added three players that swing as midfielder/defenders.
Barre signs with Georgia after being a four-year captain of her UFA Development Academy team where she led the team in starts and minutes played her sophomore year.  As a freshman, she ranked Top 10 nationally for playtime and percentage of starts within the DA.
Lesesne on Barre: "Madeleine is a talented wide central defender who has been a leader and team captain for UFA.  She sees the field well and has displays tremendous passing range."
Beardsley comes to Georgia after playing in the Development Academy and training with a professional goalkeeper in the NWSL, among many other renowned coaches.  She is the captain and starting goalkeeper of her West Florida Flames team.
Lesesne on Beardsley: "Liz a highly technical and athletic goalkeeper.  She will enroll in January to begin training with our team and UGA goalkeeper coach Katie Ely."
Belisle signs to UGA after playing both club and high school soccer.  With Concorde she is a three-time ECNL Southeast Region Champion.  She has been named a first team all-region selection twice for her accomplishments with Holy Innocents'. She is the younger sister of current UGA senior forward Mollie Belisle.
Lesesne on Belisle: "Caroline is a versatile player who is highly competitive and excels in several positions."
Dunn comes to Athens after two-consecutive Charlotte Soccer Gala Defender of the Year nods.  She was chosen for the US Soccer Southeast Regional combine and invited to the US Market Training on top of being selected from four regions to make the ODP All Star Team at the ODP Regional Event and was later selected for the ODP National Training Event.
Lesesne on Dunn: "Jessie is a central defender with a high degree of soccer intellect and a technical skillset that is very well suited for SEC play."
Ferrer signs with Georgia with many accolades under her belt.  She has been named a TopDrawer Soccer All State High School All- Star and a Top Performer of the Month for scoring four goals in one game.  She is an all-county and all-region selection, who is also the second leading scorer for Lambert High School with 16 goals.  She is also the leading scorer for her Development Academy team (10 goals) and ECNL team (14 goals).  She has been named to the All-American Academic Soccer Team and earned the Oratorical County Award.
Lesesne on Ferrer: "Faith is a wide attacking player that continues to grow and develop as a goal creator.  Faith is a technical player who has performed well for her UFA ECNL team."
Ellie Gilbert | Defender/Midfielder | Atlanta, Ga.
Gilbert signs with Georgia after playing for the Development Academy and making a run to nationals in addition to advancing at the National Training Center.
Lesesne on Gilbert: "Ellie is a very versatile player capable of playing several positions.  She has tremendous endurance and is a gifted technical player who has been a mainstay on her Tophat teams for many seasons."
Hart will join the Bulldogs after being named a North Carolina Gatorade Player of the Year nominee and the PDESPY Underclassman of the Year.  She is a two-time All-State player and has a Top Drawer Top 20 Regional ranking.
Lesesne on Hart: "Morgan is a wide attacking player with athletic speed and endurance.  She has been a leading attacking personality for the Charlotte Soccer Academy."
Kenny signs with UGA after advancing to the state championship with the Lovett School where she scored three goals in that game.  She was voted team captain as a sophomore and is also the captain of her club team.  She is a 3A All-Star game selection and a 3A Student-Athlete of the Year.
Lesesne on Kenny: "Chandler is a central midfield player who is highly competitive and transitions quickly to both attacking and defending disciplines."
Middleton signs with Georgia after being a two-time Offensive Player of the Year for Brookstone School and earned all Bi-County honors.  She has scored numerous goals and has led her team in assists multiple seasons.
Lesesne on Middleton: "M is an athletic attacking player who is dynamic and capable of playing several attacking positions."
Isabella Muzzolini | Midfielder | Whitecaps | Vancouver, Canada
Muzzolini was named to the Canadian National Team roster and competed at the 2018 CONCACAF Tournament.  She was also selected to the Wide Roster for the U17 Women's World Cup in Uruguay in 2018. She attended the Canadian National Team Camp on more than one occassion in 2019. Most recently, she was selected to the Girls Elite Whitecaps REX program.
Lesesne on Muzzolini: "Isabella is an attacking midfielder that is highly skilled technically and has outstanding on-field vision and awareness.  She has represented the Canada National Team program at the U-15, U17, and U-20 levels."
Parkhurst signs with the Bulldogs after maintaining a TopDrawer soccer national ranking.  She was selected to the DA Winter Showcase Top IX as a sophomore and helped her team to the DA playoffs after being a consistent starter.
Lesesne on Parkhurst: "Mia is an outside central defender with strong athletic qualities and is an IMG TopDrawer Nationally rated player."
Suttle signs with Georgia after being an multiple All-Region selection and advanced with her team to the final four in high school soccer.  She is a two- time South East Club Conference Champion with Concorde. Additionally, she is a star on the hardwood and has been an all-region selection for basketball and Region Championships.
Lesesne on Suttle: "Rachel is a dominant player in the air and is a very skilled and tenacious defender."
Womer signs to be a Bulldog after being back-to-back league champions with Leland High School and was an All-League selection as a sophomore and junior.  She also advanced to the playoffs with MVLA and was ranked ninth as a Top ECNL Goal Scorer.
Lesesne on Womer: "Rebecca is a dynamic forward with great pace and has been her team's leading scorer for the past few seasons."