Georgetown women's soccer unveils recruiting class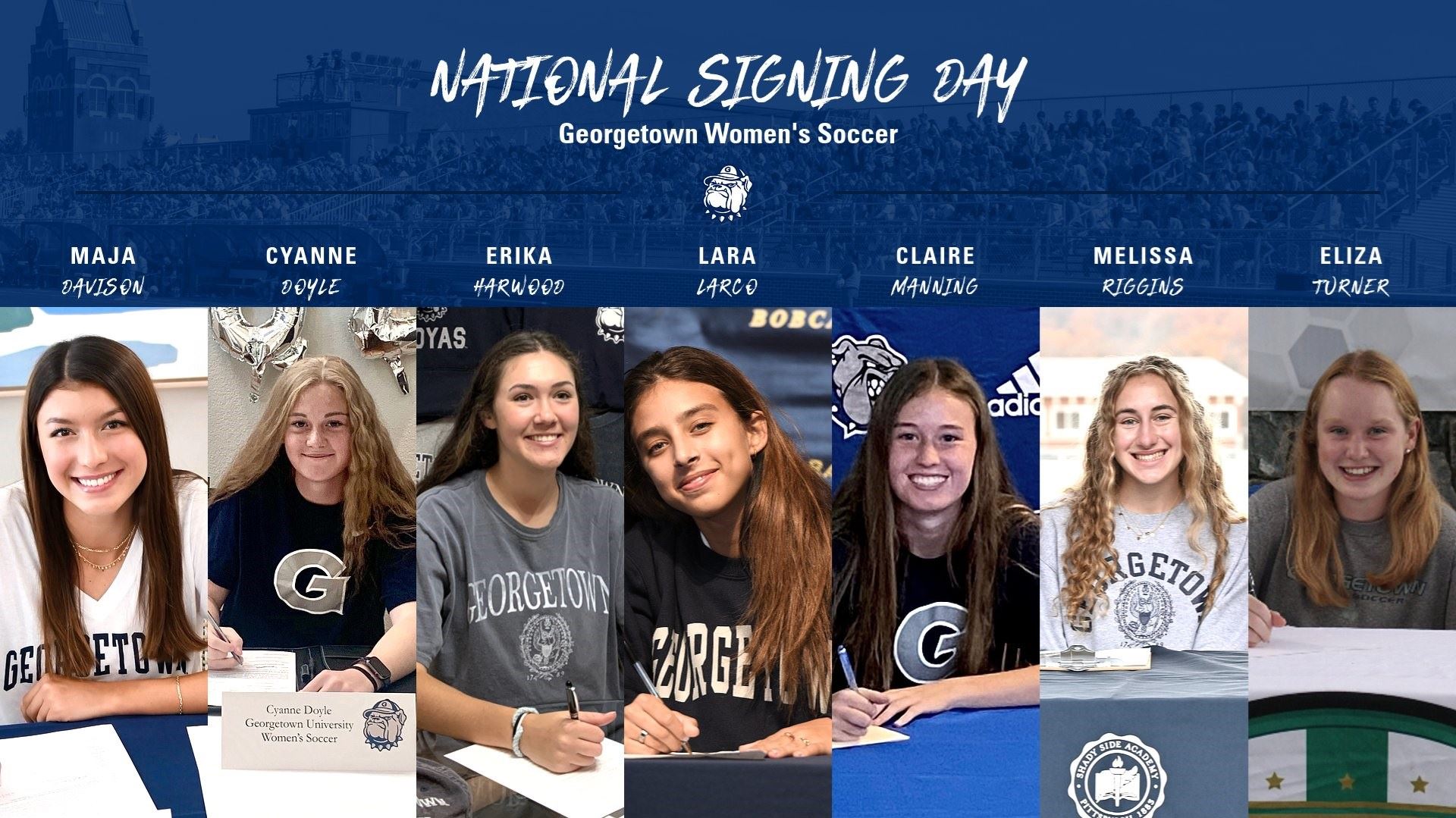 WASHINGTON – Head Coach Dave Nolan of the Georgetown women's soccer team has introduced seven new student-athletes who signed their National Letters of Intent.
"We are very excited to welcome this outstanding group of student-athletes to the Hilltop," says Nolan. "My staff and I worked very hard to find the right players who can help us return to the College Cup. In addition, we feel this group will be academically successful at Georgetown while being the type of young people who will add to the tremendous team-based culture we have. We look forward to seeing them thrive both on and off the field at Georgetown University."
Forward / Dallas, Texas
High School: Highland Park
Club Team: Dallas Sting 02/03 ECNL
Accolades
UIL 5A Texas State Championship, 2019
UIL 5A Texas State Championship MVP, 2019
District 15-5A All-District Award First Team, 2019
United Soccer Coaches High School Girls Winter-Spring All-American, 2018-19
Texas Association of Soccer Coaches First Team All-State Girls 5A, 2018-19
Why Georgetown: Georgetown has been my dream school ever since I first stepped on campus. I'm looking forward to being a part of such a successful soccer program with an amazing coaching staff and hardworking players. The competitive soccer and academic environment make it the perfect fit for me, all while being in the heart of Washington, D.C.
Coach Nolan on Davison: Maja is an athletic, competitive forward with excellent pace. She can play with her back to goal and run the flanks very well. A good finisher who is hard to catch, she will give us a direct presence that is very hard to handle.
Forward / Highlands Ranch, Col.
High School: Thunder Ridge
Club Team: Real Colorado 02/03 ECNL
Accolades
U.S. Soccer Regional Combine Grand Junction, 2017
U.S. Soccer Training Centers (Colorado), 2012-17
U.S. Soccer Select Team from Colorado V.S. U16 U.S. National Team, 2016
U.S. Soccer Colorado Training Center, Indoor Futsal Tournament – Golden Boot Winner, 2015
Why Georgetown: I chose to attend Georgetown because of the exceptional academics, top-tier athletics and diverse community. The community and coaching staff help to provide a competitive and ambitious environment that allows for many opportunities. The campus and city provide many chances to learn both in and out of the classroom. I instantly fell in love with Georgetown and D.C. and wanted Georgetown to be my new home. I am excited to experience all of the remarkable opportunities Georgetown has to offer.
Coach Nolan on Doyle: Cyanne is a very crafty attacking player who can play in any of the front four attacking positions. She has very good ideas in the final 1/3 and is smooth on the ball technically. She will definitely give us a different option up front.
Forward / Alexandria, Va.
High School: TC Williams
Club Team: McLean 02/03 ECNL
Accolades
Washington Spirit Advanced Development Program, 2020
Virginia State Finalists, 2019
All District Team, 2018, 2019
USL National Training Team, 2018
Virginia State ODP, 2017 and 2018
Why Georgetown: Georgetown University offers the perfect balance of elite soccer and rigorous academics. The coaching staff and team foster a supportive yet competitive environment in which I can challenge myself as a student and player. I am incredibly grateful and excited for the opportunity to grow on and off the field at Georgetown for the next four years.
Coach Nolan on Harwood: Erika is a real physical presence up top who can play central or out wide. She has a nose for the goal and is constantly asking questions of defenders. She will give us another quality option up top.
Goalkeeper / Boca Raton, Fla.
High School: Boca Raton
Club Team: Sunrise Prime 02/03
Accolades                                                                                                                           
First Team All-State, 2017
First Team All-Region, 2017-19
Boca Raton High School Goalkeeper of the Year, 2017-19
Team captain of Sunrise Prime FC ECNL, 2020
Why Georgetown: I chose to attend Georgetown University because it is the definition of the best of both worlds. Not only is the women's soccer program one of the most competitive programs, but the academic side is one of the most rigorous in the country. I fell in love with the idea of having a campus life while also being within one of the most amazing cities. The coaching staff has already welcomed me with open arms and made me feel that I will be the best version of myself here at Georgetown with them being very supporting.
Coach Nolan on Larco: Lara is a very determined and dedicated goalkeeper. She has a good technical base, good size and a solid kicking game. She will provide even more competition to a very strong group of keepers.
Midfielder / Montclair, N.J.
High School: Montclair
Club Team: Match Fit 02/03 ECNL
Accolades
ECNL Florida National Selection Game, 2020
Match Fit Academy ECNL team captain, 2020
ECNL National Training Camp, 2018
Montclair High School team captain, 2019 and 2020
All-State first team, 2019
Why Georgetown: I chose to attend Georgetown because of its rigorous academic and athletic environment that will allow me to grow not only as a player but also as a person. I fell in love with Georgetown the minute I stepped on campus and cannot wait to play alongside incredible teammates and a phenomenal coaching staff. Hoya Saxa!
Coach Nolan on Manning: Claire is a very talented attacking player with great instincts for the game. She has good technical abilities and can break down defenses with excellent vision. In addition, she can play in a variety of attacking positions to give us more flexibility.
Defender / Wexford, Penn.
High School: Shadyside Academy
Club Team: Pittsburgh Riverhounds ECNL
Accolades
PIAA All-District and All-Section 2017-20,
Top Drawer Soccer All State, 2019
2019 District 7 Champions and PIAA A State Finalists
2017 PIAA State Champions
Why Georgetown: Georgetown is the perfect combination of academics and athletics in an amazing city. When I started my recruiting process, Georgetown was a dream school for me, so it feels incredible to be coming into such great programs (soccer and track) as a dual-sport athlete.
Coach Nolan: Melissa will be a two-sport athlete at Georgetown; she will also be a member of our track & field team. Obviously an excellent athlete, she has the potential and drive to challenge our outside defenders while giving us additional depth along the backline.
Midfielder / Bethesda, Md.
High School: National Cathedral
Club Team: McLean 02/03 ECNL
Accolades
ECNL regular season champions, 2019
ECNL Conference Player of the Year, 2017 and 2018
ECNL All-American, 2018 and 2019
ECNL National Training Camp, 2018 and 2019
Washington Post All-Met, 2018
High school MVP, 2017 and 2018
All-ISL Conference Team, 2017 and 2018
Why Georgetown: I chose Georgetown because it has the perfect combination of rigorous academics and a competitive soccer program. The team and the coaching staff have created a welcoming yet competitive environment which I am very excited to be a part of for the next four years. Overall, the opportunities that Georgetown provides are incomparable.
Coach Nolan on Turner: Eliza is a pure midfield general. She has a tremendous engine and a very competitive streak. Blessed with excellent technical ability and great soccer instincts, she can set the tone of a game very well. We are excited to welcome her to the Hilltop.