Loyola University Chicago women's soccer team reveals 2021 recruiting class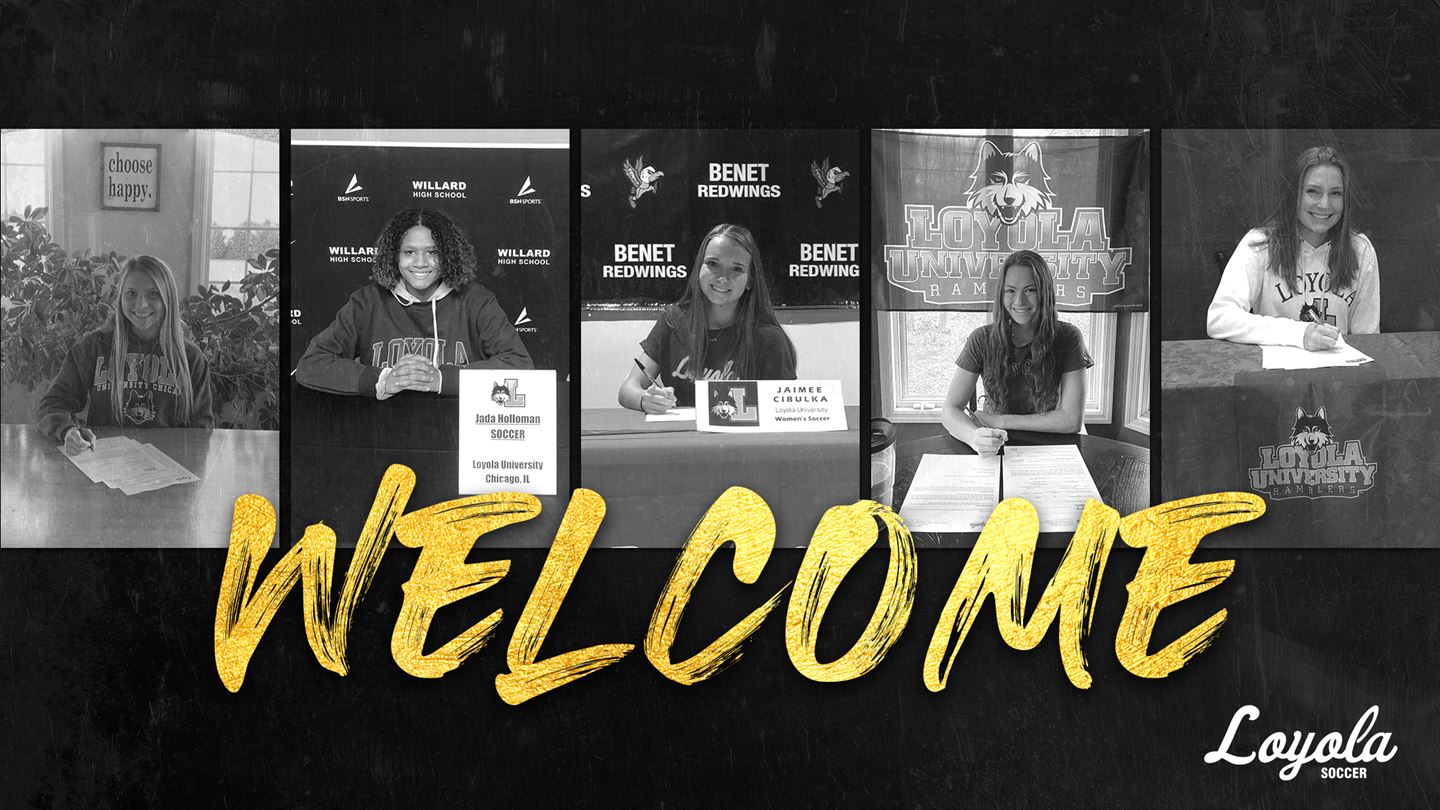 CHICAGO – Loyola University Chicago head women's soccer coach Barry Bimbi announced the addition of five student-athletes to his 2021 recruiting class.
Jaimee Cibulka (Woodridge, Ill./Benet Academy), Emma Guthrie (Naperville, Ill./Neuqua Valley), Taylor Harrison (Dixon, Ill./Dixon), Jada Holloman (Springfield, Mo./Willard), and Ava Metaj (Grand Rapids, Mich./Forest Hills Central) have all signed National Letters of Intent and will join the Ramblers at the start of the 2021 season.
"In these challenging times, it is with great pleasure that I get to announce our 2021 recruiting class," Bimbi said. "This class has the ability to contribute to our championship culture immediately.  They are competitive, athletic, and have the ability to play multiple positions.  All five are high achievers both athletically and academically.  They have the personalities to be great ambassadors of Loyola women's soccer."
JAIMEE CIBULKA
Midfielder | Woodridge, Ill. | Benet Academy | Chicago Inter
Out of Woodridge, Ill., Jaimee Cibulka has been a prolific threat in the offensive third for Benet Academy and head coach Gerard Oconer.  The 5-foot-5 midfielder was named the East Suburban Catholic Conference (ESCC) Offensive Player of the Year following a sophomore campaign that saw her rack up 14 goals and 14 assists en route to leading the Redwings to an Illinois High School Association (IHSA) 2A State Championship.  Cibulka appeared on the club level for coach Sena Halilovic's Chicago Inter as a freshman, where she was part of a side that captured a Midwest Regional League crown.
Bimbi on Cibulka: "Jaimee is one of the most fluid dribblers of the ball we saw in the recruiting process.  This ability opens up space for herself and her teammates in the final third of the field."
Cibulka on Loyola: "I chose Loyola because of the combination of high quality athletics and academics.  I love the close-knit environment of the coaching staff and players, not to mention the beautiful campus right on Lake Michigan!"
EMMA GUTHRIE
Goalkeeper | Naperville, Ill. | Neuqua Valley | Eclipse Select SC
An addition to Loyola's stout group of goalkeepers, Naperville, Ill. native Emma Guthrie has starred for head coach Joe Moreau at Neuqua Valley High School.  A two-sport athlete who also plays basketball, the 5-foot-9 netminder helped backstop Eclipse Select SC and coach Mike Nesci to a runner-up finish in the Illinois State Cup.  Also a standout in the classroom, Guthrie was named an Academic All-DuPage Valley Conference (DVC) honoree.
Bimbi on Guthrie: "Emma is an athletic goalkeeper with good size that is improving every day.  She is a great addition to our already accomplished goalkeeping group."
Guthrie on Loyola: "I have always wanted to choose a college that felt like home to me.  Surrounded by an amazing coaching staff and great players with a solid academic program, I knew before I even left campus on my very first visit that I found my new family at Loyola."
TAYLOR HARRISON
Midfielder | Dixon, Ill. | Dixon | Rockford Raptors FC
A venerable scoring option, Taylor Harrison arrives in Rogers Park by way of Dixon, Ill. and Dixon High School, where she has helped lead head coach Mahmoud Etamadi's team to back-to-back Big Northern Conference (BNC) titles.  Currently the school's record holder for single-season goals (57) and single-season assists (34), Harrison has earned All-State and First Team All-BNC accolades during each of her first two seasons at the school.  The 5-foot-2 midfielder has also experienced success on the club level, winning an Illinois State Cup Championship with Frank Mateus' Rockford Raptors FC.
Bimbi on Harrison: "Taylor is a tireless worker in the midfield defensively, has tremendous vision with her passes, and has the ability to score goals in bunches."
Harrison on Loyola: "I was drawn to Loyola initially because of the beautiful campus and great soccer program.  The coaching staff and players were so friendly and accommodating while I was visiting.  I am looking forward to studying in Loyola's well-renowned nursing program."
JADA HOLLOMAN
Forward | Springfield, Mo. | Willard | Queen City United
Making her way to Loyola from Springfield, Mo., Jada Holloman will provide the Maroon & Gold with another accomplished scoring threat in the attacking third.  A two-time First Team All-Central Ozark Conference selection for head coach Jamie Waddell at Willard High School, Holloman, a 5-foot-4 forward, is coming off a banner 2019 season that saw her find the back of the net 23 times and dish out 16 assists, following up on a breakout freshman campaign in which she finished with 13 goals and 19 assists.  On the club level, Holloman has already scored 28 goals for Queen City United and coach Pablo Rosales, who she won an Oklahoma Fall Classic title with.
Bimbi on Holloman: "Jada is a fast, explosive forward that can score goals, create opportunities for her teammates, and really stretch a defense."
Holloman on Loyola: "I chose Loyola because their level of competition is high and competitive, while keeping an overall winning record.  Their soccer program is one of the best in the MVC and the University has excelled in all areas or study.  I look forward to challenging myself as an athlete and in the area of academics at Loyola."
AVA METAJ
Defender | Grand Rapids, Mich. | Forest Hills Central | Midwest United FC
Ava Metaj will look to add to Loyola's already impressive defensive unit.  A three-sport athlete who also plays basketball and golf, the 5-foot-9 defender has been a mainstay with Midwest United FC, where she has appeared exclusively for the last seven years under the direction of coach Lewis Robinson.  In 2019, Metaj prominently featured on the team took home a US Soccer Development Academy Conference Championship and finished atop its pool at the US Soccer Development Academy Winter Showcase.
Bimbi on Metaj: "Ava is a tough, athletic player that leads on the field from her defensive position, she has the versatility to play anywhere in the backline."
Metaj on Loyola: "I chose Loyola because it is an amazing academic school right next to the city of Chicago with a great soccer program.  I love the environment that the coaching staff creates for the team and I am so excited to be part of the program!"
Loyola is coming off a 14-5-1 campaign in 2019 in which it finished a perfect 7-0-0 in Missouri Valley Conference play, completing its second consecutive sweep of the league's regular season and tournament titles.