University of Colorado women's soccer signs four incoming recruits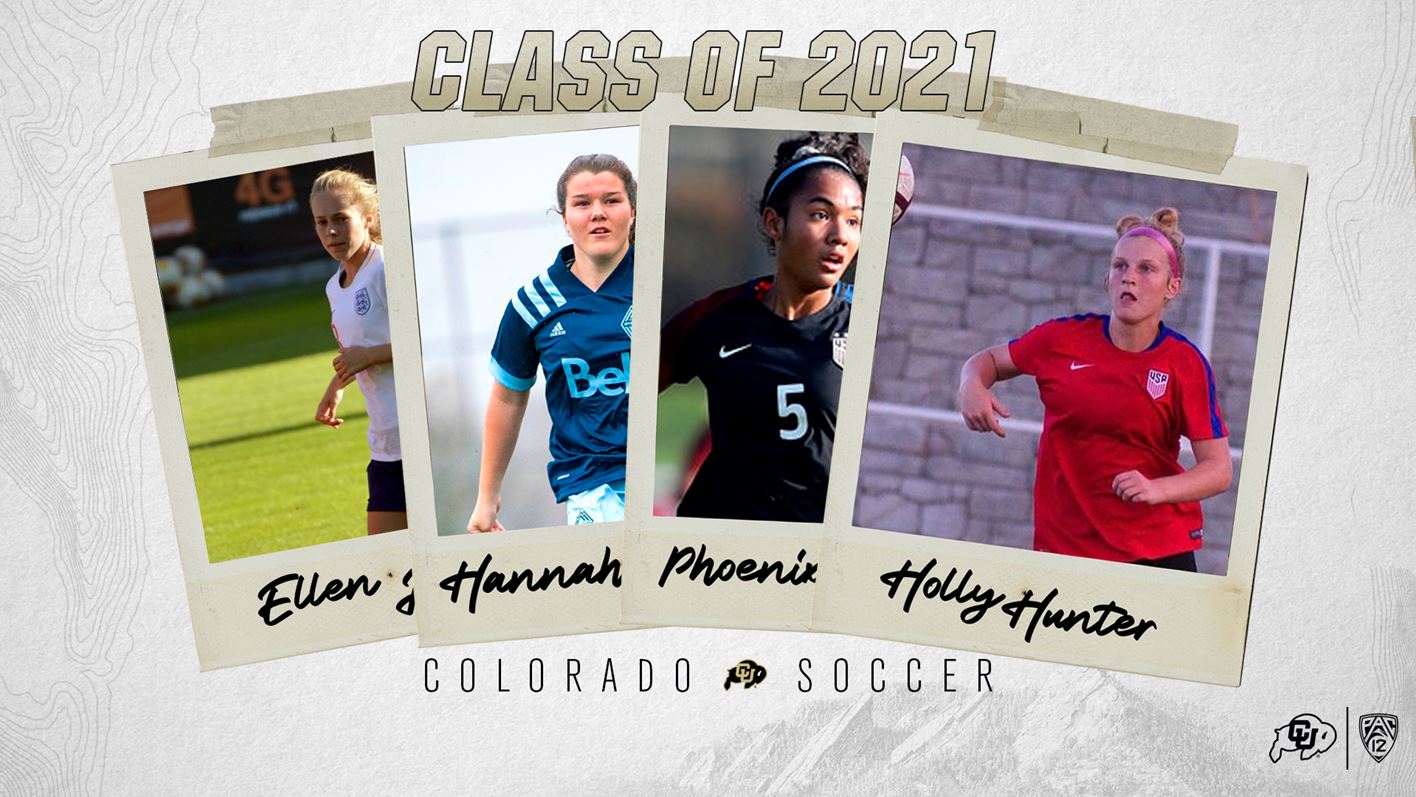 BOULDER — Typically, National Signing Day for the Colorado Buffaloes soccer team is celebrated while looking forward to a trip to the NCAA Tournament. This season the timing hasn't changed, but the landscape of college soccer has.
Head coach Danny Sanchez would have liked to announce his four additions while juggling postseason preparations, but the Buffs still have a three-month wait until their expected start to the season in February.
The 2021 recruiting class spans the globe, consisting of two international newcomers, a West Coast connection and CU's first addition from Hawaii since 1996.
"This is a fantastic recruiting class for us," Sanchez exclaimed. "All four of these players have experience at the highest levels and are ready to compete immediately in the Pac-12. They are all great students that our Herbst Academic Center will love working with. We feel that each one brings qualities that can continue the trajectory of our talent base within our program. We can't wait until they get here next summer"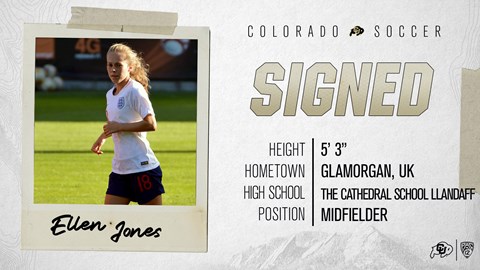 Jones is set to become the first Buff to hail from the United Kingdom. Jones has represented England at the U19, U18 and U17 levels. She recorded seven caps with the U17 squad. She twice faced off with Team USA at the U17 level and scored the winning penalty in the first meeting. Jones represented Wales as a 14-year-old at both the U15 and U17 levels. She is currently playing with Bristol City WFC in the Women's Super League.
Sanchez on Jones
"Ellen is a dynamic attacking player that is great on the dribble and with the pass. Her experiences with the English Youth National Teams and playing in WSL with Bristol City WFC are invaluable. We are excited to get Ellen into our training environment and see her continued development."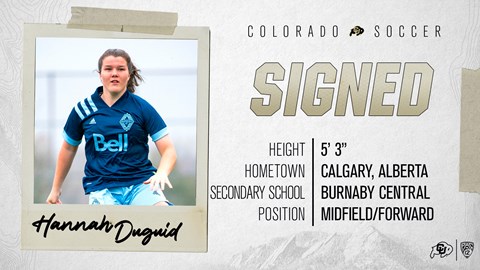 Duguid is the latest Calgary native to commit to Colorado. Duguid has spent the last three seasons playing with the Vancouver Whitecaps Girls Elite in the Canada Soccer Super Rex Program. Before the Whitecaps she played with Calgary South West United and in the Alberta South REX program. Duguid has been invited to several Canadian ID camps and represented Canada with the U15 national team in the 2018 Concacaf Championships. She was the awarded Top Female Player in the 2016 HLSA International Camp and won the 2016 Christine Sinclair Award as the top female at the SKF Calgary Gothia Cup.
Sanchez on Duguid
"Hannah will really bring a spark to our attack. Very crafty on the dribble and a natural playmaker. Hannah has spent the past few years training with the Whitecaps FC Girl's Elite REX program in Vancouver. In addition, she has been to numerous Canadian Youth National Team camps."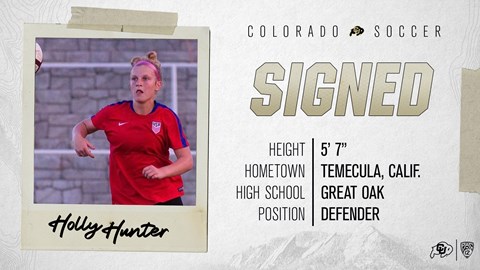 Hunter comes to Boulder having played with two high-level clubs in the So Cal Blues and Legends FC. Hunter is a member of the US Deaf Soccer National Women's Team. She was a nominee for USA Soccer's 2019 Player of the Year with a Disability. Hunter was invited to the U15 Girls National Team camp as well as to US Soccer National Team Training.
Sanchez on Hunter
"Holly is a very versatile player. She can play as an outside back or as a holding central midfielder. Holly has really developed in a very competitive club environment with Legends FC and So Cal Blues. She has also had great experiences in numerous US Deaf National Team camps and US Youth National Team camps."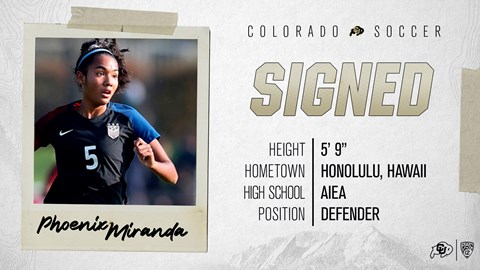 Miranda becomes just the third Hawaii to sign with the Buffs joining 1996 teammates Jen Alquist and Beth Matsumoto. She is a three-time letterwinner in soccer at Aiea High School. Miranda was First Team All-Conference in her first three seasons. She's played club with Leahi SC and Crossfire United, winning a state championship with Leahi and an ECNL Northwest Conference title with Crossfire. Miranda has played on the Hawaii ODP as well as the ODP Regional and National teams. She has attended numerous US Youth National Team camps. Miranda is ranked #40 in Top Drawer Soccer's IMG Academy 150 and is the No. 16 defender in the country.
Sanchez on Miranda 
"Phoenix is a prototypical center back. Strong in the air and in the tackle. Phoenix is a very good passer as well who can help lead the attack from the back. She has spent time with the United States Youth National Teams gaining even more experience."