East Carolina University adds eight women's soccer recruits for 2021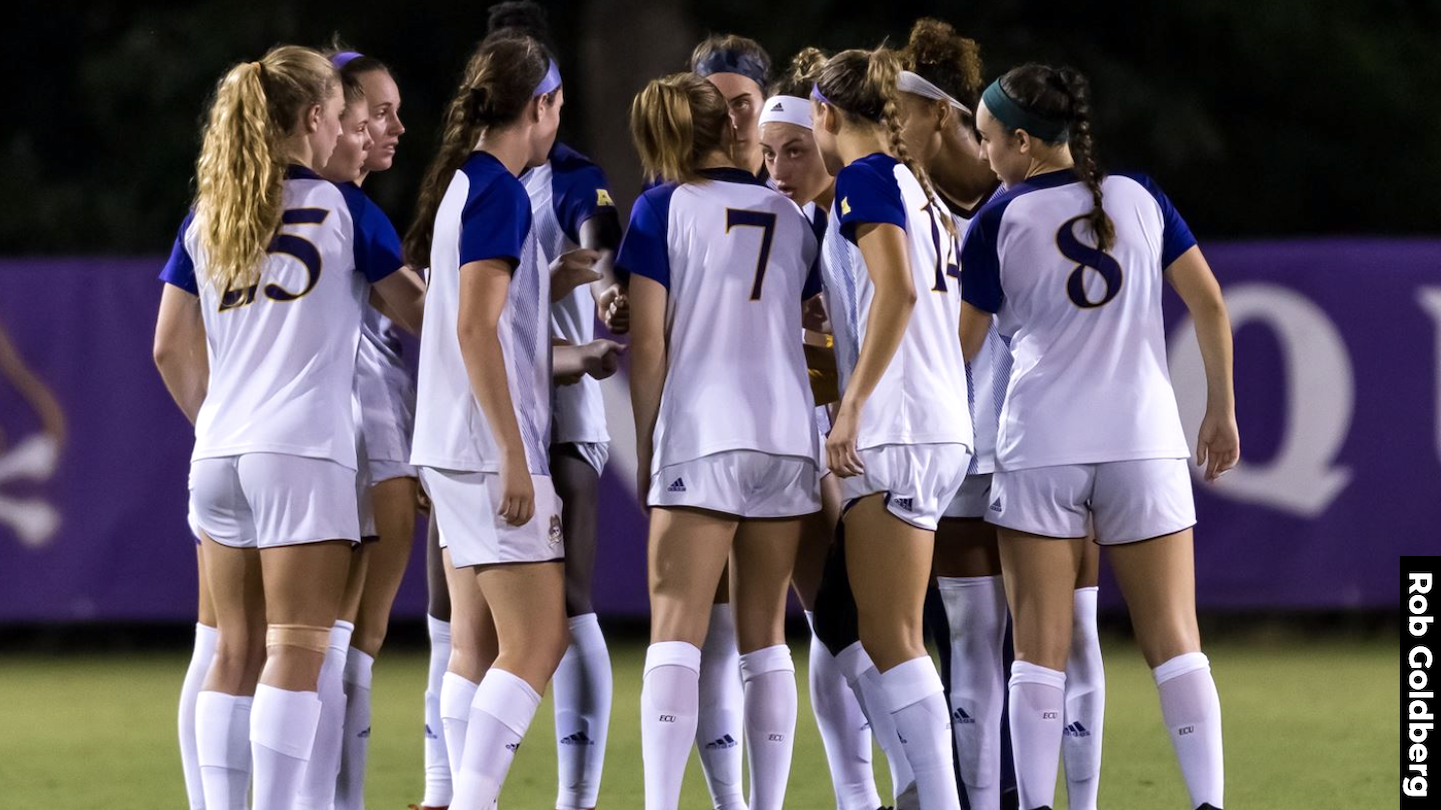 GREENVILLE, N.C. – Eight student-athletes have signed National Letters of Intent to attend East Carolina University and compete for the soccer program beginning in the fall of 2021.
The incoming ECU recruits include: Lindsey Aiken, Peyton Godbey, Isabela Lusardi, Haley McWhirter, Samantha Moxie, Holly Schlagel, Abigail Sowa and Molly Thomas.
"We are very excited for this group to join us," said ECU head coach Jason Hamilton. "We believe they are very talented and will have an immediate impact on the program. This is a group that excels not only on the field, but in the classroom as well – truly a representation of what we want in this program.
"In this class, we have added individual talent, athleticism and physicality. We know that combining a group of this caliber with what we already have here in the program will make for exciting times for ECU soccer. You see a lot of individual and team success when looking at their bios and we are confident that we will see that success continue as they begin their time here as Pirates."
Haley McWhirter, Center Midfield/Forward, Magnolia, Texas (University of Texas at Austin High School) – Houston Dash
The No. 2 ranked student academically at the University of Texas at Austin High School.
Competes year-round with the Houston Dash Academy.
A dynamic, attacking player that has combined for more than 100 goals and assists over the last three seasons.
Ranked 13th in the 2020 Top-Drawer Development Academy League Scorers and has been selected to the Top-Drawer Weekly Standout Players to Watch list more than 20 times.
US Market Training Center and Combine invitee from 2014-2018.
Earned selection to the all-academic and all-conference teams as a freshman and sophomore.
Tabbed the Smoky Hill Most Valuable Offensive Player.
As a member of Real Colorado ECNL, helped the team win state titles from 2015-17 before competing in the ECNL where the side won the 2018/2019 ECNL Mountain West Conference Championship.
Individual accolades include invitations to the US Training Center and ECNL PDP as well as inclusion in the Olympic Development Program.
Scored 58 goals in 28 games over two seasons of high school soccer, leading the area with 35 her sophomore year.
Earned first-team all-conference honors twice.
Selected to the State and Regional Olympic Development Teams as a member of the Wilmington Hammerhead ECNL program while also earning multiple invitations to US Training Center events.
Garnered induction into the National Honor Society.
Selected to the all-conference first team in both 2018 and 2019.
Garnered 2019 all-area second-team laurels and Mercury All-Area Student Athlete recognition.
Helped lead her team to the 2020 Pioneer Athletic Conference championship.
Spring-Ford will vie for a district championship this week in hopes of an extended postseason run.
Also competed for FC Delco – a member of the Elite Clubs National League in the North Atlantic Conference.
Member of the Penn Fusion Soccer Club which produced current Pirates Kim Sanfordand Cashlin Copley.
Penn Fusion was ranked No. 1 nationally during the 2018-19 season.
Three-time all-division and all-county selection.
Has scored over 100 career goals, holding the program record in the statistic.
Helped lead Edison to a divisional championship in 2018.
A two-year Top 20 player for the North 2 Region.
Having just wrapped up the 2020 division title, Edison will begin its state championship run next week.
Two-time state champion with the Princeton Soccer Association who also helped the club capture the 2019 regional title.
Helped lead Southington to the 2019 state championship game.
Selected to the Class LL All-State, GameTime CT All-State, Central CT All-Conference, All-Hartford Courant, All-New Britain Herald and All-Record Journal Teams.
Named Record Journal Player of the Year and was tabbed to the United Soccer Coaches All-New England Region I Team.
Prior to the 2020 season, earned recognition in the New England Soccer Journal CT Preseason Best XI, GameTime CT 25 CIAC Players to Watch List, CT Soccer Watch List and the High School Soccer All-American Game Watch List.
Served as a team captain for both her high school team and FSA Football Club.
Named a 2018 New England Soccer Journal ECNL Player to Watch and was a Northeast ECNL PDP selection the same season.
Competes year-round for the North Carolina Courage in both the US Soccer Development Academy and the Elite Clubs National League – a team that consistently achieved success over the years.
Averaged 4.5 goals and 7.5 assists over the last three seasons in the Development Academy.
Helped the Courage qualify for the US Soccer Champions League where the club became a Champions League top-8 team in 2019.
Selected for the US Soccer Market Training Centers.
Member of the National Honor Society.