Players That Impressed: Girls Academy Champions Cup Finals 2023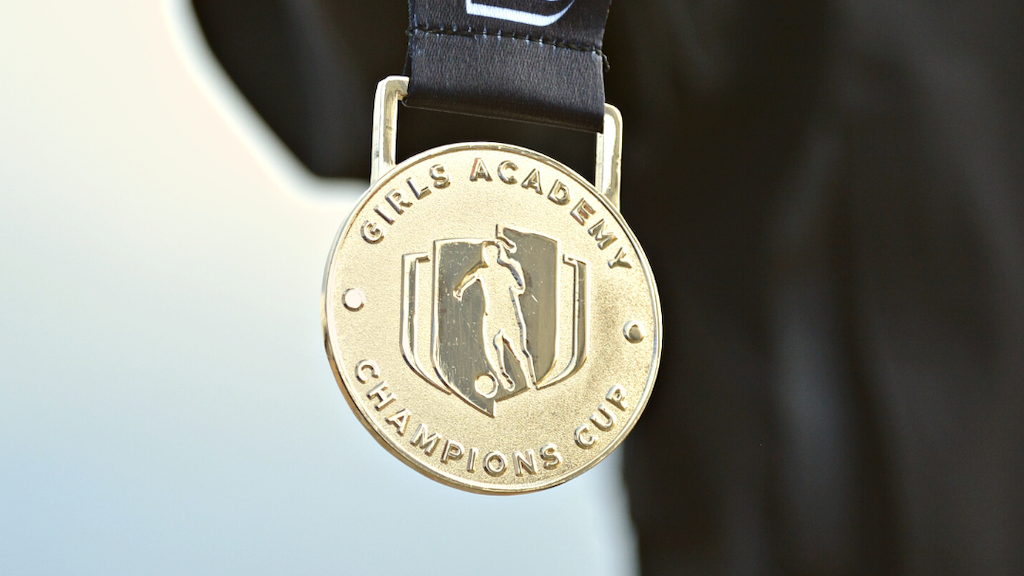 The 2023 Girls Academy Champions Cup Finals were held from March 9-14 at IMG Academy, featuring some of the GA's top teams across the U13-U19 age groups.
See below for a listing of some of the top girls performances from the event, sorted by high school graduation year.
Class of 2029
Fia Parnes | Forward
NEFC 2010 (MA)
Stole the show with a hat trick and an assist for the fourth goal during NEFC's 4-1 win over STA. Parnes also scored in two other games during the tournament.
Class of 2028
Caelyn Moore | Goalkeeper
Houston Dash Academy 2009 (TX)
Caelyn had a fantastic performance in the GA Champions Cup. She stopped multiple one-on-ones in the first three games, and showed her ability to stop shots in the upper corner of the goal. Houston's third game went to OT and PKs, and with Moore came up huge her for team in the clutch.
———————
Baylee Corcoran | Forward
Houston Dash Academy 2009 (TX)
Instrumental in her team's impressive run during the GA Champions Cup. Baylee scored during the tournament and contributed multiple assists with crosses and breakaways that helped the team progress to the final.
Class of 2027
Melania Seay | Forward
Cincinnati United Premier 2009 (OH)
Racked up 4 goals and 2 assists over the course of the event. She scored the game-winning goal against Houston Dash in stoppage time with a thrilling header into the top of the net for the championship win.
———————
Addy Zawaly | Defender
Cincinnati United Premier 2009 (OH)
A two-way contributor for CUP during their run to the GA Champions Cup U14 title, Zawaly stepped up when it counted for her team. Trailing 1-0 in the title match against Houston Dash Academy, she came through with a clutch equalizer to spark the comeback win.
———————
Annie Fowler | Goalkeeper
Chicago FC United 2008 (IL)
Chicago FC United 08 won Bracket A and their finals match thanks to Fowler and her back line, who combined for two clean sheets over four games. Fowler shined in the title match against Fram SC, which came down to PKs. She held strong in net and was one of the FC United players to score during the shootout.
———————
Lily Jeakle | Forward
Nationals SC 2009 (MI)
Jeakle's team won the GA Champions Cup for the U15 age group. In the 1-0 semifinal victory over STA, Jeakle scored the game winning goal with a spectacular header late in the second half. She followed that performance with a goal and an assist in a tight 2-1 victory against Tophat in the final. The U15 USYNT training camp invitee, was dangerous throughout the tournament, constantly putting defenses on their heels with her pace, dribbling and ability to combine.
———————
Alexis Willis | Goalkeeper
Cincinnati United Premier 2009 (OH)
Helped send her team to the U14 finals while battling it out against South Shore Select in a brutal 8-shot penalty kick shootout in the semifinals, securing the win. Willis then came up big during the championship game against Houston Dash, having three major saves to once again secure the team's championship.
———————
Ashlen Bazille | Forward
Cincinnati United Premier 2009 (OH)
Provided the only goal of the game against South Shore Select, in a contest that eventually ended went all the way to a PK shootout. Bazille also scored several other times throughout the event, helping her team advance to the finals.
Class of 2026
A 2008 playing up on the Lonestar 07 GA team, Newell is a midfielder with excellent vision and skills. She provided timely scoring, including an impressive play when she chipped the keeper, and came through in a PK shootout as Lonestar finished top four in the GA Champions Cup's Overall Club Standings.
Netted a phenomenal free kick equalizer to keep her team in the opening game verse Colorado Rush. She had a great performance during the entire game by controlling the middle and creating many opportunities. Raskin continued her leadership into penalties by being the first to make her penalty and helped her team advance to the next round.
The USYNT roster pool member continues to showcase why she is a generational talent, which seems to be something Nationals are showing a real track record of fostering and developing. Her pace, IQ and movement are impossible to handle especially when paired with fellow National teamer, Lily Jeakle. She scored the game winner to secure yet another championship for Nationals.
———————
Alexia-Mae Goodman | Goalkeeper
Tophat Gold 2008 (GA)
Made outstanding saves against Michigan Jaguars, Utah Celtics, and TSJ Virginia to help Tophat Gold 2008 secure advancement to the Champions Cup title match against defending champions – Nationals Blue 08.
———————
Kennedy Kelly | Defender
Tophat Gold 2008 (GA)
Made a number of impressive and hard tackles on the field and stopped a 4-on-1 breakaway in the title match against Nationals SC. She distributed the ball all across the field to give her teammates opportunities to score no matter the location on the field.
———————
McKenzie Godfrey | Forward
Tophat Gold 2008 (GA)
Made great runs through the entire tournament and led Tophat with four total goals. Her pace and athleticism coupled with on-one-one skills were unmatched in the four games.
———————
Emery Sterling | Defender / Midfielder
Philadelphia Ukrainian Nationals 2007 (PA)
In a wild game against Nationals SC, Sterling scored from long range in the closing seconds of regulation to level the score at 3-3 and send it into overtime. Also contributed to some strong defensive efforts by Philadelphia during the event.
Ukies 3
Nationals 3
90:00+
Ukies tie it with :05 left in extra time on an @ESterling2026 shot from deep. pic.twitter.com/UtxWbEve8C

— PhillyUkrainian2007GA (@ukrainian2007GA) March 12, 2023
———————
Sophia Saludares | Midfielder
Houston Dash Academy 2007 (TX)
Involved in all three of her team's goals in a huge win against defending champion TSJ FC Virginia by either initiating the attack, assisting or scoring. Thanks in large part to her superior dribbling ability, Saludares was able to earn an assist, and both earn and convert a penalty kick.
———————
Sloane Popov | Midfielder
Nationals SC 2008 (MI)
Jumped off the field every game for the Nationals 2008 squad. It is hard to tell what her best position is, as she demonstrated phenomenal soccer IQ and abilities at multiple positions throughout the week. A big time talent, this is one to make sure to have on your lists.
Class of 2025
Turned in a brace against STA in Nationals SC 07 Blue's 5-0 win, and she scored the golden goal in OT against Ukrainian Nationals. Grimaldo also stepped up in the title match against Cincinnati United Premier (a thrilling 4-3 loss), as she contributed to all three of her team's goals. She scored the first, created the second, and assisted the third.
Arguably the best performing player at the GA Champions Cup, Ciampa showed it all on both sides of the ball. College, National Team and Pro scouts all were seen furiously scribbling notes after the player showcased her magic on frequent occasion.
———————
Sophia Peters | Defender
Lonestar SC 2007 (TX)
Played strong defense in her team's 2-1 golden goal win over Colorado Rush 07. Her excellent heading at a height near to 6-feet stopped Rush's crosses into the box and she created havoc on her forays forward for free kicks and corners. Providing crisp passes out of the back, she was a calm and strong presence on the field.
———————
Sloan Guion | Defender
Lonestar SC 2007 (TX)
Guion is a powerful, fast and aggressive back who runs the lines tirelessly. During the GA Champions Cup, she played a major role in shutting down opposing offenses on the wing, and creating chances with her left foot.
———————
Kylie Maxwell | Forward
Philadelphia Ukrainian Nationals 2007 (PA)
An always dangerous player on the Philadelphia front line, Maxwell spearheaded her team's attack during their run to the Final Four. She had 5 total goals at the event, culminating with a brace on the final day in her team's 3-2 win over Houston Dash Academy.
———————
Maria Caceres | Midfielder
IMG Academy 2007 (FL)
The team captain led IMG Academy to an undefeated four-game run during the event hosted by her home club. Caceres showed her high soccer IQ with some creative passes that created a multitude of scoring chances for her teammates.
Class of 2024
Anna Sikorski | Forward
SC Wave 2004/2005 (WI)
Pushed her team into the U19 final with a brace in the semifinals against Oakwood SC. The University of Kentucky commit had both goals in the OT victory.
———————
Abigail Gemma | Defender / Midfielder
IMG Academy 2006 (FL)
The Notre Dame commit scored two big impact goals, one from her holding mid position against PA Classics and one while playing center back against NEFC. The IMG captain also showed strong leadership and made some highlight reel long-range precision passes throughout the Champions Cup.
Class of 2023
The future University of Wisconsin Badger was solid in net throughout the event as SC Wave 2004/2005 advanced all the way to the U19 title match. The SC Wave defense held some of the top offenses in the nation to modest outputs, including a clean sheet against NEFC.
Took over the game during SC Wave's 4-1 victory over Lamorinda SC, as the University of Wisconsin commit scored two goals of her own while adding an assist.
Withstood numerous high pressure situations against some of the top opponents in the country, making critical saves in overtime and penalty kick situations throughout the event. Notably, she made a game-clinching PK save against Utah Celtic and she held the line in an OT win over Lonestar SC.
College Recruiting Commitment Tracker