Players That Impressed: ECNL Girls Houston National Event 2023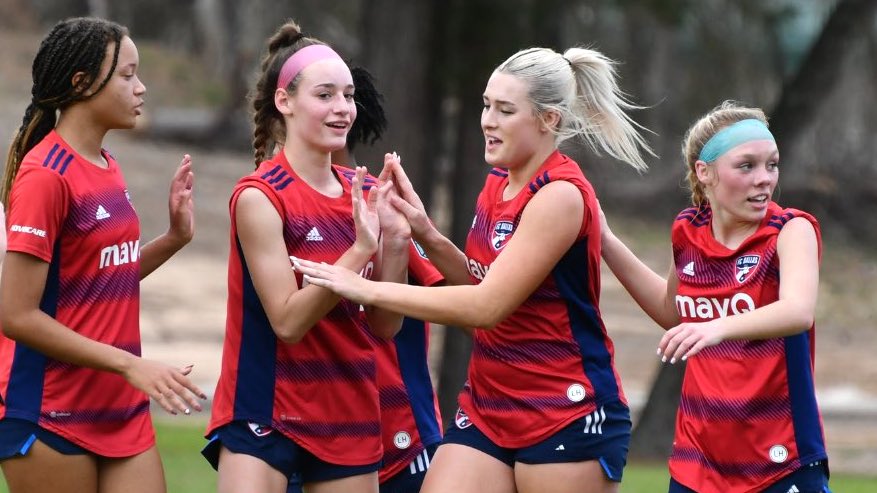 The ECNL recently hosted the 2023 ECNL Girls Houston National Event from February 18-20. Teams in the U14-U18/19 age groups from across the country competed in front of hundreds of college coaches.
See below for a listing of some of the top performances from the showcase, sorted by high school graduation year.
Class of 2028
Marlie Kaipus | Forward
FC Dallas 2009 (TX)
Played almost the entire match and created several chances for goals against Alabama FC, ultimately breaking through by providing the game-winner as FC Dallas went on to win 3-2.
———————
Kyleigh Pete | Forward
Sting Dallas Royal 2009 (TX)
Scored in each game, with a total of 5 goals in 3 games. Played every minute of the event, helping lead Sting Dallas Royal to a 2-1-0 record. Pete is the team's leading scorer on the season and has scored several game-winning goals.
Class of 2027
Helped the FC Dallas 2008 squad finish the showcase with an undefeated 2-0-1 record. Taylor came through with the winning goal in the second half of their last game against Sporting Blue Valley.
Earned back-to-back clean sheets in goal against Classics Elite and Sting Austin for Southeast Conference ECNL newcomer club Florida Premier FC at her team's first ECNL Showcase.
———————
Mikayla Cunningham | Forward
Classics Elite 2008 (TX)
Mikayla was a threat to each defensive line faced in the showcase, netting 7 goals over the weekend. Her speed was impressive but she also displayed an affinity for goal in tight spaces. Classic Elite 2008 went undefeated with two ties and a win.
———————
Mattea Perry | Forward
Sting Dallas Royal 2009 (TX)
Scored 4 goals in 3 games. Stepped up to hit 3 penalties in 3 games. Helped the team to 2 wins over the weekend.
———————
Anya Rhode | Midfielder
Portland Thorns Academy 2008 (OR)
As a defensive midfielder, Anya worked tirelessly to close gaps, delay the opponent, win 50-50 balls, and assist in attacking play in all three thirds. Anya's speed, work rate, and technical quality are a deadly combination that made her both difficult to beat and dangerous going forward. Her impact is difficult to quantify, but it was obvious on the field.
Class of 2026
Racked up 22 saves and notched a clean sheet over the course of the showcase as Concorde Fire Premier earned a pair of wins over La Roca and Pride SC.
Had an outstanding performance on the third day of the Houston Showcase for Sting Austin 2007. Clark scored two impressive goals and played with great energy and skill throughout the game, a 4-0 victory over Northwest Elite FC.
Scored 2 goals and had 1 assist in the Solar SC 2007 squad's 3-1 win over SLSG in their opening game in Houston.
———————
Maria Wiele | Midfielder / Defender
Sting Austin 2008 (TX)
Shined on the attack for Sting Austin during a dominant 3-0-0 performance in Houston. Wiele had a pair of assists and a netted a goal of her own, which proved to be the game-winner in the finale against United Futbol Academy.
Great 3 days for @stingatx_2008 at the Houston ECNL Showcase-we came away with 3 wins and I contributed an assist in each of our first two games and a goal in our 1-0 win today🔵⚫️⚽️@PrepSoccer @ImYouthSoccer @TopDrawerSoccer @TheSoccerWire @StingSoccerClub pic.twitter.com/JEC0sah7zU

— Mia Wiele (@MiaWiele) February 21, 2023
———————
Shea Krakowski | Midfielder
Eclipse Select SC 2008 (IL)
Provided a strong two-way effort, contributing on both the attacking and defensive sides. She used her high level vision for the game to create threatening passing lanes and dangerous runs making it difficult to defend.
———————
Olivia Wright | Midfielder / Defender
Oklahoma Energy FC 2007 (OK)
Stepped up for Oklahoma Energy FC during their perfect 3-0-0 run in Houston. Wright scored the game-winning goal in a tough 1-0 shutout victory over Sporting Blue Valley, and her passing ability was on display throughout the event as she racked up multiple assists.
———————
Margaret Pritchard | Midfielder
Atlanta Fire United 2007 (GA)
In a defensive battle against Northwest Elite FC, Pritchard was the only player for either team to find the net as she scored what proved to be the game-winning goal in the 12th minute.
———————
Tyller Grimes | Defender
D'Feeters Kicks SC 2008 (TX)
Anchored the defense from her center back position and provided a goal on a tough header amid a crowd, vaulting DKSC to a clean sheet victory over La Roca FC.
Game 3- DKSC ECNL 08 came out on top vs La Roca ECNL w/ 2-0 shutout. Beautiful header-goal from Centerback #22 @tyllergsoccer pushing through the crowd. 🔥💪🙌@DKSC_official @dksc_08_ECNL @ImYouthSoccer @ECNLgirls @TheECNL @ECNLHOU@TheSoccerWire @TopDrawerSoccer @ImCollegeSoccer pic.twitter.com/fe4OhEbYAC

— Jennifer Grimes (@jgrimes528) February 20, 2023
———————
Kamiya Beck | Forward
Solar SC 2008 (TX)
Faced 3 great opponents this weekend in the ECNL Houston Showcase, as Solar had 2 draws and 1 win. Beck contributed 1 goal and 1 assist against SLSG in a 4-1 win and 1 goal against Concorde Fire Platinum, a game that ended in a 1-1 draw.
———————
Olivia Feagin | Midfielder
Challenge SC 2007 (TX)
Olivia is a box to box midfielder who plays out of pressure and slips through balls. In Challenge 07 ECNL's second game against the Portland Thorns 07 (tie 1-1), she had a great offensive game answering a goal from Portland within 2 minutes with dribbling, technical moves, finishing with her left foot. She played with Challenge 06 ECNL against Sporting Blue Valley (win 2-1) on the final day keeping the ball moving against an aggressive team. Holding confident and steady in the box, she picked up a free kick which Grace Smith beautifully put in the net.
Check out my goal from ECNL Houston! More highlights to come!
⚽️➡️🥅 #ecnl #ECNLHou #ECNLHouston @ChallengeSoccer @ImCollegeSoccer @ImYouthSoccer pic.twitter.com/wxBxcsw3P1

— Olivia Feagin (@OliviaFeagin) February 22, 2023
———————
Marlee Raymond | Defender
United Futbol Academy 2008 (GA)
Team captain and center back had a great weekend in Houston as UFA went 2-1-0. She worked hard defensively to keep her team in games while connecting the ball and creating chances for her team. She also scored a header goal on an assist by midfielder Paige Jacquin,
———————
Zea Gonzalez | Forward
Sting Austin 2008 (TX)
Sealed the 2-0 win vs Seattle United with a zinger passed the goalie on a PK. Gonzalez also assisted a goal vs Real Colorado Athletico with a header off a corner kick, as her teammate volleyed it in. She had a strong offensive performance contributing to 3 wins.
———————
Logan Smith | Midfielder
NCFC Youth 2008 (NC)
Shined in the last game of the showcase vs. Tulsa SC ECNL, as she had a hat trick in NCFC's 3-1 win. Each goal was scored in a different way: a defensive steal with a 20-yard finish, a left-footed one timer inside the box, and reacting to a ball off the post.
———————
Isabelle Traub | Midfielder
FC Dallas 2007 (TX)
Instrumental in FC Dallas' ability to keep possession and unbalance other teams on the attack. Her ability to break up the opponents play, win the ball out of the air, and regain possession for her team was a big factor in the success of the group, which went undefeated over the weekend.
Class of 2025
———————
Melia Rodriguez | Goalkeeper
Classics Elite 2007 (TX)
In addition to helping her Classics Elite 07 team notch three wins and clean sheets at the ECNL Houston Showcase, Rodriguez also played for the Classics Elite 04/05 ECNL team in the event. The 04/05's regular goalkeeper was injured the day before the Showcase and could not attend. Rodriguez was granted permission to play with the 04/05s. She started every match for them, and played all 90 minutes in the Sunday and Monday matches.
———————
Keira Truofreh | Midfielder
Colorado Rapids 2007 (CO)
As a defensive midfielder, Truofreh was a disruptive force on defense and played a key role changing the point of attack and transitioning the team from defense to offense. She was all over the place intercepting balls, winning 50/50 challenges and distributing pinpoint passes across the field. She stepped up into a leadership role when her team was down several players over the course of the event.
———————
Makala Johnson | Forward / Midfielder
Oklahoma Energy FC 2007 (OK)
A steady presence on the attacking side for Oklahoma Energy FC, Johnson contributed to the scoring in two games during her team's perfect 3-0-0 run at ECNL Houston.
Final Day at ECNL Houston and got a goal in the last minutes of the game. Great assist by @ElleCanty !! @oefc07girlsecnl @OEFCGirlsECNL @TopDrawerSoccer @TheSoccerWire @PrepSoccer pic.twitter.com/rHK8o5hlgG

— Makala johnson (@Makalajohnson_) February 21, 2023
———————
Ja'Keyra Bryant | Defender
Sting Dallas Royal 2007 (TX)
Outstanding performance on the Sting back line, contributing to 2 shutouts during the Houston showcase, one against FC Wisconsin and one against PacNW. Her speed and tenacity was on full display as she cut off scoring chances with regularity against high level opponents.
Houston was Great! Happy to contribute to a second Shutout during the @ECNLgirls Showcase on Defense! Thank you to all of the College Coaches that came out! #TheRoyalWay@ImYouthSoccer @ImCollegeSoccer @SSN_NCAASoccer @TheSoccerWire https://t.co/bunahwavb4 pic.twitter.com/2TBPNscwk1

— (JB)Ja'Keyra Bryant (@JB__2025) February 21, 2023
———————
Kaylee Gibson | Forward
Tulsa SC 2006 (OK)
Kaylee had a dominant performance in the attacking third by scoring 4 goals, being awarded 3 penalties, and 1 assist. Her outstanding dribbling abilities and skilled touch on the ball resulted in 3 bookings to the other team as she continued to create goal scoring opportunities from the wide position the whole game. Tulsa went unbeaten on the weekend with a perfect 3-0-0 record.
———————
Kiara Gilmore | Defender
FC Dallas 2007 (TX)
Locked down the opponents' attack on the weekend. Her ability to defend 1v1 and come away with possession to build the attack was on display against some very good opponents this weekend in Houston. With both feet, she was able to consistently find targets and play through the opponents with uncanny texture and accuracy. Kiara helped her team to shutout their opponents for the 15th, 16th, and 17th time out of 23 games this season.
———————
Nyamma Nelson | Goalkeeper
Portland Thorns Academy 2007 (OR)
Not only did Nyamma play a big role in helping the 2007 Portland Thorns Academy remain undefeated in Houston, she consistently sparked the attack with her quick and smart distribution. Nyamma came up big in several key moments over the weekend, including coming out to win balls in traffic when defending corners. Nyamma's performance in three tight games proves that she is one to watch.
———————
Paige Nakada | Defender
Portland Thorns Academy 2007 (OR)
Paige's performance at center back was instrumental in her team's undefeated weekend in Houston. Her high soccer IQ paired with her excellent on field communication skills made a huge impact on her team's defensive organization. Additionally, Paige used her athleticism, patience, and exceptional technique in 1v1 defending situations and rarely (if ever) lost an individual battle.
Class of 2024
———————
Neliaj Delekn | Goalkeeper
Classics Elite 2006 (TX)
Made a fantastic save during the ECNL National Selection Game, and went on to keep clean sheets during all of her appearances in showcase action for Classics Elite.
———————
Cortlyn Hefty | Forward
Rockford Raptors 2006 (IL)
Helped her team come away with two wins in Houston, as she netted 6 goals at the event. Hefty had 1 goal in the opener and 5 goals in her team's finale, a 6-1 rout of Boise Thorns FC.
———————
Ellie Felt | Midfielder
Portland Thorns Academy 2004/2005 (OR)
Playing in central midfield, Felt was a key piece in the Thorns Academy attack. In their first game against Classics Elite, she had two goals and an assist. She added another goal in the Thorns' matchup against OK Energy.
College Recruiting Commitment Tracker