Players That Impressed: ECNL Girls 2022 National Playoffs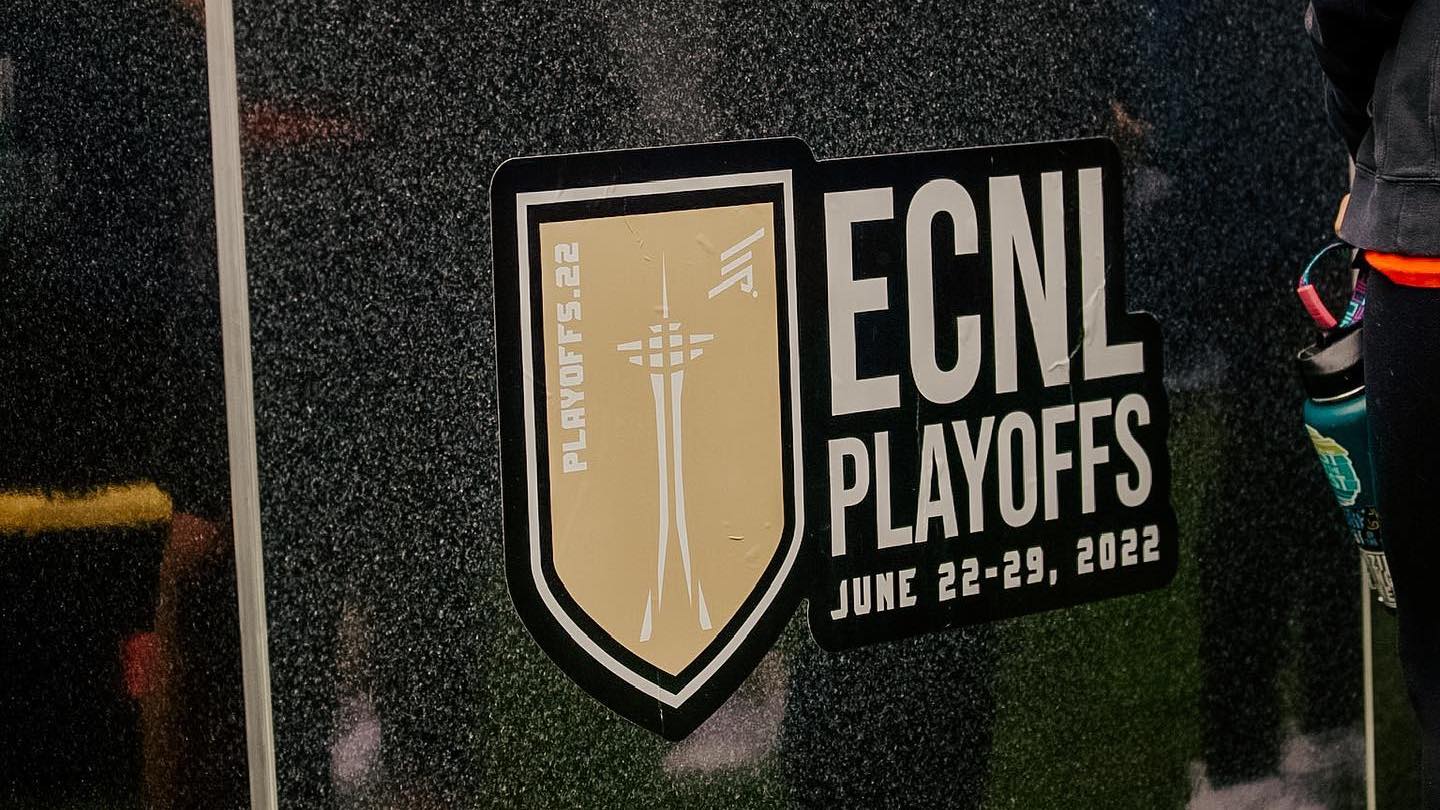 The ECNL hosted the 2022 ECNL Girls National Playoffs in Seattle from June 22-29. Teams from across the country competed at 60 Acres Park in front of hundreds of college coaches.
See below for a listing of some of the top performances from the event, sorted by high school graduation year.
Class of 2027
Makena won and converted a penalty late in the second half to score the lone goal in a hard fought Round of 16 match between the PDA Blue and DKSC U13 teams. PDA Blue advanced to the National Finals in Richmond, VA after the win.
———————
Noelle Clabaugh | Midfielder
Penn Fusion U14 (PA)
Scored the game-winner as Penn Fusion beat previously undefeated and top-seeded Solar SC to advance to the Round of 16.
Class of 2026
Kicked off the U15 Champions League group stage in dominant fashion, leading Solar SC with a hat trick in their rout of Wilmington Hammerheads. Strawn finished the event with 4 goals and 1 assist, as FC Dallas earn a spot in the ECNL National Finals.
Shea Krakowski | Midfielder
Eclipse Select SC U14 (IL)
Down 1-0 before the half in a critical game against Eagles SC, Krakowski scored on a beautiful free kick from range, sank in the upper 90 shelf to equalize at 1-1. Right after the half, she came out with high energy and buried an explosive header goal to take the lead 2-1. Eclipse won the game 4-1.
———————
Payton Trayer | Goalkeeper
Slammers HB Køge U14 (CA)
Saved 2 penalty kicks in regulation against FC Stars to preserve a draw. She also saved 3 PKs in the round of 16 shootout to advance to the National Finals.
———————
Zea Gonzalez | Forward
Sting Austin U14 (TX)
Found the net 3 different times over the course of the ECNL National Playoffs, including the club's first goal at the event against San Diego Surf with a laced shot that blazed passed the keeper hitting bottom right corner. Gonzalez also had a pair of impressive goals against Indiana Fire.
———————
Mia Wiele | Defender
Sting Austin U14 (TX)
Dominated the back line in all games played, making numerous key defensive stops in the air on clearances and set pieces, including multiple sliding tackles off the goal line. She also contributed on the attacking side, scoring a 40-yard free kick in the last game to start off the 5-0 win.
———————
Kayla Cervantes | Goalkeeper
Sting Black U14 (TX)
Stepped up with some massive saves against Slammers FC, and helped lead her team dig deep and come back from a devastating 2-0 lead from their opponent to tie the game in the last minute. The game went into a PK shootout, where Cervantes made 3 dramatic saves for her team.
Class of 2025
———————
Addison Halpern | Midfielder
PDA Blue U16 (NJ)
The U.S. Youth National Team roster pool member took charge throughout the week as PDA booked their ticket to the ECNL National Finals. Halpern controlled the midfield with her box-to-box play. She continues to persevere in every game as she scored the 2 goals PDA needed to beat VDA in the Round of 16, with just minutes on the clock.
———————
Sydney Krempasky | Midfielder
PDA Blue U15 (NJ)
As a team captain, Krempasky keeps her side calm and focused by being a vocal leader on the field. She has a relentless tenacity and grit which makes her highly valuable as a holding midfielder, stripping her opponents of the ball with skill and composure.
———————
Isabella "Bella" Martinez | Midfielder
FC Dallas U15 (TX)
Whenever FC Dallas needed a breakthrough, Martinez stepped up to spark the offense as they battled their way into a spot in the ECNL National Finals. She assisted the game-winner on opening day, netted a key goal in their second group game, and she converted one of the decisive PKs in the final shootout during the Round of 16 against San Diego Surf.
———————
Ahnali Quinn | Midfielder
FC Dallas U15 (TX)
Came up big for FC Dallas when they needed it most, scoring in back-to-back games as they closed out the group stage with a narrow 3-2 win, and in the Round of 16 where they emerged victorious against San Diego Surf. Quinn scored a goal during regulation against Surf and converted a PK in the decisive shootout, sending FC Dallas to Richmond for the National Finals.
———————
Alaina Villa | Midfielder
Slammers FC U15 (CA)
A versatile and aggressive player, Villa shined all over the field in Seattle. She finished with 3 goals and 3 assists at the event, which was highlighted by her hat trick against Crossfire Premier.
———————
Ryder Ajeto | Forward
So Cal Blues U16 (CA)
Used her speed and creative play to put 3 goals in the back of the net, including a header and an impressive run up the middle, splitting two defenders and bulling for the ball before finding the back post. Her So Cal Blues U16 team went on to make the Round of 16.
———————
Trinity Armstrong | Defender
Solar SC U15 (TX)
Dominated the back line in all games played, making numerous key defensive stops in the air on clearances and set pieces. She also contributed on the attacking side, scoring 3 goals off headers.
———————
Hailey Gordon | Forward
Slammers HB Køge U16 (CA)
Had a stellar performance at the ECNL Playoffs. She showed her speed and technical ability giving the defense problems. She scored 6 goals in 4 games, including a header, to help her team advance to the ECNL National Finals in Richmond.
———————
Sophia Henry | Forward
Virginia Union U15 (VA)
The forward provided an offensive spark with a goal and assist to teammate Helen Bonner late in the first half to lead VA Union to a 2-0 halftime lead over Penn Fusion, and added a cheeky goal for the brace on an assist from Bonner in the 2nd half en route to the team's 4-0 win. Henry also scored a goal on assist from Bonner in the team's 2-2 tie with Crossfire. The two forwards combined for 4 goals and 3 assists during group play at the ECNL Playoffs.
Class of 2024
In her first-ever ECNL playoff appearance, Fusco scored a goal against the No. 4 seed WNY Flash U17 squad. Fusco and her FC Bucks team went on to beat WNY Flash and Heat FC to reach the semifinals.
Finished off a perfect 3-0-0 showing for FC Pride in the U16 Showcase Cup with a thrilling penalty kick shootout victory against Match Fit Academy. Hill came through with a couple of clutch saves to put her side on top in the marathon PK shootout.
Day 3: WOW…A perfect end to my first @ECNLgirls season. 10 rounds of PKs for the win vs Match Fit to go 3-0 @ECNLPlayoffs. This team ROCKS! Thank you @MattBlackbourne for a great season. 🚀⚽️from Taylor, Summer, Sienna, Genny, Gracie, Paige, Kylie, Eliza, Sarah & Fay💕 🇰🇿🧤💪🏼 pic.twitter.com/OA56YpUGye

— Olivia Hill (@OliviaHill_KZ) June 26, 2022
Day 1 of #ECNLSEATTLE…assist to Bella!! Props to @KatieSheaColli1 for the amazing through-ball👏👏👏 pic.twitter.com/UUOWlvLggo

— Georgia Shields (@gShields2024) June 24, 2022
———————
Katie Shea Collins | Forward
Tennessee SC U17 (TN)
Paced the Tennessee SC offense with her consistent scoring and overall playmaking ability. Collins provided several key passes and showed off her finishing skills, highlighted by a perfectly placed shot on the run in her side's 2-1 win over Northwest Elite.
Super important 2-1 W vs NorthWest Elite today! Such a fun game. Great assist from Kylie Roth! pic.twitter.com/sIfOpCdbzN

— Katie Shea Collins (@KatieSheaColli1) June 23, 2022
———————
Lexi Grundler | Goalkeeper
Tennessee SC U17 (TN)
Stayed composed and rock solid defending the goal against strong competition at the ECNL Playoffs. She used her spot in the back to redirect her team and keep positioning to prevent shots on goal. She makes hard saves look simple to those watching.
———————
Jaden Thomas | Forward
FC Dallas U16 (TX)
Spearheaded the potent FC Dallas attack by racking up 3 goals and 4 assists as they powered their way to a berth in the ECNL National Finals. FC Dallas swept their four opponents in Seattle.
———————
Morgan Brown | Midfielder
FC Dallas U16 (TX)
Led FC Dallas with 4 goals scored, and contributed an assist during her team's perfect run through the group stage and the round of 16.
———————
Ava Slay | Defender
Albion Hurricanes FC U16 (TX)
Played a pivotal role on an AHFC back line which was able to contain opposing offenses consistently throughout their run in the U16 Showcase Cup A. Slay was a solid two-way contributor playing outside back, adding a pair of goals on penalty kicks as AHFC earned a 2nd place finish.
———————
Ashlyn DiGioia | Defender
Classics Elite U16 (TX)
Played strong throughout Classics Elite's run in the U17 North American Cup, showing her versatility as a box-to-box outside back, center back and midfielder. Her consistently aggressive defending, attacking support, and on-field communication helped limit their higher-ranked opponents to 2 total goals while qualifying for the semifinal round.
———————
Marlee Scanlon | Midfielder
Ohio Elite U16 (OH)
Showed her playmaking abilities during a high-flying match against NC Fusion, as she notched assists on two of her team's three goals.
———————
Hannah Palmer | Forward / Midfielder
KC Athletics U17 (KS)
Turned in a brace as she propelled KC Athletics to a dramatic 3-2 comeback victory over Oklahoma City Energy in the group stage of the U17 Champions League.
———————
Carson Bohnenstiehl | Midfielder
SLSG Green U16 (MO)
Posted a dominant performance in the semifinal of the North American Cup against LA Breakers. Bohnenstiehl's relentless effort paid off with a second half goal when she was able to turn on the defense and make a well-placed left-footed shot past the keeper. This turned out to be the only goal of the game in SLSG's 1-0 victory over a tough LA Breakers team.
———————
Beya Rosales | Defender
Dallas Texans U16 (TX)
An anchor for the Dallas Texans backline, Rosales is adept at using her size and speed to continually disrupt attacks by the opposing team. She had a number of impressive plays running down opposing attackers to foil would-be offensive attempts. She also proved effective on set pieces, continually driving the ball downfield into dangerous attacking positions for her team.
———————
Daisy West | Defender
World Class FC U16 (NY)
One half of an outstanding defensive center back duo, West provides the tough, physical, outstanding athleticism that allowed only 6 goals all season. West's speed, strength, and powerful leadership contributed to an undefeated season and undefeated 3-0-0 group stage in Seattle.
———————
Caroline Tomas | Defender
World Class FC U16 (NY)
Tomas is one half of an outstanding center back duo that kept this team in every game with seamless effort and teamwork. Possessing a through ball pass that is completely on target, Tomas' high soccer IQ and mental comprehension of the workings of the entire field allow this defense to protect their goal and contribute to goals scored. She also has a lethal set kick and undisputed power out of the back.
———————
Chandler Huffman | Defender
Ohio Elite U16 (OH)
Played hard defense in all 3 games and scored 2 goals at the event, both off of corners. Huffman scored 2 of the teams 6 goals as a defender in the Champions League.
———————
Emerson Andrews | Defender
Solar SC U16 (TX)
Showcased her two-way abilities as the starting right back in all 4 wins for Solar SC. Andrews opened up the field and created scoring opportunities that helped lead Solar to 18 total goals in their 4 games. She was key in both getting the ball up the pitch and holding down the defense in the knockout game against So Cal Blues where Solar won 6-0.
———————
Aurora Gaines | Forward
Concorde Fire Platinum U16 (GA)
Dynamic and relentless in the attack throughout the tournament, as she consistently (i) made penetrating drives from both wings in the attack, (ii) applied constant defensive pressure to cause turnovers in her opponents' defensive third of the field and (iii) repeatedly beat her defenders in her 1v1 matchups, ultimately resulting in her producing 4 goals and 3 assists (including a last minute game winner against the defending champions KC Athletics), which accounted for 64% of the total goals scored by her team.
———————
Sydney Bushman | Midfielder
SoCal Blues U16 (CA)
Excelled in the midfield for SoCal Blues as the team made it to the Round of 16. Her accurate passing to break lines created numerous chances and her ability to anticipate and intercept opponent passes and make crucial open field tackles frustrated teams throughout the weekend. In a key win or go home 3rd match versus Davis Legacy, Bushman was a continual threat overlapping on the right side and she provided the assist for the game-winning goal from a cross.
———————
Ava Vaughan | Midfielder
NC Fusion U16 (NC)
Put up a solid performance for the NC Fusion ECNL team as a midfielder, effectively managing the middle of the tempo of the game and creating excellent chances for her teammates. After delivering an assist in the first  game against SUSA, she made a transition to right back, proving herself to be a versatile player by an excellent defensive performance that helped her team secure their advancement to the Round of 16.
———————
Juliana Osterman | Forward
Match Fit Academy U16 (NJ)
Productive throughout the weekend for Match Fit, as she netted the game-winner against Concorde Fire before adding another goal and game-winning assist against Arlington. She scored once against in their third game against FC Pride and converted her PK in the decisive shootout. Finished with 3 goals and 1 assist in Seattle.
Class of 2023
okay… BANGER!! @a13xismorrison next stop: VA⚽️ good luck 05's and go represent!! @SBV_GA2005 pic.twitter.com/ri8mzgzqH1

— Macy Malik (@macy_malik) June 27, 2022
———————
Trinity Knox | Goalkeeper
Concorde Fire Platinum U18/19 (GA)
Only conceded 3 goals over the 4-game event, as Concorde Fire won the U18/19 ECNL Champions League national title. Knox played each game in the 2nd half, holding a win with the exception of Game 1 where she conceded zero goals. She held the tie and saved 2 PKs as her team earned advancement to semis.
———————
Victoria Safradin | Goalkeeper
Internationals SC U17 (OH)
Conceded only 1 goal in 4 games, including 3 straight clean sheets during her team's perfect run through the group stage. Safradin made numerous top class saves along the way, always keeping her team in position to win.
———————
Kennedy Schoennauer | Forward
MVLA U17 (CA)
In the first three games of the U17 ECNL National Playoffs, Schoennauer had 4 goals and 1 assist to help lead her MVLA 05 team to the Round of 16. She was dominant in a 3-1 victory over Sporing Arsenal with an assist and two goals, including a 30-yard boot on a free kick on Day 2.
———————
Mary Frances Symmes | Midfielder
Alabama FC U17 (AL)
Symmes burst and energy in the midfield was key in a 2-0 win over WNY Flash, as she displayed her control and creativity both defensively and offensively. She scored the opening goal and helped seal the win with an assist.
Class of 2022
Jenna Hallbeck | Midfielder
Ohio Elite U18/19 (OH)
The Carnegie Mellon 2022 commit found the net in back-to-back games for Ohio Elite during the U18/19 Champions League group stage.
———————
Came up big for Real Colorado's U18/19 squad, as she netted 2 goals and assisted another during her team's 4-2 win against Legends FC. She also scored the clutch game-winner in the 88th minute in a tough 1-0 match against UFA.
College Recruiting Commitment Tracker