Players That Impressed: ECNL Girls Houston National Event 2022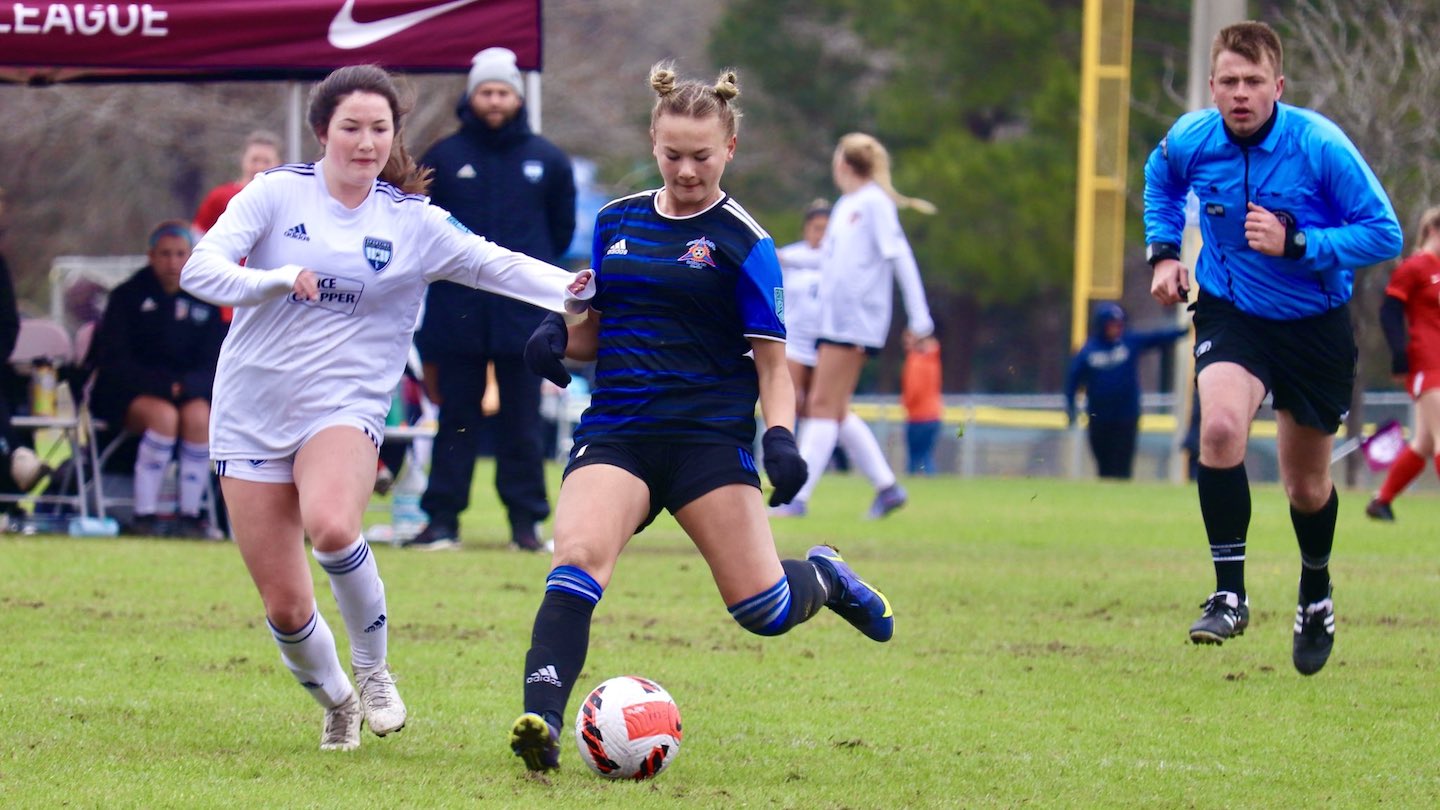 The ECNL recently hosted the 2022 ECNL Girls Texas National Event in Houston from February 26-28.
Continue reading for a listing of some of the top performances at the ECNL's National Event.
U15
Across one half of the U15 National Selection game on Saturday and two club games on Sunday and Monday, Olivia finished the tournament with a full clean sheet. She came up with big saves against top U15 squads from both SLSG Navy and Tennessee SC as Solar finished their competition with scores of 2-0 and 7-0 respectively.
Kylie Snell | Midfielder
Sting Austin U-15 (TX)
Led the Sting Austin 2007 attack with 3 goals and an assist over the course of the tournament. She contributed to 3-of-4 goals during her side's 4-0 rout of FC Wisconsin.
U16
Scored a goal for Team East during the U16/17 National Selection Game, and closed the event by leading Solar to a tough 3-2 victory over GSA, tallying a goal and an assist.
Fueled the Sporting Blue Valley attack with a brace against Oklahoma Energy. Jones netted both goals in the 2-0 victory off assists from Grace Vest and Hope Kim.
Reganne Morris | Forward
DKSC U-16 (TX)
Displayed her playmaking abilities as she assisted both goals in DKSC's 2-1 victory over SLSG on Day 2 of the showcase.
———————
Allie Love | Forward
DKSC U-16 (TX)
Powered the DKSC attack with a brace in their 3-1 opening day victory against Eastside FC, and added another strike on Day 2 to help her side secure a 2-1 victory.
———————
Lauren Hill | Forward
Sting Austin U-16 (TX)
Provided a goal and an assist in a 3-2 defeat against Riverhounds SC, and followed up by netting the opening goal in her team's 2-1 win over Sporting Iowa on the final day.
https://twitter.com/stingaustin06/status/1498486922146205704?s=20&t=or9cwHyxk1mv0NPoA3JCpA
———————
Julianna Millin | Midfielder
Sting Austin U-16 (TX)
Netted Sting Austin's opening goal against Riverhounds SC, and assisted Emma Johnson's game-winning goal with a cross in their finale against Sporting Iowa.
———————
Haley Zator | Defender
Sting Austin U-16 (TX)
Displayed a high level of soccer IQ and awareness, while recording numerous quality connections, powerful runs and successful 1v1 encounters. Zaltor is a stalwart on the Sting Austin back line.
———————
Morgan Brown | Forward / Midfielder
FC Dallas U-16 (TX)
Found her way onto the scoresheet during all three of FC Dallas' victories, accounting for 2 goals and 2 assists in Houston.
———————
Juliette Rayo | Midfielder
FC Dallas U-16 (TX)
Came through with a hat trick during FC Dallas' 3-0 victory over Northwest Elite FC, during their perfect run at the ECNL Texas National Event.
———————
Amalia Villarreal | Midfielder / Forward
Solar SC U-16 (TX)
Dynamic playmaker showed her wide array of skills during Solar's perfect run in Houston, finishing the event with 3 goals and 2 assists.
———————
Anaiyah Robinson | Forward
Challenge SC U-16 (TX)
Anaiyah contributed to all 3 goals during the National Selection Game for Team East. She then went on to score a goal against defending ECNL national champions Kansas City Athletics. In her final game, she added an assist in a 2-1 victory over Portland Thorns.
———————
Scottie Oller-Newton | Defender
Tennessee SC U-16 (TN)
Provided strong play from her center back position, helping disrupt attacks and runs on goal. She had many defensive headers to save corners and maintained pressure to create opportunities for her offense to counter. Her back line recorded one clean sheet and only gave up 3 goals all weekend.
———————
Alexis Montgomery | Midfielder
Classics Elite U-16 (TX)
Very active in the Classics Elite offense, scoring 2 goals and setting up her teammates with a pair of assists as well. Montgomery led her team to a pair of positive results, tallying a win and a draw in Houston.
———————
Rylee Felton | Forward
Michigan Hawks U-16 (MI)
Scored 3 goals and had 2 assists in the ECNL Houston Showcase. Felton is a versatile player, playing both as a winger and an attacking mid for the team.
———————
Jenica Opdahl | Goalkeeper
Michigan Hawks U-16 (MI)
Came up with big saves in all 3 games as Michigan posted a 2-1-0 record, with their only loss coming in a 1-0 defensive battle. With her aggressive approach, she helped clean up balls played over and behind the defense. She was the defensive MVP for the team in the ECNL Houston Showcase.
———————
Anaiyah Robinson | Forward
Challenge SC U-16 (TX)
Anaiyah is normally a forward, but was called upon to play on defense for Team East in the National Selection Game. She still managed to contribute to all 3 goals scored by Team East, playing a pivotal two-way role.
———————
Mia Devrouax | Forward
SLSG Navy U-16 (MO)
Despite playing in cold, wintery conditions at the ECNL Houston Showcase, Mia was constantly on or around the ball. Made it difficult for opponents to keep up with her and very few outplayed her. Versatile player that can play multiple positions.
U17
Emilia Compian | Goalkeeper
Solar SC U-17 (TX)
As Solar played three consecutive games decided by exactly one goal, Compian came through on multiple occasions with important saves. She worked with the back line to earn a clean sheet during Solar's 1-0 win over Tennessee in their finale.
———————
Taylor Jernigan | Forward
Classics Elite U-17 (TX)
The Texas A&M class of 2023 commit fueled the Classics Elite offense with a brace during their 2-0 clean sheet win over SLSG on the final day of the showcase.
———————
Ashlyn DiGioia | Defender
Classics Elite U-17 (TX)
Playing as an outside back and holding midfielder, Ashlyn was relentless while shutting down multiple over-the-top attacks in the wet and muddy conditions throughout the weekend. She made two last-second saves to deny near-certain goal scoring opportunities. Finally her fast transitions and accurate passing created effective counter attacks by her teammates.
———————
Hannah McFarlane | Goalkeeper
Sporting Blue Valley U-17 (KS)
Stepped up with a key penalty kick save to keep DKSC off the scoreboard during a hard-fought match on Monday, as she and the back line combined for a clean sheet.
———————
Blake Olivier | Midfielder
Albion Hurricanes FC U-17 (TX)
Impressive in midfield both offensively and defensively. Her speed and athleticism allowed her to slowdown counter attacks. Showed a great ability to switch the field and find her teammates with excellent passing abilities. She also scored a goal on a PK vs. Eclipse SC North.
———————
Ellie Felt | Midfielder
Portland Thorns Academy U-17 (OR)
Scored two goals over the weekend and was key in Portland's undefeated record of 3-0-0. Felt was instrumental in creating opportunities for her teammates and scoring crucial goals.
———————
Kennedy Fletcher | Defender
Portland Thorns Academy U-17 (OR)
Key member of an outstanding defense that only gave up one goal over the three-game weekend. Her smart decision making and tenacity was instrumental in the Thorns' undefeated run.
———————
Brooke Blackstock | Defender
Michigan Hawks U-17 (MI)
As the center back for the Michigan Hawks 05 Magic team, Blackstock constantly goes up against the other team's top forwards. In all 3 games in Houston, she was able to limit or completely shut down her opponents' top scoring threats. In large part to her play, the 05 Magic were able to post shutouts in their last two games.
College Recruiting Commitment Tracker