Players That Impressed: ECNL Girls National Playoffs 2021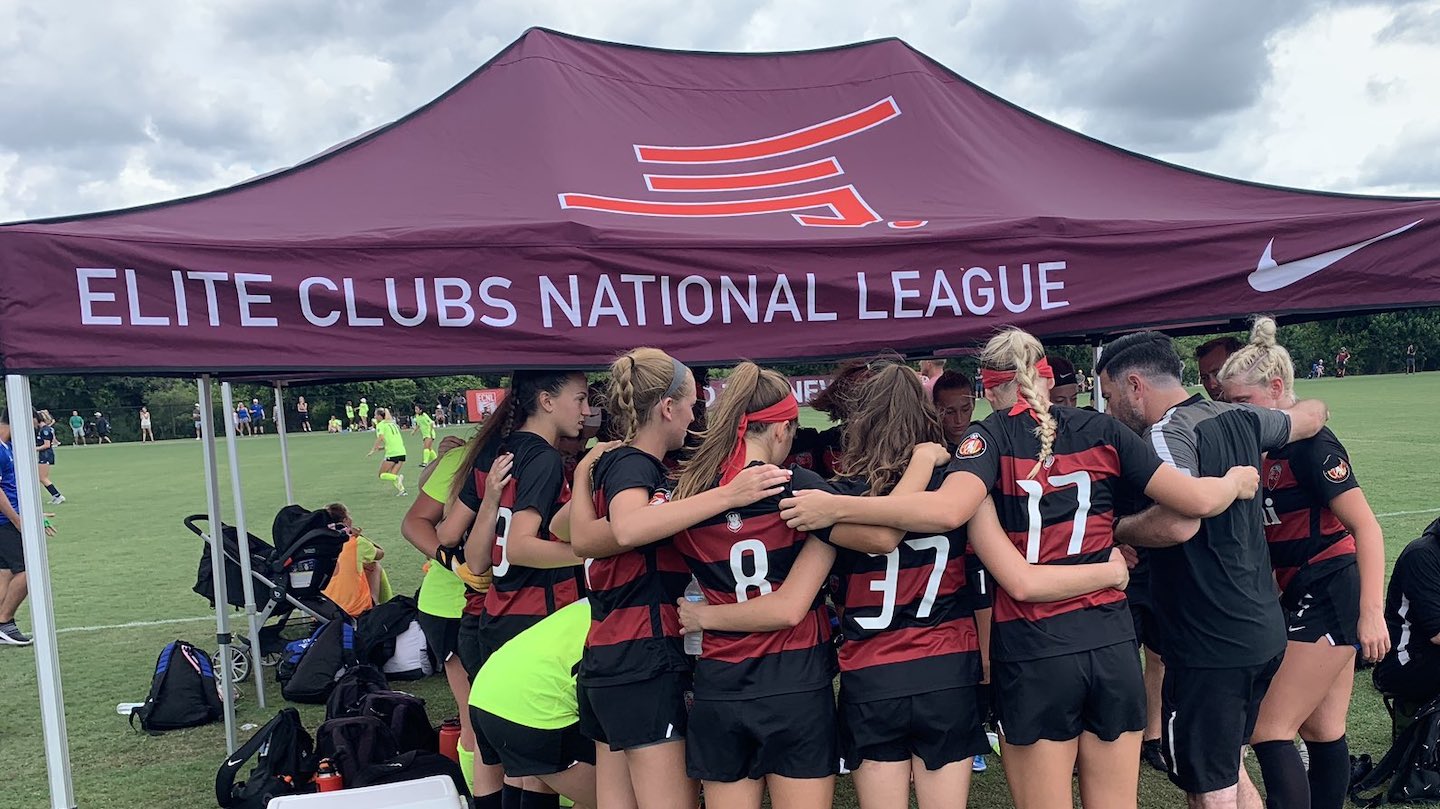 The ECNL recently completed the 2021 ECNL Girls National Playoffs in Lakewood Ranch, Fla.
Continue reading for a listing of some of the top performances at the ECNL's postseason event.
U-14
Jordyn Hardeman | Midfielder / Defender
Solar SC U-14 (TX)
Hardeman put up a stellar performance against TSC in her team's 5-1 group stage victory over TSC. Her goal and assist helped add to Solar's scoreline and virtually guaranteed them the top seed in the group and the opportunity to advance.
———————
Parker Wilkerson | Defender
Solar SC U-14 (TX)
Good in the air and calm on the ball, Wilkerson made several big tackles to keep MVLA off the scoreboard in their quarterfinal matchup. All week, she snuffed out any attacks her way and helped ignite the offense from her center back position. Wilkerson played a key role in Solar 07's dominant display in Florida both defensively (1 goal allowed) and in attack (23 scored).
———————
Taliah Brooks | Midfielder / Defender
Jacksonville FC U-14 (FL)
In Jacksonville's first two games the team has put up two dominating performances, with Brooks providing a major spark as she netted three goals over the course of wins against Minnesota Thunder and Eagles SC.
———————
Susana Roberts | Forward
Michigan Hawks U-14 (MI)
Came off the bench and provided a quick spark in the Hawks' first round 2-0 victory. Roberts scored the first goal within the first minute after stepping onto the pitch. She proved reliable by scoring again in the second round and leading the Hawks to another 2-0 win.
U-15
Bella Smith | Midfielder
Kansas City Athletics U-15 (KS)
Impressed in KC Athletics' 7-2 victory over Crossfire United. Smith scored a beautiful side volley and then went on to score another left-footed shot from distance. Her quick decision long-range pass off a penalty was also converted for the assist.
———————
Mia Gildea | Defender
FC Dallas U-15 (TX)
A lock-down defender for an FC Dallas side that only gave up one goal in the playoffs. She showcased a combination of speed and power on the pitch, and on offense she was a threat in the air on corners and set pieces.
———————
Ashlyn DiGioia | Defender / Midfielder
Classics Elite U-15 (TX)
Highly effective as both the left outside back and holding midfielder, shutting down opposing attacks with a consistently high work rate and strong physicality. She had multiple tackles and a last-second save in the box to aid her side's 3-0 clean sheet victory over Santa Rosa United.
———————
Camila Palacios | Forward
Classics Elite U-15 (TX)
Sparked the Classics Elite offense in their 3-0 win against Santa Rosa United. Palacios opened the scoring with an assist on a cross to the back post put away by forward Mack Arendall. After contributing to the defense throughout the game, Palacios scored the final goal on an assist from forward Mabry Williams.
———————
Taylor Wert | Midfielder
FC Pride U-15 (IN)
Found the net on a remarkable strike from 25 yards out, a top corner drive during FC Pride's 3-2 loss against Tulsa SC. Wert was constantly involved in the midfield during the fast-paced match.
———————
Karalyn Dail | Goalkeeper
Real Colorado U-15 (CO)
Led her team to a shutout draw against No. 2 seed LAFC Slammers. Dail racked up double-digit saves over the course of the game, including one outstanding breakaway save, and helped shut down a barrage of corner kicks. Coaches from both teams congratulated Dail on her performance against one of the top offenses in the country.
———————
Grace Rossner | Forward
Colorado Rapids U-15 (CO)
A driving force in the Colorado Rapids' dominant win over SLSG White, Rossner played a direct role in 3-of-4 goals for her side, scoring one and assisting two others.
U-16
Raegan Richardson | Forward/Midfielder
Arizona Arsenal U-16 (AZ)
In a matchup against Solar SC's Regional League team, Richardson demonstrated her ability to take over a game, scoring a hat trick in a 4-0 victory to send her team to a quarterfinal matchup against Classics Elite.
———————
Ashley Vith | Goalkeeper
Pittsburgh Riverhounds U-16 (PA)
Vith opened the game on the bench behind teammate Jordan Spozarski, who also had a fantastic game. But when it was Vith's turn to come in, and to face off against Classics Elite in PKs after a scoreless 90 minutes, she stepped up with two key saves to send her team to the semifinals in the North American Cup.
———————
Thai Quallich | Midfielder
Real Colorado U-16 (CO)
Helped secure the midfield and initiated the switch of field which led to Real Colorado National's goal in their 1-0 win over DKSC.
———————
Samantha Erbach | Midfielder
Ohio Elite U-16 (OH)
Accumulated 2 goals and a whopping 5 assists, including the championship game-winner in double overtime with two minutes remaining, during Ohio Elite's North American Cup title run.
———————
Katie Shea Collins | Forward / Midfielder
Tampa Bay United U-16 (FL)
Notched a hat trick in her team's 5-1 victory over San Juan SC, in U-16 Champions League action. Collins is a dynamic force in the midfield and on the front line.
———————
Taylor Jernigan | Forward / Midfielder
Classics Elite U-16 (TX)
In the opening round of the U-16 North American Cup, Jernigan put home three of her team's four goals against VDA to send Classics Elite to a quarterfinals matchup against the Pittsburgh Riverhounds.
———————
Summer Fishel | Midfielder
FC Pride U-16 (IN)
Recorded a brace for Indiana club FC Pride during a 3-0 win against Florida Kraze Krush, showing her relentless work rate as she put constant pressure on the opposing defense.
———————
Madison Foxhoven | Forward
Real So Cal U-16 (CA)
Foxhoven led a strong offensive effort for Real So Cal, scoring the winning goal against Utah Avalanche in the opening game of the ECNL U-16 Showcase Cup.
———————
Lexie Thompson | Goalkeeper
SUSA U-16 (NY)
Gave up zero goals during her time between the posts for SUSA during their perfect four-game run to the U-16 Showcase Cup A championship. Came up with numerous big saves along the way.
U-17
Brianna Castleberry | Forward
Tulsa SC U-17 (OK)
Following up on her two-assist performance in Tulsa's opening victory over Match Fit Academy, Castleberry put up a hat trick in Tulsa's 9-0 rout of Charlotte SA's regional league side, sending Tulsa into the semifinals of the U-17 Open Cup.
———————
Solari Washington | Forward
Concorde Fire Platinum U-17 (GA)
Washington showed up in a massive way against the Utah Avalanche in the Champions League, scoring four goals in a 8-2 victory over a squad that hadn't even conceded four goals to a single team this season, much less an individual player. On top of that, Washington is playing up, and having to continue to perform against girls two years older than her.
———————
Addison "Addie" Chester | Forward
FC Pride U-17 (IN)
The University of Louisville 2022 commit scored a clutch goal on a header to help lift her team to a 2-1 victory over FC Stars.
Love to see it! Great header from @FCPRIDESOCCER #ECNLplayoffs

— ECNL Girls (@theECNL) June 30, 2021
———————
Rubyjo Henson | Forward
Kansas City Athletics U-17 (KS)
After scoring a goal in a heartbreaking PK loss in KC's previous match, Henson led the charge in a 3-1 victory over Connecticut FC. Two of KC Athletics' three goals came directly off corners taken by Henson, as they earned advancement to the next round of the playoffs.
U-18/19
Grace Klosinski | Goalkeeper
LAFC Slammers U-18/19 (CA)
When two teams are evenly matched in nearly every way, the game generally either comes down to luck or goalkeeping. For the LAFC Slammers' opening match against Real Colorado National, Klosinski played about as well as her team could hope for, posting a clean sheet through regulation before saving two of Real Colorado's four PK shootout attempts to help LAFC Slammers move on in a 0-0 draw.
———————
Korbin Albert | Midfielder
Eclipse Select SC U-18/19 (IL)
After scoring in Eclipse's opening game of the Champions League against Crossfire Premier, Albert put on a show in game two, earning two assists and a goal in her side's 3-0 victory over Solar SC.
———————
Christina Golden | Defender
FC Bucks U-18/19 (PA)
After losing their goalie to a red card in the first 20 minutes, the FC Bucks defense kept the score at 0-0 until conceding a goal off a corner in the final 5 minutes. Golden made several key plays, repeatedly intercepted balls, and sprinted in to rob Atlanta of an open-net goal.
College Recruiting Commitment Tracker