Players That Impressed: Girls Academy Norco National Event 2021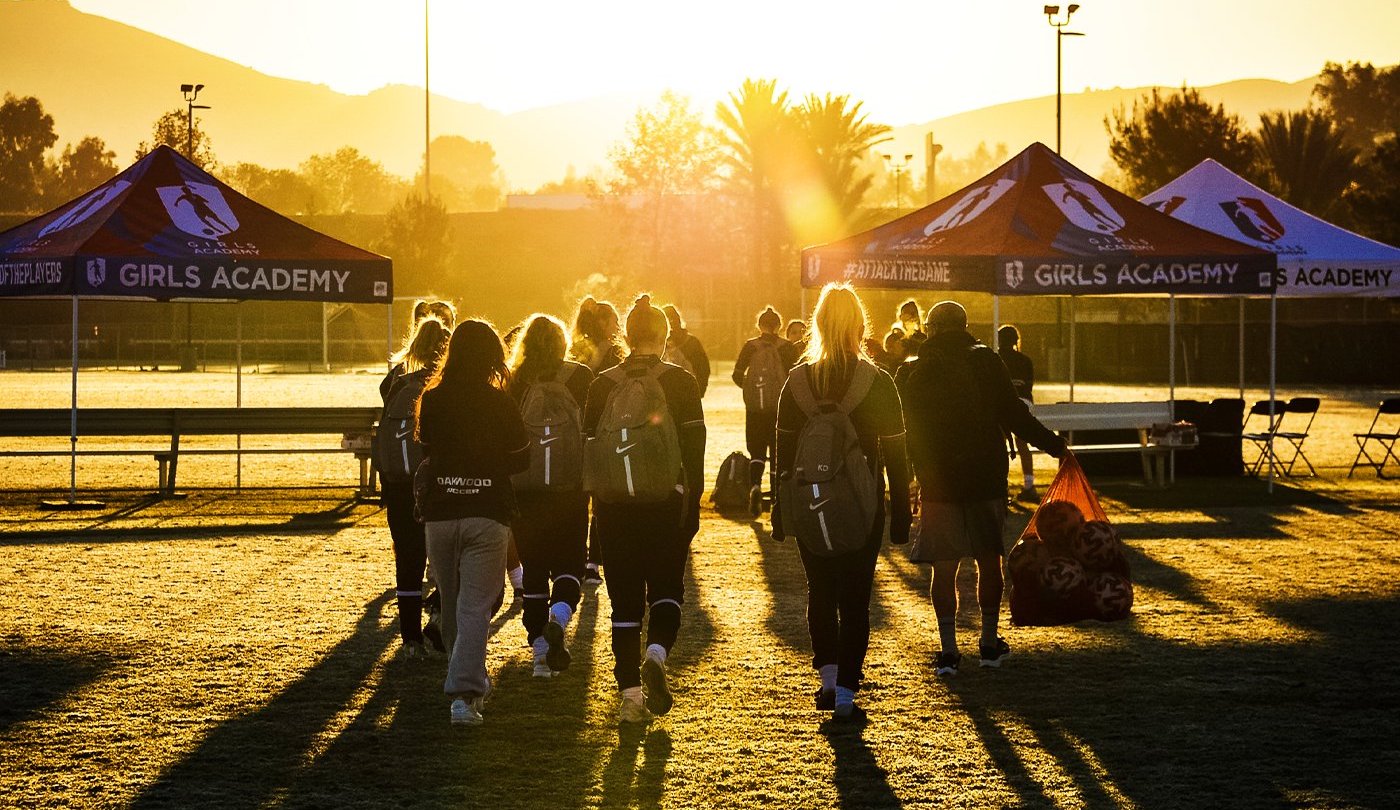 The Girls Academy recently hosted the 2021 Winter Showcase & Champions League national event in Norco, Calif. from December 9-13.
Continue reading for a listing of some of the top performances at the GA's national event. Nominations are being accepted across the U13-U19 age groups.
U-15
Nora Donaldson | Midfielder
Tophat U-15 (GA)
Helped her team go 3-0-0 in the Champions League bracket, scoring the only goal against Cedar Stars Academy and executing two corner kicks that led to both goals against City SC. She also had a strong performance in a very competitive game against Lou Fusz, ending in a 1-0 win.
———————
Sofia Atehortua | Midfielder
New York SC U-15 (NY)
Dominated midfield play, creating many scoring chances for her side as they went 2-1-0 and finished second in their bracket. Atehortua displayed a high level of technical attributes that lead to many chances in the attacking third.
———————
Aubree Ciampa | Midfielder
Nationals U-15 (MI)
A standout in every game at the GA Champions League event, Ciampa produced elite performances on both sides of the ball. Her leadership qualities were on display clearly as well, as she was constantly organizing and motivating her teammates.
———————
Nicole Grimaldo | Midfielder
Nationals U-15 (MI)
The young standout midfielder scored several highlight reel goals this weekend. Her ability to find space and make dangerous runs between the lines separates her consistently from the competition.
U-16
Controlled the midfield and created scoring chances for her side, highlighting her team's opening day win over ISC Gunners with a goal and two assists.
Layla Amaya | Goalkeeper
BVB International Academy U-16 (TX)
Playing behind BVB's strong back line, Amaya notched the clean sheet during their dominant victory over ISC Gunners. BVB conceded just three total goals at the event, going up against several strong opposing offenses.
———————
Valentina Navetta | Midfielder
BVB International Academy U-16 (TX)
Racked up four goals during BVB's 9-0 rout of ISC Gunners in their opening match of the U-16 Showcase 2 Division.
———————
Courtlyn Cook | Defender
BVB International Academy U-16 (TX)
Her strong performance, instincts and determination on the back line played a pivotal role in her side's clean sheet effort against ISC Gunners. She had a great assist against SDSC Surf to help tie the game up.
———————
Lauren Flax | Midfielder
Cincinnati United Premier U-16 (OH)
Contributed to Cincinnati United Premier's U-16 and U-17 squads over the course of the event, providing both offenses with a major spark. Flax assisted both goals for the U-16s in their 2-1 victory over City SC, and she helped the U-17s win their bracket by scoring in their 2-1 win over South Shore Select.
———————
Leah Varela | Defender
IMG Academy U-16 (FL)
Varela had three solid defensive performances as the team went 3-0-0 in the U-16 Champions League bracket. She also had the game-tying assist against Lamorinda which helped lead the team to a 2-1 victory.
———————
Gabby Hofeld | Midfielder
Salvo SC U-16 (MN)
Difference-maker on both sides of the ball playing as a defensive midfielder. She sored a goal against Empire United and supplied the game-winning assist against AUFC Thorns.
———————
Sophia Wilson | Forward
Salvo SC U-16 (MN)
Scored the game-winning goal and had an assist against Empire United. Wilson was heavily involved the entire weekend as a wide player for Salvo, while also making key contributions on set pieces.
———————
Trinity Maloney | Goalkeeper
Cedar Stars Academy Monmouth U-16 (NJ)
Starred for Cedar Stars as they were able to hold a powerful Lonestar SC attack off the scoreboard, during a hard fought 0-0 draw in Champions League competition.
———————
Rachel Horn | Forward
West Florida Flames U-16 (FL)
Recorded a brace, including an impressive strike on a header during her team's 4-1 win over Eugene Timbers on the final day of the Norco Showcase.
———————
Ella Jablinskey | Forward
Nationals U-16 and U-17 (MI)
The U.S. Youth National Team player was electric this week, showcasing her exceptional talent in both the U-16 and U-17 age groups, where she was impossible to stop. A rare combination of talent and athleticism, this is a name to watch for a long time ahead.
———————
McKinley Berry | Defender
Nationals U-16 (MI)
The standout center back was a nightmare for opponents to deal with, shutting down multiple attacks while showing a great level of composure and poise when building out of the back. Berry is one defender that will have caught the scouts' eyes this weekend.
U-17
Made numerous saves against STA and SC Wave to record shutouts in both games. Overall, combined with her back line of Jess Dodd, Anna Pagano, Kennedy Bernsen, and Ulla Sharp as the team only conceded two goals playing in the U-17 Showcase 1 Division in Norco.
The Iowa commit produced consistent top level performances as a holding midfielder. Her quiet leadership style makes those around her better in the games this weekend, and she was exceptional in helping Nationals to some impressive results and performances.
Ella Kane | Forward
Nationals U-17 (MI)
The forward's name got written down by a lot of college coaches this weekend as she constantly caused issues for opponents with her dangerous off-the-ball movement and pressing vs. top level opponents.
———————
Kennedy Clark | Midfielder
Cincinnati United Premier U-17 (OH)
Played a key role for the Cincinnati attack, as she created scoring chances and found the net multiple times during their perfect 3-0-0 run through Bracket C of the Champions League.
———————
Madison Hackett | Midfielder
Sockers FC U-17 (IL)
In a hard-fought defensive battle, Hackett broke through for the game's only goal as Sockers FC came out on top against San Francisco Elite Academy on Sunday.
———————
Morgan Struttmann | Midfielder
Sporting St. Louis U-17 (MO)
Struttmann's playmaking ability shined through on Friday as she tallied assists on both of her team's goals during a 2-0 match against SC Wave.
———————
Reese Potts | Goalkeeper
Lou Fusz Academy U-17 (MO)
Turned in an impressive performance between the posts as Lou Fusz conceded only one goal the entire event, while finishing unbeaten with a 2-0-1 record.
Big save from a big result (4-0) today for our first game of the #GANorco21 College Showcase! Thanks to all the coaches who came to watch!! @fusz_academy_05 @GAcademyLeague @LouFuszSoccer pic.twitter.com/SAPWKwCjPE

— Reese Potts (@ReesePotts2) December 10, 2021
———————
Blaine Schutte | Forward
Lou Fusz Academy U-17 (MO)
The class of 2025 forward stole the show in her team's 8-1 win against Spokane Sounders, as she recorded a hat trick along with two assists.
———————
Sian Karani | Goalkeeper
Kansas Rush U-17 (KS)
Helped lead her team to a perfect 3-0-0 showing in Norco, as she and the Kansas Rush back line limited their three opponents to a total of two goals.
———————
Lena Johnsen | Midfielder
New York SC U-17 (NY)
At center defensive midfield, Johnsen helped the NYSC 05 team to an undefeated week with two wins and a draw, winning the bracket. She controlled the tempo of the games, dribbling by players with ease. She finished the event with two huge goals and a pair of assists.
U-19
Angela Gutierrez | Midfielder
MN Eclipse U-19 (MN)
The key playmaker in the midfield who created chances in every game. Gutierrez scored four goals, had one assist and earned a PK in the event. She capped things off by notching a hat trick vs. Washington Timbers on the final day of the competition.
———————
Aimee Fiedler | Midfielder
MN Eclipse U-19 (MN)
Fiedler consistently provided MN Eclipse with dynamic dribbling and a strong presence in the box. She netted a second half equalizer against Rio Rapids. In her team's second match against Rise SC, she scored the game-winning goal.
College Recruiting Commitment Tracker