Players That Impressed: ECNL Girls National Finals 2021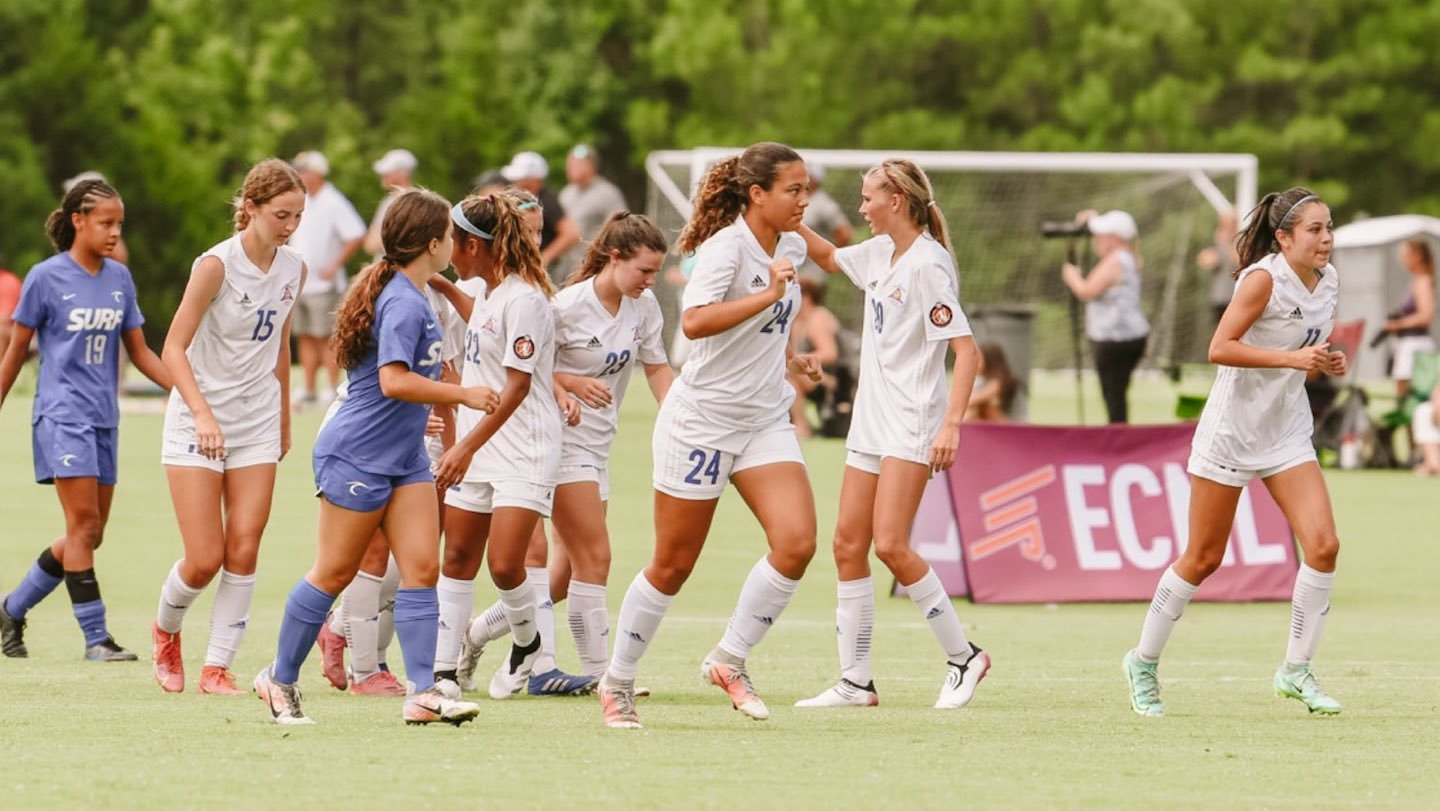 The ECNL Girls National Finals were held from July 17-19 at West Creek Soccer Complex in Richmond, Va. as the 2020-2021 season came to an end.
SoccerWire is highlighting top performances from the event with a Players That Impressed feature. Additional nominations are currently still being accepted. Coaches, parents and athletes are invited to submit nominations for up to two (2) players per team.
Continue reading for a listing of some of the top players at the ECNL's culminating event. To view Players That Impressed from the ECNL Girls National Playoffs, Click Here. Players below are listed by graduation year.
Class of 2025
After knocking on the door the entire game, Long's header from teammate Moriah Carnahan helped KC Athletics complete their comeback against San Diego Surf to win the ECNL National Championship.
Anisten Cabantac | Midfielder
Kansas City Athletics U-15 (KS)
With her team trailing 1-0 in the Championship game and under 20 minutes to go, Cabantac had her number called for a free kick approximately 30 yards away from the net. Slipping it under the legs of her competition and in for the equalizer, Cabantac gave the Athletics life which eventually turned into a National Championship for the squad.
———————
Tessa Knapp | Midfielder
Internationals SC U-15 (OH)
Playing up a year, Knapp had a dominant performance in the U-15 quarterfinal against Solar SC. With her team down 5-2 in the second half, Knapp netted a natural hat trick, consisting entirely of goals that required an incredible amount of individual skill. When Solar ended up re-taking the lead 6-5, Knapp once again struck back to knot it at 6-6. Despite being a year below, she looked like one of the most dominant players on the pitch with the ball at her feet and should be someone to watch for in upcoming seasons.
———————
Coda Jones | Midfielder
Solar SC U-14 (TX)
Demonstrated why she is considered one of the best midfielders in the country, turning in standout performances in the semifinal and the final. Jones provided relentless defending, ball winning and excellent ball distribution as she fueled Solar's attack and defense. The captain of Solar's U14 championship team showed leadership with her play and attitude.
Class of 2024
Emeri Adames | Forward/Midfielder
Solar SC U-15 (TX)
Tied 2-2 in a quarterfinal matchup against Internationals SC, Adames decided to take over. She concluded the first half by scoring a pair of goals to give her team a 4-2 halftime lead before picking back up right where she left off. Scoring a natural hat trick, Adames helped her team gain a 5-2 lead, and after Internationals came back to eventually tie the game, Adames added one more for good measure to give her team a 6-5 lead late.
———————
Vivian Geesbreght | Midfielder
Solar SC U-15 (TX)
Also a fixture in Solar's crazy game against Internationals, Geesbreght opened the scoring for her team, initially tying the game 1-1 early on, and scored the final goal for her team, a go-ahead goal on a set piece in the final seconds of regulation time to give her team the 7-6 victory.
———————
Emerson DeLuca | Defender
Colorado Rapids U-15 (CO)
Excellent 1v1 defending and ball winning. Covered so much ground and broke up opponents' attack. Was also very good in connecting passes in transition. Work ethic was top notch in all of her team's postseason games.
———————
Samantha Maroni | Defender
Colorado Rapids U-15 (CO)
Helped anchor 2 shutouts during the National Playoffs to secure a place in the National Finals. She was effective in the air and in her 1v1 marking. She also showed much ability in helping her team build out of the back and handling high pressure throughout both the Playoffs in Florida and the Finals in Virginia.
Class of 2023
The Championship game between MVLA and LAFC Slammers featured impeccable defensive play on both sides that led to a scoreless stalemate for most of the game. That is until Aikey slipped one past the LAFC goalkeeper in the middle of the second half to give MVLA their championship-winning goal, the second ECNL title for the U-17 squad.
Class of 2022
The Stanford commit constantly tested defenders and the goalkeeper with her tenacious play that kept LAFC on their heels, as MVLA won the title match.
College Recruiting Commitment Tracker