Players That Impressed: June 2021 (Girls)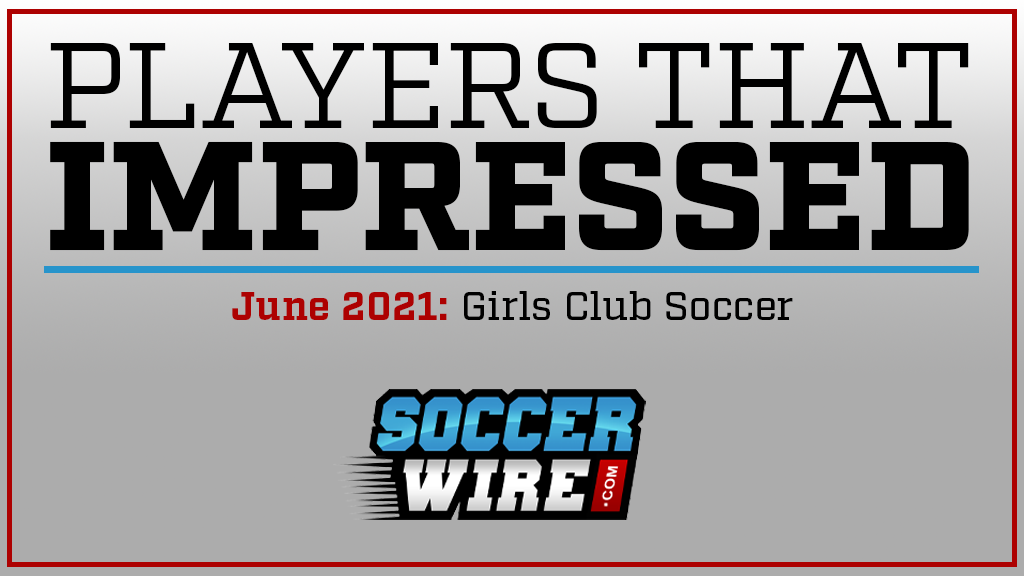 Each month, SoccerWire recognizes 'Players That Impressed' from across the country, honoring top performances in high-level youth soccer competitions.
Each month, youth soccer players who stood out for their teams will be highlighted on a rolling basis. Coaches, parents and athletes are invited to submit nominations for up to two (2) players per team in a given month.
See below for a listing of Girls Players That Impressed so far in June 2021.
[Submit Your 'Players That Impressed']
Taylor Wilson | Forward
Bethesda SC U-14 (MD)
During the final weekend of the regular season, Wilson recorded a hat trick, including a short-handed goal as Bethesda beat Pipeline 5-0. The win, coupled with a victory over FC Delco the following day, helped launch the team to the ECNL Champions League.
———————
Taylor Person | Forward
FC Dallas U-15 (TX)
Person put home three goals in FC Dallas' two final matches to end the ECNL regular season, both victories. Person has helped lead her team to a 16-1-5 record, only losing to the undefeated 20-0-1 juggernaut of Solar (who's sole draw came in late May against FC Dallas).
———————
Maggie Roepke | Defender
Wilmington Hammerheads U-15 (NC)
During an ECNL showcase game against PDA, Maggie chased down a breakaway attacker, blocked 2 shots on goal and recovered a loose ball for possession, all in 16 seconds. She had multiple defensive headers and prevented multiple throw ins by the opposition. She was a pivotal player for the entire match.
———————
Madison Foxhoven | Forward
Real So Cal U-16 (CA)
Foxhoven helped cap off an impressive season with a brace in a 2-2 draw against a stingy Heat FC club that had allowed clean sheets in their previous two matchups.
———————
Lexi Grundler | Goalkeeper
Tennessee Soccer Club U-16 (TN)
Back-to-back shutouts highlighted a strong weekend for both Grundler and her club at the ECNL North Carolina event in early June. Both Grundler and TSC will look to continue their momentum rolling into the ECNL National Playoffs in early July.
———————
Lauren Omholt | Forward
Solar U-16 (TX)
Omholt put together a pair of assists against Classics Elite in Solar's penultimate game of the ECNL regular season, a 5-0 victory. Omholt's Solar team enters the ECNL National Playoffs as one of the top contender to win a National Championship, as the team has only lost a single game since the middle of October
———————
Catherine Lewison | Goalkeeper (Fill-in)
Eastside FC U-17 (WA)
Generally a forward/midfielder, Lewison was forced into action as a goalkeeper against FC Stars White at the ECNL North Carolina event when her team's goalkeeper went down with injury earlier that week. Not only did Lewison hold her own, but she posted a clean sheet against a team that had only failed to score in two of the prior 18 matches.
———————
Ellie Johannes | Forward
Utah Royals FC Arizona U-17 (AZ)
In a Girls Academy game with massive playoff implications, Johannes recorded a hat trick to propel Royals FC to a 5-1 victory over a strong City SC side which had previously only conceded 11 goals on the season. The win gave Royals FC the No. 1 seed in the GA's Southwest Conference.
———————
Jaelyn Pallas | Midfielder
Utah Royals FC Arizona U-17 (AZ)
During Royals FC's big win over City SC, Pallas was a standout in her defensive midfield position, while also making a major impact offensively. She scored a banger header goal off of a corner kick. In addition, she assisted a goal by clearing the ball, heading it to Ellie Johannes to score with a volley.
College Recruiting Commitment Tracker