Players That Impressed: ECNL Girls Phoenix National Event Spring 2022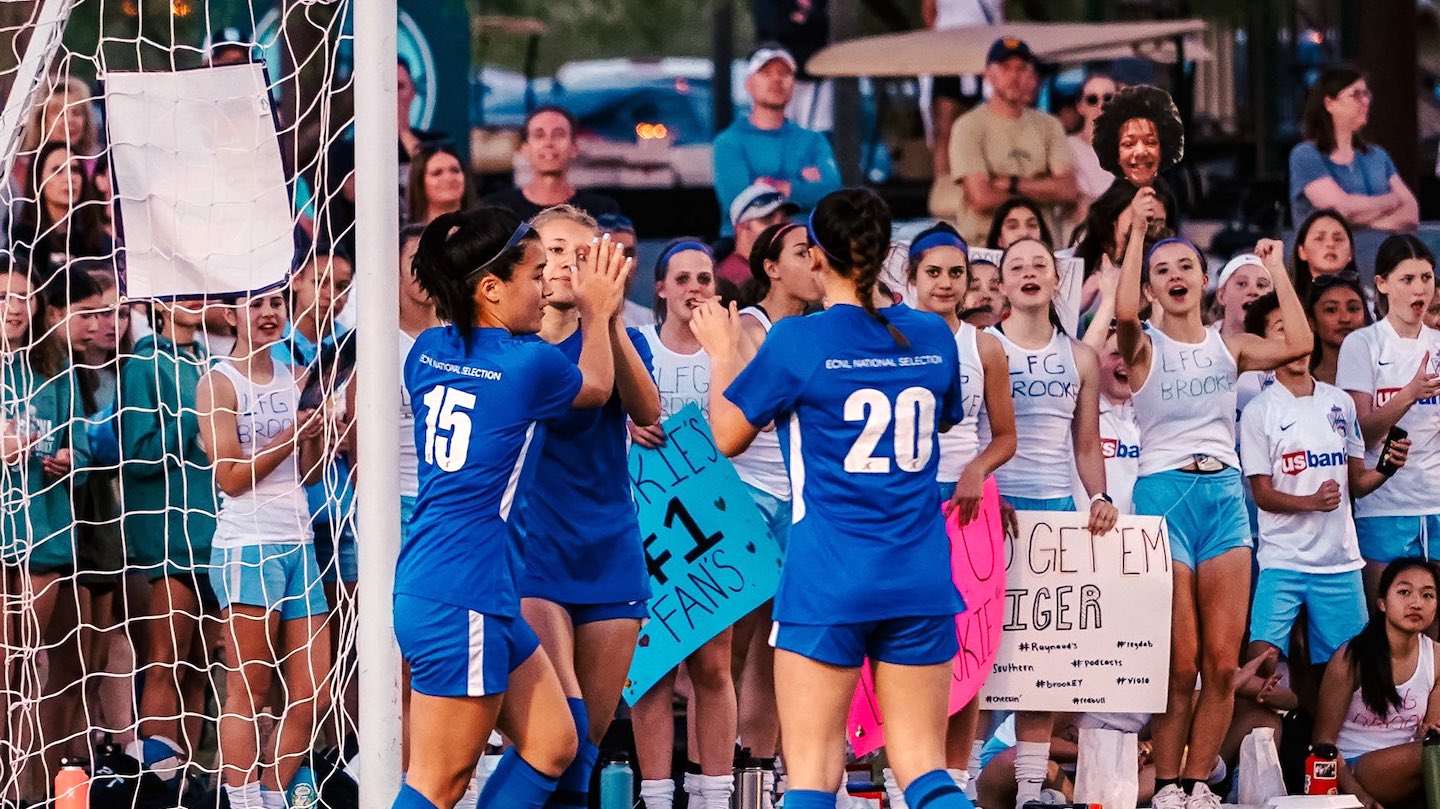 The ECNL recently hosted the 2022 ECNL Girls Phoenix National Event in Arizona from April 2-4.
Teams from across the country competed at the Reach 11 Sports Complex in front of hundreds of college coaches. A pair of National Selection Games were also featured for the U15 and U16/17 age groups, showcasing a group of the top players in the U.S.
Continue reading for a listing of some of the top performances at the ECNL's National Event, with players listed by high school graduation year.
2025
Despite being peppered with 18 shots on goal, Anderson stood strong against FC Alliance (TN) by only conceding a single goal in her side's 1-0 defeat on April 2.
Gianna Martic | Midfielder
Match Fit Academy U15 (NJ)
Played a key role for Match Fit Academy's attack throughout the weekend, as they cruised to 3 straight victories. Her goal against De Anza Force proved to be the difference in a closely-contested match during Match Fit's 2-1 win on opening day.
———————
Avery Bonilla | Forward / Midfielder
Sting Dallas Black U15 (TX)
Netted 2 goals and tallied an assist during Sting Dallas Black's 4-1 win over Arlington SA, which finished off a perfect weekend for the team.
———————
Molly Teed | Forward
Sting Dallas Black U15 (TX)
A consistent contributor on the Sting Dallas Black offense, Teed set up her teammates for a pair of assists and added a goal of her own during the team's dominant run in Arizona.
———————
Ja'Keyra Bryant | Defender
Sting Dallas Black U15 (TX)
Strong all-around contributor throughout the showcase on both sides of the field. Scored on a phenomenal individual effort during Sting's 3-1 win over Washington Premier, on which she stole the ball from an opposing player, drew the goalkeeper out of the goal and finished on a beautiful strike to seal the victory.
———————
Katheryn Wyrick | Defender
Sting Dallas Black U15 (TX)
Kate's tenacity and communication with her back line was critical in helping their team achieve 3 wins over the weekend, with only 1 goal total scored on them. She dug deep each game to shut down strong offensive players from any chance at creating shots in goal.
———————
Ava Garrett | Forward
Sting Dallas Black U15 (TX)
A crucial player in securing all 3 wins for Sting Black, putting in the only goal for a big win against a tough Mustang SC team. Garrett added a solid run with a fantastic assist on Day 3, to put the first goal on the board.
———————
Nicole Kim | Forward / Midfielder
MVLA U15 (CA)
Fueled the Team West offense by recording a brace during the high-flying U15 National Selection Game. Kim scored the opening goal and the final game-icing goal as Team West won 5-3.
———————
Addison Halpern | Midfielder
PDA U16 (NJ)
Represented PDA Blue in the National Selection Game in Phoenix. She scored two goals and assisted one in her club games against MVLA and Northwest Elite FC.
———————
Hailey Gordon | Forward
Slammers HB Køge U16 (CA)
Recorded a brace in her team's 3-1 win against Portland Thorns Academy. She also scored the only goal of the match in a 1-0 win against Ohio Premier.
2024
Headed home what proved to be the game-winning goal for Team East in the U16/17 National Selection Game. Showed her high soccer IQ by getting into perfect position in front of the back post to secure a rebound and score on a header.
Grace Miller | Goalkeeper
Rebels SC U16 (CA)
Made the most of her opportunity to impress college coaches by helping lead Rebels SC to a pair of clean sheet wins in Arizona, highlighted by her stop on a PK against PacNW SC.
———————
Elle Quinn | Midfielder
David Legacy U17 (CA)
Displayed a high level of creativity and playmaking ability in the midfield, making several challenging assists and intercepting numerous passes on the defensive side to create quickstrike opportunities. Davis Legacy had a perfect weekend with 3 straight wins.
Awesome 2nd day! My assist within the first few minutes! We won our 2nd game! #ecnl #college #ecnlphx pic.twitter.com/xfFlavpTuI

— Elle Quinn 2024 (@Elle2024) April 4, 2022
———————
Maya Cheeseboro | Goalkeeper
Bethesda SC U16 (MD)
Helped lead Bethesda to an unblemished 3-0-0 record in Phoenix, as Cheeseboro and the back line racked up 3 consecutive clean sheets. All of Bethesda's wins came via 1-0 scorelines, against Davis Legacy, Utah Avalanche and Washington Premier.
Sharing a couple of saves from #ECNLPHX👇
Thank you to all the coaches who came out to watch us play.@ImCollegeSoccer @GIK_FemaleHUB @ECNLgirls #GKunion pic.twitter.com/BQBAyB9xCp

— Maya Cheeseboro GK 2024 (@maya_cheeseboro) April 7, 2022
Class of 2023
Stepped up for LAFC So Cal during their 2-0 win over FC Portland, sending in a stellar long-range cross while on the move for an assist.
An anchor between the posts for Minnesota Thunder, Hecht worked with the back line to stifle the Strikers FC (CA) offense in a 3-0 win on Day 2. Minnesota followed up with another shutout against Pipeline SC (MD) on Day 3.
College Recruiting Commitment Tracker