Players That Impressed: Jefferson Cup Boys Showcase 2022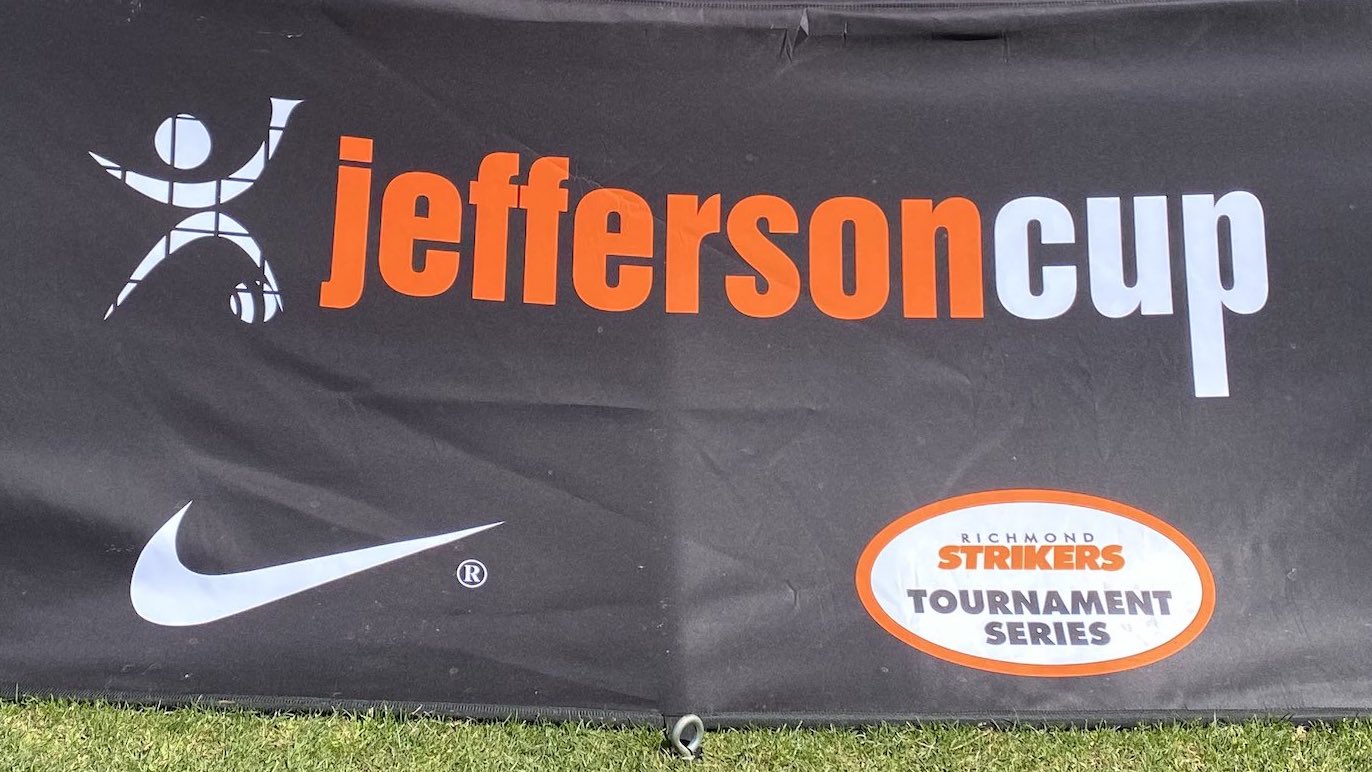 Follow the Jefferson Cup:
Website | Twitter | Facebook | Instagram
The 2022 Jefferson Cup Boys Showcase was held from April 1-3 in Richmond, Va. featuring 448 of the top teams in the country.
Hundreds of college coaches and scouts flocked to the prestigious tournament which annual showcases high-profile matches between representatives of the nation's best leagues, including ECNL Boys, MLS NEXT, USYS National League, CCL, US Club Soccer NPLs and more.
SoccerWire is currently seeking Players That Impressed nominations from the competition, across the U15-U19 age groups. Coaches, parents and athletes are invited to submit nominations for up to two (2) players per team, highlighting standout performances from the event.
[Submit Your 'Players That Impressed']
See below for a listing of some of the top performances from the showcase, sorted by high school graduation year.
Class of 2026
Reid Campbell | Midfielder
Richmond United ECNL U15 (VA)
Found the net with a backheel goal during Richmond's 4-1 victory over Barca Academy Pro NY. United finished atop Group B in the U15 Championship Division.
My backheel goal from last weekend's 2022 @jeffersoncup U15 Championship Division game – Richmond United U15 @ECNLboys vs. Barca Academy Pro NY #backheel #ECNLKwikGoal@ImCollegeSoccer @TopDrawerSoccer @TheSoccerWire @KwikGoal @RichmondUtd @DMVSoccer96 pic.twitter.com/TZV2STzTXE

— Reid Campbell 2026 (@ReidCampbell_26) April 9, 2022
Class of 2025
Nicholas Simmonds | Midfielder
Richmond United ECNL U16 (VA)
Contributed to 3 of Richmond United's 10 goals during their perfect 3-0-0 weekend in the U16 Championship Division. Simmonds netted 2 and assisted another score.
Class of 2024
David Marquez | Midfielder
Aspen Hill SC 2006 National (MD)
Fueled the Aspen Hill SC attack with a brace during their 7-2 win over FC Stars, including an excellent finish in front of the back post to cap off an impressive team build-up.
great past weekend at the @jeffersoncup showcase. We managed to get a win but unfortunately fell short in the end. A big thank you to all the coach's and scouts who were able to make it! Down below are some highlights @ImCollegeSoccer @TheSoccerWire @TopDrawerSoccer pic.twitter.com/6xrOVzKRQR

— david marquez (@officialdavidM8) April 6, 2022
———————
Julian Badger | Forward
Steel United 2005 Elite NPL (MA)
Netted the game-winning goal on Sunday to help Steel United finish off their undefeated weekend with a 1-0 victory over Texas side D'Feeters Kicks SC.
Class of 2023
Started all three games as center mid and had three assists to help team win the Elite Division, conceding only 2 goals all weekend. Devin was instrumental assisting on the attack but was impressive holding the midfield strong and forcing opponents turnovers. His defensive play off the ball preventing opponents to pass through the middle was superior. Devin was also lead on all free kicks and corner kicks.
Henrik Boekamp | Goalkeeper
Princeton SA National 2005 (NJ)
Came up with several impressive saves to help Princeton SA finish with an unbeaten 3-0-1 record as they finished 1st place in the U17 Classic Orange Division.
———————
Miles Richardson | Forward
Princeton SA National 2005 (NJ)
Racked up 3 goals and 1 assist over the course of the tournament, pacing the Princeton attack during their outstanding team effort in Richmond.
———————
Kenneth Wallace | Defender
Wake FC MLS NEXT 03/04 (NC)
Great in the air and cool under pressure, Wallace made several big tackles for the Wake FC back line over the Jeff Cup weekend. He snuffed out any attacks his way and helped ignite the offense from his center back position as a 2023 playing in the U19 Championship Bracket allowing only 2 goals in his time on the field in 3 tightly contested matchups.
———————
Luke Heidinger | Forward / Midfielder
North Carolina FC 2005 ECNL (NC)
Sparked the NCFC offense during their unblemished 3-0-0 performance in the U17 Superior Division. Heidinger was a major challenge for opposing defenses with his passing and finishing prowess.
🚨Weekend highlights from the @jeffersoncup 🚨 Check it out‼️@NCFC_Youth @ImCollegeSoccer #ECNL pic.twitter.com/36KDKN07Tf

— Luke Heidinger (@LukeHeidinger) April 6, 2022
———————
Ryan Krumenacker | Goalkeeper
SCS United Black 2005 (PA)
Worked with the SCS United back line to secure a pair of victories in the U17 Classic Black Division, including a clean sheet in their finale against Charlotte Soccer Academy.
Class of 2022
Luke Scholes | Forward
7 Elite SABA 2004 (UT)
The team captain showed off his finishing ability during 7 Elite Saba's strong run to finish 3rd out of 10 teams in the U18 Men's Platinum Division.
COMPETE 🇺🇸🇹🇿🇬🇧 If you only watch one goal today, make sure it's this one at the @jeffersoncup – the build-up, through ball and then finish by 04 Boys captain Luke Scholes 🙌

Well done, Team! 👏#7EliteSABA | #IAmRed | #PlayerPathway | #UYSA | @UtahYouthSoccer pic.twitter.com/T9zgiBRmrT

— 7 Elite SABA (@7EliteSaba) April 8, 2022
———————
Andrew (AJ) Bengds | Goalkeeper
North Carolina FC 2003/2004 ECNL (NC)
Playing behind a tough NCFC back line, Bengds was steady between the posts throughout his team's three consecutive victories at the Jeff Cup. He came up big with a clutch save in the closing minute of their final match to preserve a 2-1 win over Arlington SA.
———————
Will Cooley | Defender
Kansas City Scott Gallagher 2004 Elite (MO)
Turned in a strong effort on the back line as KCSG posted a perfect 3-0-0 record at the Jeff Cup, allowing a total of one goal in the U18 Men's Platinum Division.
These are two of my favorite highlights from Jefferson Cup last weekend. My team went 3-0, only conceding 1 goal and finished as champions of the platinum division. @KansascitySG @veocamera @jeffersoncup @ImCollegeSoccer pic.twitter.com/4xKCiiChgW

— Will Cooley (@Cooley3Will) April 13, 2022
College Recruiting Commitment Tracker