Jefferson Cup concludes 2022 event with completion of Boys Showcase Weekend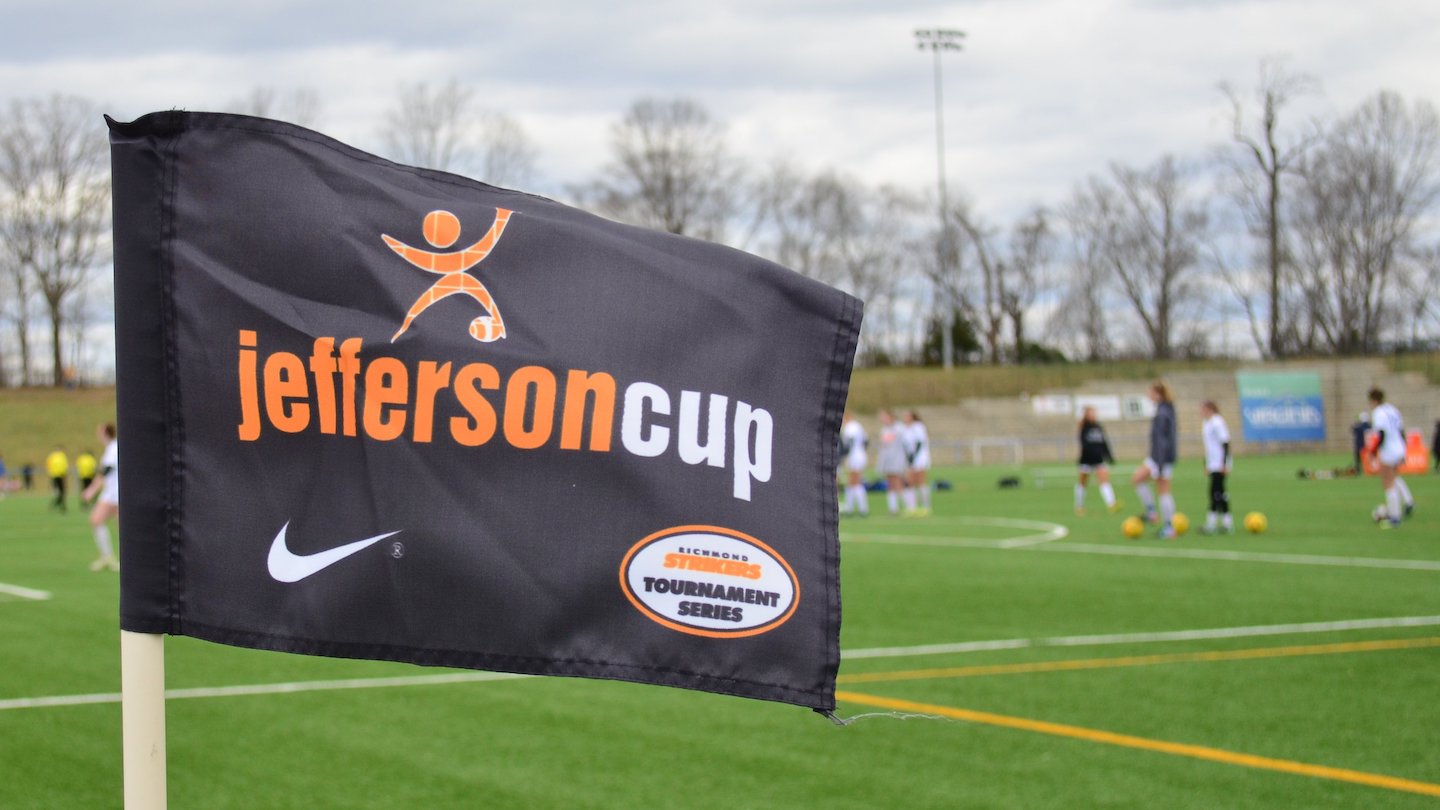 Follow the Jefferson Cup:
Website | Twitter | Facebook | Instagram
Richmond, Va. – The 2022 Jefferson Cup Boys Showcase Weekend concluded on Sunday, as teams from across the country emerged as division champions in the U15-U19 age groups.
A total of 448 teams participated in the Jefferson Cup's fourth and final weekend of competition, playing in front of hundreds of college coaches and scouts who flocked to the prestigious tournament hosted by the Richmond Strikers.
[Full List of Registered College Coaches]
Featuring 37 total divisions spread throughout five different age groups, teams from several of the nation's most competitive leagues emerged as champions.
North Carolina FC made its presence felt more than any other attending club, finishing as champions or runners-up in seven different divisions. NCFC captured a trio of division titles and placed second in four other brackets.
Maryland club Pipeline SC and North Carolina's Charlotte Soccer Academy were the only other clubs to go home with multiple first place trophies, each capturing a pair of division titles. Both clubs secured second place finishes in two other divisions as well.
While Pipeline and Charlotte SA earned top-two finishes in four different brackets, three other clubs – Virginia's Loudoun Soccer, Richmond United and New Jersey's STA-MUSC – all racked up three first and second place finishes. Loudoun, Richmond and STA-MUSC each had one championship team and two more second place finishers.
See below for a full listing of champions and finalists from the Jeff Cup Boys Showcase Weekend. To view full results from each bracket, click here.
Champions and Finalists
U15
Championship Division
Champion: Pipeline SC ECNL (MD)
Finalist: Richmond United ECNL (VA)
Elite Orange Division
Champion: Arlington SA 2007 Academy (VA)
Finalist: North Carolina FC 2007 Academy (NC)
Elite Black Division
Champion: STA-MUSC 2007 ECNL (NJ)
Finalist: South Carolina Surf 2007 Elite (SC)
Superior Orange Division
Champion: Bethesda SC Blue 2007 (MD)
Finalist: Dix Hills EST Harbour View (NY)
Superior Black Division
Champion: VDA ECNL (VA)
Finalist: Loudoun Soccer 2007 ECNL (VA)
Superior White Division
Champion: Old Line FC United (MD)
Finalist: Amityville SC Chelsea 2007 (NY)
Platinum Orange Division
Champion: North Carolina FC 2007 Elite (NC)
Finalist: Tidewater Sharks 2007 ECNL Regional League (VA)
Platinum Black Division
Champion: New England Surf State Navy (MA)
Finalist: Richmond Strikers 2007 Elite (VA)
Classic Orange Division
Champion: Highland FC 2007 Red (NC)
Finalist: Virginia Valor FC 2007 Gold (VA)
Classic Black Division
Champion: Piedmont Triade FC 2007 Premier (NC)
Finalist: Freedom SC 2007 Storm (MD)
Premier Orange Division
Champion: West Virginia FC 2007 Black (WV)
Finalist: Charlotte SA 2007 Blue (NC)
Premier Black Division
Champion: Stony Brook-LGN Storm Blue 2007 (NC)
Finalist: Match Fit Academy FC 2007 Shore Blue (NJ)
Premier White Division
Champion: United Futbol Academy 2007 Premier (GA)
Finalist: North Carolina FC 2007 Gold South (NC)
U16
Championship Division
Champion: Pipeline SC ECNL (MD)
Runner-Up: Richmond United ECNL (VA)
Elite Division
Champion: Charlotte SA 06 ECNL (NC)
Runner-Up: STA-MUSC 2006 ECNL (NJ)
Superior Division
Champion: Alexandria 2006 MLS NEXT (VA)
Runner-Up: Herndon Estudiantes Black (VA)
Platinum Division
Champion: Skyline Elite 2006 (VA)
Runner-Up: Loudoun 2006 ECNL (VA)
Classic Orange Division
Champion: BRYC Elite Academy ECNL 2006 (VA)
Runner-Up: Beach FC 2006 Red (VA)
Classic Black Division
Champion: North Carolina FC 2006 Elite RL (NC)
Runner-Up: WUSC 2006 (NJ)
Premier Division
Champion: Pinecrest Premier 2006 Blue (FL)
Runner-Up: Palo Alto SC 2006 Blue NPL (CA)
U17
Championship Division
Champion: Solar SC MLS Academy (TX)
Runner-Up: Pipeline SC ECNL (MD)
Elite Division
Champion: Loudoun Soccer 2005 ECNL (VA)
Runner-Up: Arlington SA 2005 Academy (VA)
Superior Division
Champion: North Carolina FC 2005 ECNL (NC)
Runner-Up: Beadling SC 2005 Showcase (PA)
Platinum Division
Champion: Space Coast United 2005 ECNL (FL)
Runner-Up: Freestate Aspen Hill 2005 Blue (MD)
Classic Orange Division
Champion: Maryland United FC 2005 ECNL (MD)
Runner-Up: ANPPS Parkland 2005 Red (FL)
Classic Black Division
Champion: PSA National 2005 Boys (NJ)
Runner-Up: Barca Academy Pro NY 2005 (NY)
Premier Orange Division
Champion: Doral Elite 2005 (FL)
Runner-Up: FC Europa 2005 Elite (PA)
Premier Black Division
Champion: NEFC 2005 ECNL Regional League (MA)
Runner-Up: Charlotte SA 2005 White RL (NC)
U18
Championship Division
Champion: Brausa United FC 2004 Blue (MD)
Runner-Up: STA-MUSC 2004 ECNL (NJ)
Elite Division
Champion: SCS United Black (PA)
Runner-Up: Dutchmen FC 2004 (NJ)
Superior Division
Champion: Juventus Academy Boston EDS N 2004 (MA)
Runner-Up: Indian River SA 2004 (FL)
Platinum Division
Champion: Kansas City Scott Gallagher Elite 2004 (MO)
Runner-Up: Aztec Boston 2004 NPL (MA)
U19
Championship Division
Champion: Richmond United ECNL (VA)
Runner-Up: Pipeline SC ECNL (MD)
Elite Division
Champion: Charlotte SA 2003/2004 ECNL (NC)
Runner-Up: North Carolina FC 2003/2004 Academy (NC)
Superior Division
Champion: Columbus DPP 2003 (OH)
Runner-Up: North Carolina FC 2004 ECNL (NC)
Platinum Division
Champion: Beach FC 2004/2003 Red Copa (VA)
Runner-Up: Soccer Vision Academy SVA Project 24 (OH)
Classic Division
Champion: Syracuse Development Academy 2003/2004 (NY)
Runner-Up: Stafford Revolution ECNL Regional League (VA)