Division winners decided at 2022 Jefferson Cup Girls Showcase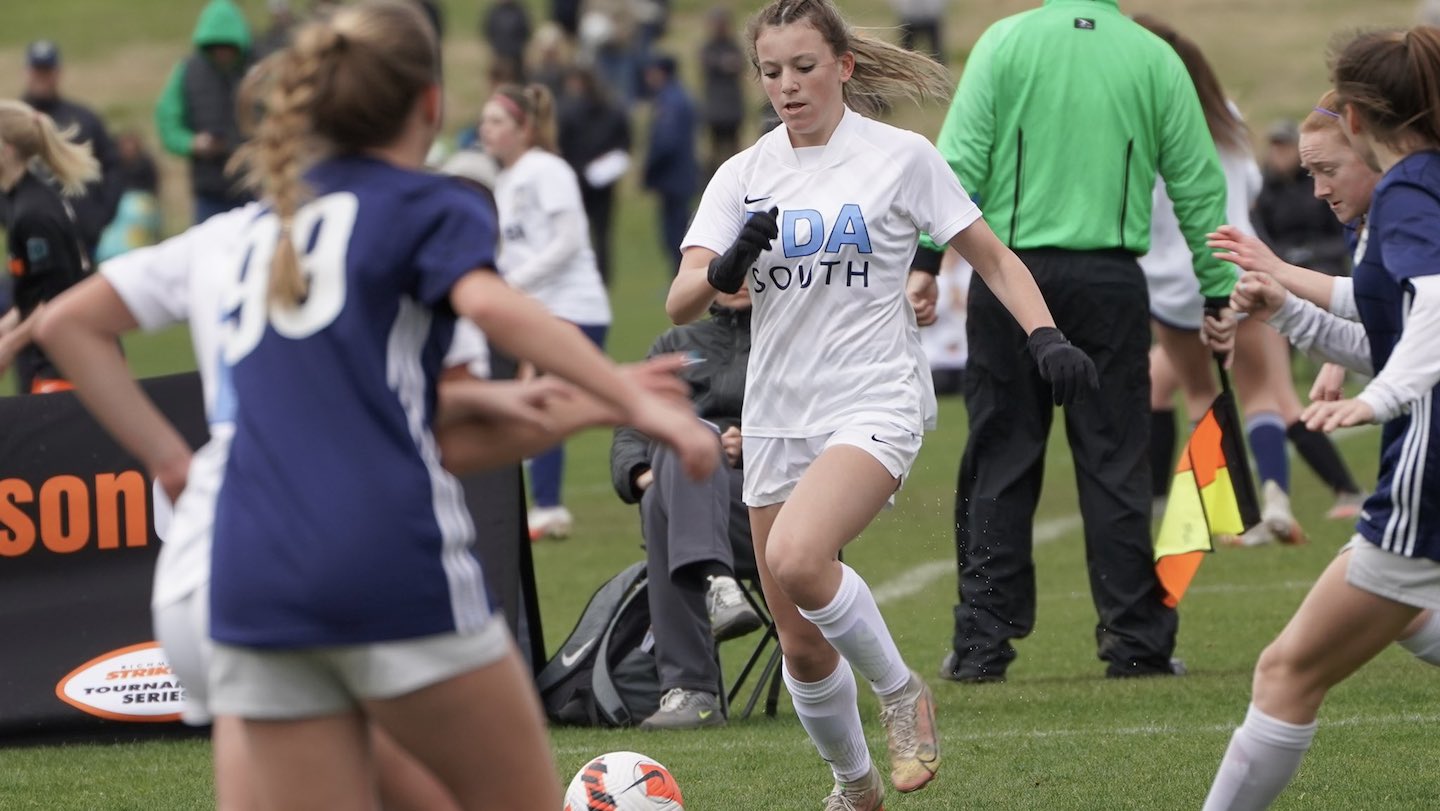 (Photo Credit: Desiree Reil)
Follow the Jefferson Cup:
Website | Twitter | Facebook | Instagram
Richmond, Va. – The 2022 Jefferson Cup Girls Showcase Weekend concluded on Sunday, as teams from across the country emerged as division champions in the U15-U19 age groups.
A total of 436 teams participated in the Jefferson Cup's third weekend of competition, playing in front of hundreds of college coaches and scouts who flocked to the prestigious tournament hosted by the Richmond Strikers.
[Full List of Registered College Coaches]
Featuring 38 total divisions spread throughout five different age groups, teams from several of the nation's most competitive leagues emerged as champions. The ECNL, Girls Academy, ECNL Regional Leagues and Development Player League (DPL) accounted for the majority of bracket winners.
Six clubs representing six different states had multiple teams finish at the top of their respective brackets.
PDA and PDA South squads combined for two first place and two second place finishes. Northern Virginia club Arlington Soccer and Massachusetts club NEFC each produced a pair of division titles and had addition teams place second. Pittsburgh Riverhounds Academy, Long Island based SUSA and North Carolina's Charlotte Soccer Academy each took home two first place trophies as well.
The Jeff Cup's Championship Divisions were won by TSJ FC Virginia 07 Girls Academy (U15), SUSA 06 ECNL (U16), Richmond United ECNL (U17), Match Fit Academy 2004 ECNL RL (U18) and PDA Blue (U19).
See below for a full listing of champions and finalists from the Girls Showcase Weekend. To view full results from each bracket, click here.
Champions and Finalists
U15
Championship Division
Champion: TSJ FC Virginia 07 Girls Academy (VA)
Finalist: Virginia Union FC 07 ECNL (VA)
Elite Orange Division
Champion: World Class FC 07 ECNL (NY)
Finalist: Coppermine 2007 Premier (MD)
Elite Black Division
Champion: Sporting Delaware 2007 Girls Academy (DE)
Finalist: STA 2007 Girls Academy (NJ)
Superior Orange Division
Champion: Minnesota Thunder Academy 2007 ECNL (MN)
Finalist: Arlington SA 2007 Girls Academy (VA)
Superior Black Division
Champion: Pittsburgh Riverhounds ECNL 2007 (PA)
Finalist: New England Surf State Navy (MA)
Superior White Division
Champion: North Carolina FC 07 Elite (NC)
Finalist: North Carolina FC 07 ECNL (NC)
Platinum Orange Division
Champion: Rhode Island Surf 2007 Elite Blue (RI)
Finalist: New Jersey Surf South Shore 07 (NJ)
Platinum Black Division
Champion: Connecticut Rush Select 2007 (CT)
Finalist: Richmond Strikers 07 Elite (VA)
Platinum White Division
Champion: Wake FC 07 Blue (NC)
Finalist: PDA Shore ECRL Riptide (NJ)
Classic Orange Division
Champion: Charlotte SA 07 Blue RL (NC)
Finalist: FC Copa Academy 07 Gray (NJ)
Classic Black Division
Champion: WNY Flash 07 Central Pilato (NY)
Finalist: Cleveland Force 07 ECNL (OH)
Classic White Division
Champion: Piedmont Triad FC 07 Premier (NC)
Finalist: VSA 07 RL (VA)
Premier Orange Division
Champion: FC Frederick 07 (MD)
Finalist: Brick Township SA Superstorm (NJ)
Premier Black Division
Champion: Tophat 07 Girls Academy Navy (GA)
Finalist: North Carolina FC 07 Premier (NC)
U16
Championship Division
Champion: SUSA 06 ECNL (NY)
Runner-Up: World Class FC 06 ECNL (NY)
Elite Division
Champion: NC Fusion 06 ECNL (NC)
Runner-Up: Maryland United FC 2006 ECNL (MD)
Superior Division
Champion: Arlington SA 2006 Academy (VA)
Runner-Up: Richmond United ECNL (VA)
Platinum Division
Champion: Loudoun Soccer 06 ECNL (VA)
Runner-Up: NEFC North Shore 2006 DPL (MA)
Classic Orange Division
Champion: Charlotte SA 06 White RL (NC)
Runner-Up: Charlotte Independence 2006 ECNL (NC)
Classic Black Division
Champion: SUSA 06 ECNL RL (NY)
Runner-Up: Wilson Youth SA 06 Explosion (NC)
Premier Division
Champion: New River United 06 Blue (VA)
Runner-Up: FC Copa Academy 06 Gray (NJ)
U17
Championship Division
Champion: Richmond United ECNL (VA)
Runner-Up: Match Fit Academy 2005 ECNL (NJ)
Elite Division
Champion: Pittsburgh Riverhounds 2005 ECNL (PA)
Runner-Up: Minnesota Thunder Academy 2005 ECNL (MN)
Superior Division
Champion: PDA South ECNL Milan 2005 (NJ)
Runner-Up: STN Northern Penn 05 (PA)
Platinum Division
Champion: Charlotte Independence 05 ECNL Futures North (NC)
Runner-Up: Syracuse Development Academy 2005 Girls (NY)
Classic Orange Division
Champion: Penn FC Youth 2005 Black (PA)
Runner-Up: Scorpions SC 2005 ECNL RL (MA)
Classic Black Division
Champion: NJ Premier FC 2005 Girls (NJ)
Runner-Up: Baltimore Armour 2005 (MD)
Premier Orange Division
Champion: SVSA 05 Blue Girls Academy (CA)
Runner-Up: DMV FC 2005 Blue – Force (VA)
Premier Black Division
Champion: NEFC 2005 North Shore DPL (MA)
Runner-Up: Penn Fusion SA ECNL RL 2005 (PA)
U18
Championship Division
Champion: Match Fit Academy 2004 ECNL RL (NJ)
Runner-Up: So Cal Blues Dido 04 (CA)
Elite Division
Champion: BRYC Elite Academy ECNL 05 (VA)
Runner-Up: NEFC 2004 North Shore DPL (MA)
Superior Division
Champion: FC Europa 04 Elite (PA)
Runner-Up: Pipeline SC North (MD)
U19
Championship Division
Champion: PDA Blue (NJ)
Runner-Up: Richmond United (VA)
Elite Division
Champion: Bethesda SC ECNL I 04 (MD)
Runner-Up 1: FC Stars ECNL RL Blue (MA)
Runner-Up 2: Maryland United FC 03/04 (MD)
Superior Division
Champion: VDA ECNL (VA)
Runner-Up: DMV FC 2003 Blue – Crush (VA)
Platinum Division
Champion: Arlington SA 04/03 Academy (VA)
Runner-Up: Pipeline SC ECNL RL (MD)
Classic Division
Champion: FC Stars 03/04 ECNL RL Blue (MA)
Runner-Up: PDA Shore ECNL RL White Wave (NJ)
Premier Division
Champion: Keystone FC 03 (PA)
Runner-Up: FC Copa Academy 03/04 Black (NJ)