SoccerWire Top 100 Girls Soccer Clubs: End-of-Year 2021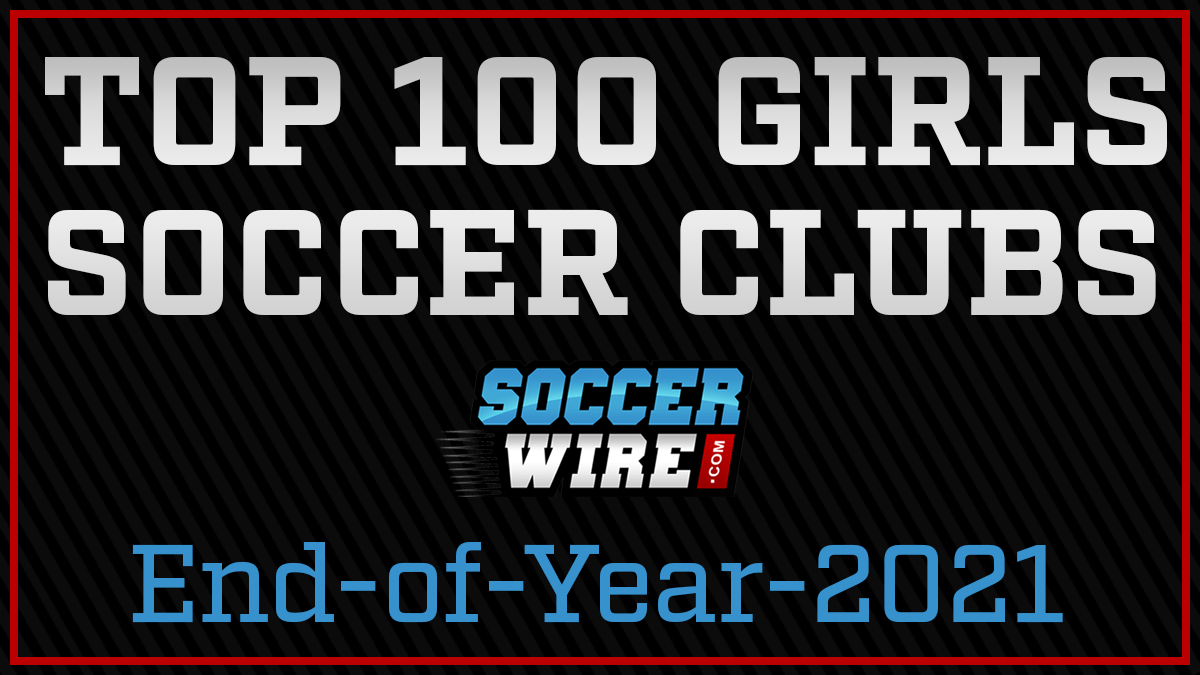 Sterling, Va. – SoccerWire has revealed the Top 100 Girls Club Rankings for end-of-year 2021, as the 2021-22 season rolls into 2022.
The top two clubs, Slammers HB Køge and Solar SC, remain neck-and-neck as they continue to dominate ECNL competition while playing in the nation's most challenging conferences. The Southern California and Dallas, Texas area clubs finished the 2020-21 campaign ranked No. 1 and No. 2 in the ECNL Overall Club Standings, and this season has been more of the same.
Also featured in the top five is Georgia based Girls Academy club Tophat, along with two more California ECNL clubs, San Diego Surf and MVLA.
See below for the full set of end-of-year rankings for 2021.
| | | |
| --- | --- | --- |
| 1 | | Slammers HB Køge |
| 2 | | Solar SC |
| 3 | | Tophat |
| 4 | | San Diego Surf |
| 5 | | MVLA |
| 6 | | PDA |
| 7 | | NC Courage Academy |
| 8 | | NEFC |
| 9 | | Nationals SC |
| 10 | | Michigan Hawks |
| 11 | | Cincinnati United Premier |
| 12 | | FC Stars |
| 13 | | Internationals SC |
| 14 | | Real Colorado |
| 15 | | TSJ FC Virginia |
| 16 | | Crossfire Premier |
| 17 | | FC Bay Area Surf |
| 18 | | Eclipse Select SC |
| 19 | | So Cal Blues |
| 20 | | Concorde Fire |
| 21 | | Legends FC |
| 22 | | Colorado Rush |
| 23 | | FC Dallas |
| 24 | | Charlotte SA |
| 25 | | SLSG (MO) |
| 26 | | South Shore Select |
| 27 | | Lamorinda SC |
| 28 | | Lonestar SC |
| 29 | | Beach FC (CA) |
| 30 | | World Class FC |
| 31 | | SUSA FC |
| 32 | | Richmond United |
| 33 | | IMG Academy |
| 34 | | GSA |
| 35 | | D'Feeter Kicks SC (DKSC) |
| 36 | | KC Athletics |
| 37 | | Tennessee SC |
| 38 | | Sporting Blue Valley |
| 39 | | Houston Dash Academy |
| 40 | | San Juan SC |
| 41 | | City SC |
| 42 | | Colorado Rapids |
| 43 | | Michigan Jaguars |
| 44 | | Florida United |
| 45 | | Match Fit Academy |
| 46 | | Bethesda SC |
| 47 | | United Futbol Academy |
| 48 | | STA |
| 49 | | Penn Fusion |
| 50 | | ALBION SC San Diego |
| 51 | | Chicago FC United |
| 52 | | Minnesota Thunder |
| 53 | | Indy Premier United |
| 54 | | Lou Fusz Athletic |
| 55 | | Cedar Stars Academy – Monmouth |
| 56 | | Mustang SC |
| 57 | | Oklahoma Energy FC |
| 58 | | Alabama FC |
| 59 | | LAFC So Cal |
| 60 | | Utah Royals FC AZ |
| 61 | | CESA |
| 62 | | Davis Legacy |
| 63 | | SJEB FC |
| 64 | | Slammers FC |
| 65 | | Indiana Fire Juniors |
| 66 | | Sporting St. Louis |
| 67 | | PA Classics |
| 68 | | Virginia Union |
| 69 | | Ohio Premier |
| 70 | | SC del Sol |
| 71 | | Sting Dallas |
| 72 | | Force SC |
| 73 | | Connecticut FC |
| 74 | | FC Prime |
| 75 | | Arlington Soccer |
| 76 | | Ohio Elite SA |
| 77 | | VDA |
| 78 | | OL Reign Academy |
| 79 | | Clovis Crossfire |
| 80 | | Beadling SC |
| 81 | | Dallas Texans |
| 82 | | Cleveland Force |
| 83 | | Utah Celtic |
| 84 | | ALBION SC Las Vegas |
| 85 | | SC Wave |
| 86 | | West Coast F.C. |
| 87 | | WNY Flash Academy |
| 88 | | Loudoun Soccer |
| 89 | | Racing Louisville Academy |
| 90 | | Utah Avalanche |
| 91 | | Midwest United FC |
| 92 | | Portland Thorns Academy |
| 93 | | Rebels SC |
| 94 | | SDSC Surf |
| 95 | | Palo Alto SC |
| 96 | | Skyline Elite |
| 97 | | Sockers FC |
| 98 | | Las Vegas Sports Academy |
| 99 | | Baltimore Armour |
| 100 | | Baltimore Celtic SC |