ECNL Girls promotes five Regional League clubs to Club Competition for 2022-23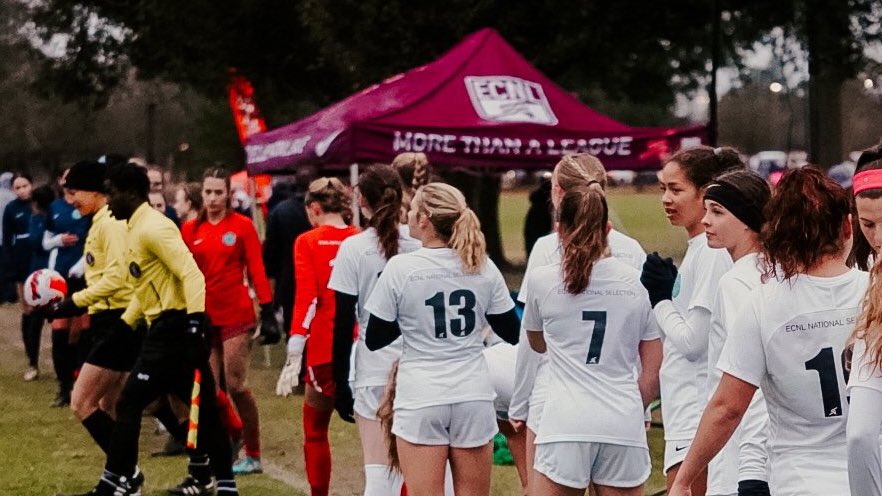 The ECNL Girls announced the addition of five new clubs into the Club Competition ahead of the 2022-23 season.
Beach FC (VA) will be joining the Mid-Atlantic Conference, Florida Premier FC and Florida West FC will be joining the Southeast Conference, Pateadores will be joining the Southwest Conference, and Rockford Raptors FC will be joining the Midwest Conference.
"We are thrilled to have these five organizations join the Club Competition for the 2022-23 season," said Jen Winnagle, ECNL Girls COO and Girls Commissioner. "All five clubs excelled in the ECNL Regional League, demonstrating their belief and commitment to the pathway it provided.  They have earned the right to play in the Club Competition based on their performance, and they will strengthen the ECNL Girls as a whole and help the league continue to push performance higher."
Beach FC (VA)
Virginia Beach, VA
Beach FC (VA) was dominant in the ECNL Regional League – Virginia this year, with every age group in the top 2 of their division. Timed perfectly with the club's 40th anniversary, Beach FC (VA) will move to the Club Competition while providing every player the opportunity to experience the lifelong benefits of the sport of soccer. The club does so by emphasizing enjoyment of the sport through the skill of development, team building, and community involvement.
"Beach FC could not be more thrilled to join the ECNL Girls platform," said Steve Danbusky, Beach FC Executive Director. "We have been working toward this opportunity for a number of years and we look forward to the new challenges that lie ahead of us. We are extremely proud to take this leap and represent our community on a larger stage."
Florida Premier FC
Tampa Bay, FL
Founded in 1979, Florida Premier FC operates more than 160 competitive teams with more than 2,500 players in the Tampa Bay area. Florida Premier FC places a high level of importance on family, with the slogan "One Club, One Family." With multiple top-of-the-table finishes across its age groups, Florida Premier quickly became a strong club in the ECNL Regional League – Florida and is poised for a successful jump to Club Competition.
"We are very excited and honored to be joining the best youth girls soccer league in the world," said Novi Maric, Florida Premier FC CEO. "I would like to thank all of our Florida Premier FC players and staff for believing in the process and for all the hard work everyone put in to make this happen. The ECNL has created a true pathway for clubs to be able to reach the pinnacle of youth soccer in our country and we are very appreciative of the opportunity they have given our players. We are looking forward to working closely with all of the ECNL Club members to continue raising the standard of youth soccer in the United States."
Florida West FC
Fort Myers, FL
Florida West FC was originally founded as North Fort Myers Soccer Club in 1978, but was rebranded in 2020. After teaming up with fellow southwest club Florida Fire Juniors, Florida West established itself as a heavy-hitter in the region, with plenty of silverware in its trophy case. That success, especially in the ECNL Regional League – Florida, warranted an invitation to the ECNL Club Competition.
"Florida West FC is very honored to have been accepted into the prestigious ECNL Girls platform," said Robert Peltram, Florida West FC President and CEO. "We have a strong belief in the ECNL platform and have performed at a high level for the past two years. Today, our determination has been rewarded as we have also been recognized for ECNL Girls. We are committed to continuing to provide an excellent performance-driven environment for the college-bound athlete."
Pateadores
Costa Mesa, CA
Founded in 1987 and located in Costa Mesa, CA, Pateadores has more than 220 boys and girls teams across all of its age groups, making it the largest club in Orange County. The club has seen a great deal of success in its history, winning seven national championships and numerous other local and regional trophies. Pateadores's history of quality and success continued in the ECNL Regional League – Southwest, and the club is ready for the jump to Club Competition.
"We're beyond excited about this promotion and how it will serve as a catalyst within our commitment to building Southern California's leading soccer platform," said Teddy Chronopoulos, Pateadores Director of Soccer. "With this platform, our players will develop their skills, succeed on ECNL's national stages and ultimately achieve their collegiate and professional dreams."
Rockford Raptors
Rockford, IL
Rockford Raptors was established in 1994 with the purpose of creating quality soccer training opportunities for Rockford's youth.  Rockford has blossomed into a program with more than 2,000 athletes participating and more than 300 alumni who have competed in the collegiate ranks. In its first season in the ECNL Girls Regional League, Rockford became one of the best clubs in the Heartland, earning its spot in the ECNL Girls Club Competition for the 2022-23 season.
"Rockford Raptors FC are extremely excited and grateful for the opportunity to be joining the ECNL Girls," said Frank Mateus, Executive Director of Rockford Raptors. "ECNL Girls is the top recruiting platform across the country for all levels of college coaches and we can't wait to showcase our athletes across the country and beyond. It has always been the Raptors' main goal to develop players to succeed at the next level and ECNL will allow us to achieve this goal to a whole new level. We want to thank everyone at ECNL for providing us with this opportunity and we can't wait to get started."