Players That Impressed: Loudoun Soccer College Showcase 2023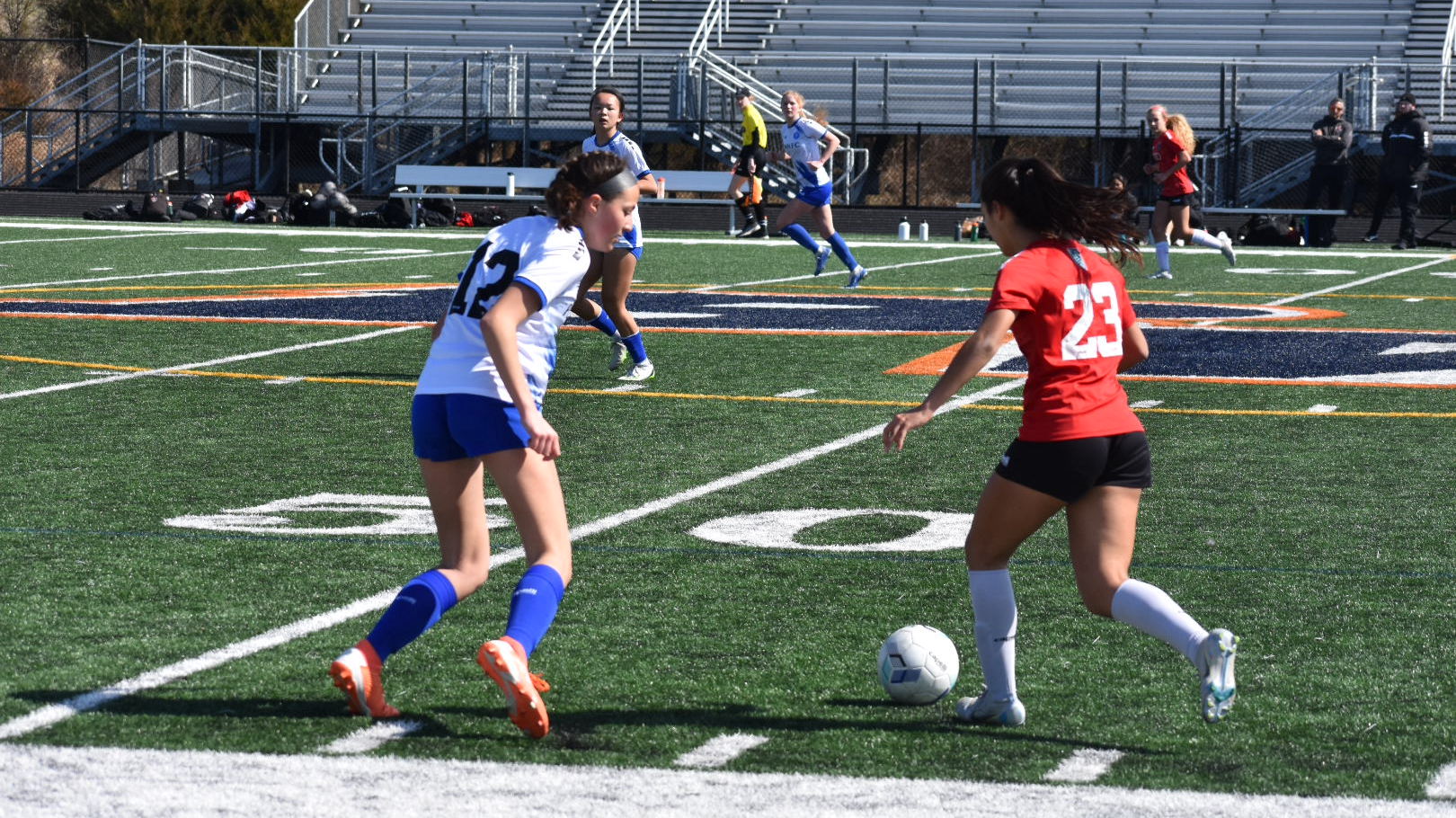 This past weekend, Loudoun Soccer Club hosted their annual Loudoun Soccer College Showcase, one of the top high school showcases in the Washington D.C.-Metro region.
SoccerWire is currently seeking Players That Impressed nominations from the competition. Coaches, parents and athletes are invited to submit nominations for up to two (2) players per team, highlighting standout performances from the event.
[Submit Your 'Players That Impressed']
See below for a listing of some of the top girls performances from the showcase, sorted by high school graduation year.
Class of 2026
Sasha Zuckerman | Forward
Loudoun Soccer ECNL Regional League 2007 (VA)
Zuckerman had a superb weekend uptop for Loudoun, highlighted by her brace in their 4-2 win over Old Line FC in the U16-2 age group. Her first goal in the ninth minute, a deftly hit low shot to the far left corner, was preceded by a very clever run off of the ball and a precise first touch. She added a second early in the second, scooping up a rebound and hammering home her second of the match. Her reads on the counter-attack helped spark the Loudoun defense all weekend and were critical in their two wins.
———————
Charlize Perrelli | Midfielder
Loudoun Soccer ECNL Regional League 2007 (VA)
Loudoun faced significant pressure early in their match against Old Line and had to rely heavily on their defensive midfielders to provide support. Perrelli stepped up to the plate, showing remarkable composure and making several key clears to keep the match close early. She hit a perfectly timed pass to the outside in the seventh minute that opened up play for Loudoun and helped change the field of play in favor of the home side.
Class of 2025
The Loudoun 2007 ECNL had a 3-game sweep in the Loudoun College Showcase, beating FC Frederick 3-0, VDA 5-0 and Penn FC 2-0. Wilson was a key contributor all over the field, highlighted by her 2 goals and 2 assists over the weekend.
———————
Nina Markie | Midfielder
Southern Maryland Rush 2006 (MD)
Southern Maryland Rush earned top honors in the top U17 age group last weekend thanks in large part to Markie's work in the midfield. Her expert passing and technical runs helped open up the Rush attack and give their defense some respite, particularly in their 0-0 draw with Virginia Rush. Facing a side that plays a similar style, she managed the game perfectly working with her teammates to create chances when called for and keep their opponents in their defensive third. She can also make very dangerous runs, as evidenced by her effort in the 65th minute that led to a corner kick.
———————
Cassidey Snyder | Midfielder
Penn FC 2007 Black (PA)
After going down early, Penn FC relied on the experience of their 2025s to get them back in the match. Snyder spearheaded that effort, turning the tide of the battle in the midfield in favor of Penn FC. Her controlled and measured passes helped start the attack. Loudoun ran a high press so Snyder used her teammates on the outside to help open up the center of the pitch.
———————
Viktoria Luckenbach | Midfielder
Penn FC 2007 Black (PA)
Alongside Snyder, Luckenbach helped Penn FC regain their composure in the second half. Although she typically plays more as an attacking midfielder, she dropped back more into a defensive midfield/wing position. Against significant pressure, she held her own marking Loudoun's attackers tightly and giving anthem very little space to operate. In the 54th minute, she made an expert track back to force her opponent to the outside and avoid a shot on target.
———————
Dylan McEntarfer | Defender
Virginia Rush 2006 Red (VA)
McEntarfer held the potent Southern Maryland Rush attack at bay all afternoon on Sunday, making key tackles and clears to preserve the 0-0 scoreline. Her clears and passes to the outside helped her teammates immensely, giving them time to organize and mark. She also made several key crosses into space for her teammates helping jump start the counter-attack.
Class of 2024
Nariah Goldman | Forward/ Midfielder
Loudoun Soccer ECNL 2007 (VA)
Goldman scored Loudoun's lone goal in their 1-1 draw against Penn FC in just the third minute of the match. Her effort, a low, pacey ball towards the corner was preceded by an excellent first touch with a defender close by. Her technical skills were on full display during the match, linking up with Audrey McKeen on a series of quick one touch passes to transition the side from a defensive posture to an attacking one. She can take on multiple defenders, which in turn opens up space for her teammates to exploit. Goldman is coming off of a strong fall season for her high school side St. Andrew's Episcopal School, where she was named to the Independent School League All-First Team.
———————
Emily Mikolop | Goalkeeper
Arlington Soccer 2006 Red (VA)
Mikolop earned two clean sheets over the weekend, pushing her side to an undefeated record in three matches. The junior goalkeeper, who is also a starter for the Alexandria City High School soccer team, made two big clears in their draw against PA Classics and was constantly speaking with her defense on organization and marking strategies.
———————
Sophia Delaney | Forward
Arlington Soccer 2006 Red (VA)
Delaney scored a fantastic goal in Arlington's 2-2 draw against PA Classics on Saturday, giving her side the equalizer in the 64th minute. She makes excellent runs off of the ball, taking a diagonal angle and always timing her runs to match the speed and pace of the incoming pass. She is also an asset on counter-attacks, once again timing her runs perfectly to break through defenders. Delaney is a three year starter at Washington and Liberty High School, one of the top Virginia High Schools in the country.
———————
Charlotte Hill | Defender
Arlington Soccer 2006 Red (VA)
Arlington earned two huge shutouts on the weekend, thanks in part to the work of Hill and the entire backline. Under major pressure from Keystone FC on Sunday, Hill remained cool and composed, making several key clears in the second half to preserve the 1-0 win. Alongside Tess Davies and Charlotte Powell, the duo limited Keystone's ability to create space in their defensive third, forcing attackers out wide and always communicating with one another on balls in space.
———————
Adiaha Witherspoon | Forward
Southern Maryland Rush 2006 (MD)
Markie's partner, Witherspoon flourished this weekend for Rush, dictating the pace of the match with her precision passing to the outside and targeted runs to the box. She is unafraid to take a shot from distance but can also serve as a holding forward, creating chances for her teammates out wide. Her header off of a corner in the 68th minute very nearly gave Southern Maryland the win over Virginia in the Rush derby.
College Recruiting Commitment Tracker