Players That Impressed: 2023 Girls Academy Finals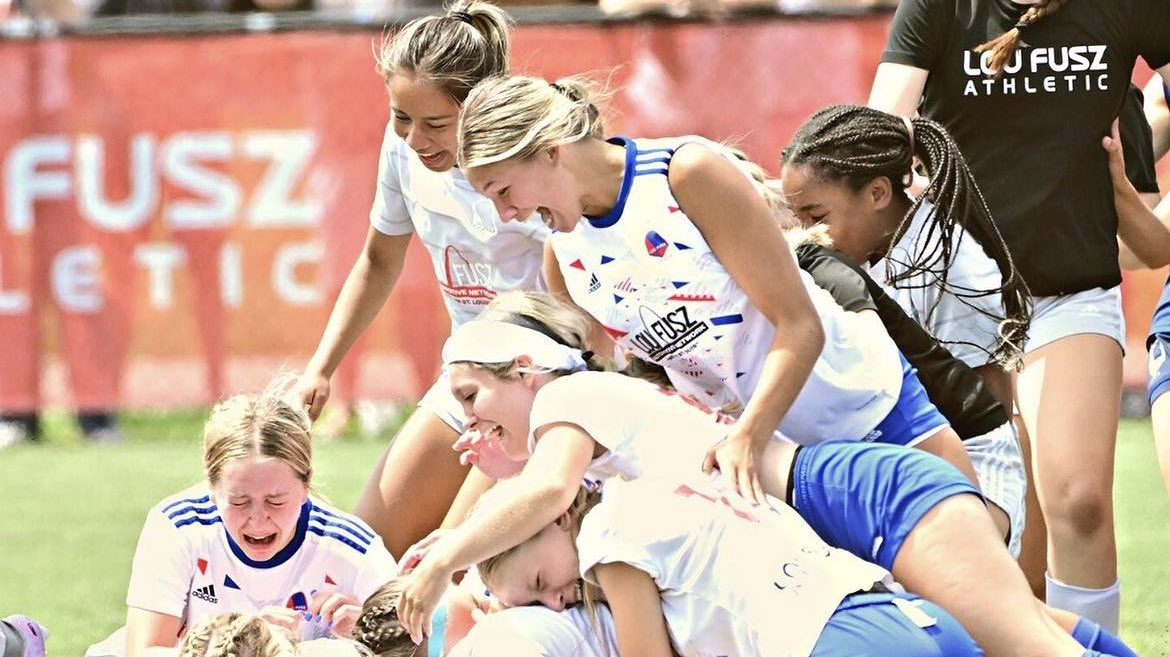 The Girls Academy completed their 2022-2023 season on Sunday with the crowning of the U14-U17 GA National Champions.
Sixty-four teams from across the U14-U17 age groups competed for top honors at the Lou Fusz Athletic Training Center in Earth City, Missouri. South Shore Select 09 (U14), Tophat 08 Gold (U15), Lou Fusz Athletic 07 (U16), and TSJ FC Virginia 06 (U17) brought home the silverware for their clubs.
SoccerWire is currently seeking Players That Impressed nominations from the competition. Coaches, parents and athletes are invited to submit nominations for up to two (2) players per team, highlighting standout performances from the event.
[Submit Your 'Players That Impressed']
Here are some of the top performers from the GA Finals, sorted by graduation year.
2027
Jordynn Gunn | Defender
Tophat 08 Gold (GA)
Alongside Kennedy Kelly (more on her in a minute) Tophat 08 Golds National Championship, Gunn was integral to Tophat's Championship run. She is comfortable at both the outside back and center back positions. At center-back, she likes to play out from the back and is not afraid to put her body on the line to break down an attack.
———————
Lily Jeakle | Forward
Nationals 08 Blue (MI)
In the quarter-finals against Beadling (4-1), the two-time GA National Talent ID selection had two goals and an assist. She followed that performance with a well placed left-footed goal against Lou Fusz (1-0) in the semi-finals. In the finals against Tophat, Jeakle used her shifting pace and trickery on the ball to keep the defense off-balance throughout the match. On a late run she rang a shot off of the post which would've given Nationals the lead but it wasn't to be. Jeakle was named the U15 The Golden Boot winner as the leading goal scorer during the post-season.
———————
Sofia Scego | Defender
Lou Fusz Athletic 08 (MO)
After scoring a tremendous last minute volley goal to win the group in pool play, Scego continued her strong play throughout the GA Finals. Playing primarily as a left wingback, she consistently shut down opposing attacks, showed a tireless work rate with attacking runs forward and provided key passes to spur counterattacks.
———————
2026
Scored a critical goal in Tophat's 4-1 win over Indy Premier SC in the semifinal round to book a spot in the Championship game. Godfrey, a four-time USYNT call-up, possesses limitless speed and makes darting runs off of the ball look easy. She also possesses a clever first touch, which can be either used to elude defenders or create attacking chances for her teammates.
———————
Alexia-Mae Goodman | Goalkeeper
Tophat 08 Gold (GA)
Earned two clean sheets over Utah Celtic 08G GA (1-0) in the quarterfinals and Nationals Girls Academy 08 GA Blue (1 -0) in the finals to earn her side top honors. While her shutouts showed athletic skills between the posts, it was her resolve that in their 4-1 win over Indy Premier SC in the semifinals that showed why she was named the Gold Gloves winner for her age group. The USYNT ID Center 2022 call-up made several key stops early and led a tightly organized against a strong attacking foe.
———————
Sydney Snow | Midfielder-Forward
Tophat 08 Gold (GA)
Was a key cog in a Tophat attack that scored six goals in three matches to win the National Championship. Her vision and pinpoint passes helped open up play on numerous occasions throughout the weekend, including in the final over Nationals Blue, one of the top defensive sides in the Girls Academy. For her efforts on both sides of the pitch, she earned Most Valuable Player honors for the U15 division.
———————
Kennedy Kelly | Defender
Tophat 08 Gold (GA)
Scored the game-winner for Tophat in their opener against Utah Celtic in the quarterfinals. Although she typically plays as a defender, she is unafraid to make the late run at goal to her side a bit of an attacking spark. Was recently selected for the Girls Academy National Talent ID Camp in July and was called up to the USYNT Talent ID Camp in January.
———————
Braylen Even | Centerback
Cincinnati United Premier 07 (OH)
Anchored a CUP backline that allowed just two goals in regulation throughout the Finals and held a strong TSJ FC Virginia attacking side scoreless in the semifinals. Even can stem counter-attacks with ease, judging the angles that attackers will take and creating enough space to clear any dangerous chances.
———————
Sloane Popov | Defender-Midfielder
Nationals Girls Academy 08 Blue (MI)
Led the Nationals Blue defense to two big wins over Beadling SC (4-1) and Lou Fusz Athletic (1-0) while making life very difficult for Tophat in the finals. As both a defender, Popov is comfortable moving the Nationals into counter-attack mode and can hit surging teammates out wide with pinpoint passes.
———————
Cydney Pace | Defender
Tophat 08 Gold (GA)
A vocal leader and physical defender, Pace used her body, speed and footwork to create chaos and disrupt every opponents' offense. While she made several crucial tackles, her timing to the ball and precise delivery back up the field helped push Tophat to two clean sheets and only one goal allowed during their run to the Championship.
2025
Emily Sanabria | Goalkeeper
Lou Fusz Athletic 07 (MO)
Led the Lou Fusz defense to a huge victory in the U-16 semifinals over SC Wave, making multiple key saves in the final minutes of the match. The U-16 Golden Glove winner had a similarly impressive performance in the quarterfinals, blanking Central Illinois United 4-0.
———————
Grace Luedde | Center Midfielder
Lou Fusz Athletic 07 (MO)
Provided expert passes to her teammates up top all weekend and was a dominant force for Lou Fusz en route to the side winning the National Championship. Her ability to create chances out of nothing for her teammates was on full display, as were her leadership abilities. Even in the closest of moments, she appeared calm and cool, slowing down play when necessary.
———————
Aly Bryant | Midfielder
Lou Fusz Athletic 07 (MO)
Led the Lou Fusz midfield throughout the tournament by distributing passes to her teammates and switching fields to open up play. She got into the attack and transitioned to defense, when needed. She scored multiple goals over the weekend for the home side.
———————
Lana Adams | Midfielder
Lou Fusz Athletic 07 (MO)
Provided multiple goals for Lou Fusz throughout the weekend and was integral to Lou Fusz's run all season. On the ball, she was a master in 50-50 situations and provided stability with her distribution.
———————
Riley Henderson | Midfielder
Lou Fusz Athletic 07 (MO)
Riley used her speed on the wing to create havoc to help her team, Lou Fusz Athletic, capture the National Championship in the U16 division. She had one goal vs Central Illinois in the Quarterfinals, one goal and two assists in the Semifinals vs SC Wave, and made the critical run on the game-tying goal vs CUP in the finals. She also calmly nailed her penalty kick shot as the fifth kicker to send it to extratime.
———————
Alyssa Schulte | Defender
Lou Fusz Athletic 07 (MO)
Alyssa was a strong, dominant force as an outside wingback to help Lou Fusz win the National Championship. She used her strength to win 50-50 situations. She has great field vision to move the ball from the back into open space. She is able to be an offensive threat as well by getting up the sideline to be a part of the attack.
2024
Held off a strong NEFC side in the finals to give TSJ FC Virginia the National Championship and an undefeated season in Girls Academy player. The 2023 National Finals Golden Gloves winner is a proven leader for TSJ, having made several big stops against both NEFC and Nationals Girls Academy 06 Blue. Strohecker has committed to playing college soccer in 2024 at Seton Hall University.
College Recruiting Commitment Tracker