Players That Impressed: ECNL Girls Champions League and Regional League Finals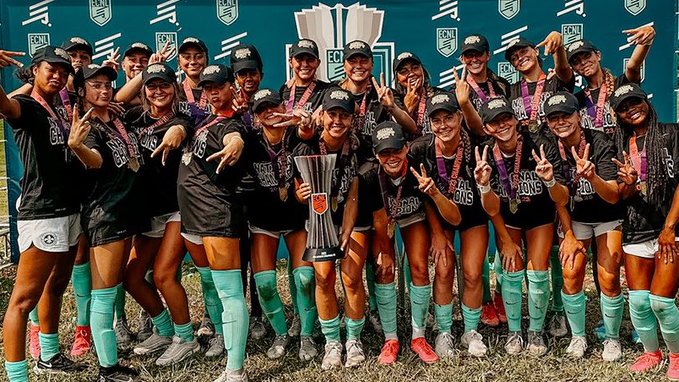 The ECNL Girls completed their 2022-2023 season on Monday with the crowning of the U13-U17 Champions League and Regional League Champions. (Finals Recap)
Continue reading for a listing of standout performances from the event.
2028
Anchored the Solar defense to a strong 0-0 tie in the ECNL RL semifinals that her side inevitably won in penalties, 5-4. All season long Leddy has proven to be a steadying presence along the backline for Solar and has come through in big moments, when called upon.
Lily Hoskins | Defender
Solar 10 Regional League (TX)
Scored the game-tying goal in the semifinal game to help her team move onto the finals. Headed the ball down to herself for the shot that just went past the goalkeeper. In addition to her work on the attacking end, she consistently strong defensive play over the weekend.
________
McKenna Whitham | Defender
MVLA Juventus (CA)
Was instrumental in helping her team advance to the Championship game, where they lost in penalties. She tallied scored goals and notched two assists in her three matches in Virginia. She was a game changer on and off the ball. Will be attending the ECNL Conference Cup event this summer, where she will be only one of two players invited from the 2010 age group.
2027
Scored the winning goal in this year's U14 ECNL Champions League final. This isn't the first time that Lee came up big for PDA. At  last year's final, she scored the tying goal to force extra time.  Although they came up short and lost in penalties last season, their grit and determination, as evidenced by  Lee's goal-scoring prowess, paid off  with some hardware.
Reigrod's communication from the box and organization during set piece plays were key in preventing scoring opportunities throughout the 2022-23 season for U14 National Champion PDA Blue 2009, but any opportunity where opponents managed to break through were shut down by Reigrod as she conceded only three goals in the past 12 months.
Reigrod was just as strong in the U14 Final, making big saves and denying 1:1 opportunities. While she ultimately conceded her third goal of the year, she supported her team to a 2-1 victory over a strong and fast San Diego Surf attack line.
Anchored the PDA Blue 2009 defense that recorded six shutouts leading up to the national championship title, with her well-rounded abilities on the back line. She scored two goals in the playoff competition and impressed with her defensive ability and timely clears to win the U14 ECNL Championship.
________
Maggie Averell | Left Back
PDA Blue 09 (NJ)
Served as the left back on a PDA defensive unit that finished the season as the best in the country. Averall and her teammates on the back line have helped lead PDA to the title match in each of the past two seasons, at the U13 and U14 levels. Playing together at PDA since 2016, their chemistry is certainly a strong point for the side.
________
Sandra O'Neill | Center Back
PDA Blue 09 (NJ)
O'Neill plays in the center of the PDA's top-ranked back line which has stifled opponents all season long, and culminated with a 2-1 national championship victory over San Diego Surf. PDA only conceded 1 total goal over 3 games at the ECNL Finals, earning clean sheets in both the quarterfinals and the semifinals.
2026
Amber Weaver | Defender
Michigan Hawks 08 (MI)
Spearheaded a Hawks backline that limited Legends FC to just one goal in the final, a 2-1 victory. Weaver. Her tight marking and timely clears helped the Hawks get out of multiple jams throughout the tournament and gave the side a bit of respite, when needed.
________
Lillian Osifodunrin | Defender
Real Colorado National 08 (CO)
Osifodunrin was outstanding at center-back, playing a full eighty minutes to help thwart a late Crossfire comeback. Goals were hard to come by on the final two games for Real Colorado, and she impressed with her defensive ability and positioning.
________
Macy Childers | Attacking Midfielder / Forward
FC Dallas 2006 Regional League (TX)
Consistently dangerous over the weekend and scored in two different games including the 2006 ECNL RL National Championship game. Opened up play for her teammates all throughout the weekend en route to the side earning their second consecutive title.
2025
Scored two goals with her left foot from during Saturday's game. The defender made runs to be first to the ball and was able to score with well placed shots.
Sydney Kitchen | Fullback / Wingback
Oklahoma City Energy 07 (OK)
Seamlessly transitioned the Energy from a defensive posture to an attacking one all weekend long in Champions League. The Class of 2025 can read the tempo of the match perfectly and adjust to what her opponents throw at her with relative ease. She can also slip past defenders on the counter-attack and open up space inside for her teammates.
________
Abby Costa | Midfielder
Scorpions FC Regional League 2007 (MA)
Abby helped her team to the finals with a goal and two assists (a corner and a direct kick) against San Diego Surf and two goals against top seed FC Dallas. Though they fell short in the final game, the Scorpions had a great tournament as the number five seed.
________
Aubrey Tipton | Goalkeeper
FC Dallas Regional League 06 (TX)
Saved two crucial penalties in the semi-final game v Chicago Inter to propel Dallas to the Championship Game. In the finals she came up big with two saves in one-on-one situations late in the game to help preserve the Dallas victory and back-to-back Championship.
2024
Linked up perfectly with Kennedy Fuller , Savannah Tafireyi and Sofia Cedeno to help Solar 06's earn a key 3-1 win against Charlotte Soccer Academy in their ECNL Finals opener. Andrews has committed to playing college soccer in 2028 at the University of Kentucky.
Bagged a brace in the semifinals for Solar to help lift the side 5-1 into the finals of the 06 age group. The 2022-2023 Gatorade Player of the Year showed that in addition to her scoring prowess, she is a top class passer, as evidenced by the pinpoint effort she laid in for Andrews against CSA.
Maison Smith | Center-back
St. Louis Scott Gallagher Navy 06 (MO)
Held her own against a tough Solar SC side in the finals, limiting them to just two goals and helping her side earn the 4-2 win. Her ability to manage the tempo of the match was on full display against Internationals SC (a 1-0 win), slowing the pace down when necessary to eat up the clock and forcing the Ohio side to chase.
________
LG Moncrief | Midfielder
FC Dallas 2006 Regional League (TX)
Scored two goals and added two assists to assist FC Dallas' 2006 ECNL RL run to back-to-back National Championships. Moncrief has committed to playing college soccer next season at Ball State University.
College Recruiting Commitment Tracker