Syracuse men's soccer adds trio to 2021 incoming class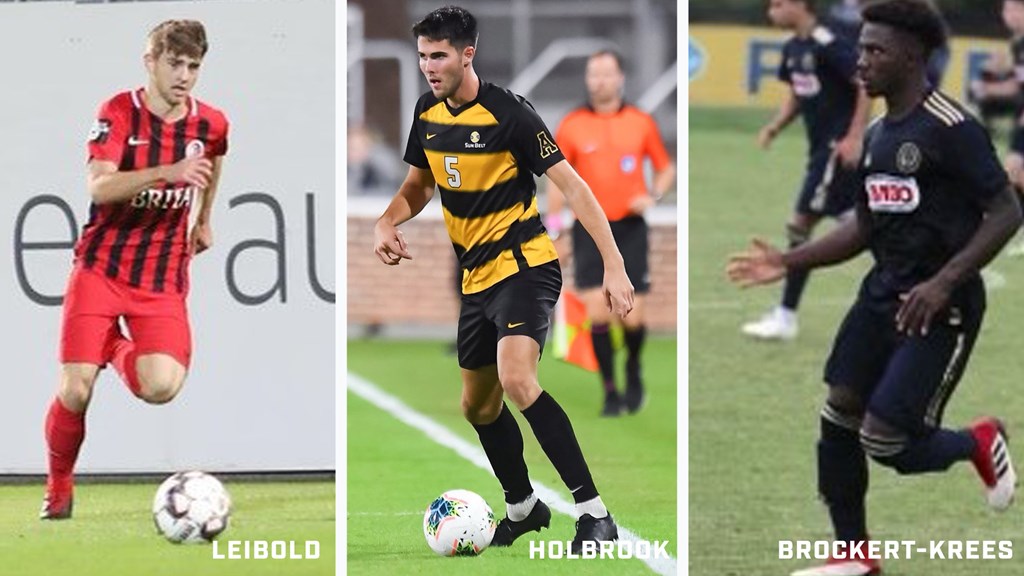 SYRACUSE, N.Y. – Syracuse University head men's soccer coach Ian McIntyre has added Camden Holbrook, Zephyn Brockert-Kress and Giona Leibold to the Orange's recruiting class.
"We are excited to add Camden and Zephyn to our squad this spring," McIntyre said. "Camden will look to immediately replace the attacking players that we lose at the end of the fall semester, and I am looking forward to transitioning Camden into our team. It will be a great advantage for Zephyn to join Francesco Pagano here on campus this spring as a young player who will train with us in preparation for the Fall 2021 season. Giona is a dynamic player that will join us next fall and provide us an exciting, unpredictable option from wide areas of the pitch.
[+READ: Syracuse men's soccer team announces four incoming recruits]
"An important recruiting class continues to take shape and our staff have addressed immediate needs of the team as well as preparing for the future of the program."
Camden Holbrook – Cary, N.C. – Appalachian State University
Holbrook transfers from Appalachian State where he scored 10 goals and registered three assists in his two years for the Mountaineers. Holbrook was recognized as an All-Sun Belt Conference honoree in 2018. Prior to college he was the awarded the 2017 North Carolina Gatorade Player of the Year award and he will have two years of eligibility remaining after competing this spring for Syracuse.
"We are delighted to have Camden join our team," McIntyre said. "It a real advantage to add a talented, experienced player who will add something a little different to our attack. He is an intelligent, direct player who has the wonderful knack of getting onto the end of service in the penalty area. He possesses the ability to score goals in a variety of different ways, and I am looking forward to integrating Camden into our team this spring."
Zephyn Brockert-Kress – Farmington Hills, Mich. – Michigan International Prep School
Brockert-Kress was a member of the Philadelphia Union Youth Academy for three years, during which time his team successfully competed in the Generation adidas Cup and the US Soccer National Championship. In his senior year Brockert-Kress moved to Texas to represent the Houston Dynamo U18/19 Academy. He also made his debut for Brazos Valley Cavalry FC in the 2019 US Open Cup. Brockert-Kress will enroll in January, and he will be eligible for competition in the fall.
"Zephyn is an athletic, powerful player who continues to impress our staff every time that we watch him play," McIntyre said. "He is a tremendous young man who works extremely hard to excel on and off the soccer pitch. Zephyn is a wonderful competitor who plays the game with a passion and a drive that is contagious to those players around him. I am excited to watch Zephyn continue to grow as a player here at Syracuse."
Giona Leibold – Wiesbaden, Germany – Elly-Heuss-Schule
Leibold is a product of the SV Wehen Wiesbaden academy and he has competed for the first team in both the 2nd and 3rd Bundesliga. Leibold has been a member of the German National Team pool at both U17 and U19 age groups, earning invitations to several DFB German Youth National Team camps. He has also been selected as an All-Star-State Team representative since the U16 age group.
"Giona is a tenacious, aggressive player who will provide us a direct, dynamic attacking threat," McIntyre said. "Giona has the athleticism, technique, and a tremendous work ethic to make a quick transition to college soccer here in the ACC. He possesses a very cultured left foot and he will provide quality service in dangerous areas of the pitch. Our Syracuse fans will enjoy watching Giona play in an Orange jersey next fall."