Louisville men's soccer announces No. 9 ranked signing class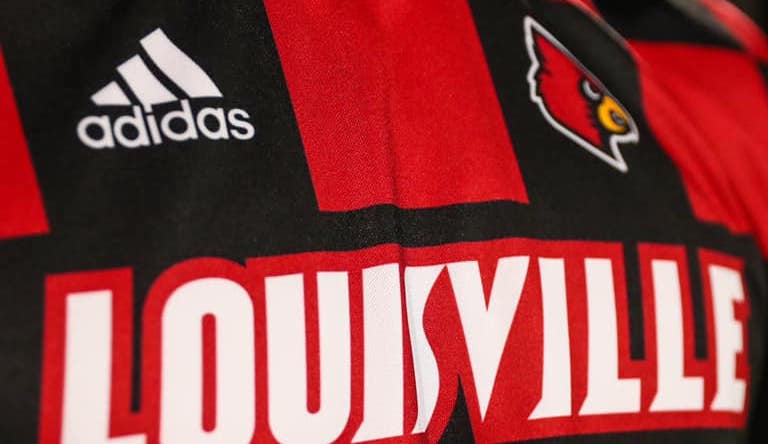 LOUISVILLE, Ky. – The University of Louisville men's soccer program and head coach John Michael Hayden have announced their early signing class for the incoming class of 2021.
The eight-man class features a pair of top-25 nationally-ranked recruits, two graduate transfers and two student-athletes that will join the Cardinals in January. TopDrawerSoccer has the class ranked at No. 9 nationally.
"I am thrilled that these young men have made the decision to join our program and look forward to seeing them excel in our environment," Hayden said. "Donovan Dowling and Bryan Green have really done an extraordinary job in their recruiting efforts as we continue to strengthen our squad. These incoming players along with an already talented mix of returning players should make for an exciting future."
Name: Patrick Ajdukiewicz
Hometown: Barrington, Ill.
Club: Chicago Fire
Position: Defender
Bio: Ranked as the No. 63 player nationally in the 2018 class. Ajdukiewicz will be joining the Cardinals in January 2021. Ajdukiewicz played his youth soccer with both Chicago Fire & Sockers FC. Ajdukiewicz also spent a year in residency with the US U17 National Team in Sarasota, Fla., where he played under Louisville City FC coach John Hackworth.
Name: Jean Claude Bikorimana
Hometown: Lexington, Ky.
Club: FC Cincinnati
Position: Midfielder
Bio: Bikorimana is a native of Lexington, Ky., and currently plays for FC Cincinnati. Before joining FC Cincinnati, Bikorimana played for Lexington FC where he helped them place second in the Kentucky State Cup.
Name: Jamie DiLuzio
Hometown: North Woodmere, N.Y.
Previous School: Davidson
Position: Midfielder
Bio: DiLuzio comes to Louisville as a graduate transfer from Davidson University, where he currently captains the Wildcats. At Davidson, DiLuzio has been a mainstay in the lineup both in the midfield and back line. In 2019, DiLuzio led the Wildcats with five goals and five assists. DiLuzio spent his youth career playing for Met Oval Academy (N.Y.), where he was ranked as the No. 97 player nationally in the 2017 class by Top Drawer Soccer.
Name: Parker Forbes
Hometown: Cedar Park, Texas
Club: Lonestar SC
Position: Defender
Bio: Forbes comes to Louisville from Cedar Park, Texas, where he plays with Lonestar Soccer Club. With Lonestar, Forbes has been a consistent starter and captain, as he currently captains the U19 team.
Name: Zeiko Harris
Hometown: Sandys Parrish, Bermuda
Previous School: Appalachian State University
Position: Defender
Bio: Harris was a three-year starter for Appalachian State University, where he played nearly 4,500 minutes in three seasons with the Mountaineers. He will join the Cardinals in January 2021 as a graduate transfer. At ASU, Harris racked up plenty of accolades, including 2019 Sun Belt Defensive Player of the Year. Harris was also named first team All-Sun Belt during his junior (2019) and sophomore (2018) seasons. A native of Bermuda, Harris made his full international debut in March 2020 where he played 90 minutes vs Jamaica.
Name: Dante Huckaby
Hometown: Morgantown, W.Va.
Club: Philadelphia Union
Position: Defender
Bio: Ranked as the No. 25 player nationally in the 2021 class by Top Drawer Soccer. Named 2019 United Soccer Coaches Association Youth All-American. Spent all of the 2020 season playing with Philadelphia Union II of the USL Championship. Huckaby started for Union II in every match during the 2020 season, logging the most minutes on the team. Huckaby also has extensive experience with the US Youth National Team program, where he was last called into the US U16 team during the 2019 Nike Friendlies.
Name: Josh Jones
Hometown: Hatfield, Pa.
Club: Ukrainian Nationals
Position: Defender
Bio: Jones captained both his club Ukrainian Nationals, along with North Penn High School. With Ukrainian Nationals, Jones helped his team earn a spot in the 2019 USYS National Championship. With North Penn, Josh helped his team win the 2019 Pennsylvania 4A State Championship, while being named first team All-Conference. In 2019, Jones was one of 32 players across the country to be selected for the Generation Adidas Invitational at Real Madrid in Spain. In addition to soccer, Jones is a member of the North Penn Basketball team, where he was the team's leading scorer in 2019.
Name: Gavin Krenecki
Hometown: Sacramento, Calif.
Club: Sporting KC
Position: Goalkeeper
Bio: Ranked as the No. 23 player nationally in the 2021 class by Top Drawer Soccer. Named 2019 United Soccer Coaches Association Youth All-American. Spent the majority of the 2020 season with Sporting Kansas City II of the USL Championship. Krenecki made his USL debut on Aug. 15th, 2020 against Saint Louis FC, and also got the starting nod a week later versus Louisville City FC. Krenecki has also been a mainstay with the US Youth National Team program since 2016, playing for the U14, U16 and U17 National Teams. Before joining Sporting KC in 2019, Krenecki spent the majority of his youth career with Sacramento Republic.