Syracuse men's soccer team announces four incoming recruits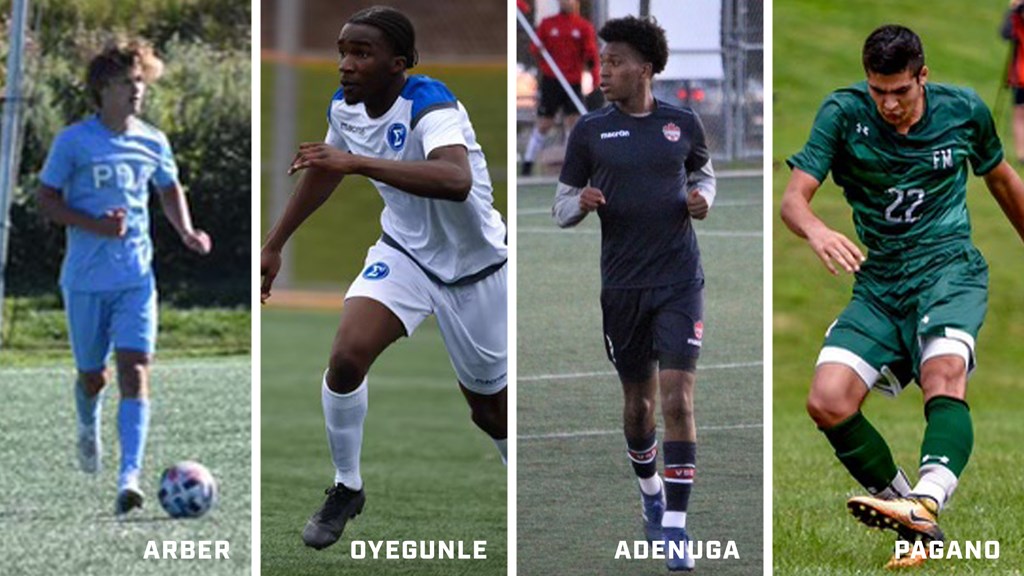 SYRACUSE, N.Y. – Syracuse University men's soccer head coach Ian McIntyre has announced the addition of four signees to the Orange program.
Local product Francesco Pagano from Fayetteville-Manlius High School and Oluwaseun Oyegunle will enroll at Syracuse in January, while Ife Adenuga and Aidan Arber have will join the 'Cuse for the 2021 season.
"We are delighted to welcome these four outstanding young men to our program," McIntyre said. "It is a talented initial group that will take tremendous pride in representing Syracuse University. (They are) Student-athletes of character that will specifically address some immediate needs of the team in 2021."
Oluwaseun Oyegunle – Brampton, Ontario – Castlebrooke Secondary School
Oyegunie is the latest Sigma FC product to make the journey south to represent the Orange. The Brampton, ON native has grown up in the Sigma FC academy system that has produced the likes of Chris Nanco, Tajon Buchanan, Simon Tritantafillou and Hilli Goldhar. Oyegunie has been involved with the Canadian U17 national team and has trained with the Forge FC team that has secured the 2019 and 2020 Canadian Premier League Championships.
"Olu is a player that we have followed closely for a number of years and it was his intention to enroll here this past fall before the challenges of the COVID-19 pandemic," McIntyre said. "Olu is an athletic defender who will be able to quickly transition to ACC competition. His best soccer is ahead of him and we are delighted to be able to add him to our defensive group."
Ife Adenuga – Toronto, Ontario – Toronto District Christian HS
Adenuga started his youth career as a member of MLS youth academy Toronto FC. There he was part of a Generation adidas Cup championship, and he was an integral part of the midfield that went on to win Dallas Cup in 2019. Adenuga currently plays for Coach Patrice Gheiser at Vaughan Soccer Club that produced former Orange Ryan Raposo, Massimo Ferrin, Nyal Higgins, and Kamal Miller.
"Ife is an intelligent, technically gifted midfielder who can dictate the pace of a match and he can make the game look very simple at times," McIntyre said. "He is a young player with an extremely bright future ahead of him and the physical characteristics to make a successful transition to the ACC."
Aidan Arber – Upper Saddle River, NJ – Northern Highlands Regional HS
Arber is an athletic defender who started his career with MLS youth academy New York City Football Club. Arber currently competes for Players Development Academy in New Jersey in the inaugural MLS Next Championship.
"Aidan is a talented player who fits in perfectly with the way that we play here at Syracuse," McIntyre said. "He possesses a wonderful work ethic, energy, and enthusiasm to his game that complements our style of play and allows him to play as both a fullback and a wingback in our system."
Francesco Pagano – Manlius, NY – Fayetteville-Manlius HS
Pagano has scored 18 goals and registered six assists in 11 games for Fayetteville-Manlius High School, which has risen to No. 10 in the national rankings. In 2019 Pagano was named CNY Player of the Year, a High School All-American, and New York State Player of the Year by the United Soccer Coaches.
"Cicci is a top talent and a player with an extremely high ceiling," McIntyre said. "Each year it is our priority to try and keep our best 'local talent' home. Cicci is a passionate SU soccer fan who has been around our program for a number of years. We are all excited to see him in an Orange jersey as we help him continue to grow and evolve as a player here in the ACC."