Pepperdine women's soccer unveils signing class featuring five players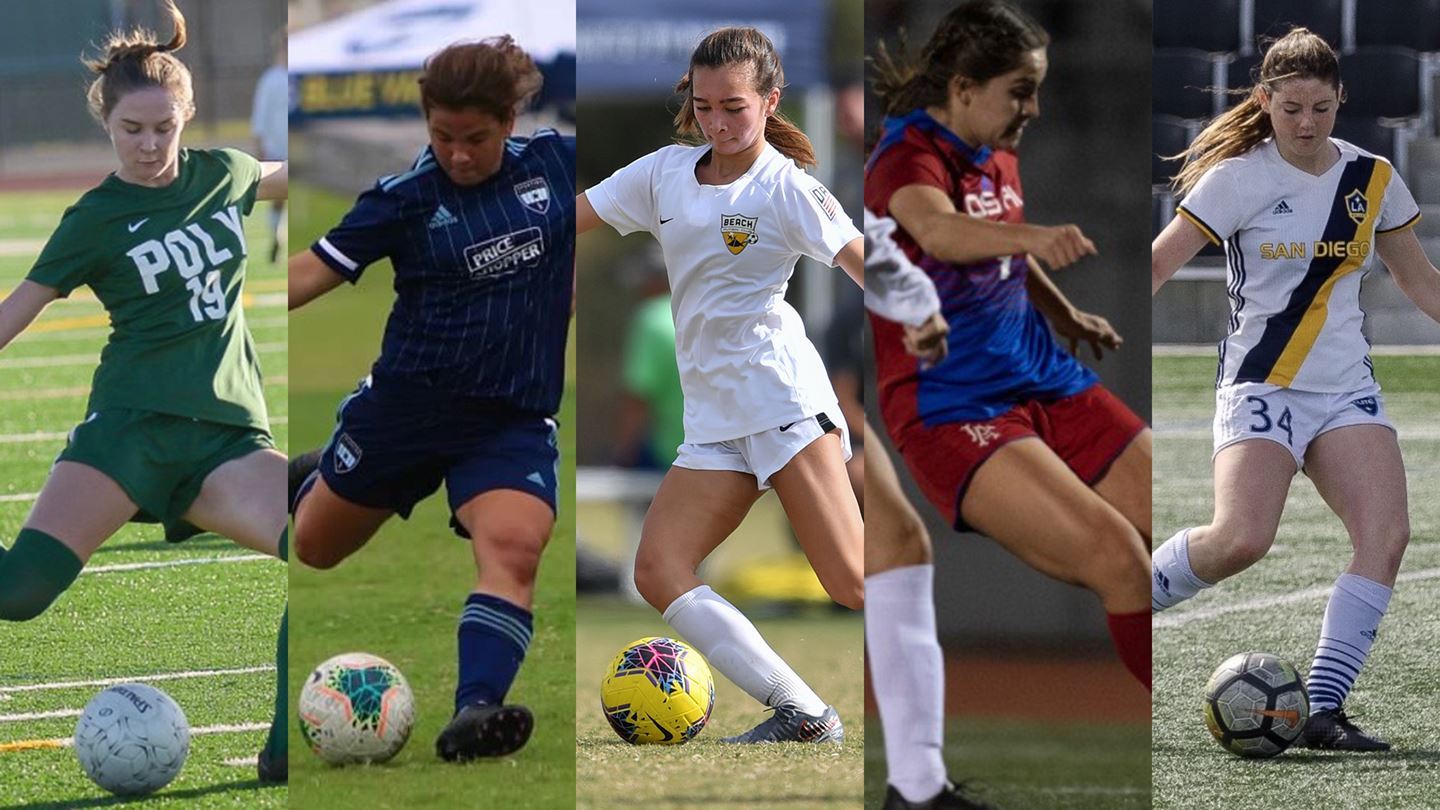 MALIBU, California – The Pepperdine women's soccer team has signed five recruits to National Letters of Intent, head coach Tim Ward announced.
The signees are forward Kelsey Adams (Long Beach, Calif.), midfielder Caroline Coleman (Mission Hills, Kan.), defender Gabriela Collatos (Palos Verdes, Calif.), forward/midfielder Tabitha LaParl (Lakewood, Calif.) and defender Ashlyn Siriani (Carlsbad, Calif.).
"Like recent recruiting classes for our program, we feel incredibly excited about the group we've assembled from the class of 2021," Ward said. "Besides being top-class players on the field, these young ladies will be wonderful ambassadors for Pepperdine off of it as well."
Kelsey Adams – Forward – Long Beach, Calif. – Long Beach Poly HS – LAFC Slammers
A team captain at Long Beach Poly High … Made it to the semifinals of both the CIF Division 2 and state tournaments as a sophomore … Made it to the quarterfinals of the CIF Division 1 tournament as a junior … An honors student at Poly High … Has played with Slammers FC since the age of 11 and on the past four years has been on the DA and ECNL teams … In 2018-19 as a U-16, won the Southwest Conference championship and took third place at the ECNL national championship … Her grandfather, John Arndt, is a former Loyola Marymount men's basketball player and coach who was inducted into the school's Athletics Hall of Fame.
Adams says: "Aside from the great academics and athletics, I chose Pepperdine because of the intimate atmosphere. Pepperdine feels like one big family and I knew immediately that I wanted to be a part of it."
Ward says: "Kelsey was first brought to our attention by our great friends at LAFC Slammers as they thought that her character along with her soccer style fit our program. They couldn't have been more right. Kelsey is a striker of the highest quality. She is a natural finisher and goal creator for her ECNL team. In addition, she makes those around her better because of her team-first attitude and her super-high soccer IQ. Not only is she a phenomenal player, but more importantly to us, she is an absolute gem of a human being. She cares and values the things we do. She is a super hard worker both on and off the soccer field. This ethic translates over to the classroom as she possesses a stellar academic record as well. We look forward to having her and her family here at Pepperdine for the next four years!"
Has played for Sporting Blue Valley since 2017 … Played for the Kansas City Legends from 2008-16 … Made it to the DA Playoffs with the U-19 Sporting Blue Valley team … Was part of a team ranked seventh nationally in 2019-20 … Part of the Kansas ODP team in 2014 and 2015 and made Region 2 ODP pool both years … Was a soccer national training center participant in 2016 and 2017 … An honor roll student at Shawnee Mission East High.
Coleman says: "I chose Pepperdine because I know I will be getting a great college education as well as playing under a great coaching staff at the highest level. Also, I know Pepperdine will be a great place to grow in my relationship with God, and surround myself with others who are trying to do the same."
Ward says: "I believe Caroline will be our first-ever player from the state of Kansas. She comes to us from the highly successful Sporting Blue Valley soccer club and what a fun player she is. Caroline can play anywhere in midfield. She came onto our radar at one of our Malibu Soccer Academy sessions a few years back. Every coach at camp commented on her magical first touch and her ability to not only make players around her better, but on her ability to score goals from advanced midfield positions. She has a rare ability to make some difficult skills look very easy and her rhythm for the game is exceptional. Like all of our recruits, Caroline is simply a first-class human being. She's great in the classroom and great for team culture. We are so very excited to welcome Caroline and her family to Malibu next fall!"
Gabriela Collatos – Defender – Palos Verdes, Calif. – Palos Verdes HS – Beach FC
Has been on a top-10 ranked team in the country with Beach FC for four straight years … Was a DA semifinalist and a Southwest DA conference champion … Playing with Arsenal FC, was an ECNL national semifinalist, a Southwest ECNL conference champion and Surf Cup champions … Three years of ODP pool play … A member of the U-13 and U-14 Youth Philippine National Team, and was an Asian Federation Cup tournament finalist in 2016 and 2017 … An honors student at Palos Verdes High … Her father, Anthony Collatos, is an assistant professor of education at the Pepperdine Graduate School of Education and Psychology.
Collatos says: "I chose Pepperdine because of the atmosphere and the genuine care that is expressed for each individual student. I think Pepperdine is so special because it's a place where one is taught not only to be successful but more importantly a well-rounded good human being. I'm so excited to become a Wave because I know I'll be surrounded by positivity while I'm there."
Ward says: "How cool is it to have Gabi coming to Pepperdine? She is a wonderful wide back for our good friend Jeff Joyner and his fantastic Beach FC team. She is also an alum of the Malibu Soccer Academy where she first jumped onto our radar a long time ago. Gabi has always been a joy to be around and her game continues to grow and grow. She is a fantastic technician, great reader of the game and positionally very intelligent. We are excited to watch her grow in this new environment as we definitely feel she has a big upside to her performance levels. Again, she is also an amazing fit for our culture and program. A wonderful human being with a bright academic mind, we are so excited to welcome Gabi and her family to Malibu next fall!"
Tabitha LaParl – Forward/Midfield – Lakewood, Calif. – Los Alamitos HS – So Cal Blues
Set the Los Alamitos High record for goals scored … The 2019 Long Beach Press-Telegram Dream Team Player of the Year … Has won three consecutive Sunset League titles … An honor roll student … Has played with So Cal Blues since the age of 10 and has won five national championships with numerous first-place finishes in the ECNL … Has been part of U.S. Youth National Team camps since the U-16 level and earned her first cap with the U-18 National Team in February 2020.
LaParl says: "I chose Pepperdine for numerous reasons. When I visited the university, I loved the staff and felt at home with the people I came across. In addition, I was inspired by the supportive, hard-working environment displayed on campus. Furthermore, the connection presented on and off the field by the strong women of the Pepperdine soccer team excited me and made me want to be part of it."
Ward says: "Tabitha is another amazing addition to our program from a long line of Waves that started their journeys with the storied Southern California Blues soccer club in San Juan Capistrano. Tab's particular Blues team has won five different ECNL national championships and she has played a pivotal role in her team's success as a striker and/or attacking midfielder. Blessed with a magic wand of a left foot, Tab has a remarkable ability to create and score goals of all varieties for her team. She is a clever technician and makes those around her better with the timing of her movement and quality of her choices on the ball. She has been recognized for her excellence by attending multiple USA National Team camps for the U-16s and U-18s, where she primarily has been used as an attacking left back. As strong as she is on the field, Tabitha is equally as special off of it. A bright student and an amazing young woman of character, we're so excited to welcome Tabitha and her family to our Waves soccer family!"
Won the state and national cup … Made it to the playoffs for academy, and semifinals in regionals … Invited to ODP tryouts twice … An honor roll student at Carlsbad High.
Siriani says: "I chose to attend Pepperdine University due to the outstanding environment. Academically it will challenge me to learn and work really hard toward my career goals. The team and coaches have shown me what true team unity looks like and I could not be more excited to be part of it. I cannot wait to push myself mentally and physically all while making fantastic memories with new lifelong friends."
Ward says: "Our final recruit is an amazingly strong woman of character and player. Ashlyn is a talented and tough central defender from the former LA Galaxy San Diego DA program, now currently known as City SC. She first came onto our radar after we had recruited Erin Sinai from the same club and coach — the amazing Courtney Drummond — a few years back. We told Court we were looking for a central defender from the class of 2021 and she put Ashlyn on our radar … the rest as they say is history. A no-nonsense athlete who has competed at the highest level in the country over the course of the last few seasons, Ash is a great 1v1 defender, good in the air and a great reader of the game. She will add much-needed quality and depth to our back row as we graduate three senior defenders after this spring season. Besides possessing a warrior mentality on the field, Ash is an amazing fit for our team off of it as well. She is a very accomplished student and we are so excited to add Ashlyn and her family to our Waves family next fall!"