SMU women's soccer team signs four to National Letters of Intent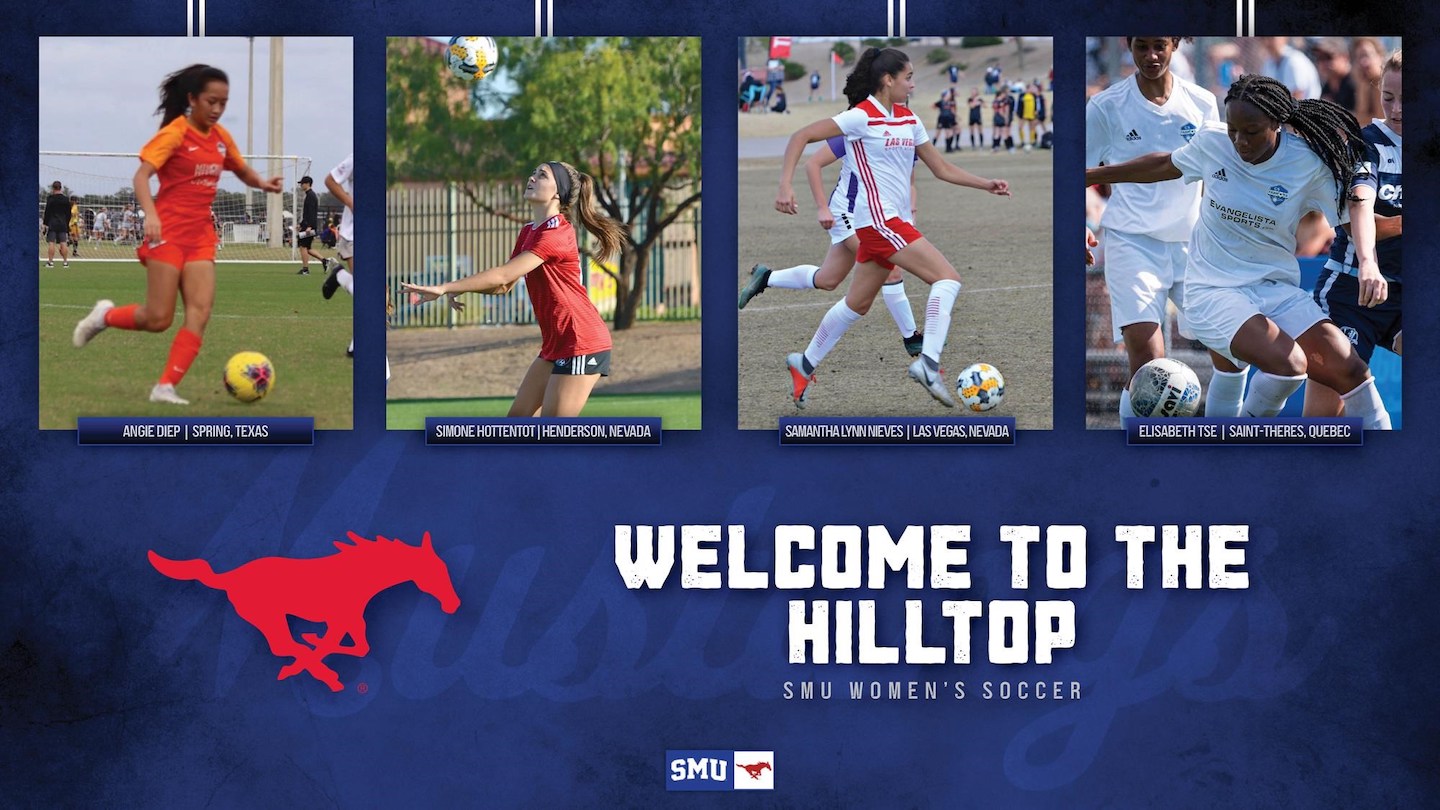 Angie Diep, Simone Hottentot, Samantha Lynn Nieves and Elisabeth Tse have signed National Letters of Intent to join the SMU Mustangs beginning with the 2021-22 season, head coach Chris Petrucelli announced.
"This is a talented group," said Petrucelli. "The overall level of athlete will enhance our team immediately. Each one of them brings specific skills that will play well in college soccer. I'm looking forward to working with them."
Angie Diep, F, 5-2, Spring, Texas (The Woodlands HS)
Simone Hottentot, F, 5-10, Henderson, Nevada (Coronado HS)
Samantha Lynn Nieves, D, 5-7, Las Vegas, Nevada (Bishop Gorman HS)
Elisabeth Tse, D, 5-8, (Saint-Therese, Quebec / Lyon, France)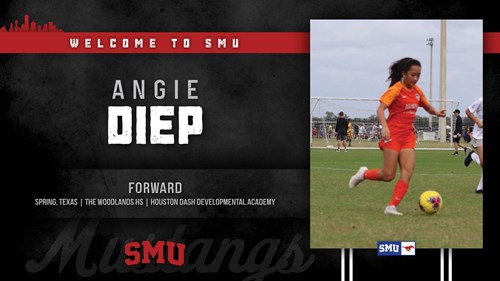 Angie Diep is a forward from Spring, Texas. She played for Houston Dash Developmental Academy, and helped them reach the Final Eight of the DA Cup for the United States Soccer Development Academy. She was named to the Top Drawer Soccer Academy top goal scorer list. In 2018-19, she had 25 goals, then 12 goals in a shortened 2019-20 season. She was invited to the U.S. Soccer training centers from 2016-18.
"I was very attracted to SMU because of the amazing academics as well as the beautiful campus. The exceptional soccer program accompanied by their welcoming coaches made the decision to come here so much easier." – Angie Diep
"I've been playing soccer since I was 4-years-old and the ball has never left my feet since. It's the sport that I love and has helped me not only grow as a player but as a person and will continue to build my success." – Angie Diep
"Angie is a talented player who has consistently scored goals in her career. Her finishing ability is excellent. She ends up in good positions because of her willingness to work." – Chris Petrucelli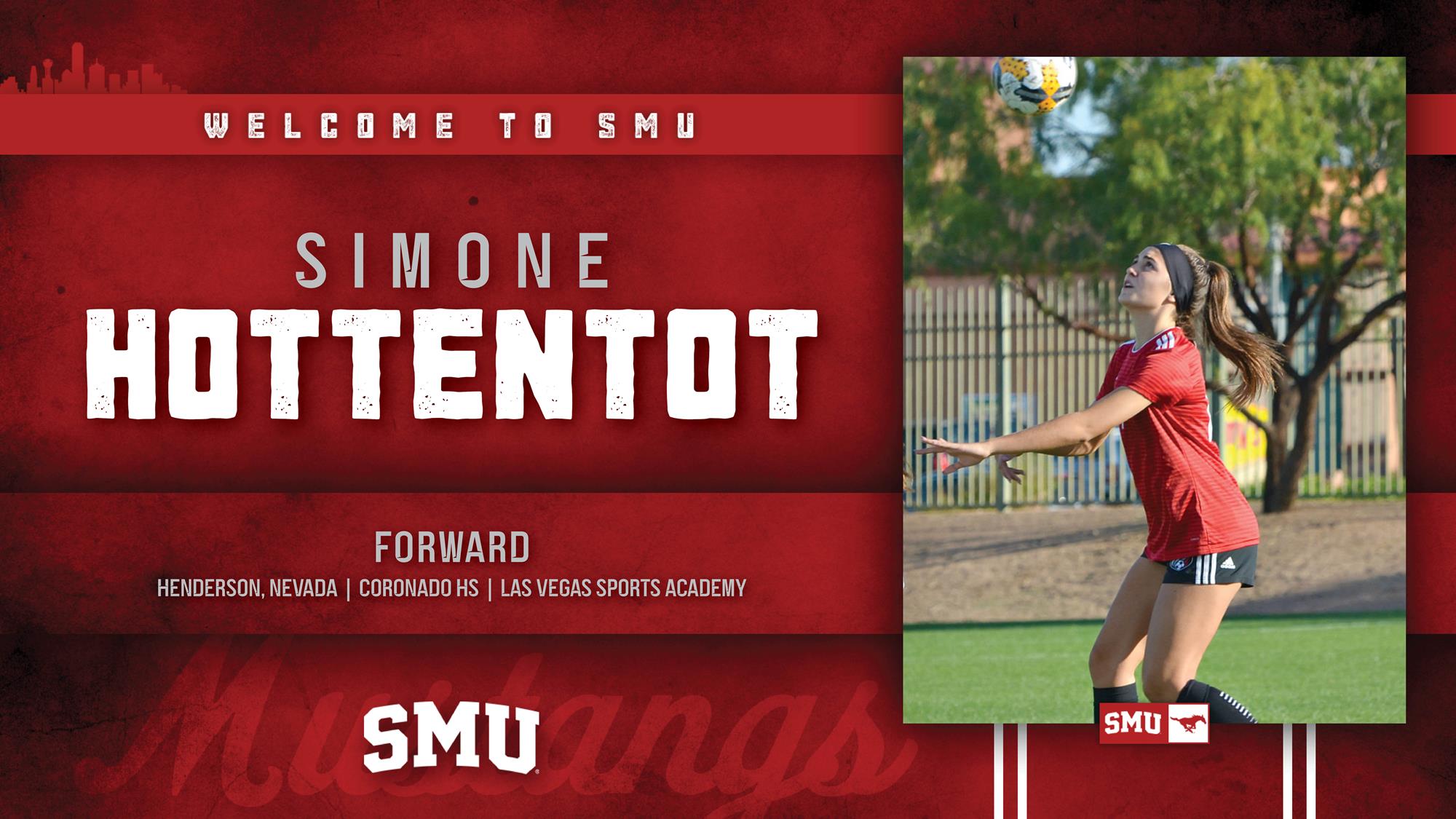 Simone Hottentot is a forward from Henderson, Nevada. As a junior, she helped Coronado High School win the Desert League title and reach the Nevada state championship. She played for Las Vegas Sports Academy, finishing third at the 2018 and 2019 national championships.
"I was attracted to SMU because they have really good soccer team. I loved the campus and the southern hospitality. As I hope to be majoring in business, I was really attracted to the fact that the Cox School of Business is one of the top business schools in the country." – Simone Hottentot
"I started playing soccer when I was three, but only started to fall in love with the game when I was in sixth grade. The transition to club heightened my passion for the game. That was when I knew I wanted to play college soccer. To be offered the opportunity to do so at such an amazing school like SMU is a dream come true." – Simone Hottentot
"Simone is an athletic defender. She can play both centrally and wide. She has the speed and stamina to get forward and cause problems. She also has a long throw in, which is a useful tool in our game." – Chris Petrucelli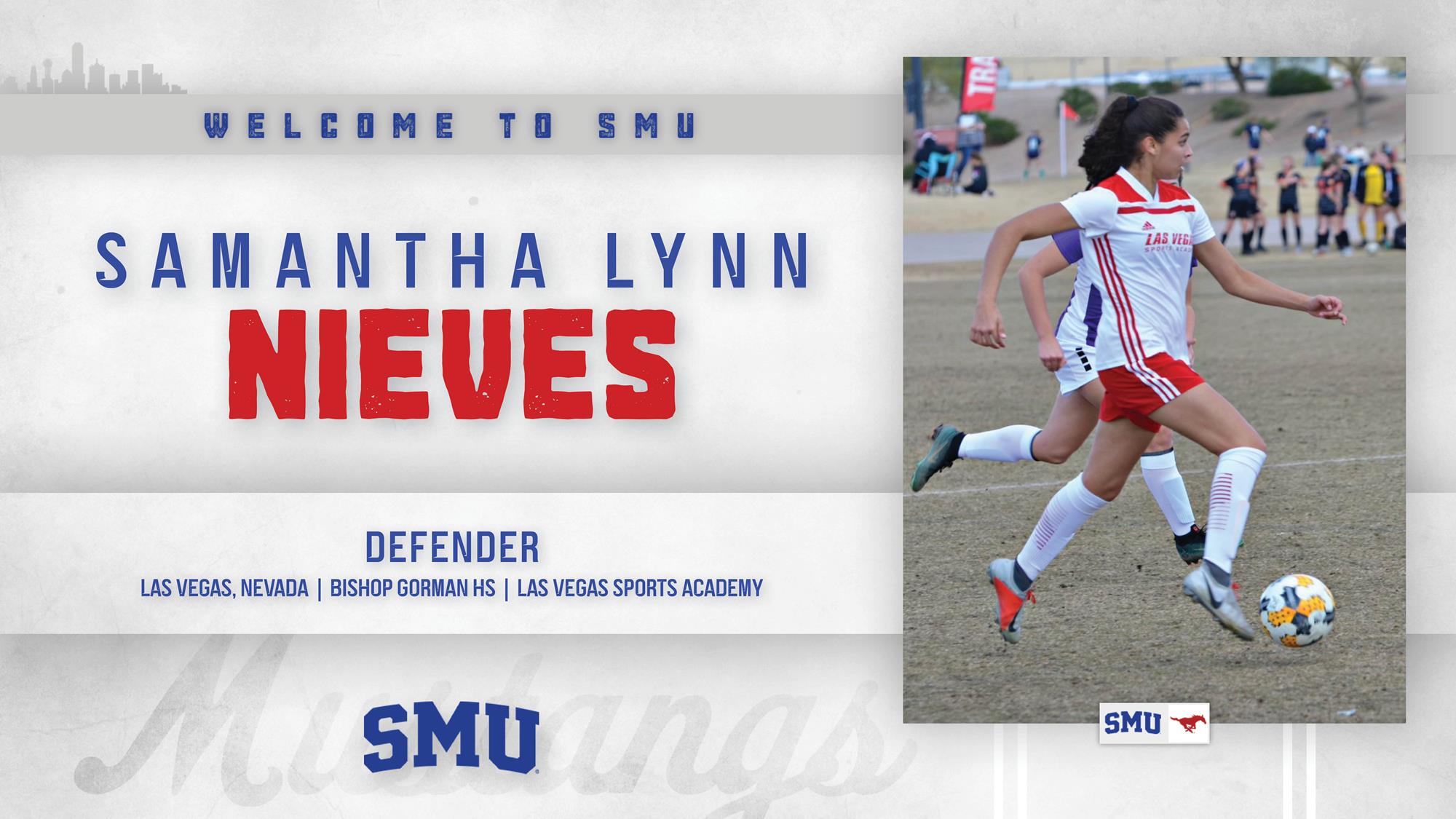 Samantha Lynn Nieves is a defender from Las Vegas, Nevada. She helped Bishop Gorman High School to a 2017-18 Nevada State Championship. She was a three-sport athlete, also earning letters in basketball and track and field. She was also the basketball defensive MVP and part of two track relay school records. She played for Las Vegas Sports Academy, winning the 2017 national championships and finishing third at the 2018 and 2019 national championships.
"There are so many different things that attract me to SMU. Starting with its location, I love Texas and the energy that it cultivates. I also am so impressed by the soccer program and the culture that lives within it. The school gives off an inspiring and productive energy that attracted me to it." – Samantha Lynn Nieves
"Soccer has taught me that consistency creates success and that as long as I'm doing what I love I'll always find happiness." – Samantha Lynn Nieves
"Samantha is a dynamic wide player. She's excellent in 1-v-1 situations. She can set up and score goals as well. She's got speed and deceptiveness that serves her well in attacking spaces." – Chris Petrucelli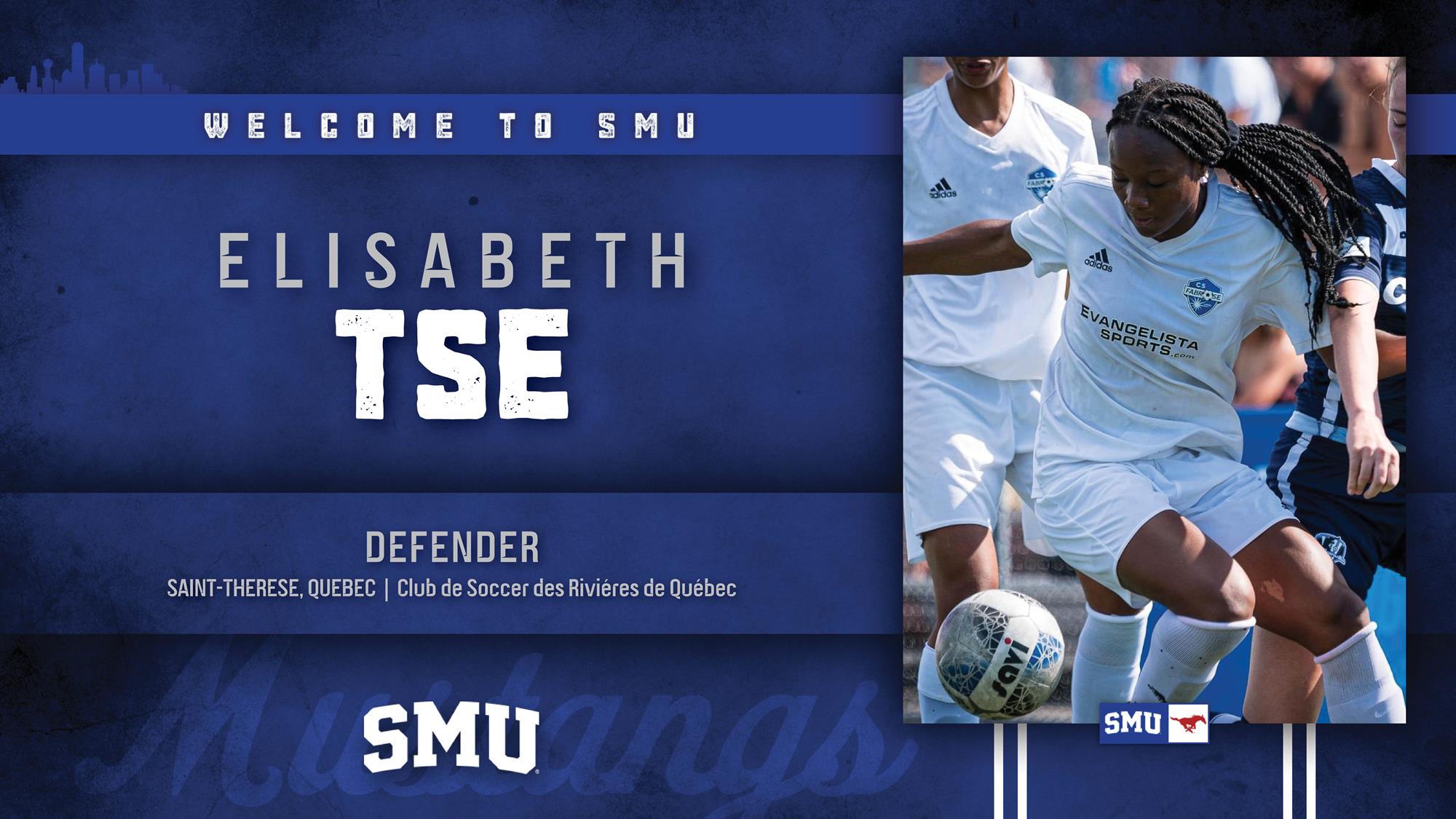 Elisabeth Tse is a defender that has played for the U17 and U20 Canadian National Teams, helping the program finish third in CONCACAF in 2018. She played for Club de Soccer des Rivieres de Quebec. In 2017, her Quebec Tea U18 won the Canada Games in Winnipeg. In 2018, she helped Dynamo de Quebec win the Quebec Premiere League. In 2020, her Club de Soccer Fabrose squad finished second in the Quebec Premiere League.
"I was attracted to SMU because I've always wanted to go to a good academic and athletic school and I know that SMU is a great place for that. I Also really liked the campus when I came on my visit." – Elisabeth Tse
"I started to play soccer because I wanted to do like my big brother. I remember when I was younger I would always follow him with my ball to his team practices and play on the sidelines. After school I would also go play with him and my dad. Since my beginnings, they always supported me, motivated me and thought me new things to become a better soccer player." – Elisabeth Tse
"Elizabeth is a highly decorated defender. She's a top-level athlete who has developed into an outstanding soccer player. Her experience in the Canadian National Team Program has prepared her well for the next level." – Chris Petrucelli