Kansas State Soccer announces signing of six freshmen, two transfers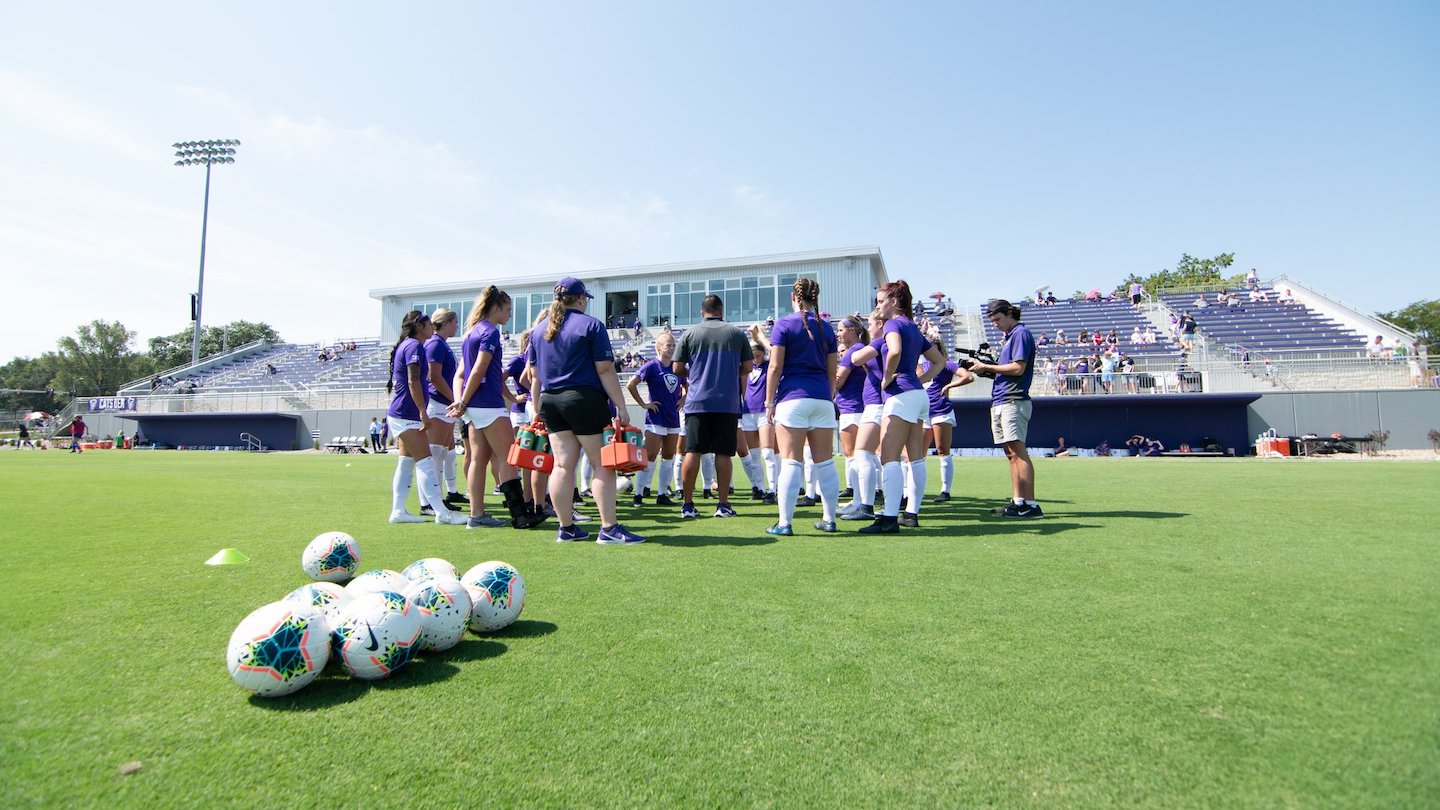 MANHATTAN, Kansas – Kansas State soccer head coach Mike Dibbini has restocked the roster for the 2021 season and beyond with the signing of six student-athletes to National Letters of Intent during the November signing period.
The six student-athletes that will compete for the program in its sixth season are: Adah Anderson (Kansas City, Missouri), Katy Coffin (Grand Junction, Colorado), Kenzi Gillispie (Newton, Kansas), Juliann Kidd (Houston, Texas), Joey Lujan (Gilbert, Arizona) and Brooke Sullivan (Wichita, Kansas).
Dibbini has also added a pair of transfers to Kansas State's roster: defender Kursten von Klahr (North Carolina State) and midfielder/defender Rebecca Bartosh (Pittsburgh).
"Our 2021 class brings good balance and depth to our current returning roster," said Dibbini about the additions for 2021. "Having lost so many key players to graduation, this is a great group to come in and compete with an experienced returning roster. This class brings versatility in all positions. We are looking forward to their growth in our program."
Anderson is a midfielder and three-year letter winner for Park Hill South High School in Riverside, Missouri. She is a two-time All-Suburban Red Conference First Team selection, a two-time All-District 15 selection, a 2019 Class 4 Region 4 First Team honoree and a 2019 Missouri Soccer Coaches Association (MSCA) Class 4 All-State Honorable Mention recipient. During her career with the Panthers, Anderson has tallied 14 goals and 36 assists.
"Adah Anderson has the ability to manage a match in the midfield and add some depth to our team," said Dibbini. "Her calm, composed playmaking abilities and her shooting from distance will be helpful to our team. She reads the game well and will help connect our lines."
Coffin is a midfielder and two-time letter winner for Grand Junction High School in Grand Junction, Colorado. During her two seasons, Coffin tallied 12 goals and 23 assists in 29 matches played. She is a two-time All-Southwestern League selection and ranked among the top 3 for assists in the state of Colorado in Class 5A in the 2018 season with 16 assists.
Coffin has also had an extensive club soccer career. She started with Fire FC in Grand Junction, Colorado, and also played with the Colorado Storm in ECNL. She then moved to Denver, Colorado, to play for the Colorado Rapids Youth Soccer Club for the 2003 Girls ECNL team.
In addition to her club teams, Coffin also played in the Olympic Development Program in the state of Colorado and within Region 4. In 2019, she was promoted to the 2003 top-12 roster for the US Youth Soccer ODP West Championships Event.
For two seasons, she was among the top-18 players in the western United States and played for the Region 4 team in Boca Raton, Florida. During the 2019 event, Coffin was named on the 2003 top-12 roster for the US Youth Soccer Thanksgiving Interregional Event.
"Katy Coffin is an artist on the field," stated Dibbini. "She can play multiple positions and her understanding of the game will be a smooth transition. We are looking forward to watching her growth within the program."
Gillispie is a defender from Newton, Kansas, who plays for Circle High School. Gillispie started her high school career at Newton High School, where she was named a 2018 All-AVCTL Second Team selection and was a 2018 All-State Honorable Mention.
Gillispie is also a standout on the tennis court at both Newton and Circle Highs. In 2018, she finished third in regional doubles play and was a state qualifier and medalist.
In the fall of 2020, Gillispie helped Circle High to a second-place Kansas Class 4A state runner-up finish in tennis. She was named to the 2020 Wichita Eagle All-Metro Second Team with her doubles partner, Lana Chase, and the pair captured a regional title before falling in the state championship match. The duo recorded a 23-2 record in their first season together.
"Kenzi Gillespie is an athletic defender that has the ability to contribute right away," said Dibbini. "Her 1v1 defending is very good and her ability to play out of the back is solid. She will bring some confidence and strength to our back line."
Kidd is a defender from Houston, Texas, and competes for Memorial High School. Kidd is a two-time All-District selection with a second team honor in 2018-19 and first team recognition in 2019-20. In three seasons, she helped the Mustangs to an overall record of 63-5-2 record and the UIL 6A state title in 2017-18 and a pair of district titles in 2018-19 and 2019-20.
"Julianne Kidd is a tenacious, blue collar defender that is ready to play at the Big 12 level," said Dibbini. "She has no fear defending 1v1 and even can contribute on attacking set pieces with her extra special long throw."
Lujan is a midfielder from Gilbert, Arizona, and plays for Perry High School. In her career with the Pumas, Lujan has tallied 26 goals and 36 assists in 60 matches played.
At the conclusion of her 2019-20 season, Lujan was named to the TopDrawerSoccer.com All-State Team and Winter All-West Region Team. She also was selected to the AZPreps365.com Class 6A All-Conference First Team for the second straight season and the AZ Central 2019 Player of the Year.
"Joey Lujan brings a presence in the midfield," stated Dibbini. "She is a two-way player. She is able to  start the attack by her passing ability and ability to create dangerous long-range shooting. She also is solid in the air and can be an asset with her aerial battles especially in the Big 12."
Sullivan is a forward who has played for two seasons in the Kansas Olympic Development Program (ODP). Before joining Kansas ODP, Sullivan played for Goddard High School. She was named to the All-AVCTL Division II First Team in her freshman season.
Sullivan also competes for Goddard on the basketball and football teams. In her three seasons as a letter winner with the basketball team, Sullivan is a three-time Class 5A All-State Honorable Mention selection and helped the Lions to a sub-state title.
"Brooke Sullivan is a goal scorer and can create goal scoring chances for our front line," said Dibbini. "She has some deceptive ability in breaking lines and getting behind defenders. We are looking for her to contribute in the attack."
Kansas State 2021 Signees
Name, Position, Hometown, School
Adah Anderson, M, Kansas City, Missouri, Park Hill South HS
Rebecca Bartosh, M/D, Hiawatha First Nation, Ontario, Canada, Pittsburgh/Thomas A. Stewart
Katy Coffin, M, Grand Junction, Colorado, Grand Junction HS
Kenzi Gillispie, D, Newton, Kansas, Circle HS
Juliann Kidd, D, Houston, Texas, Memorial HS
Joey Lujan, M, Gilbert, Arizona, Perry HS
Brooke Sullivan, F, Wichita, Kansas, Goddard HS
Kursten von Klahr, Defender, Kannapolis, North Carolina, North Carolina State/Northwest Cabrrus HS