Michigan State announces addition of four men's soccer recruits for 2021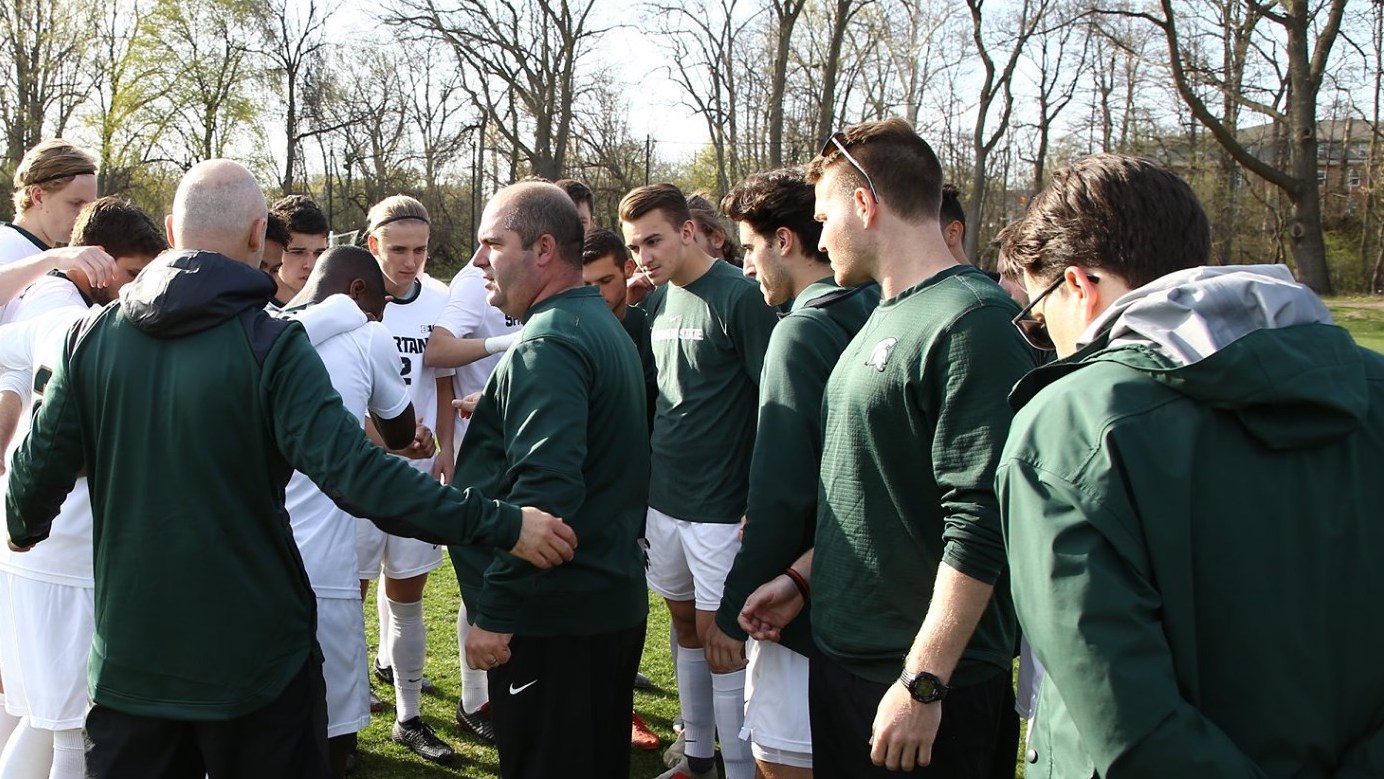 EAST LANSING, Mich. – Michigan State men's soccer head coach Damon Rensing announced the addition of four players as part of the 2021 recruiting class.
The Spartans will welcome Josh Adam (Brighton, Michigan), Zack Babiak (Rochester Hills, Michigan), Efosa Emovon (London, Ontario) and Zac Kelly (Holt, Michigan) to the 2021 roster.
"We are really excited to welcome these four student-athletes to the Michigan State soccer family as a part of the 2021 class. All four of these individuals bring something different to the program from a soccer and personality standpoint," Rensing said. "However, they share a common thread of being good students, high character people, hard-working individuals and great teammates. These quaalities are what have made MSU soccer successful, and this group and potential additions to the 2021 class will hopefully continue this success moving forward. This isn't the biggest class, but it is very high in quality. Recruiting coordinator and assistant coach Joe Ahearn has done a great job, along with assistant coaches TJ Kolba and Nick Barry."
2021 Michigan State Soccer Signees

Josh Adam
Fr., D, 6-2, Brighton, Michigan/Brighton High School
Prior To MSU: Played at Brighton High School for head coach Mark Howell … Scored eight goals and added eight assists during his senior season … Was named to the Livingston County Player of the Year … Named to the all-county team from 2018-20 … Captured third-team all-state honors in 2019 … Played club for the Novi Jaguars, where he is teammates with Zac Kelly … Plans to major in mechanical engineering … Son of Bill and Mandy Adam … His father, Bill,  played soccer and football at Eastern Michigan … Brother, Colin, plays soccer at Lawrence Tech.
Coach Rensing on Adam: "Josh has all the tools to be a quality Big Ten center back. He is athletic and good on the ball. He can defend on the ground or in the air. On top of that, Josh is a leader and a great communicator which is essential in the center back position. We have followed Josh for several years and are really excited to get started with him. He has played up in age the last couple of years for the Novi Jaguars who do a great job and have produced fellow Spartans Jimmy Hague and Ken Krolicki. We can't wait to add Josh to an already good group of defenders here at MSU."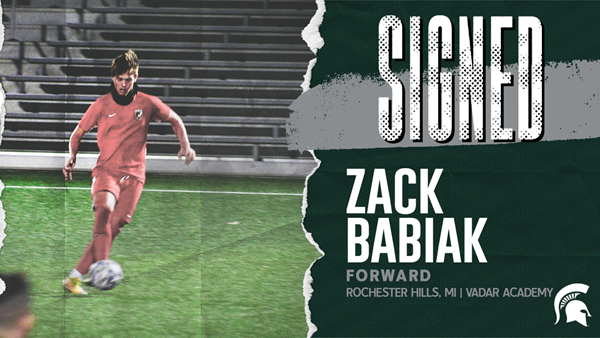 Zack Babiak
Fr., F, 5-11, Rochester Hills, Michigan/Vardar Academy
Prior To MSU: Currently plays for Vardar Academy … As a junior, scored 10 goals with four assists before the cancellation of the spring season due to COVID-19 … Was named captain of the U15 Vardar Academy team … During his sophomore season, traveled to Sweden to play in the Youth Club World Cup with Coerver Michigan … Plans to major in marketing … Son of Glenn and Monika Babiak.
Coach Rensing on Babiak: "Zack is an attacking player who is versatile. He can play the number 9 or number 10 position. We like his ability to play back to goal as he is a strong player. Zack can either set up a goal for his teammate or finish it off himself. He has good instincts and always seems to find himself in front of the goal. Zack comes from a Spartan Family. It's always great to have someone who grew up with a passion for the Green and White! Zack played at Vardar alongside incoming freshman Efosa Emovan. We have had countless Vardar players not only come here and succeed at MSU, but graduate and play in MLS."
Efosa Emovon
Fr., F, 6-0, London, Ontario/St. Thomas Aquinas
Prior To MSU:  Currently plays for Vadar Academy, earning ECNL Midwest All-Conference honors during the 2018-19 season … Last season, played in the Lakewood Ranch, Florida Showcase … Also played basketball as a freshman and sophomore … Plans to major in kinesiology … Son of Osayande and Taiwo Cromer … His elder brother, Esosa, plays soccer at UConn.
Coach Rensing on Emovon: "Efosa is a forward who scores goals. He is an athletic presence with pace that can stretch defenses and push them back. He can score off the dribble or off service from a teammate. Efosa has a good work rate both on and off the ball. Efosa has the ability to impact the Big Ten right away. He has a great personality and competitive spirit. He also comes from the Vardar Club and joins current fellow Canadian players Dante Morrissette and Gianni Ferri."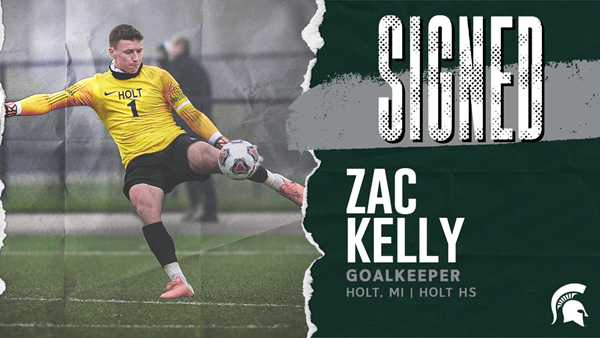 Zac Kelly
Fr., GK, 5-11, Holt, Michigan/Holt High School
Prior To MSU: Played at Holt High School for head coach Aaron Smith … As a senior, earned  all-district and all-conference honors … Also earned first-team all-state accolades as well as being named to the Dream Team along with all-regional team … Helped lead Holt to the district championship … Also earned first-team all-state and MVP honors as a junior … As a sophomore garnered, all-region and third-team all-state honors … Played club for Novi Jaguars, where he was teammates with fellow Spartan soccer signee Josh Adam the last two seasons … Plans to major on turfgrass management … Son of Adam and Amy Kelly.
Coach Rensing on Kelly: "Zac is the complete goalkeeper. He organizes and communicates. He has a presence and controls his box. He is a good shot stopper, is good with his feet, and can distribute. Zac is a leader and a winner. It is always great to add a local product to the MSU Soccer Family. I have known and followed Zac for years. Zac is a product of Holt High School which also produced MSU standout Josh Barens. Zac played club for Novi Jaguars and is teammates with Josh Adam. Zac will add to a good group of goalkeepers."