Indiana Hoosiers men's soccer coach Todd Yeagley adds seven to 2021 roster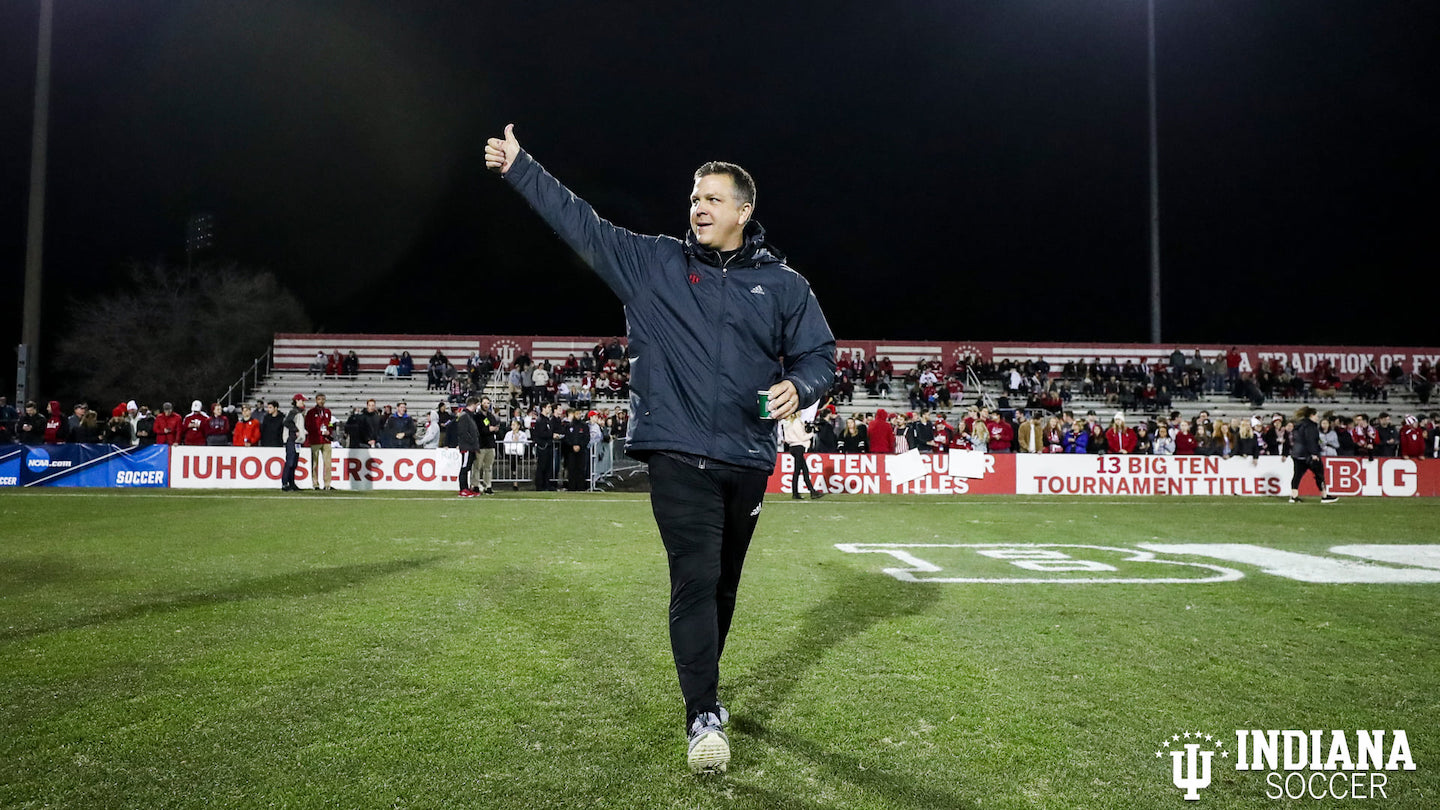 BLOOMINGTON, Ind. – Indiana University men's soccer head coach Todd Yeagley has announced the addition of seven student-athletes for the 2021 season.
"We are very excited with our 2021 class," Yeagley said. "These young men will enhance our strong culture at IU with their passion, strong character and winning mentality. Positional versatility, strong leadership and dynamic attacking abilities are all key characteristics of the 2021 recruiting class. With our talented incoming class and our experienced roster of returning players, we feel our program is well positioned to build upon our proud Tradition of Excellence and compete for championships."
The men's soccer program continues to reload with talent every season via high-level recruiting. This class ranks ninth nationally, according to the Top Drawer Soccer rankings. The ranking comes after stacking back-to-back top-ranked classes in both 2019 and 2020.
The Hoosiers reached the NCAA Tournament for the 33rd-straight season in 2019 and for an NCAA-record 43rd time in program history. The '19 season also brought home the 16th Big Ten Conference Regular Season Championship and 14th B1G Tournament Championship in program history.
SAM BENNETT
DEFENDER | 6'0 | 180
Hempfield High School | Lancaster, Pa.
PA Classics
Made appearances in 88 career matches for Steve Klein and the PA Classics including 86 starts along the backline… named team captain of his club… USMNT Training Center attendee… tallied eight goals with PA Classics… two-time letterwinner for the Hempfield basketball team… son of Matt and Amy Bennett… has one sister, Lindsey, and one brother, Drew.
COLEMAN GANNON
MIDFIELDER | 5'7 | 140
Capstone Academy | Atlanta, Ga.
Atlanta United 2
Ranked the 36th recruit nationally by Top Drawer Soccer… tallied 16 appearances with Atlanta United 2 out of the USL… son of Michael Gannon and Chanley Small… has one brother, Aidan, and one sister, Payton.
MASON HENDERSON
FORWARD | 6'0 | 160
Marquette University High School | Franklin, Wisc.
FC Cincinnati Academy
Named all-conference in 2018-19 for Steve Lawrence at Marquette University High School after scoring 10 goals and recording seven assists… the Hilltoppers have won five-straight state titles, including the '18/'19 season… led Minnesota United in goals during the 2019 season… son of J. Todd and Latoya Henderson… has one younger sister, Ava.
PATRICK McDONALD
MIDFIELDER | 5'11 | 140
Page High School | Greensboro, N.C.
North Carolina Fusion/Indy Fire Academy
Signed an amateur contract with Indy 11 this fall and is now competing with the Indiana Fire Academy… captain of his NC Fusion team in 2019…  played competitive tennis in his youth and placed second in the state of North Carolina… son of Mark and Kelly McDonald… has one brother, Samuel.
TOMMY MIHALIC
FORWARD | 5'11 | 165
Niles North High School | Skokie, Ill.
FC United
Made six caps with the u17 Croatian National Team… competed in the u19 Budesliga for FC Augsburg… led FC United in goals in the 2018 season… son of Mario and Ivana Mihalic… has one brother, Nick, the punter for Western Michigan, and one sister, Nikolina.
SAMUEL SARVER
FORWARD | 5'9 | 140
Beachwood High School | Beachwood, Ohio
Columbus Crew SC Academy
Ranked the 32nd recruit nationally by Top Drawer Soccer… played in 55 matches for the Crew SC Academy with 44 starts… tallied 44 goals in the academy ranks… competed with the u17 US Youth National Team at the Nike Friendlies and 4 Nations Tournament in Czech Republic… son of David and Lori Sarver.
GRANT YEAGLEY
MIDFIELDER | 6'0 | 160
Bloomington South High School | Bloomington, Ind.
Alliance FC Academy
Played for Kevin Sparks at Bloomington South High School… led the Panthers to four-straight sectional titles and the program's second ever semi-state appearance… helped guide Alliance FC to the 2019 state title in the club ranks… son of Indiana Men's Soccer Head Coach Todd Yeagley and Suzy Yeagley… has two brothers, Ben (currently on the soccer team) and Jay.