Northwestern men's soccer coach Tim Lenahan to retire after Spring 2021 season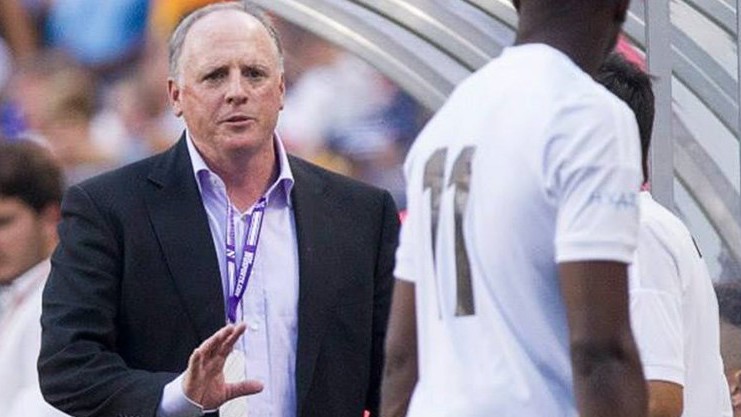 EVANSTON, Ill. — Northwestern head men's soccer coach Tim Lenahan, the winningest manager in program history, announced that the upcoming Spring 2021 season, his 20th with the Wildcats, will be his last.
"To say I'm proud of what we've accomplished over nearly 20 years would be an understatement," Lenahan said. "I could never have dreamed of the successes we've had, thanks to all the great players who believed in what was possible at Northwestern. It was important to me, after a few difficult years, to rebuild the program back to the elite of the Big Ten. Following a promising season in 2019, and with many key contributors returning this spring and for the next several years, I am excited to watch another golden era of Northwestern men's soccer. Most importantly, I am really looking forward to coaching our current team in the winter and spring of 2021 toward our goal of a Big Ten championship. I'm so appreciative to Jim Phillips for this opportunity to celebrate so many great Wildcats who have contributed to our culture of success."
Lenahan has built Northwestern into a national power and delivered immense success over two decades in Evanston. He guided the Wildcats to nine NCAA Tournament appearances in an 11-season span from 2004 to 2014, and those teams made four trips to the Round-of-16 and two appearances in the national quarterfinals. He led the 'Cats to Big Ten regular-season crowns in 2011 and 2012, and the 2011 campaign saw the Wildcats achieve the program's first double, adding a Big Ten Tournament title as Lenahan was honored as the Big Ten Coach of the Year.
"For nearly 20 years, Tim Lenahan has recruited and developed some of the best and brightest student-athletes in college soccer," said Combe Family Vice President for Athletics & Recreation Jim Phillips. "He set a foundation that produced championships, Major League Soccer talent, future head coaches, and countless young men who are succeeding in so many industries around the world. Our entire Wildcats family is grateful for all he's accomplished, and the base he will leave his successor to build upon for future success at Northwestern. I'm so fortunate to have had him at the helm of our men's soccer program throughout my time in Evanston, and we look forward to properly celebrating his Wildcats career this spring at Martin Stadium."
Over 19 seasons, Lenahan has mentored four NSCAA All-Americans, eight Great Lakes All-Region selections and 44 All-Big Ten selections, including 20 First Team honorees. Brad Napper, Brad North, David Roth, Matt Eliason, Chris Ritter, Nikko Boxall, Joey Calistri and Tyler Miller highlight a distinguished group of Wildcats who have earned multiple First Team All-Big Ten nods under Lenahan. He also coached three Big Ten Freshmen of the Year – Gerardo Alvarez (2003), Piero Bellizzi (2007) and Joey Calistri (2012), who went on to play in MLS for the Chicago Fire.
That group also includes multiple Big Ten individual award winners. In 2012, Ritter won Big Ten Defender of the Year and in 2014 Boxall won the same award. In 2014, Miller was recognized as the Big Ten Goalkeeper of the Year, and a Third Team NSCAA All-American. All three went on to compete in the nation's top division, Major League Soccer. Ritter made the first MLS start of any Northwestern alumnus in 2014 for the Chicago Fire and, in 2019, Miller backstopped LAFC to the Supporters' Shield.
In addition to his work developing student-athletes on and off the field, Lenahan has grown a prolific coaching tree with eight former assistants becoming head coaches at Division I schools. His former assistants include current head coaches Jeff Haines (Stockton University), Fernando Barboto (NJIT), Dennis Bohn (Lafayette) Justin Serpone (Amherst), Erik Ronning (Colgate), Tom Carlin (Villanova), Andy Fleming (Xavier), Rich Nassif (Benedictine University), Neil Jones (Loyola Chicago), Mike Babst (Davidson) and Mark Plotkin (DePaul).
In addition, Red Bull Salzburg manager Jesse Marsch, the first American to manage a team in the Champions League group stage, got his start on the bench under Lenahan in 2001. In Lenahan's debut season in Evanston, Marsch was a volunteer assistant coach while also playing for the Chicago Fire. Additionally, Marsch won the MLS Coach of the Year Award after guiding the New York Red Bulls to the 2015 Supporters' Shield.
Santiago Solari, who played for Lenahan at Stockton University, is the only college player in history to win a UEFA Champions League. He played the full 90 minutes in Real Madrid's victory in the 2002 final, and he assisted Zinedine Zidane's unforgettable game-winning volley. Solari enjoyed a 15-year career with stops at River Plate, Atletico Madrid, Real Madrid and Inter Milan. Solari went on to coach Real Madrid during the 2018-2019 season, leading them to a victory in the FIFA Club World Cup. The only two coaches in the Champions League with a college background share a common bond from their time in the NCAA: Tim Lenahan.
Lenahan's 177 wins at Northwestern are the most of any coach in program history, and he has finished with a winning record in 13 seasons. Combined with his time at Lafayette, where he made two NCAA Tournament appearances, and Stockton University, where he led the team to four NCAA Division III Tournament Appearances, Lenahan has earned 303 career wins. He is one of just two active coaches in the Big Ten to have surpassed the 300-win milestone.
In 2019, the Wildcats returned to the upper-tier of the Big Ten table and hosted a Big Ten Tournament quarterfinal. The campaign was highlighted by a 3-1 win at defending NCAA champion Maryland and the 300th win of Lenahan's career, a 2-1 overtime thriller against crosstown foes UIC.
Of the 2020 roster, 18 players have multiple years of eligibility remaining. In addition to three true first-years, Lenahan added a trio of graduate transfers to give the Wildcats the ability to compete for a Big Ten championship while developing the next great Northwestern generation.