Gonzaga women's soccer signs 10 class of 2023 recruits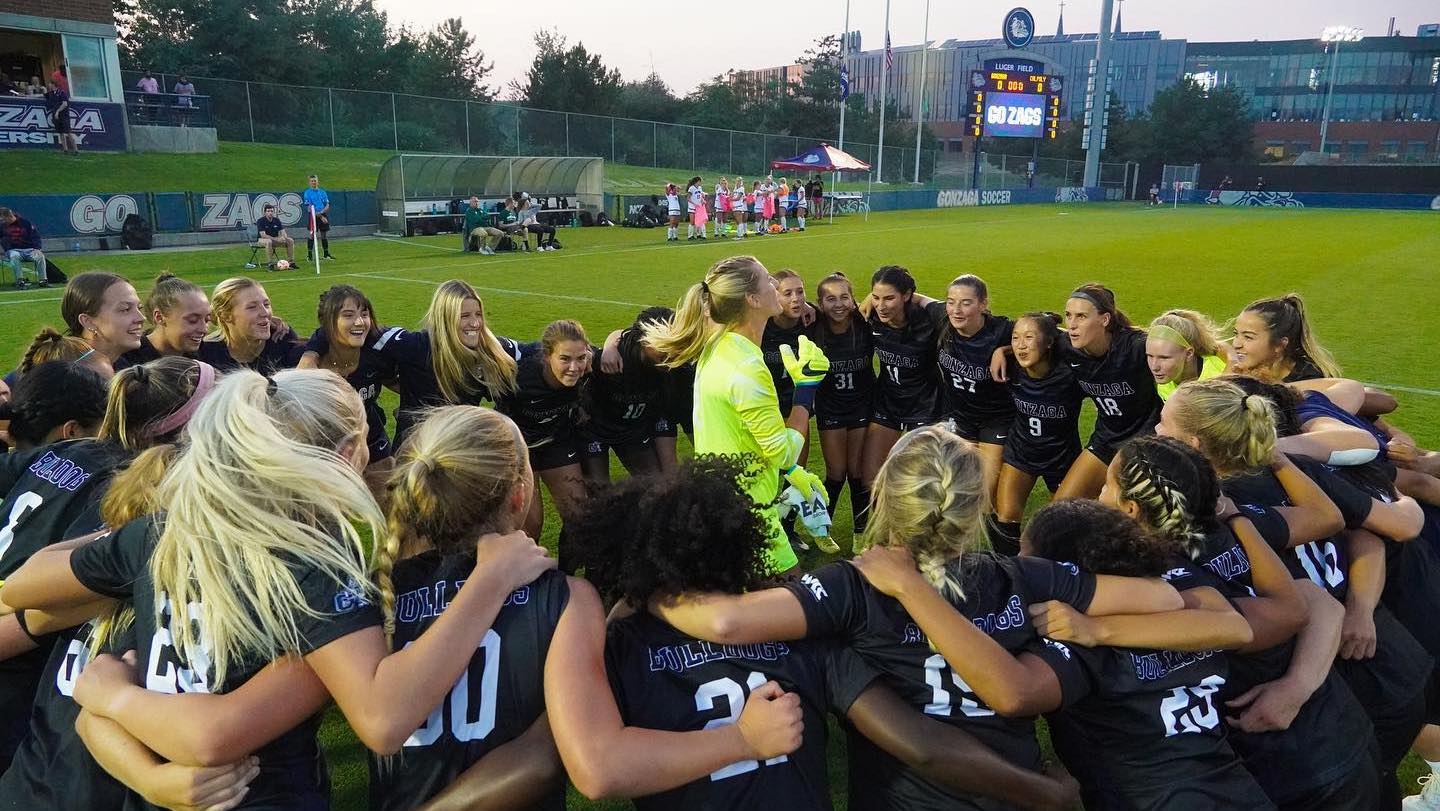 SPOKANE, Wash. – The Gonzaga University women's soccer team announced 10 additions to next season's roster.
"It's truly a great recruiting class, balanced, on both sides of the ball, and with great potential to take this program to another level," said Gonzaga Head Coach Chris Watkins.
See below for a look at each member of Gonzaga's 2023 signing class.
Mia Hashimoto
Centerback | Pearl City, Hawaii | Punahou School City / Leahi SC
Hashimoto joins Gonzaga from the Aloha State after a stellar defensive career at Punahou School City in Pearl City, Hawaii.
Hashimoto earned many honors throughout her prep career, including the Interscholastic League of Hawaii Defensive Player of the Year award, ScoringLive All-State Defensive Player of the Year award and was named to multiple All State first teams through various organizations.
Her dad, Dean Hashimoto, played baseball at the University of California, Berkely and has played in the College World Series. Mom, Sara, played soccer for Willamette University in Oregon.
Finley Heslam
Forward/Centerback | Portland, Oregon | Roosevelt High School | United PDX
Heslam brings an incredible athletic background to Gonzaga from Roosevelt High School in Portland where she was four-year varsity letter winner in soccer.
Heslam scored 32 goals throughout her career and was a four-year varsity starter for the Roughriders, earning 2nd-team all-league honors as a junior. She also was a four-varsity starter her for school's basketball team as a power and small forward.
With a GPA of 4.143, Heslam was named the MAC Scholar Athlete for the class of 2022.
Dad, David Heslam, was an all-conference basketball player at Carleton College in Northfield, Minn.
Olivia Lester
Midfield/Centerback | Las Vegas, Nev. | Sierra Vista High School / Las Vegas Heat
Lester comes to Spokane with a prep resume full of many accomplishments during her time at Sierra Vista High School.
A 2022 High School All American, Lester was recently named to the ECNL U-17 Southwest First Team All-Conference but has also been named a three-time First Team All Desert Region and All Southern Nevada member.
With a GPA of 4.3, Lester is a National Honor Society Student, a Good American Award recipient and will graduate with both an Advance Honors Diploma and College and Career Ready Diploma.
Lester's dad played basketball for both Skagit Valley Community College in Mt. Vernon, Wash. and Biola College in California.
Michaela McCollum
GoalKeeper | Portland, Oregon | Grant High School | Portland Thorns Academy
McCollum hails from the Rose City after spending three years at Grant High School where she was a stellar goalkeeper. In three years, she averaged an 82% save rate and allowed .62 goals a game. As a junior in 2021, she had career bests 91% save rate and allowed .34 goals, the lowest GAA in the state of Oregon among all 6A keepers.
In 2022, McCullom has an 86% save percentage and has allowed .88 goals a game. She has two completed two shutouts on records – a 0-0 tie against Lake Oswego and a 6-0 win over Roosevelt.
Competing with her club team, Portland Thorns Academy, ECNL, McCullom had a 90% save percentage and allowed .63 goals a game in 2021 and had an 86% save percentage and allowed .88 goals a game in 2022.
McCollom is currently on track to graduate at Valedictorian with a current GPA of 4.2. She's been a member of the Honor Society both her junior and senior years.
Her parents, Kell and Chip McCollum, were both collegiate rowers. Mom, Kelly, rowed for Loyola Marymount University in California and is a member of the LMU Hall of Fame. Dad, Chip, rowed for University of California, Berkeley and won three national championships with Golden Bears.
Kristen Puels
Forward | Goodyear, Ariz. | Millennium High School | SC del Sol
Puels brings her talents up north to Spokane from Arizona, where she was named Region Player of the Year for Millennium High School in the 2021-22 season.
Puels is outstanding the classroom, carrying a 4.6 GPA and is a member of Student Council and National Honor Society at her school.
Mom, Renee Puels, was a member of the United States Air Force Academy soccer team.
Shelby Runje
Forward/Midfield | Issaquah, Wash. | Issaquah High School / Crossfire
Runje hails from the west side of Washington in Issaquah where she was an outstanding prep soccer player for Issaquah High School.
2022 High School All American, Runje totaled 40 goals and 27 assists in 37 career games with the Eagles and has been named a 4A All-State First Team selection and KingCo 4A Offensive Player of the Year in 2021.
Abbie Sicilia
Centerback | Spokane, Wash. | West Valley High School / Spokane Sounders
Sicilia is a local product out of West Valley High School, where she earned All GSL Defensive MVP and 2nd Team All State for Class 2A in 2022. She was also selected to the GSL All Defense Teams in '19 and '21.
Sicilia carries a 4.0 GPA and was a member of the National Honor Society and a Scholar Athlete at West Valley.
Sicilia's mom, Megan Wikstrom Sicilia, was a softball player at the University of Washington from '92-'95.
Emily Todd
Forward/Midfielder | Spokane, Wash. | North Central High School / Spokane Sounders
Todd comes to Gonzaga right from the heart of Spokane at North Central High School where she spent four years on the varsity soccer team.
Todd totaled 36 goals over her four-year career with the Wolfpack and was named to the GSL All League First team twice as a senior and sophomore.
Outside soccer, Todd was honored as the top editorial amongst three classes at North Central and by the editor of the Spokesman Review, Rob Curley, which found herself and three others on the front page of the Spokesman Review.
Emelia Warta
Mid-Fielder | Vancouver, Wash. | La Salle Catholic College Preparatory / Portland Thorns
Warta joins Gonzaga after a stellar career at La Salle Catholic College Preparatory in Milwaukie, Oregon. In three years of high school soccer, Warta was a three-year varsity letter winner and tallied 63 goals and 17 assists.
Warta earned many awards and honors throughout her prep career, including being named to the Portland Thorns Academy's First Team all Northwest Conference, breaking her school's single season goal scoring record (32) and was an OSAA State final player of the game. She also participated in track and field where she helped her school's 4×100 team to a 5A state championship in 2020.
Warta's family have also competed at the collegiate level as her dad, Greg Warta, was a soccer player at George Fox University and Saint Mary's College; mom, Jessica Warta, ran track and cross country at Washington State University; and sisters, Allison Warta, played soccer at Regis University in Denver, Colo., and Gabby Warta, played soccer at Idaho State University.
Makayla Werner
Midfield | Rockford, Wash. | Freeman High School / Crossfire
Werner is another talented local product from the Spokane region out of Freeman High School. As an attacking midfielder, Werner has totaled 63 goals and 69 assists throughout the first three years of her high school career.
Werner has been named a member of the Northeast 1A League All-Conference teams three times and has also been awarded an Athletic Academic Award three times while honing a 4.0 GPA.  Lead Freeman High School for 3 years in Assists.