Oregon State hires Penn State's Greg Dalby as men's soccer head coach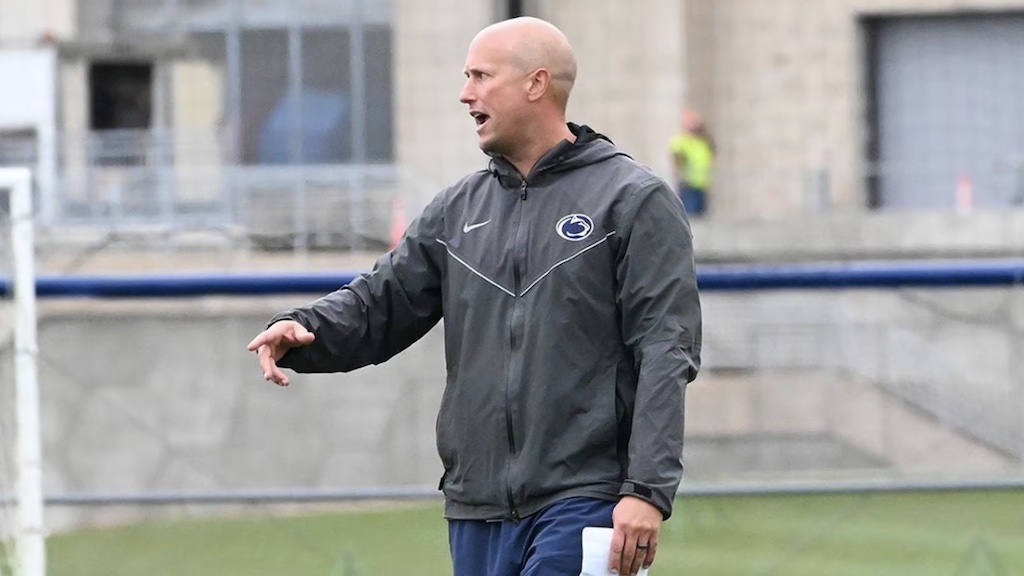 CORVALLIS – Oregon State Athletics announced that Greg Dalby has been hired as the fifth head coach of the Beaver men's soccer program, Vice President and Director of Athletics Scott Barnes announced.
Dalby has spent the last five seasons as a member of the Penn State staff, most recently as Associate Head Coach. During his tenure, Dalby helped the Nittany Lions earn a top-16 seed in the NCAA Tournament three times, and guided PSU to the Big 10 regular season and tournament titles in 2021.
"I am thankful to Scott Barnes and the search committee for providing me with the opportunity to lead the Oregon State men's soccer program," Dalby said. "I would also like to thank Penn State for an incredible five years and specifically Jeff Cook for being a great leader and mentor. I truly believe that Oregon State is an elite soccer program with a great culture. My family and I cannot wait to join Oregon State University and become a part of the Corvallis community.
"This opportunity represents everything I love and am passionate about in collegiate athletics: competing at the absolute highest level, education, and a collective investment in developing student-athletes on and off the field.  I look forward to continuing the programs recent success and working with a talented group of players who will aspire and compete to take Oregon State men's soccer to new heights."
Dalby's tenure at Penn State saw the squad achieve impressive success. In 2019 the program reached the NCAA Tournament for the first time in five years, as the team finished the campaign with a record of 12-3-3 on its way to the No. 15 overall seed. The next season brought even greater triumph, as the Nittany Lions claimed the No. 9 seed in the NCAA Tourney. Penn State ultimately made it to the final 16 of the Tournament that season, which was played in the spring of 2021.
The fall of 2021 proved to be one of the best seasons in Penn State history, as the squad claimed both the regular season and tournament Big-10 Championships to earn another top-16 seed in the Tournament.
Overall, Dalby coached 14 All-Big-10 selections, as well as 12 All-Region honorees and a pair of All-Americans during his time with the Nittany Lions. He was also deeply involve in Penn State's recruiting process, helping the program lock down the No. 13 2023 signing class in the nation.
"Over his career Greg has been mentored by some of the best coaches in college soccer," Barnes said. "He has built a record of success at the top level of collegiate soccer and has proven he is ready to take the next step of becoming a Pac-12 head coach. A former elite player himself, Greg's focus on the holistic development of the student athletes is special. He is simply a great fit for us and I can't wait for him to begin leading our program. The future is truly bright for Oregon State men's soccer."
Dalby joined Penn State after serving as the lead assistant coach at Davidson College from 2015-17. At Davidson, he was responsible for recruiting and talent development among a wide range of other duties. During his time with the Wildcats, Dalby helped the program ink a pair of top-150 prospects, and sent two player to the professional ranks.
Prior to his time at Davidson, Dalby served as the assistant coach of his alma mater, Notre Dame, where he helped the squad to a 2013 NCAA Championship as well as a 2012 Big East Tournament Championship and back-to-back ACC regular-season championships in 2013 and 2014.
Dalby spent seven years as a professional soccer player, starting his career in the Belgian Premiere League at Royal Club Sporting Charleroi before moving on to the Colorado Rapids Major League Soccer Club where he played for two seasons. Dalby closed his professional career at the Charlotte Eagles where he spent two seasons as co-captain. Throughout his time in professional soccer, Dalby served on the U.S. Soccer Athlete Council where he contributed to the drafting and implementation of new legislature to benefit the athletes.
As an NCAA student-athlete, Dalby played four years at Notre Dame where he was a two-year team captain, leading the Fighting Irish to back-to-back Big East regular-season championships in 2003 and 2004. Dalby was a NSCAA first-team All-American as well as a MAC Hermann Trophy semifinalist in 2005 and 2006. He was also named Big East Midfielder of the Year and garnered first-team All-Big East honors twice.
Dalby earned Big East Academic All-Star team honors for three seasons and was captain of the United States U-20 men's national team in the FIFA Youth World Cup in 2005. Dalby served as the men's soccer Student-Athlete Advisory Council representative and was awarded Notre Dame's prestigious Byron V. Kanaley Award, recognizing senior athletes who excelled as both students and leaders.
Dalby will be joined in Corvallis by his wife, Stacey, along with their three children, Addilyn, Miles and Brayden.
The Oregon State men's soccer program has proven to be one of the top teams in the nation over recent seasons, making four the last five NCAA Tournaments and winning the Pac-12 championship in 2021. The Beavers made the quarterfinals of the 2021 NCAA Tournament, and the program has had 14 players selected in the MLS SuperDraft.
Upon making his announcement, Barnes said Dalby's appointment is contingent on the completion of all university hiring processes.