University of Utah announces talented 8-member signing class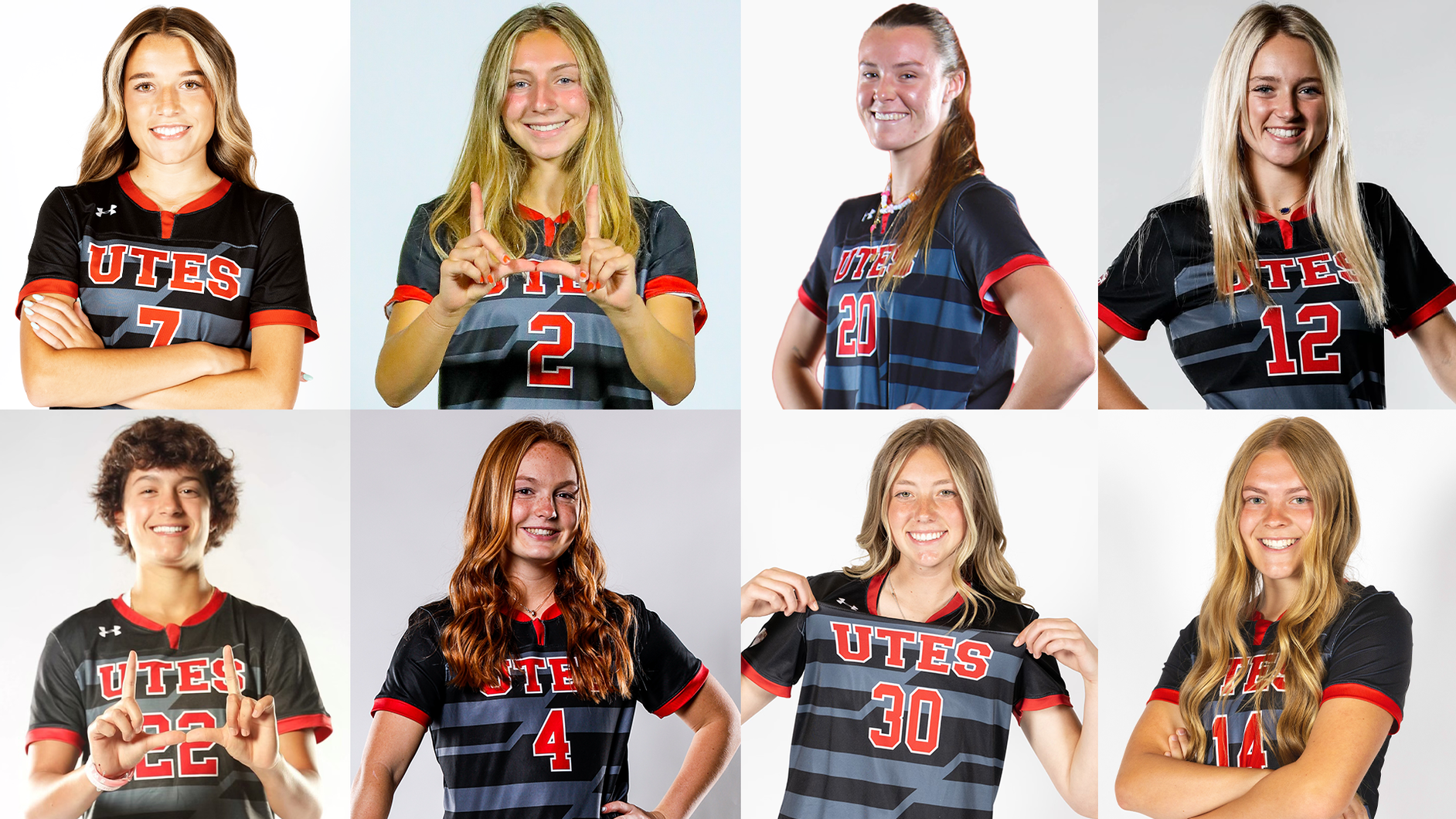 SALT LAKE CITY – University of Utah head soccer coach Hideki Nakada announced the addition of the first eight members of his program's 2023 signing class.
The list of new Utes includes three forwards, four midfielders and one defender, all of whom will be in uniform for the start of the 2023 season.
"We are ecstatic to announce this group of dynamic student athletes to join our program in 2023," said Nakada, "We were able to establish our identity in our system and style of play this past season, and this exciting new group will no doubt help us to grow and move this program in the right direction. Our depth and level of competition within by adding this class is going to be something that will help us to achieve lofty goals we'll set for ourselves next season."
Signees Mia Becarevic, Lilliah Blum, Rylan Park, Kennedy Schoennauer, Izzy Smith and Bella Woods will all be joining the Utes from the high school ranks, while Jackie Koerwitz will be transferring from the University of Miami and Alex Schoenstadt comes to Utah from the University of Mississippi.
Mia Becarevic – Defender – Sandy, Utah – Alta High School – Utah Celtic GA
Becarevic has lettered for the Alta Hawks in each of the last three seasons and helped her team post a winning record each year, piling up better than 30 victories. She collected three assists during the 2022-23 season as her squad won 10 of their first 11 matches and reached the state playoffs.
At the club level, Becarevic has spent time with Sparta United and Utah Celtic GA and found success with both teams. In 2019, she was a member of a Sparta United team that captured the state cup and in 2022, her efforts assisted in leading Utah Celtic GA to the top spot in the Girls Academy Mountain West Region.
Mia is the daughter of Zeljka and Amir Becarevic and has one brother, Ben, who also attended the University of Utah.

Lilliah Blum – Midfielder – Verona, Wis. – Verona Area High School – FC Wisconsin
During her time with the Verona Wildcats, Blum has piled up accolades and she capped her prep career with a campaign in which she scored 32 goals and was credited with 15 assists. Blum was named her conference's player of the year and was a first-team all-conference and second-team all-state pick, while also landing on the United Soccer Coaches all-region roster.
On the club circuit, Blum has spent the last several years with FC Wisconsin, where her play garnered her spots on the U15 and U18 Midwest Conference first-team. She spent time at the Elite Clubs National League camps in 2018 and 2019 as well.
Lilliah is the daughter of Robert and Amy Blum and has three siblings, Ethan, Alex and Addie.

Jackie Koerwitz – Forward – Sacramento, Calif. – Monte Vista High School – University of Miami – ECNL PDP
Jackie Koerwitz has spent the last three seasons at the University of Miami, playing in 42 matches and making 35 starts for the Hurricanes. Koerwitz recorded five goals and three assists during her time at Miami, including a pair of game-winners. On Oct. 2, 2021 she knocked in a game-winner just before the final whistle to propel Miami past Boston College, 1-0, and Aug. 28, 2022, she was responsible for the only goal in Hurricane victory over North Florida.
Koerwitz arrived at Miami prior to the start of the 2019 season and after honing her skills with NorCal PDP and ECNL PDP. With the former organization, the Sacramento native played internationally in Japan and Sweded and helped her team capture the gothic cup and the NorCal Championship in 2019. She also attended the U.S. Soccer training center for four years and played club soccer for Boca and San Juan.
Jackie is the daughter of Alison and Cortlandt Koerwitz and has three siblings, Gigi, Lulu and Maggie. Her mother Alison was a student-athlete on the tennis team at Cal Poly and her sister, Gigi, is a member of the women's rowing team at the University of San Diego.

Rylan Park – Midfielder – Danville, Calif. – Monte Vista High School – Mustang Soccer Club
Rylan Park spent four years as a member of one of the top prep programs in the nation and she was part of a 2021-22 squad that posted a 13-1-4 record and captured North Coast Section and East Bay Athletic League Championships. Park's contributions during that campaign included three goals and two assists and she was named all-league honorable mention. Park gained club experience playing for the Mustang Soccer Club.
Rylan is the daughter of Jennifer and Kyle Park and has one sibling, Kinley.

Kennedy Schoennauer – Forward – San Jose, Calif. – Abraham Lincoln High School – MVLA
Twice during her time at Abraham Lincoln High School, Kennedy Schoennauer was named Most Valuable Player in the Blossom Valley Athletic League. She also led the Central Coast Section in goals twice, scoring 112 times to go with 240 points in her first three seasons and helped her team win the CCA Division II Championship. Those numbers led to Schoennauer being named CCS Freshman of the Year after her rookie year and picking up three straight selections to the all-league first-team, as well as an all-region first-team choice.
Schoennauer's club experience includes three years with MVLA and she helped her team reach the Elite Clubs National League round of 16 while being named to the ECNL Northwest Conference first-team in 2021 as well. Her list of athletic accomplishments also includes earning varsity letters in track and football, serving as her team's kicker.
Kennedy is the daughter of Lisa Gonzales and Erik Schoennauer and has one sibling, Landry.

Alex Schoenstadt – Midfielder – Sammamish, Wash. – University of Mississippi – OL Reign Academy
Schoenstadt comes to Utah after a freshman season at Ole Miss in which she appeared in 19 matches, scored two goals and helped the Rebels post a winning record. Both of those goals came in a September victory over Louisiana Tech and her work on defense helped the Rebels finish with a clean sheet in nine of the contests she appeared in, including an SEC Tournament shutout of LSU.
Prior to her arrival in Mississippi, Schoenstadt's high school career saw her lead Eastside Catholic School in goals twice and earn first-team all-metro honors. In club soccer competition with OL Reign Academy, she topped the roster in goals for six straight seasons and helped the team finish in the top eight nationally twice.
Schoenstadt was a non-roster invitee to the NWSL's OL Reign training in 2021, where she trained with the likes of Megan Rapinoe, Allie Long and Sofie Huerta.
Alex is the daughter of Art and Julie Schoenstadt and has a brother, Art, and a sister, Ashley. Her father played football at UC Davis and her brother players baseball at Missouri.
Izzy Smith – Forward – Holiday, Utah – Alta High School – Utah Avalanche
Izzy Smith served as the one of the team captains for the Alta Hawks squad that won 34 matches over the past three seasons and reached the state playoffs in 2022. She put together a high school stat line that included 10 goals and 22 assists, putting up 16 total points in both her junior and senior seasons.
Smith's club career included time with Sparta United and the Utah Avalanche. She helped Sparta capture a state championship in 2019 and the Mayors Cup in 2020 and her club participated in the US Youth Soccer Olympic Development program from 2017-22.
Izzy is the daughter of Alison and Braden Smith and has one sibling, Connor. Smith's brother and one of her cousins are currently attending the University of Utah and her father, grandmother and grandfather all graduated from Utah.

Bella Woods – Midfielder – Draper, Utah – Alta High School – Utah Celtic GA
Along with Smith and Becarevic, Bella Woods was also an integral member of the Alta High School program during its success over the last four years. Woods' work put her on the all-region first-team and she's earned awards for being her team's best offensive player and best defensive player during her prep career. Woods has piled up 29 goals for the Hawks over the last three years, as well as six assists.
Woods teamed up with Smith in club soccer as well, helping Sparta United win a state title in 2019, finish as state finalist in 2018 and achieve a No. 2 national ranking. With Utah Celtic, Woods was part of a squad that achieved first place in the Utah Girls Academy League.
Bella is the daughter of Tyler and Lindsay Woods and has one sibling, Gabe.
"We are adding qualities to each of three lines on the field," said Nakada, "but most notably we are expanding our level of play in the attacking third with this group that will make us substantially threatening in front of the goal. We have a great group of returners and with this class coming in, there's no question it's going to be the most competitive group we've had yet, and I cannot wait to watch them grow and compete together on and off the field. It is a great day to be a Ute!"