Texas Longhorns sign trio of high-profile transfers for 2023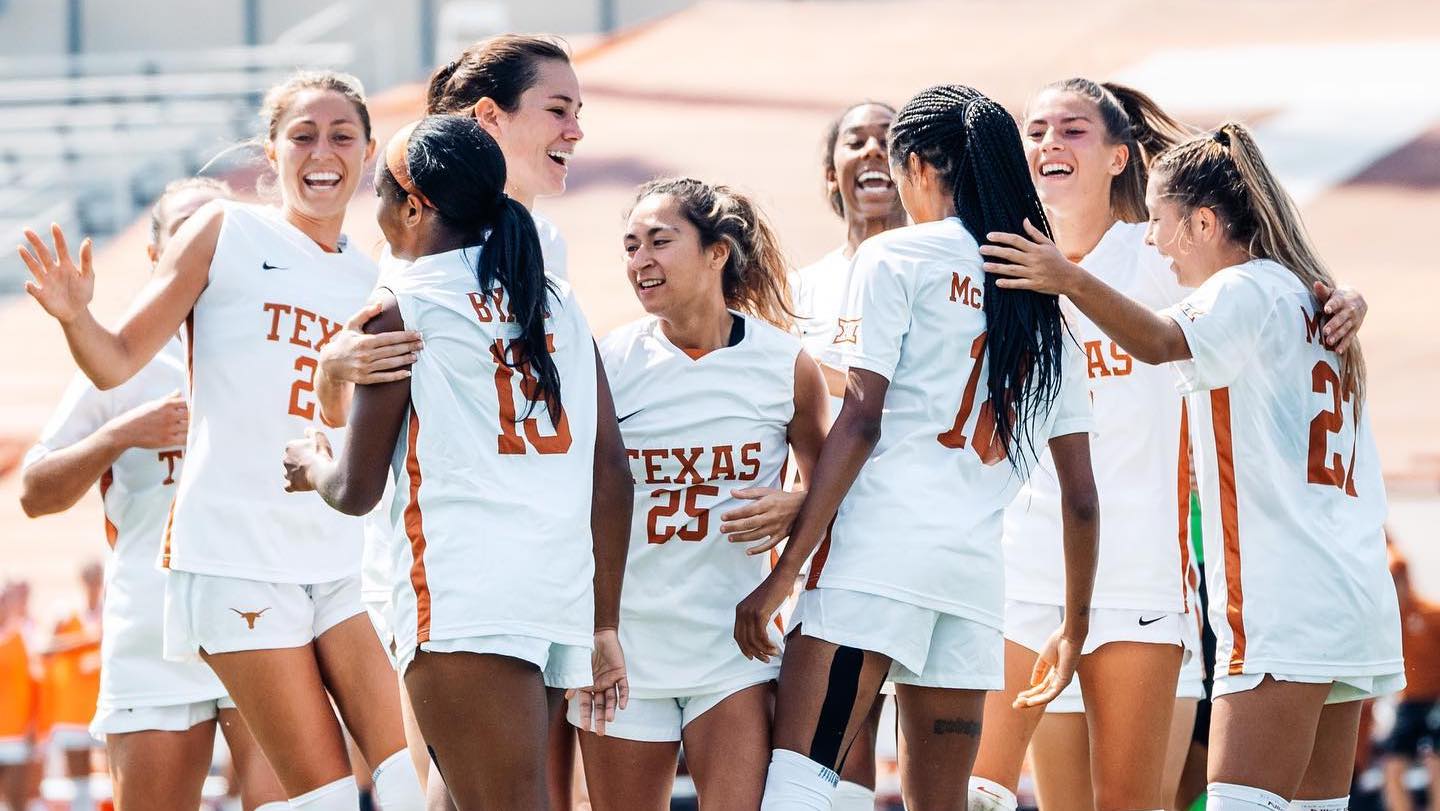 AUSTIN, Texas – University of Texas head soccer coach Angela Kelly announced the signings of three high-profile transfers for the 2023 season.
Florida State goalkeeper Mia Justus (Sophomore/GK/Lakewood, Ohio/Florida State/IMG Academy), North Carolina defender Abby Allen (Junior/D/Austin, Texas/North Carolina/Lake Travis H.S.) and Boston College defender Éabha O'Mahony (pronunciation: AY-vuh/Sophomore/D/Cork, Ireland/Boston College/Ballincollig Community School) to join the UT program in January prior to the start of the 2023 spring soccer season.
The trio joins former Auburn midfielder Hannah Waesch (Junior/MF/The Colony, Texas/Auburn/The Colony H.S.) as high-profile transfers to sign with the program since the conclusion of the 2022 campaign.
Mia Justus
Position/Class: GK/Sophomore
Hometown: Lakewood, Ohio
Previous College: Florida State
High School: IMG Academy
Justus heads to Texas after spending the last two seasons as a goalkeeper at national power Florida State. During her time with the Seminoles, the Lakewood, Ohio, product posted a 12-2-0 combined record between the pipes with nine solo shutouts, 28 saves and a miniscule 0.57 goals-against-average. As a sophomore in 2022, Justus went 5-1-0 overall with 19 saves, a 0.83 GAA and four shutouts, registering wins over Florida, Rice, Louisville, Miami (FL) and Pittsburgh. During FSU's run to the 2021 national title, the Atlantic Coast Conference All-Freshman Team selection posted a 7-1-0 mark in regular-season action with nine saves (720 minutes), five shutouts over eight starts and a 0.38 GAA. Her first career start and shutout came on Aug. 22, 2021, as Florida State blanked Alabama, 4-0.
The top-rated goalkeeper in Top Drawer Soccer's 2021 IMG Academy recruiting rankings, Justus was also a 2019 United Soccer Coaches All-American and a 2019 U.S. Development Academy East Conference Best XI selection. A member of the U.S. Soccer Youth National Team program at numerous levels since 2015 and cousin to U.S. Men's National Team goalkeeping legend Tim Howard, she played alongside Longhorns All-American Trinity Byars at the 2022 FIFA U-20 Women's World Cup. During the team's stay in Costa Rica, Justus started Group D matches against Ghana (W, 3-0) and Japan (L, 1-3).
Abby Allen
Position/Class: D/Junior
Hometown: Austin, Texas
Previous College: North Carolina
High School: Lake Travis
A local product out of Lake Travis H.S. and younger sister to current Texas senior defender Carlee Allen, Abby Allen ventures to the Forty Acres after spending the previous three seasons at perennial national power North Carolina.
During her time with the Tarheels, Allen played in 47 matches with 35 starts, totaling three goals for six points on 15 shots (seven on frame). As a junior in 2022, she played in nine contests (eight of those in Atlantic Coast Conference action) with two starts as UNC finished 20-5-1 overall with a national title match loss to UCLA. During her freshman and sophomore years at North Carolina, Allen started 33 combined matches and played the most total minutes on the squad each season with 1,556 in 2020-21 and 1,593 in 2021. As a sophomore, she came off the bench for the first two matches of the year before starting the final 16 contests. Allen played every minute of 13 contests in 2021, including all 110 during double overtime matches against Florida State, Virginia and Virginia Tech. As a freshman during the split COVID-19 campaign in 2020-21, Allen scored all three of her career goals while playing in 20 contests (started last 17 matches in a row). Included was her first career goal in a 5-0 victory at Delaware (March 20) and consecutive match-winners to beat Columbus State (April 13) and secure a NCAA Second Round triumph over Denver (April 30). Overall, Allen started all four of UNC's 2020-21 NCAA Tournament match-ups, including a national semifinal loss to Santa Clara.
Ranked No. 9 nationally according to the 2020 Top Drawer Soccer IMG Academy Top 150 recruit rankings, Allen was both a two-time United Soccer Coaches All-American (2018, 2019) and U.S. Development Academy Central Conference Best XI selection (2018, 2019). A member of the Lonestar SC Development Academy from 2013-19, Allen earned extensive experience with various U.S. Soccer Youth National Teams from the Under-14 to Under-20 levels. From Aug. 24-Sept. 1, 2019, Allen was invited alongside fellow transfer signee Mia Justus to the U.S. U-20 Women's National Team Training Camp in Chula Vista, Calif., for a pair of friendlies against Japan.
Éabha O'Mahony
Position/Class: D/Sophomore
Hometown: Cork, Ireland
Previous College: Boston College
High School: Ballincollig Community School
A native of Cork, Ireland, O'Mahony joins the Longhorns following two seasons at Boston College that saw her start 33 matches and play a total of 2,714 minutes. During the recently-completed 2022 campaign, O'Mahony made 18 starts and recorded her first two career assists with single helpers against Northeastern (Aug. 21) and Holy Cross (Aug. 28). As a freshman in 2021, she led first-year players, and was fourth overall on the BC squad, by playing 1,230 total minutes, while logging at least 75 minutes in 11 different matches. O'Mahony made her first career start by playing 76 total minutes during a 5-0 shutout of Iona on Aug. 19, 2021.
Part of the Republic of Ireland's Women's National Team program since 2015, O'Mahony made her senior team debut in a friendly against the United States at the Rose Bowl in Pasadena, Calif., in August 2019, and most recently, was a member of the squad that battled Germany in 2022 UEFA Women's European Championship qualifying. Prior to her stint with the senior national team, O'Mahony played for Ireland at levels stretching from U-15 through U-19. She captained the 2018-19 Ireland U-17 squad and was a member of the U-17 team that reached the UEFA finals. She was also selected as the Football Association of Ireland U-17 International Player of the Year in 2019.
O'Mahony played for Cork City FC from 2018-21, earning Women's National League Player of the Month as well as a slot on the organization's Team of the Year in 2018. Most recently, she's been a part of the NC Courage U-23 squad playing summer league soccer from May to July 2022. With Lakewood FC from 2012-17, she was twice the Golden Boot overall club winner and player of the year and played on U-14 and U-16 Cork Gaynor Cup Teams. O'Mahony also earned Premier A County Medals with Cork Camogie U-14 and U-16 teams in 2015 & 2016 and won two county championship medals in hurling at the U-14 and U-16 levels.